Publish date:
Tom Brady Tells the Story of the Super Bowl 51 Comeback
From his hideaway in Montana, the Patriots QB recounts the plays that led to New England's fifth title and explains why it wasn't his best game ever. Plus more on the Falcons, Terrell Owens, John Lynch and 10 Things
SOMEWHERE IN MONTANA — This was the most amazing thing about the two hours I spent with 39-year-old Tom Brady on Sunday afternoon in a cabin (well, it's called a cabin, but the getaway area for the Brady clan is pretty darned well-appointed) in the shadow of one of the most beautiful mountains in the world:
"I have zero pain," Brady said, almost one week to the hour after he took the field for Super Bowl 51. "I feel great. I feel 100 percent."
Brady had a zen look to him on a brilliant afternoon in Big Sky country. Clear eyes, zero bloodshot. Placid. No limping, no wincing, which took me by surprise after Atlanta's five sacks and nine significant hits of Brady in the game. And there's this: Brady has played 261 NFL games, and never has he taken as many (99) snaps as he did against Atlanta. But when we talked, he looked like he'd been relaxing for a month—not just having arrived here Saturday from a hectic post-Super Bowl week in Boston. He went skiing Sunday on a pristine trail with fresh powder. (He asked that I not name the exact location for privacy's sake.)
Brady does a good job handling being Brady. But who can take being in the eye of the public storm all the time? When I first saw him Sunday afternoon, Brady had a wide grin. That grin was repeated six or eight times on the afternoon, including when he was urging his wife, supermodel Gisele Bü​ndchen, to play photographer for The MMQB with the shot you see below this paragraph. It's break time, and other than some solemn, emotional minutes talking about his mother, Brady is determined to get away for a while, after the strangest yet most rewarding year of his professional life.
After the game, I'd asked Brady for some time to dissect the key plays in one of the great pieces of football theater the NFL has ever put on, New England's comeback from a 28-3 deficit to the 34-28 victory. We did this after his last Super Bowl victory two years ago, on the phone. This time he invited me here. One thing led to another, and we put 90 minutes on tape—much about the game, but much, too, about his future, his family, his season, and the way he lives. So I'll divide my time with him thusly: Today I'll put the great comeback under his microscope; Wednesday, I'll write Part II about all other things Brady—including how long he plans to play. And in conjunction with The MMQB's podcast partner, DGital media, I'll put the conversation in a Brady-centric two-part podcast: Tuesday morning and Thursday morning. You'll have a seat with us for the entire conversation. And for those who've had their fill of perhaps the greatest quarterback of all time, we'll have plenty more to interest you this week at The MMQB.
Brady disagreed with my first premise of the afternoon, about this Super Bowl being one of the great games of his life.
"I don't really think that is necessarily the case," he said, relaxing in ski pants and sneakers. "I think it was one of the greatest games I have ever played in, but when I think of an interception return for a touchdown, some other missed opportunities in the first 37, 38 minutes of the game, I don't really consider playing a good quarter-and-a-half plus overtime as one of the 'best games ever.' But it was certainly one of the most thrilling for me, just because so much was on the line, and it ended up being an incredible game. There are so many things that played into that game—a high-scoring offense, a top-ranked defense, the long Super Bowl, four-and-a-half-hour game, the way that the game unfolded in the first half versus what happened in the second half … so it was just a great game."
Well, I'll quibble with him on that one. I get the angst over the crappy interception that Atlanta cornerback Robert Alford returned for a touchdown, and a few other bad throws. But any quarterback who, on his team's five biggest drives of the season, goes touchdown-field-goal-touchdown-touchdown-touchdown, and brings his team back from 25 down to win the Super Bowl … that constitutes one of the great games of one's life.
We'll start with 8:31 left in the third quarter. Atlanta had just gone up 28-3.
"That's a good place [to start]," Brady said.
• THE PATRIOTS' PLACE IN HISTORY: Peter King evaluates how the Brady/Belichick era stacks up against other NFL dynasties
* * *
* * *
Atlanta 28, New England 3 (third quarter, 8:31 left)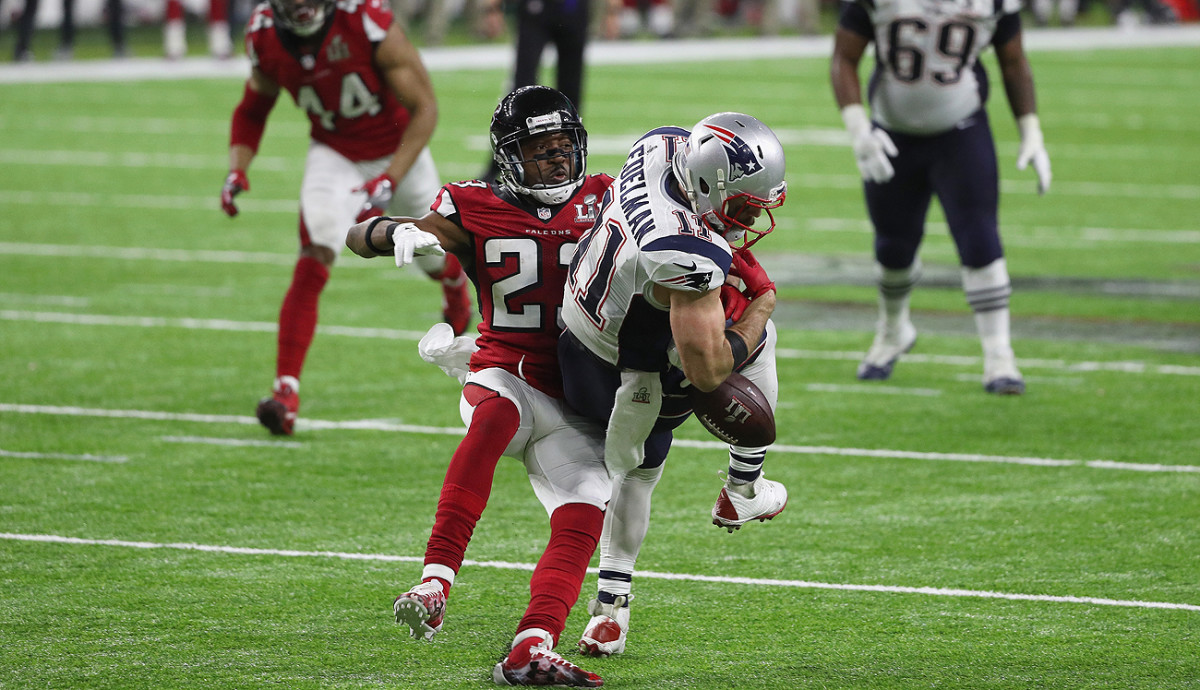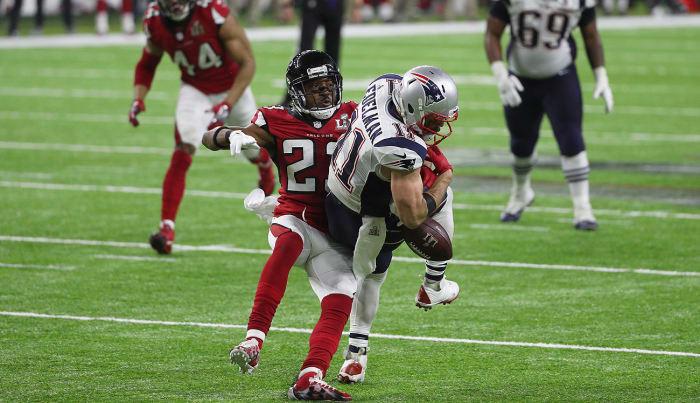 NFL Films captured Brady going up and down the sideline, exhorting his teammates: "Let's go! Let's show some fight! Let's play harder! Harder! Tougher! Everything!"
"It was similar to what I had felt at halftime," Brady said. "We came out of halftime saying, 'Look, we've had 20 minutes time of possession, we've run 45 or 46 plays, we've done a good job moving the ball up and down the field, we just have nothing to show for it because of a missed third-and-one, a fumble in their territory, an interception return for a touchdown in their territory, because of poor execution in the red area … We had over 200 yards passing in the first half [actually 184], so it wasn't like we were in there at halftime saying, 'Hey, how are we going to move the ball?'
"So we come out for the second half, defense does a great job getting a stop, which was exactly what we needed, we're down 21-3. And we come out there on offense and throw an incompletion on the first pass of the second half, which was close to being caught but we didn't come up with it, then a third down to Julian [Edelman], I hit him running across the middle and who knows if we would have gotten the first down, but we didn't come up with it and it was just more of the same. … So we come off again, and I'm like, 'Guys, at some point we all gotta just start making the plays.' [Atlanta] went down the field and scored to put us down 28-3. And at that point, you can say a lot of things, but ultimately it comes down to what we do."
Offensive coordinator Josh McDaniels said after the game that Atlanta played more man coverage than he expected. That meant the Patriots didn't have as many easy short throws as usual. Combined with the fact that Atlanta's run defense throttled the Patriots' ground game in the first half (14 carries, 35 yards), the Patriots had to fight for things that often were easy in their previous 18 games. On this drive, Brady converted a fourth-and-three from his 46 on a quick out to Danny Amendola for 17, victimizing Falcons corner Brian Poole. James White took a Brady flip five yards for the touchdown that gave New England's sidelines some hope, even if Stephen Gostkowski missed the extra point.
"We just needed to execute one drive, and after that drive we'll come to the sidelines and we'll talk about the next drive," Brady said.
"We had an entire quarter left," McDaniels said a week ago. "We knew we'd get three possessions at least."
That was all they'd get.
• BURNING QUESTIONS, POST-SUPER BOWL: Albert Breer on what's next for the Patriots and Falcons
Atlanta 28, New England 9 (fourth quarter, 14:51 left)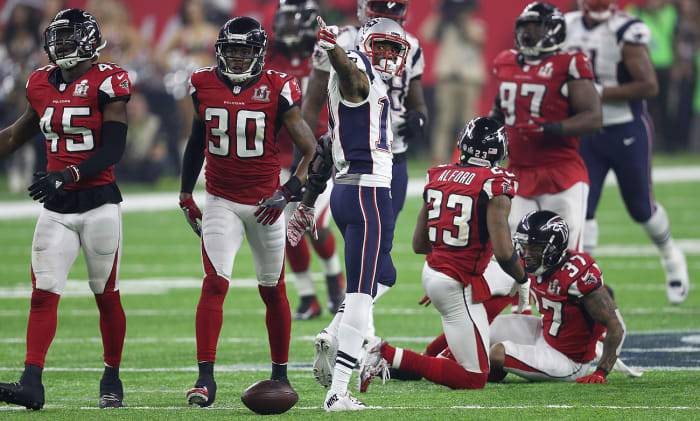 Great stat from the Elias Sports Bureau that I shocked Brady with on Sunday: In the Patriots' first six Super Bowls in the Brady/Belichick era, New England never completed a pass to a rookie. In this game, rookie fourth-round pick Malcolm Mitchell was huge—six catches, 70 yards, in big spots—and especially big on this drive. He had catches of 15, seven and 18 yards, and Brady said the reason McDaniels had him in the game, and Brady picked him on routes with multiple options, came down to one word: trust.
"I think he had earned that trust of everybody," Brady said. "If it was Julian, Julian was going to get it. If it was Malcolm, Malcolm was going to get it. Malcolm happened to be in those spots. And everybody had confidence to have Malcolm in those spots if he got it. He proved everybody right because he came up with the plays."
Two big Grady Jarrett sacks forced the Patriots to kick a field goal. With 9:48 left, it was a two-score game. When Fox came back from its break, Brady and McDaniels were deep into play-diagrams for the next series. "There were still a lot of calls on the call sheet that we liked, based on the style that they were playing," Brady said. "The Super Bowl is a strange game. I've been in a lot of them, and it may go one way and then it may go the other way, and I know at the end of all those games that I've played in the Super Bowls, the defenses have a hard time stopping the offense at the end, in every game."
Here, Brady said, "I felt like, man, we're back in the game."
• FOR BRADY'S FAMILY, 'REDEMPTION': Tom Sr. on why this win meant more to his son than just a fifth Super Bowl ring
Atlanta 28, New England 12 (fourth quarter, 8:24 left)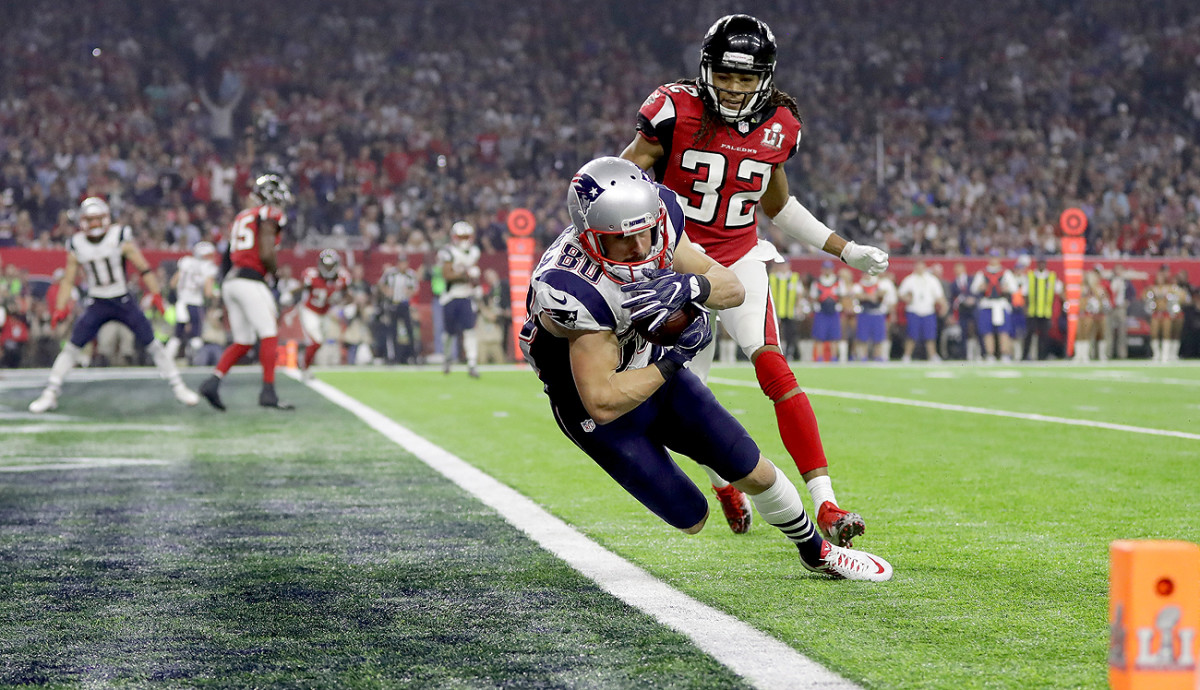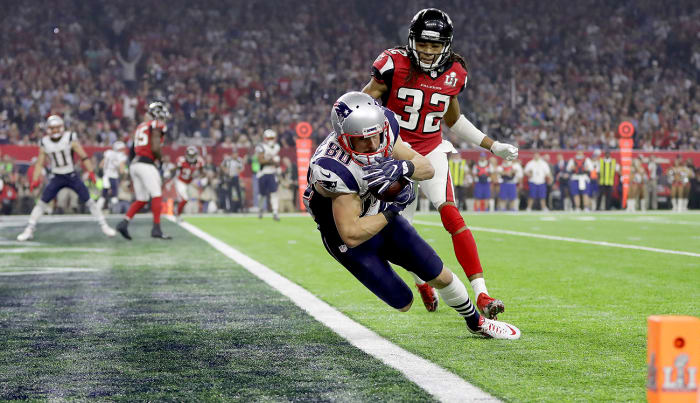 The break New England needed, the sack/fumble of Matt Ryan by Dont'a Hightower, set up two of the most interesting plays of the Super Bowl for the Patriots.
One: the six-yard touchdown pass to Danny Amendola. Watch closely the Fox replay. Brady's in the shotgun with 31 seconds left on the play clock, with his receivers fanning out and Amendola settling in the left slot. Cornerback Jalen Collins starts on Amendola's outside shoulder. But then Collins walks, almost aimlessly, to the inside shoulder and stares a hole through Brady. With about 21 seconds left on the play clock, Brady changes the play. He gives Amendola a sort of stop sign, and Amendola moves out a couple of steps. Collins does nothing. Now, Brady can hear a coach talk to him until the 15-second point of the play clock, but he doesn't recall exactly what McDaniels told him on this one.
"I think he said, 'Don't forget about Danny,' or 'Danny has a great shot on this.' Something like that," Brady said. "I wanted to give Danny a better chance to get open. So I pushed him out because I knew at that point I had changed the route and I wanted to make sure Danny would get the leverage or put him in a better position to get the leverage based on the route that he had. I wanted to move him out because I didn't want him to get stuck inside of Jalen … [Collins] being inside told me it was probably man coverage, a perimeter corner on the inside of the field … When I pushed Danny out, Jalen didn't really adjust, so I was really looking outside after that to see if the corner was going to try to get involved and maybe trapping that to the flat. But once I saw the corner go with the outside receiver, or it might have been James White, I just threw it to Danny."
But, one of the benefits of running a tempo offense is you've got a trusted voice in your ear. Brady said he likes McDaniels' reminders because they're not oppressive or unrelenting; they're notes based on what McDaniels is seeing from the sideline. "No question part of the advantage of going fast is the coach-to-quarterback communication," Brady said. If you're set at the line with 31 seconds left, there are two advantages: You limit defensive substitutions, and a second set of eyes can help you.
Two: the two-point conversion fakery, the successful run by White. As I wrote last Monday, McDaniels said the Patriots "took it out of mothballs." It's the same play they used in the Super Bowl 13 years ago against Carolina, with Kevin Faulk getting the ball and burrowing in for two points. But the difference here was what happened at practice on Friday.
On the play, White lines up next to Brady as a snug sidecar. The center, David Andrews, has to vary his shotgun snap slightly, sending it a hair to the left, and Brady has to fake like he's getting it, and then White has to burst forward and try to make a hole where they may not be one.
Andrews is normally good at the snap. But on Friday … "He snapped it over, it was kind of at my head, so James couldn't get his hand up there to get it," Brady said. "So the ball is laying on the ground, rolling around on a two-point play, on a direct snap when it is supposed to be right in James' breadbasket. We come to the sideline and it was like the last play of the whole week of practice. You always want to finish practice on a high note, and then to finish … I don't know how a lot of teams practice, but at the end of the week we do what we call, 'Move the field,' and you'll start at one end and work your way down, first down, second down, third down, and you'll move your way down the field. Then you'll score a touchdown and you say, okay, let's go for two, and you run your first so-called two-point play. And that was it. We moved the field, we scored the touchdown, it was the last play of the whole day, and we ran the two-point conversion and we had a mistake, so who knows? I don't think Josh lost confidence in that play, and certainly not losing confidence in David, because Dave has been a great player for us, and he has done it a hundred times right."
I told Brady it reminds me of the Friday practice in 2007 when David Tyree dropped four of Eli Manning's passes—only to redeem himself with the Velcro catch.
"Oh, don't tell me that," Brady said.
The one other point about White's play: He gave nothing away—didn't act jumpy or anticipatory. "It is a lot of concentration," Brady said. "Don't give it away, catch a snap when you really don't know it's coming, so you have to react to it. Then after you catch the snap, read the blocks and get in at the most critical point in your career. I'd say that is a pretty incredible play."
• SUPER BOWL 51 FILM NOTES: Andy Benoit breaks down the plays, schemes and matchups that defined the Patriots' comeback
The Julio Jones catch interlude
Brady: "I saw Matt [Ryan] step up; it was right on our sideline … I kind of looked through a bunch of bodies and I saw him make the catch, and I saw both refs run in and signal catch and I said, 'There's no way!' I looked up on those screens, and then they showed it once or twice, and I was like, 'He frickin' caught it!' When you actually see the replay, I didn't realize how close [Patriots cornerback] Eric Rowe was. Then I saw a picture in Sports Illustrated of the catch, in the early pages. It was insane. The height that he had to jump and the concentration to get two feet down … Fingertips. Sideline. Toe touch."
Atlanta 28, New England 20 (fourth quarter, 3:30 left)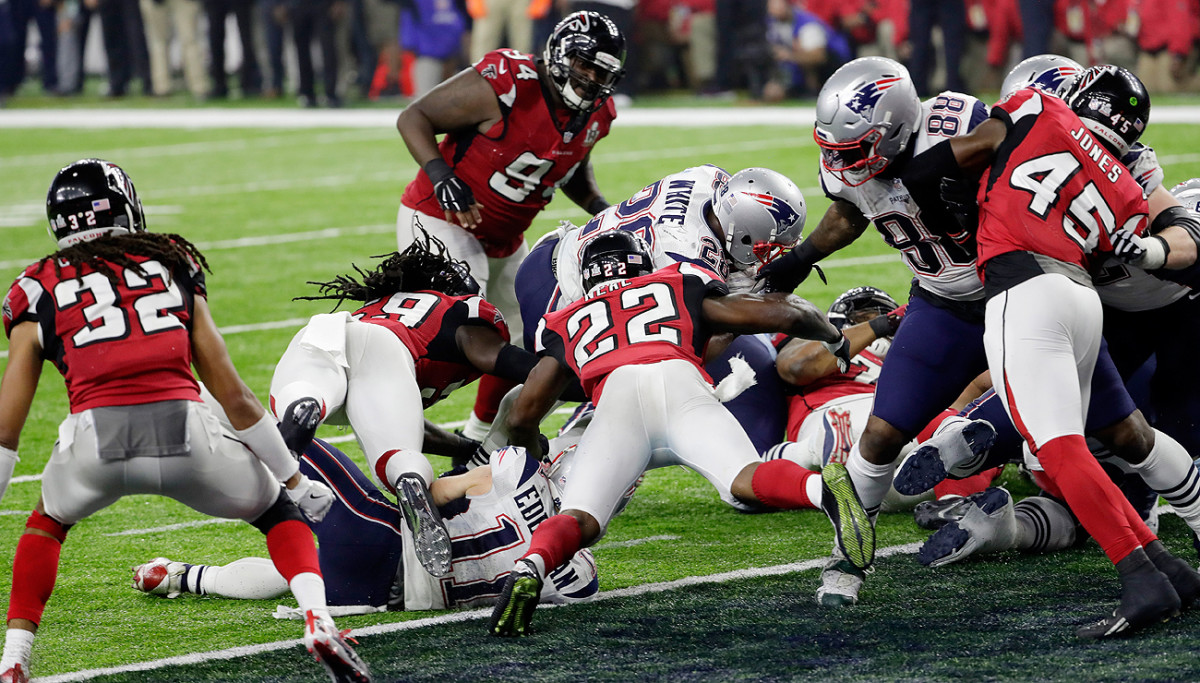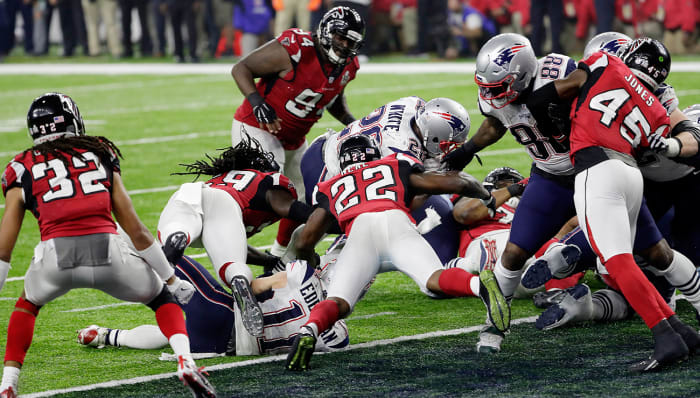 Everyone (and rightfully so) obsesses about the Edelman catch, which was sort of a reverse Tyree. I'm going to respectfully skip that, because it's been so well covered, including by our Jenny Vrentas last week.
But the play before that, and the aborted play after, were huge.
The play before: Three times in the last 19 minutes the Patriots ran the exact same formation—a three-by-one set (three receivers to the right, one to the left). Three times they threw it to the "one" receiver. Twice that was Malcolm Mitchell, the most inexperienced receiver (by leaps and bounds) on the team. And with 2:34 left in the fourth quarter, with New England 75 yards away from the end zone, McDaniels called it again. The Patriots liked the man-to-man matchups against Collins. Why? Because he is, in the vernacular, "long," and New England's scouting theory entering the game was that "long" corners (Collins is 6'1") are slightly slower at stopping and starting. On this play, Mitchell sprinted out 12 yards and then slipped and fell to one knee. The bad part of this? Brady's pass was already in the air. If Collins had been in a better position with Mitchell, there's a good chance he could have darted in front of Mitchell for the game-ensuring 35-yard pick-six. And wouldn't the story lines today be a lot different. Instead of Brady the hero, the stories would be about Brady the pick-six king. But somehow, Mitchell got up and snagged a throw that was on top of him in an instant.
When I mentioned this to Brady, about the pick-six part, he zinged me.
Brady: "It's actually a route Malcolm runs really well … He really sells that go route really hard, he gets the DB running. Every corner is different in the game because there's a scoreboard behind him. In practice you can be pretty brave with jumping routes because nobody cares if you get beat for a touchdown. In the game it's different. They always have to be fearful of you throwing the ball behind the defense … I thought I saw Malcolm start to slip. Then he went behind the left tackle or left guard so I really couldn't see the completion. I just heard the crowd go ohhhhhhh (dejected voice), then OHHHHHHHH (happy voice)."
The play after: During the game, I wondered—why are the Patriots rushing to the line with 2:03 and the ball at the Falcons' 41 and two timeouts left? Why leave Atlanta with enough time to go down and win the game with a field goal? Two reasons: The Patriots called twin double-moves on corners who hadn't seen many double-moves all day. And the Patriots, as McDaniels explained post-game, wanted to be in position to get another possession if they didn't covert the two-point play after scoring a touchdown on this drive. "What are the chances of making two two-point conversions?" Brady said. "Josh was obviously thinking that." The fact that Brady didn't chance a throw for a touchdown here isn't the point; it's that New England was playing chess here—thinking two and three moves ahead. At 2:03, Brady hit Amendola crossing to the right for 20 yards, to the Falcons' 21.
White made the last 21 yards himself, catching two quick passes and then scoring on a one-yard dive over right guard. Atlanta, 28-26.
The Patriots had three two-point plays on the play sheet for this game. The first one was the Andrews-to-White snap and run fakery. The second one depended on two receivers turning into snowplows at the goal line for Amendola. Edelman and Chris Hogan plowed two Atlanta defenders just far enough away that Amendola burrowed ahead, and the ball pierced the goal line. Barely.
• SUPER BOWL 51 AT THE MMQB: All of our coverage of one of the most memorable championship games ever
Overtime: Atlanta 28, New England 28
Matthew Slater called heads. The coin flip came up heads. Patriots ball. Ballgame. The Falcons were gassed. The Patriots were energized.
But when Brady looks back at this Super Bowl, he'll think of more than the game. He'll think of 111 practices.
The anticipation throws he made in this game were, collectively, his finest achievements and the biggest difference in winning and losing. The chemistry between Brady and his receivers is as good as it possibly can be.
Third play of the opening, and only, drive of OT: Hogan was singled left on Collins. (Poor Collins. He's got to be having nightmares about this offense.) Follow this. Brady, standing on his 37-yard line, sees Hogan and Collins running stride for stride, almost Siamese twins, at the Atlanta 45. Brady throws to a spot about 23 yards downfield, on the left. Hogan digs his foot into the ground at the Atlanta 37 and boomerangs back, expecting the ball. Collins is a step behind him. The ball hits Hogan in the hands at the 40, and he efforts ahead to the 37. Just a beautiful play. This is the kind of unsung play that wins huge games, and it went a long way, Brady throwing those 11- and 15- and 23-yard comebacks to drive Atlanta crazy.
"It's such a Peyton Manning-type throw," Brady said. "I watched him for so many years make those throws. I used to be in amazement. Marvin [Harrison] and Reggie [Wayne], they'd cut their route off, turn around, ball was in the air, in stride, 15-, 18-yard gain. How the heck did they do that? There's so much trust from the quarterback to the receiver. The DB can't get to the ball faster than the receiver can. You got to believe your receiver is going to get to the ball faster than their guy. That's what that play came down to."
"But," I said, "if you throw it 25 yards in the air, it could be an interception or incompletion."
"And that's a lot of throws," Brady said. "That's a lot of throws. That's 111 practices that we had. That's however many games. Films, meetings. It's got to be like clockwork. You're throwing it to a spot, he's turning, those are the ones the DBs have been covering all year too. It ended up being a really tight play. But it took great execution."
The end: James White, who made so many plays in this game, took a pitch from Brady and willed his way into the end zone. Replay confirmed it.
Remember the two two-point conversions, and the Patriots having a third one on their call sheet? Well, this White run was that third one. New England went three-for-three on two-point plays in the game, and the net result was 10 points—and a Super Bowl championship.
* * *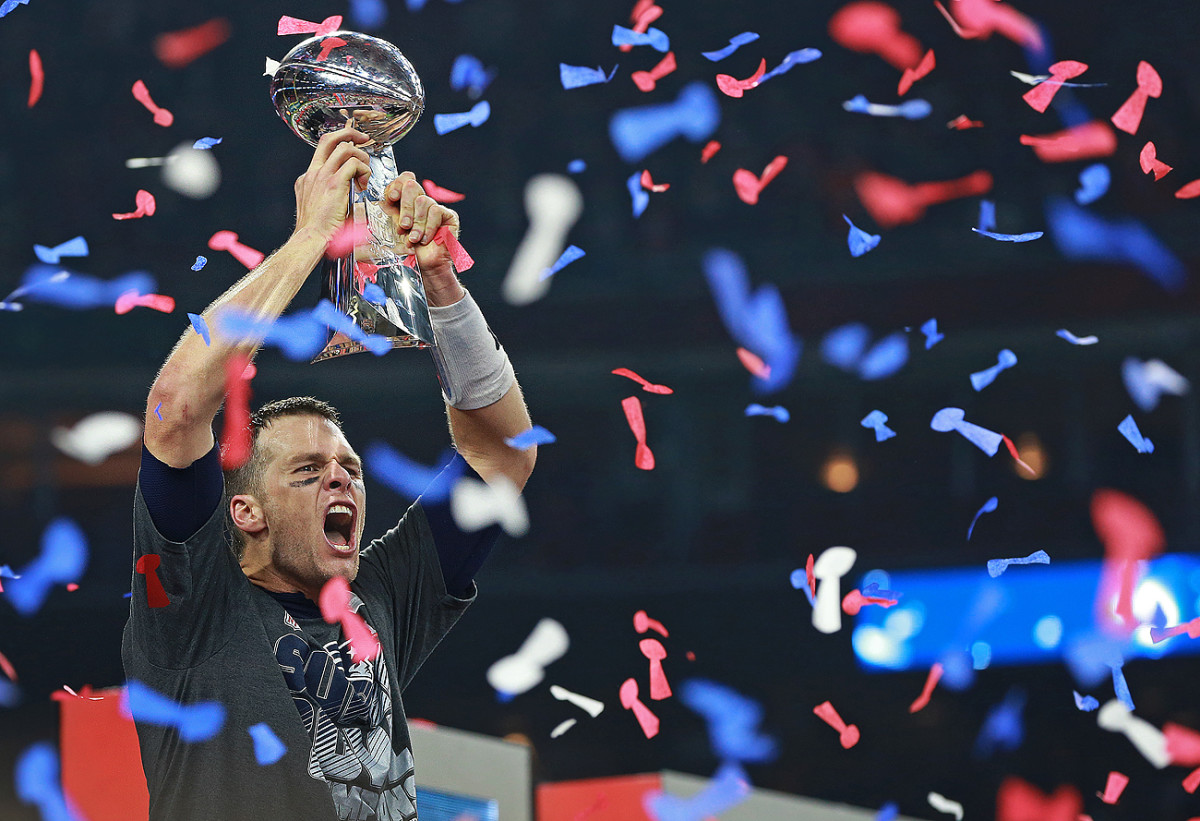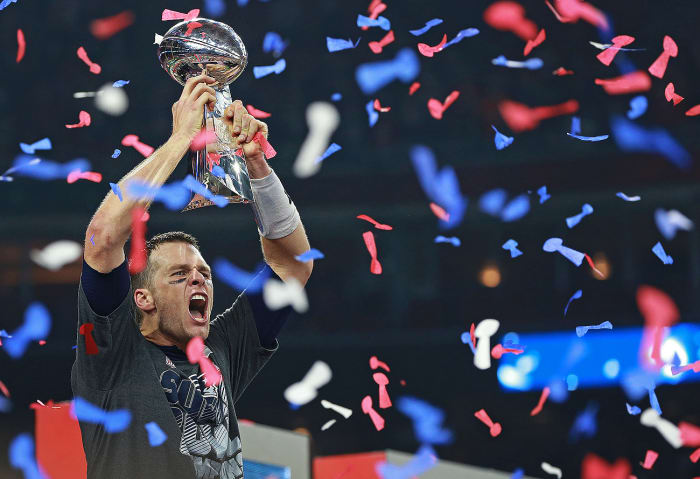 The Patriots trailed by 10 entering the fourth quarter in Super Bowl 49 against Seattle, and down by 19 entering the fourth against Atlanta. Brady's performance, collectively, in the final 34 minutes of those two games—the fourth quarter against Seattle, and the fourth plus the four minutes of overtime against Atlanta:
| | | | | |
| --- | --- | --- | --- | --- |
| Comp.-Att. | Pct. | Yards | TD-INT | Rating |
| 34-42 | .810 | 370 | 3-0 | 127.2 |
Brady searched for a reason, but he has no idea what it is. And maybe it is a coincidence. But if so, it's a great time of your professional life to have some coincidental luck.
"I always feel like I'm the same. Sometimes the stats don't show that, but that's how I feel … I felt the same in both of those games. I felt like I just go out there and do my job."
Playing that level at that age at that time—and after playing the most snaps of his professional life, in a high-pressure game. In his last game in his 30s, Brady played seven more snaps than he ever had. And it looked like he could have played 20 more. Or 30. How, exactly?
"That," Brady said, "is for a whole other podcast."
We have all week. On Wednesday, Brady will tell us.
• THE SUPER BOWL, VEGAS STYLE: Robert Klemko spent Super Sunday trailing the head of the biggest sports book in Sin City
* * *
The Story That Will Not Die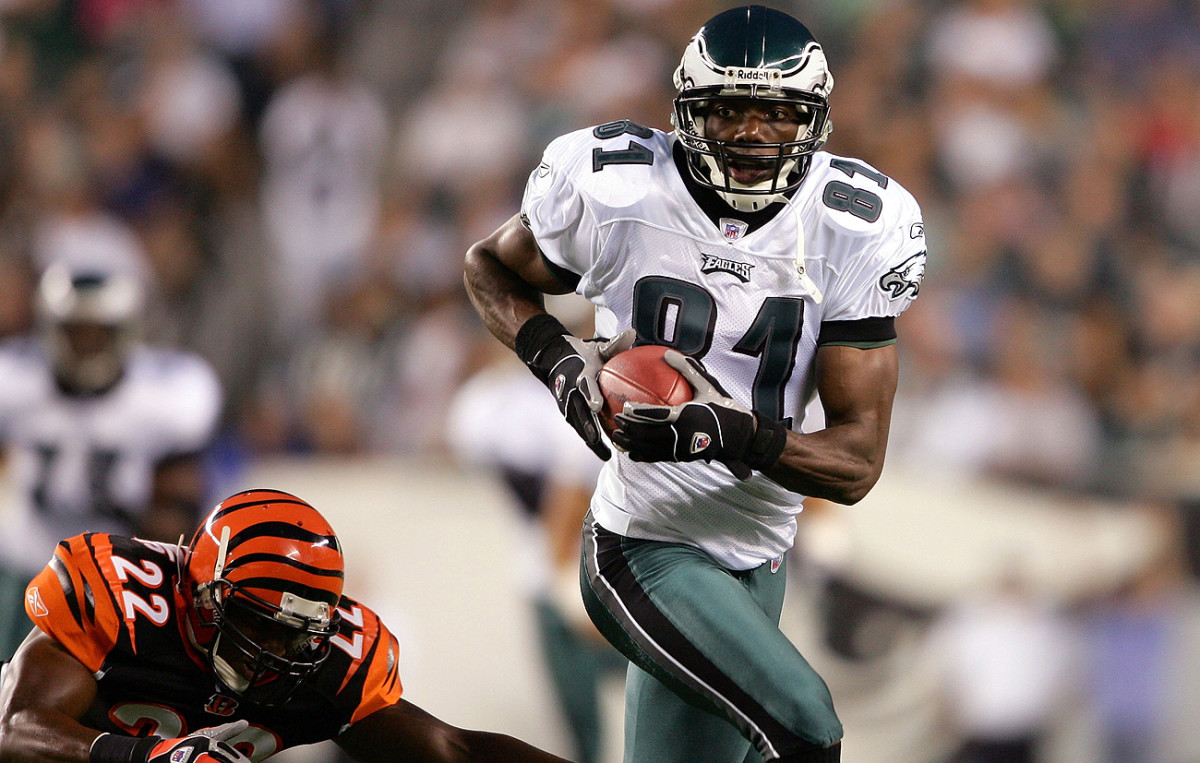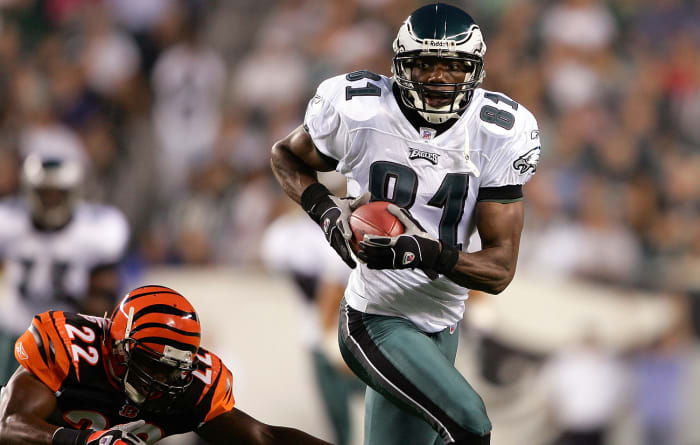 Terrell Owens didn't make the Hall of Fame, which you know. You also know that the fault in him not making the Hall this year seems to be that he was often a disruptive teammate. The man who presented T.O.'s case in front of the Hall's 47 other selectors, Paul Domowitch of the Philadelphia Daily News, was befuddled (as was I) at the overwhelming importance apparently placed on his behavior versus his performance. Owens is second all-time in receiving yardage in NFL history, and third in receiving touchdowns.
I wanted to give the story a few days to die down before talking to the widely respected veteran football writer. This was Domowitch about Owens on Saturday:
"I understand people's reservations about his disruptive behavior. Totally understand. No one disputes he had his disruptive moments. But being second all-time in receiving yards and third in receiving touchdowns—those are Ruthian numbers. We're keeping him out of the Hall of Fame because of some disruptive incidents with teammates? Most of the people keeping him out of the Hall didn't cover him. I did. What he did most often was hardly the work of a person who doesn't care. I don't think you play the Super Bowl with a broken bone in your leg, and you catch nine balls for over 100 yards … I mean, that's not something you do if you don't care. Now what concerns me is how entrenched some people seem."
That concerns me too. But the next 49 weeks will have a way of calming some troubled waters. I still don't think it'll be enough to get Owens in next year in a starry class, but I hope I'm wrong.
• DAN FOUTS GETS HIS VOTE: The Hall of Fame quarterback on T.O., the Canton balloting process and much more
* * *
As for Game One, 2017 …
On Sept. 7 in Foxboro, the Patriots will host the first game of the season. (I'm assuming it will be Roger Goodell's re-debut in the middle of these six friendly states.) Thoughts on the Patriots' opening-night foe, with odds:
| | | |
| --- | --- | --- |
| Foe | Odds | Thoughts |
| KC | 2-1 | Easiest choice. Andy Reid's team is always competitive |
| HOU | 4-1 | Playoff rematch—with a better passer, Tom Savage or Tony Romo |
| ATL | 9-2 | Can't see NFL wasting Super Bowl rematch second year in a row |
| CAR | 6-1 | The NFL heard Ron Rivera's anger over '16 opener at champ Denver |
| MIA | 10-1 | Outside shot, but two one-sided games in '16 hurt this one |
| LAC | 20-1 | Philip Rivers and a decent pass rush. Meh |
| BUF | 50-1 | Not happening |
| NYJ | 75-1 | Really not happening |
* * *
Quotes of the Week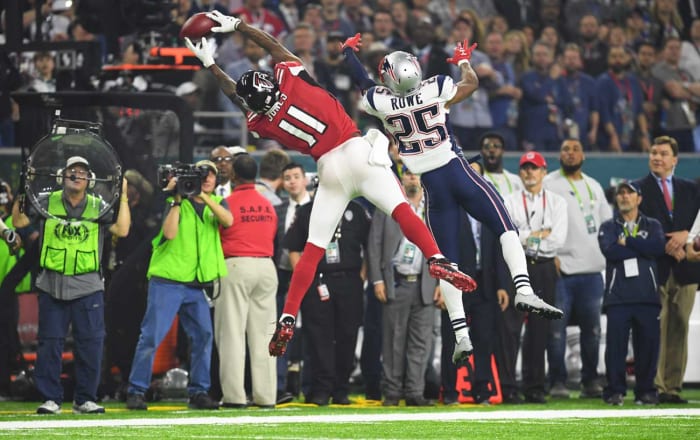 I
"You a baaaaaad man!"
—Atlanta wide receiver Mohamed Sanu to Julio Jones, in the Atlanta huddle after Jones made the greatest catch of his life in the Super Bowl, via an NFL Films wiring of Sanu.
II
"I love playing the game, love everything about it, but at some point your body tells you when to stop. The season ended. I just went into [general manager] Steve Keim and to coach [Bruce] Arians and asked them if I could take a month and make sure my body was going to get back to 100 percent—make sure my body was going to bounce back and give me another shot at it. I took the month and the body's recovered well. I feel great."
—Arizona quarterback Carson Palmer, describing why he will return for a 14th season in 2017. He turns 38 in December.
III
"I know that this will anger some people and inspire others, But please know I did this not for you, but to be in accord with my own values and my own conscience. Like 1968 Olympian John Carlos always says, 'There is no partial commitment to justice. You are either in or you're out.' Well, I'm in."
—Seattle defensive end Michael Bennett, who announced that he would forego a goodwill trip with NFL players to Israel because he discovered the trip would be used by the Israeli government for what he understood to favor Israel over Palestine.
IV
"I'm speaking to you, Jerry. Mr. Garrett, make it happen. Dak Prescott leads our team right now. I need you to take Tony Romo, take a couple picks, and give them to Cleveland so you can pick me up. Please, I'd love to play in Dallas, just make it happen."
—Texas A&M pass-rusher Myles Garrett, in contention to be the top pick in the 2017 NFL Draft, in a video posted by ESPN. "Jerry" is Cowboys owner Jerry Jones, "Mr. Garrett" is coach Jason Garrett.
Two thoughts: The Cleveland complex continues … and I sincerely doubt Tony Romo, who will be 37 opening day, holds much value to the Browns, who need a quarterback for the future, not for 2017.
V
"I caught it! Swear to God!"
—New England wide receiver Julian Edelman, captured by an NFL Films wire, telling Falcons corner Brian Poole that he made that impossible catch in the fourth quarter of the Super Bowl.
VI
"Without you, there is no me. People want to put someone on a pedestal—just one person. But they leave a lot of people out when they do that, and I don't believe that should happen. So yes, you have a piece of this bust, man."
—Hall of Famer Terrell Davis, the Denver running back, in a touching interview with a former road-grading teammate, guard Mark Schlereth, on the radio show "Schlereth and Evans" on station 104.3 The Fan.
A legitimately touching tribute by Davis. That was good radio.
• 2017 DRAFT DEFINED BY DEPTH: Albert Breer examines several central themes emerging with the new prospects
* * *
Stats of the Week
I
For those who rolled their eyes at the return of Carson Palmer and think the Cardinals should have moved on from the 37-year-old passer: Palmer has thrown for 655 more yards than Aaron Rodgers over the past two seasons.
II
I am eight days late here, but holy crap, this stat line on New England left tackle Nate Solder versus Atlanta in Super Bowl 51 is stunning:
Sacks allowed: 1
QB hits allowed: 1
QB pressures allowed: 11
* * *
Factoids That May Interest Only Me
I
The first of Bill Belichick's 227 NFL coaching victories came against the Patriots. Belichick's second game as Cleveland coach was a 20-0 victory Sept. 8, 1991.
The New England coach that day in Foxboro: Dick MacPherson. The New England quarterback that day: Tom Hodson.
II
The first of Bill Belichick's 26 NFL postseason victories came against the Patriots, 20-13, on New Year's Day 1995.
The New England coach that day at Municipal Stadium: Bill Parcells. The New England quarterback that day: Drew Bledsoe.
III
The last game of Belichick's rookie coaching season in 1991, a dreadful affair at Three Rivers Stadium, was Chuck Noll's last game as a pro football coach. Steelers 17, Browns 10.
I was in the stadium that day, Dec. 22, 1991, expecting to see or hear Noll's announcement—would he retire or return? No dice. I do remember a picture of Noll and wife Marianne appearing on the scoreboard in the fourth quarter with the words HAPPY HOLIDAYS FROM CHUCK AND MARIANNE NOLL. The crowd gave that visage a standing ovation.
IV
Belichick (263) is eight wins from passing Tom Landry (270) on the all-time coaching victories list.
* * *
Non-Super Bowl Factoid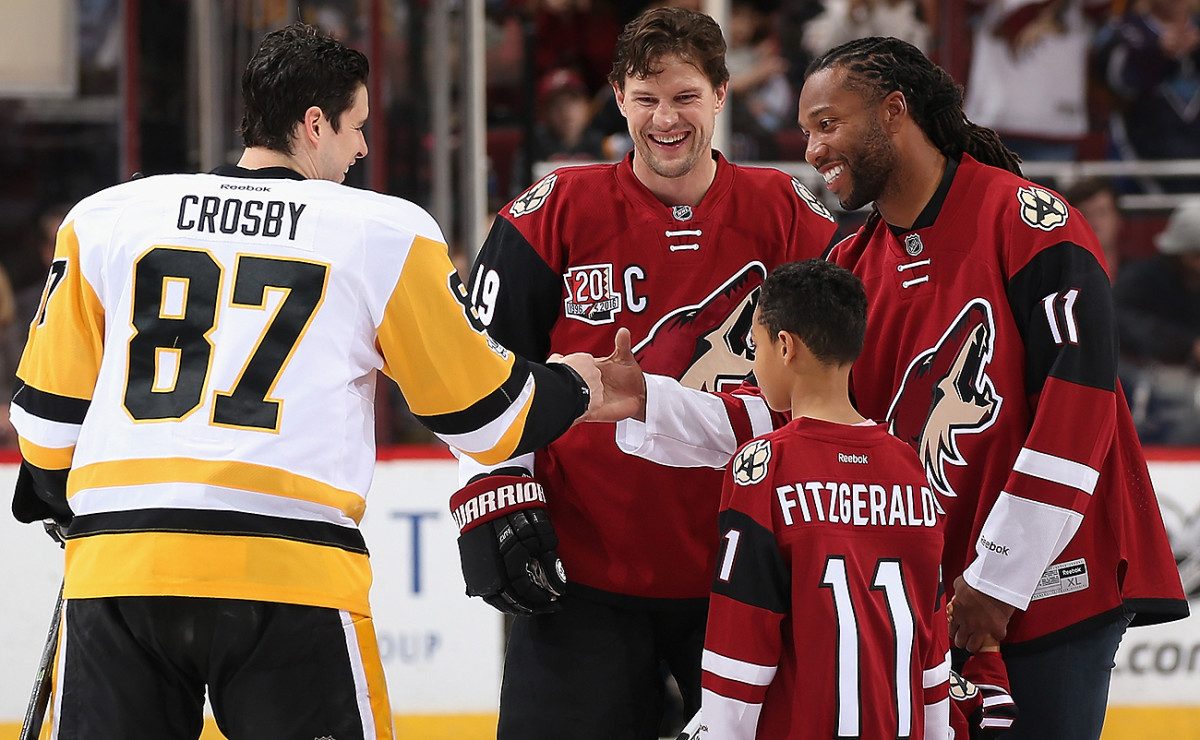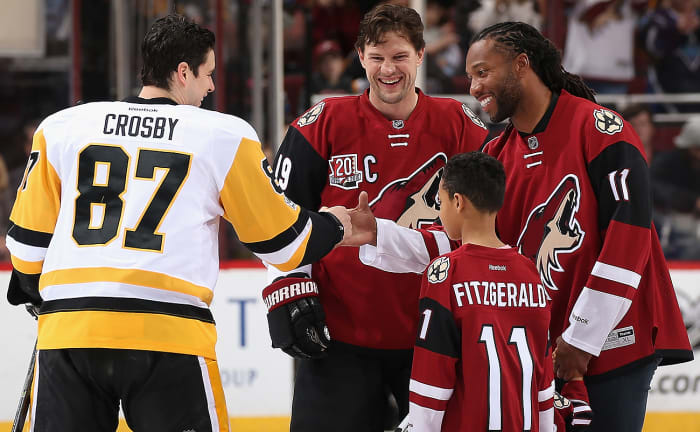 Per PR maestro Mark Dalton of the Arizona Cardinals: Saturday was Larry Fitzgerald Bobblehead Night at the Arizona Coyotes game. The Coyotes defeated the defending Stanley Cup champion Penguins in overtime. On the night the Coyotes feted Arizona's most noted number 11, Martin Hanzal put the Coyotes up 2-1 in the second period. Hanzal wears number 11, it was his 11th goal of the season and it came with exactly 11:00 left in the period.
* * *
Mr. Starwood Preferred Travel Note
People in Montana are so nice. I got off a plane in Bozeman on Sunday and the gate agent said, "Welcome to Bozeman!" I walked out to my rental car and a Bozeman police officer said, "Welcome to Bozeman! How ya doin'?"
Late in the afternoon, I stopped at a burger place and got a bison burger. Terrific. When I went to the men's room, I saw a poster for avalanche classes. I asked my waiter about it, and he said lots of people who ski go to these classes to avoid getting buried on the mountains.
It's a big country.
* * *
Tweets of the Week
I
II
III
IV
* * *
Pod People
From "The MMQB Podcast With Peter King," available where you download podcasts. 
Love the pod this week—New England offensive coordinator Josh McDaniels on the game (much of it covered at the top of this column) and San Francisco GM John Lynch. I chose a couple of the Lynch bites, because they give you a view into the person.
• Lynch on how the story of him being a GM was such a shock to so many people: "Early on, the story broke that I was doing the silence part to test [CEO] Jed York, and that's true, but that was probably third on the list. I have four kids. My wife, when I went to her, she said, 'John, listen. It is hard for me to wrap my arms around something until you have an offer. So, develop this thing if you wish, but I don't want to tell the kids at this point, because kids get anxiety about that.' That spoke to me. I have a son who is going to be a junior right now. He checks Pro Football Talk, he checks The MMQB on a constant basis. I didn't want him learning— and that's the way this world works now. [My family members] were the top priority. But also because I had read the stories that there were a lot of leaks out of that San Francisco building. I said, 'Jed, it's very important to me. Actually, it's a non-starter. If this gets out, my name's out of the hat.' To his credit, it worked, and it stayed quiet. One person had the story, and he is a good man because he never leaked it. He's a father, and I told him, as a father, I'm asking you to hold on to it, and he did."
• Lynch on his baseball history—especially starting the first game in the history of the Florida Marlins organization: "Unfortunately what I remember is that the first seven pitches that day were balls. A four-pitch walk, and then I got to 3-0, and then I came back and I got it going, but oh wow, what an experience … It was so short to right field in the park, Erie, Pennsylvania. Mr. [Wayne] Huizenga brought up all the dignitaries, and I throw the first pitch and they run out and take my hat, take my jersey, they give me another one, they stop the game. Every pitch they were taking something for the Hall of Fame, so the fact that some of that stuff still resides at the Baseball Hall of Fame is pretty fun. I think I would have been a good pitcher. I had great sink, heavy sink. And I think it would have worked, but now just thinking about it, it's the same reason I took this job. I learned right there, my dad wanted me to play baseball. What are you doing? Look at the career—no injuries! A lot of people thought I was crazy to leave the Marlins where I was the second pick ever, I threw the first pitch, and had a fast track to the major leagues. What I did is I followed my heart … I realized that I loved baseball but I had to have football. That same line of thinking is what allowed me to pursue this opportunity without fear. I'm going to give it my best shot. I don't fail at many things that I try in life. I am going to have some failures but I'll overcome those."
* * *
Ten Things I Think I Think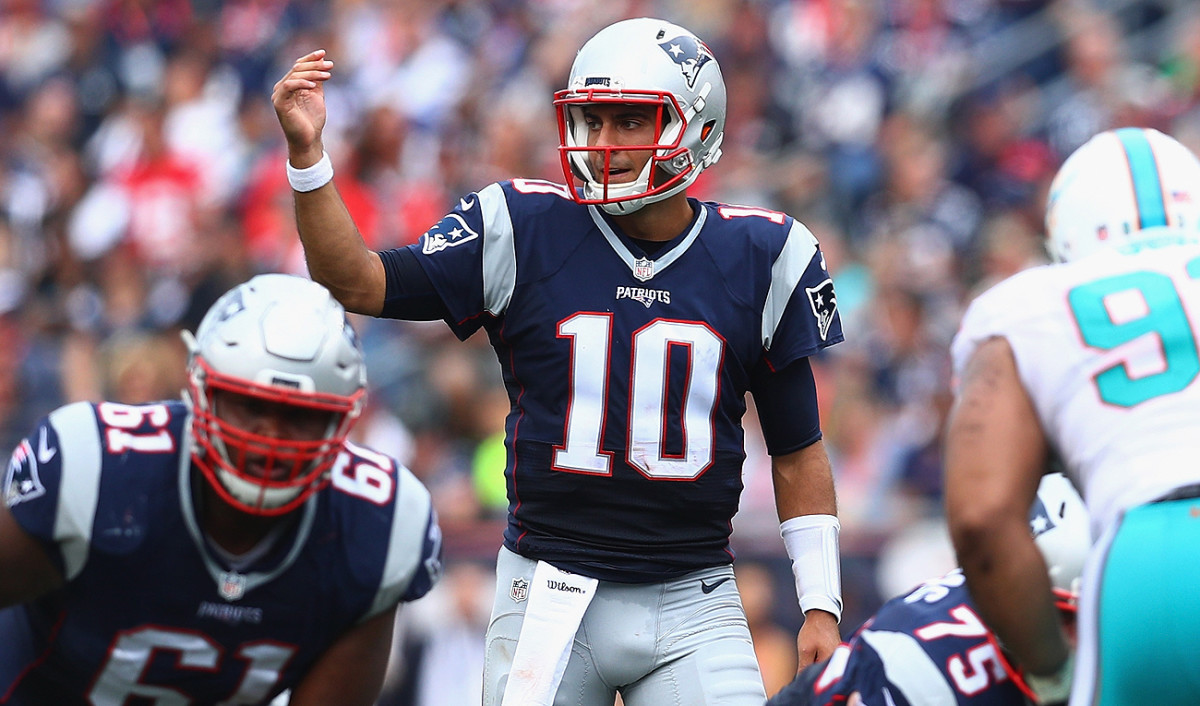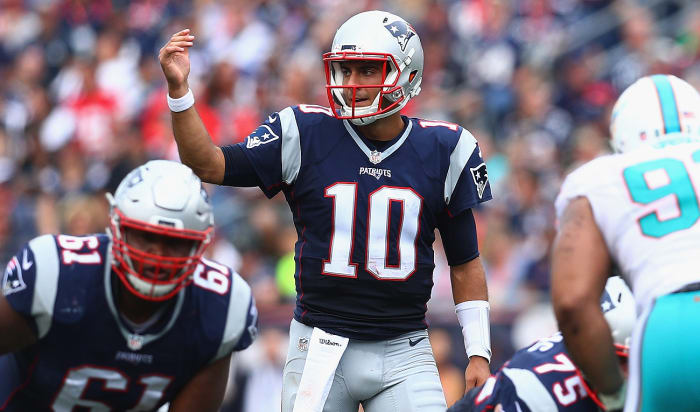 1. I think these are my quick notes of analysis from the first week of the off-season:
a. Last one out of the Falcons' coaches' offices, turn off the lights.
b. All I know about the Terrell Owens Hall of Fame story is this: Lots of anti-Owens people have been in hiding for the past nine days.
c. It's amazing to me that those who think Owens doesn't belong in the Hall of Fame are all hiding under rocks this morning.
d. Not a big fan of NFL coaches wearing T-shirts slapping the NFL commissioner in the face. It's just not a good look.
e. The owners/GMs who interview an exceedingly intelligent and mature man and excellent coach, Matt Patricia, for head-coaching jobs in the future (and that will happen, just the way it did this year) are going to wonder: Do we have to worry about the leader of our team pulling a Delta Chi frat prank?
f. Kyle Shanahan wasn't kidding, knowing him, when he said four days after the game: "I remember every single play, and I will go over those for the rest of my life."
g. This Raiders' thing in Las Vegas will not end well, because no high rollers there want to mess with the jilted casino magnate Sheldon Adelson. 
h. I've said it before, and I'll say it again, a hundred times: Mark Davis needs a partner with money, period.
2. I think Jimmy Garoppolo will not be traded by New England this off-season.
3. I think it's pretty obvious why everyone thinks he will be: Tom Brady just finished a season with 35 touchdowns and five interceptions. He'll next take a snap when he's 40, but when he looks this good at 39, no one expects him to fall off a cliff. Got it. So go get a first-round pick for Garoppolo and develop Jacoby Brissett. But there are two problems with this logic, as I see it. And understand, I have not spoken with Belichick about this; it is a simple reading of the tea leaves knowing the way Belichick could be looking at it. One: In the 17 seasons since the Patriots drafted Brady, Garoppolo has to be the first man Belichick looks at and thinks can be the Patriots' quarterback for the next decade. He's smart, makes good decisions, has shown (admittedly in a very brief window last September) that he can beat quality opponents. Two: The Patriots do the most with lesser prospects of any team in recent league history. If you've got a starting quarterback about to turn 40, regardless of his incredible good health and fitness, whatever Brady gives the Patriots now is a bonus. If I'm Belichick, I'm thinking: I'd rather have a quarterback on my roster who I know can win January games in 2017 than go without him and have a first-round pick instead. I can't tell you how he's thinking; I can only tell you that based on Belichickian logic, I think that's most likely how he is thinking heading into the off-season.
Oh, and as the Patriots drove for the tying touchdown in the fourth quarter of the Super Bowl eight days ago, these were the skill players who touched the ball, and the linemen who blocked for them, and the draft round and year for their entry into the NFL:
Tom Brady: sixth round, 2000.
James White: fourth round, 2014
Chris Hogan: undrafted, 2012
Julian Edelman: seventh round, 2009
Malcolm Mitchell: fourth round, 2016
Danny Amendola: undrafted, 2008
Nate Solder: first round, 2011
Joe Thuney: third round, 2016
David Andrews: undrafted, 2015
Shaq Mason: fourth round, 2015
Marcus Cannon: fifth round, 2011
Notice a trend? One of the 11 (Solder) was a top-75 draft choice in the NFL. It isn't that the Patriots don't want high draft choices; of course they do. But they win with players drafted down the line, or not drafted at all, or by stealing the fourth receiver on the Bills (Chris Hogan) in free agency.
4. I think I liked the officiating crew in the Super Bowl altogether. But I especially liked the decisiveness of line judge Jeff Seeman. The one thing you want out of your officiating crew is decisiveness. And when Edelman got entangled with three Falcons on that ridiculous cover-of-Sports-Illustratedcatch in the fourth quarter, and it was unclear whether Edelman caught the ball but it sure looked like he didn't, Seeman sprinted in from the sideline with absolute certainty that it was a catch. He pumped his arms over and over in the officiating sign for a good reception. And, of course, it turned out Seeman was right. Great call, great conviction. That's got to go on every Dean Blandino teaching tape this off-season.
5. I think the Raiders deserve credit for the Jack Del Rio contract extension. Lots of credit. When I met with Derek Carr in December, he couldn't have been more enthusiastic about Del Rio's steadying influence. Right time, right place, right coach.
6. I think I wouldn't be concerned about the mass exodus of Atlanta coaches, except for two: Kyle Shanahan and Bobby Turner. Shanahan made Matt Ryan better. He made the offense better because it was so diverse and so unpredictable. Turner's the unsung loss. He's the veteran running backs coach who, back in Denver, made a slew of low-drafted backs (Terrell Davis most notably) play great, and he was vital in the development of Devonta Freeman and Tevin Coleman in Atlanta. But I applaud the Falcons. They could have played hardball and kept Turner. But Turner wanted to go with Shanahan—Turner obviously was close with Mike Shanahan—and he becomes a very influential senior adviser (he is 67) to Kyle Shanahan.
7. I think it doesn't hurt that the 49ers have rewarded Turner by making him one of the highest-paid (if not the highest-paid) running backs coaches in the NFL, with a salary of at least $625,000.
8. I think I've got five Atlanta points left over from the Super Bowl, in the wake of watching the tape back twice, along with the coaches tape, courtesy of NFL Game Pass, which is one of the great sportswriter tools ever invented:
• On Dan Quinn, and blame. Quinn four seasons ago was coaching at the University of Florida. He's in his second year at any level of being a head coach, and he just guided his team to the Super Bowl. I can't line up a firing squad because, with the play clock running, he didn't overrule Kyle Shanahan and order him to run on second-and-11 with 3:56 left in the game. I don't know how many times all season, if ever, Quinn has overruled Shanahan. But Shanahan ran the eighth-highest-scoring offense in NFL history this season. He helped Matt Ryan play 10 to 15 percent better than he ever had. That, I believe, buys Shanahan the trust of the head coach when he makes a questionable call in a vital situation down the stretch. Atlanta could have kneeled down twice and Matt Bryant would have been in position to kick the insurance field goal from about 42 yards away, with about 3:35 left. This, I believe, is on Shanahan. He should have thought ahead, and he didn't do it. The buck does stop with Quinn. It's a bitter pill for him, and for his team. But it's more on the man who calls the offensive plays. It was an incredible gaffe by Shanahan.
• On fatigue. So much being made of the Falcons' defenders on the field so much. Not a fan of this excuse—at all. The Patriots' offensive players had to play those same amount of snaps, 95 in all. (Add in the four plays negated due to defensive penalty, and there's your 99 plays.) The Atlanta defense is far younger than New England's offense. So spare me Atlanta being tired while the Patriots road-graded them in the second half and overtime. If I'm Quinn, I'm thinking about my team's conditioning, and perhaps changing practice to mirror what the Patriots did late in the season—practice once a week in pads.
• Alex Mack playing with the cracked fibula was noble, but he was a big part of this loss late too. New England's Trey Flowers burst past the limited Mack for the crucial 12-yard sack on the killer Atlanta drive; Mack wasn't competitive on the play. When Jake Matthews got the holding call on the next play, that killed the Falcons. A terrible selection of plays—from Shanahan calling a pass, Mack giving up the sack, Matt Ryan incredibly not throwing the ball away (cardinal quarterback rule in this case, at this spot on the field), and then Matthews stupidly wrestling Chris Long to the ground.
• The Patriots three times in the last 11 minutes of the game ran the exact same play—a trips-right formation (three receivers right, one left), and the Falcons didn't pick up on it. Every time, Brady threw to the single receiver—Mitchell twice, Hogan once. Is there no one on the Atlanta sideline or upstairs that sees this happening over and over again, no one to say, If this happens again, let's change up the coverage? Evidently not.
• Devonta Freeman knows this already, and he has been flayed from coast to coach for eight days for missing the block on Dont'a Hightower. But it's got to be said: If Freeman makes the block and Atlanta converts that third-and-one, the Falcons could well have had the ball long enough there with a 16-point lead to make sure that if New England got two more possessions, it would be with long distances to go for touchdowns, not one of the possessions starting at the Atlanta 25. Lazy play by Freeman.
9. I think I like Seattle inking Blair Walsh. There's no such thing as psyche insurance, and so you don't know if he's ever going to be a great kicker again after having the yips in 2016. But he's only 27. In 2012 he made 10 field goals of 50 yards or longer in 10 tries. The question is not why you would give Walsh a shot, but rather why you wouldn't.
10. I think these are my non-football thoughts of the week:
a. Story of the Week, and maybe of the year, by Hailey Branson-Potts of the Los Angeles Times, about a foster father in Los Angeles who takes in only terminally ill children. Well written and crafted.
b. Do not read the story if you do not want to cry.
c. Read the story.
d. Football-Related Story (but just barely) of the Week: Steve Young, private equity czar, by Alex Sherman of Bloomberg Businessweek. A terrific story about a person who refuses to get locked into what people think he should be—an ex-football player.
e. Interesting how in the story how much Young distances himself from football, and remembers the words of another Hall of Fame quarterback in so doing. "Roger Staubach once told me, and I'll never forget it, "When you retire, run. Don't look back,'" Young said.
f. Good luck to colleague Bob Costas as he transitions into whatever he's going to transition to—and whatever it is, he'll be great, because that's what he is at everything. I've been lucky enough to work with Costas for the past 15 years at HBO and NBC. He won't do anything unless he can be great at it.
g. And good luck to Mike Tirico, one of the great team players and broadcasters in TV sports, as he takes over Costas's Olympic host duties. Tirico is good at so many things, two most notably—explaining nuances of games simply but vividly, and making people on his team feel valued.
h. Step away from Twitter, Mr. President. Be presidential.
i. You messed with the wrong guy, James Dolan—and I don't even know who's right in the Charles Oakley/Dolan fiasco. You messed with the wrong guy because Oakley played his guts out for the Knicks, and you can't win a fight with a legend like that.
j. Owners who lose all the time don't seem to get that fans hate them because the team's not winning. Antagonizing a former player you hate but the fans love is the opposite of good business.
k. Coffeenerdness: The Starbucks smoked butterscotch latte is a very good drink when made consistently. Unfortunately, that happens about half the time.
l. Beernerdness: Live Oak Hefeweizen (Live Oak Brewing Company, Austin, Texas) was the hidden gem of Super Bowl week. I was fortunate to have two mugs of it Thursday night at the Hay Merchant in Houston, and I will just say it will be on my very short list of beers to pursue when I next travel to Texas.
m. I'm no chess person, but I do love Garry Kasparov.
n. Geno Auriemma and the UConn Huskies play for their 100th straight win tonight, against South Carolina. Let's put that in perspective, with the full acknowledgement that there are no East Carolinas or South Floridas on a pro football schedule:
o. In its last 99 games, the best women's basketball team in America, UConn, is 99-0.
p. In its last 99 games (including playoffs), the best pro football team in America, New England, is 77-22.
q. I should have linked to this photo from the Super Bowl press box last week. The NFL was good enough to leave an empty front-row press-box seat, with a commemoration, for the late Edwin Pope of the Miami Herald. His good friend and colleague Armando Salguero was pleased to sit next to the Pope seat, and to tell Pope stories to anyone who was interested. A nice tribute.
* * *
The Adieu Haiku
Montana. Lovely!
If I were Tom Brady I'd
escape life here too.
• Question or comment? Email us at talkback@themmqb.com