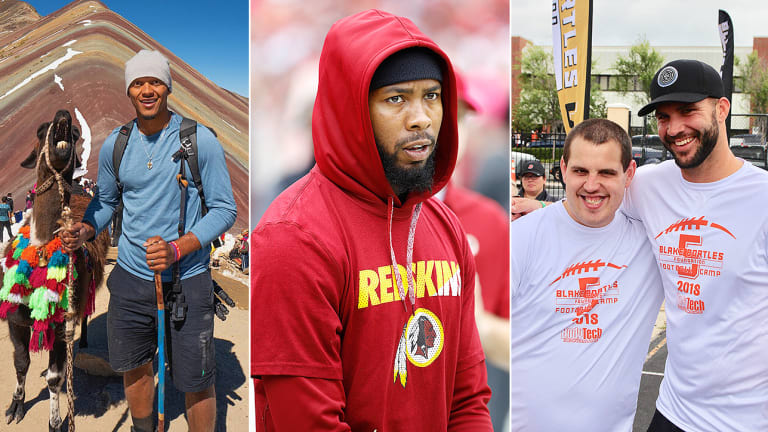 For Many NFL Players, Summer Doesn't Bring Much of a Break
The NFL's summer break presents the ideal opportunity for players to pursue individual passions, and this year they lent a hand during a crisis (Josh Norman), got involved in local politics (Devin and Jason McCourty and Matthew Slater) and tackled personal goals around the world (Brett Hundley), just to name a few. Also, items on how the NFL is aiding coaches in teaching the new helmet-lowering rule, the NFL's involvment in NYC Pride, why Russell Okung's discussion about guaranteed contracts is so important and much more
This is the rare part of the NFL calendar when players, coaches and executives take those elusive days off, punctuated only by the customary Fourth-of-July-eve news dump. But for many players around the league, this is a busy time of year, for reasons well beyond the game they play for a living.
To start this week's column, I wanted to highlight the off-field work and interests outside of the game so many players pursue, but which too often get overlooked or dismissed in lazy attempts to label athletes as one-dimensional. Follow along with them to cities around the country and the world, to communities both close and far from home, spurred by motivations that are both personal and universal—as 10 players around the league share the unique ways they've spent their summer breaks.
SAN ANTONIO— Josh Norman was standing at a Greyhound bus station one Wednesday in June, reading faces in the crowd of migrant children and families. "They were still carrying a bit of hope," he says, "but it was almost like broken hope." One woman came over and hugged him, and he could feel her physically transfer her burden to his shoulders.
The Washington cornerback had been moved by the reports about the crisis at the U.S.-Mexico border, where some 2,000 children had been separated from their parents before the government reversed course on its zero-tolerance policy. Norman was determined to do something to help migrant families, so one of his managers reached out to RAICES, a Texas-based nonprofit that offers free and low-cost legal services to immigrants and refugees.
The bus station located in downtown San Antonio serves as a hub where RAICES workers meet dozens of children and families who have been released from detention centers across Texas after trying to enter the U.S. They'll wait there for several hours before boarding buses that will take them to stay with friends and families across the nation until their immigration hearings. Norman and Saints linebacker Demario Davis, whom he asked to join him, didn't know each person's individual circumstance, but they wanted to ensure that the kids would be comfortable for their uncertain journeys ahead.
They each flew to Texas and went on a late-night shopping spree at Walmart, filling carts with sweat towels to keep the kids cool, and blankets with princesses and superheroes, and the kind of toiletries they'd buy for their own children ("Crest mouthwash, the good kind," Norman says). The next day they delivered backpacks stuffed with these supplies to the bus station. RAICES had been passing out packed sandwiches, but the players took the kids and families across the street to a BBQ restaurant, so they could sit down and pick anything they wanted off a menu.
"I didn't want to stop there," says Norman, who together with Davis spent about $10,000 on supplies and food. "I wanted them to see that America can be a joyous place, to have a time here when they could enjoy life. You don't have to come here and be put in cages and be treated like you're an animal."
The kids didn't know who the players were, and most didn't speak English, but acts of kindness and humanity are universal. They delighted in being able to pick out their own brightly colored backpack, with the stuffed animals and coloring books Norman made sure to include.
"We are living in some crazy times, and I'll be darned if I'll just sit here and watch everything go to sh--," he says. "I'm playing ball, but if I can do anything outside to help; if I could run for office, I would. It's sad where we are going, but hopefully doing good deeds and good acts will have a trickle-down effect. That's the best we can hope for."
DORCHESTER, Mass. — Outside Lilla G. Frederick Pilot Middle School, the candidates toted bullhorns, trying to get their messages heard. Inside, in an auditorium filled with some 200 people, three Patriots players were playing an unfamiliar role—refereeing a raucous political debate.
"People didn't care what we did for a living," Devin McCourty says. "They were talking and shouting over us. You could see how much people care about their own communities."
The veteran safety—along with his twin brother and teammate, Jason, and longtime Patriots special teams captain Matthew Slater—were here to moderate a forum among the five candidates running to replace the outgoing district attorney for Boston and the rest of Suffolk County. The candidates were female and male, of multiple different races and backgrounds—but what mattered most to the NFL players on stage, and the audience, was how they'd handle the issues most important to their community.
This was one in a series of forums hosted in five different cities across the U.S. by members of the Players Coalition, the non-profit group co-founded by Malcolm Jenkins and Anquan Boldin that helps NFL players to use their platform to address issues of social injustice and inequality. The local district attorney races in 2018 have been one focus, since DAs control who is charged with crimes and how the person is punished, and they can play a role in advancing criminal justice reform measures such as ending the cash bail system that discriminates against those too poor to pay their way out of jail while awaiting the adjudication of their case.
The three Patriots spent a week brainstorming questions about mass incarceration, the juvenile system, immigration and police-community relations. They encouraged the audience members to educate themselves and cast their vote—"helping communities understand how they can help themselves," McCourty says. Afterward, as the players lingered to talk to the audience members, some asked questions about the hot-button topic of the anthem demonstrations, but McCourty says they tried to keep the focus on the issues central to the September DA primary.
"That's what we have talked about numerous times," McCourty says. "Making sure no matter what comes up, the Eagles' White House visit being canceled or the new anthem policy, we are going to stay focused on what we believe in, and that's helping our communities."
ST. AUGUSTINE, Fla. — C.J. Williams pulled no punches. He was with his friend, Blake Bortles, at a local golf course a few days after the Jaguars' minicamp ended. During an interview together with a local TV station, C.J. was asked if he watched all of Bortles's games last season. Yes, he said—and promptly added that Bortles had lost the AFC Championship Game.
"I told him he's no longer allowed to bring that up," Bortles said later, but it was all in good humor. The buddies met when Bortles was a freshman at Oviedo High near Orlando. On Saturday mornings the varsity football team teamed up with students with special needs to play a flag football game, and Bortles and C.J., who has autism, stayed close after Bortles went away to UCF—the two would watch WWF tapes over Christmas breaks. After Bortles was drafted No. 3 overall by the Jaguars, C.J. was a motivating factor for Bortles in starting his foundation, which supports first responders and children and adults with intellectual and developmental disabilities.
C.J. graduated from high school two years ago and spends the summer at an independent living program at The Arc Jacksonville, a village offering group homes and life skills programs for young adults with disabilities. Bortles's foundation, which raised around $200,000 at this year's charity golf tournament, has sponsored C.J. and a total of 15 scholarships over the past two years, about one-quarter of the summer life program's participants. Bortles also donated $40,000 at the village's opening in 2016. "It's an unbelievable place," Bortles says. "There are not a lot of options for kids with disabilities after they're out of high school. This gives them a place to live, a way to integrate into society and find jobs."
Bortles, who signed a three-year, $54 million extension this offseason, says it was "a breath of relief" to be able to continue his career where he started it. Both he and C.J. are hoping that January's loss in Foxborough, despite a 10-point lead in the fourth quarter, will spur different results this season.
"You wish things had gone differently, but hopefully you get another shot at it," Bortles says. "Any time you are in those situations, you have to find ways to finish. That's something we talked about in the offseason. We didn't do that during the AFC Championship Game, but that's a memory everybody has that we will be able to pull from."
"Last year we opened the public eye to what kind of team we were, but there wasn't a whole lot of surprise in our locker room," he adds. "Expectations continue to grow. We are looking forward to meeting them."
HOUSTON— The campers were about to break for lunch, but first, Michael Thomas called up to the auditorium stage a young man named Tobias White. The Giants safety was hosting his fourth "Camp Mike T," a free camp in his hometown that teaches much more than football. Thomas recalls having to Google how to make out a check when he first entered the NFL, so part of the day's schedule included a lesson on financial literacy.
White, a graduating senior from Nimitz High in Houston, Thomas's alma mater, was instructed to write out a big display check for the remaining expenses for his first year of college. He completed it correctly, but Thomas said he needed to fix something. To: Tobias White. From: Camp Mike T. What White hadn't realized was that Thomas was surprising him with a $10,000 scholarship to fund his studies in criminal justice at UT-San Antonio.
The campers had spent an entire morning in June learning off-field lessons before even stepping on the football field. They enrolled for online SAT/ACT prep courses. They met with representatives from the University of Texas-Austin, Prairie View A&M and Lone Star College, a community college where Thomas took AP classes as a teen before heading to Stanford. They learned how Thomas manages his finances, and they had an open dialogue about social justice and athlete activism.
"I was honest in saying that everything we are fighting for is because of them," Thomas says, "and not wanting them to have to fight for the same things as they get older."
Thomas says the idea of an open forum for the teens, instead of panels and speakers, came out of conversations with Colin Kaepernick and Eric Reid. Thomas joined the former 49ers players in kneeling during the national anthem during the 2016 season, to bring awareness to social injustices in the U.S., which they have matched with work in their communities. Kaepernick's experiences from hosting a "Know Your Rights Camp" for kids across the country was a resource Thomas sought out.
"We are in this together," Thomas says. "Colin and Eric literally sacrificed their careers for this. Kenny Stills and I fought for the same things, but the difference is, we both still are employed, and right now they are not. Everybody knows what it is about, but can you prove it? They fought for us, for the people, and years down the line, they'll be seen on the right side of history."
HIDALGO, Mexico— Kenyan Drake yanked on gloves and slipped on a surgical mask as he scrubbed into a surgery at Hospital del Niño DIF Hidalgo, a children's hospital about an hour and a half outside Mexico City. The patient was an infant just a few months old, who had been born with a cleft lip. In less than an hour, the baby's lip was closed and his outlook was changed, at no cost to the family. "The best part," Drake says, "was seeing the parents' reaction."
The Dolphins running back spent four days in Mexico in late June as an ambassador for Smile Train, which provides free surgeries and related medical care to kids in developing countries born with a cleft lip or palate. Drake, who remembers being teased as a kid for something as simple as having a gap in his teeth, has helped the charity raise money for local doctors to provide this care in their own communities. But this was his first chance to see the work firsthand, visiting Smile Train's partner hospitals in Mexico and hosting an American football game with patients and their families. The condition affects not only the appearance of a child's face but also feeding, speech and hearing, and in some countries is viewed as a curse.
"There are cultural stigmas that affect people coming in to get these surgeries," Drake says. "That's why it's important to visit and raise awareness, because it shows that this is something that can be fixed, you can get medical help, and it's not a curse."
Entering his third NFL season, Drake is growing into a bigger role both on and off the field. After the Dolphins traded Jay Ajayi to the Eagles last October, Drake emerged as the team's lead back late in the season—a role he'll have the chance to build on this year, though veteran Frank Gore and rookie Kalen Ballage will also be vying for carries. "I just want to remain consistent," Drake says. "Not trying to do too much or worrying about building on last year."
FLAGSTAFF, Ariz. — This time of year is called "Cowboy Christmas" on the professional rodeo circuit. There are oodles of rodeos across the West, which is exactly where Brian Robison was last weekend. He was in the stands, holding up his phone to record the barrel-racing event, in which contestants ride their horse around barrels in a cloverleaf pattern as fast as possible. It's rare for him to be nervous, but here his hands were shaking, like he'd had 20 cups of coffee.
"Is this how Jayme feels when I play a game?" Robison asked his mother-in-law.
During Cowboy Christmas, the tables are turned for the veteran Vikings defensive end and his wife, Jayme. She's a professional barrel racer, criss-crossing the Western U.S. in a freightliner with five horses in tow while Brian holds down the home front in their native Texas. He and their two kids joined her for a five-day stretch last week, logging some 25 hours of driving to hit rodeos in Colorado, Utah and Arizona. This is his turn to be the trailing spouse; Jayme is the only one in the family with a commercial driver's license, so he can't even pitch in behind the wheel.
"She makes the sacrifice during my season," Robison says, "so this is the time of year that's hard on me, having her go out on the road and sometimes being lonely. But that's what makes marriage work, understanding what each other wants in life and supporting it."
Jayme finished fourth in the Flagstaff event, earning a check she'll put toward competing in more rodeos. Later she analyzed the video Robison took, just like he'd watch game film, watching her hands and her spacing as she turned the horse around the barrel. When football season begins, their family will be back together in Minnesota for what Robison, 35, thinks will be his final pro season.
"I am pretty sure this will be my last one," Robison says. "I'll make that announcement when I get to camp and have my mind made up going into the season. Hopefully, we'll give it a good run."
The Vikings were on a run last year, advancing to the NFC Championship Game with a thrilling win against the Saints, only to fall 38-7 to the eventual Super Bowl champion Eagles.
"It's a motivating factor," the Vikings veteran says. "You can't sit there and dwell on all the great wins we had. If you want to get where we want to get, bringing the Super Bowl trophy home to Minnesota, you have to remember the hurt and pain that came out of that game so it doesn't happen again."
CUSCO REGION, Peru — Brett Hundley was somewhere around 17,000 feet above sea level, taking in the distinctive multicolored sediment bands in the Peruvian Andes that give Rainbow Mountain its name. Then he was abruptly reminded that the altitude and 10 miles he'd just hiked can catch up even to a professional athlete. "I started puking up everything in my stomach," he says.
The Packers backup quarterback is on a quest to visit all Seven Wonders of the World. That list has many variations depending on whom you ask, but for the son of a flight attendant it's a starting point for him to explore the world during breaks in the NFL calendar.
Hundley's mission began last June when he rented a camper with his wife after minicamp and drove from Green Bay to Niagara Falls. This March, during a trip to China and Thailand, he climbed the Great Wall, marveling at the manpower required to construct it. And after minicamp wrapped last month he flew to Peru with a fraternity brother to see Machu Picchu.
They woke up at 3:30 a.m. each day in Peru, headed out with a local guide and returned after sunset. Hundley ate guinea pig—trying to ignore the fact that he'd had one a childhood pet—and Alpaca steak, and got really good at charades, to bridge language barriers. He toted a GoPro and a Leica Q camera, chronicling for social media moments like his walk up to Machu Picchu, panting as he ascended the Inca trail. "It's a way to express yourself beyond football," Hundley says. "I get a high from traveling."
For Hundley it's been a year of gaining new perspectives. After Aaron Rodgers broke his collarbone in October, Hundley had his first chance to start in the NFL and went 3–6. Hundley says he's worked this offseason on getting "back to the basics" and learning from his first regular-season game tape, such as his decision-making in various game situations. During the offseason the team traded for DeShone Kizer, who was taken in the second round of the 2017 draft, creating competition for the backup job.
"In this game, everybody is always trying to compete for their job, whether it is Kizer or [Joe] Callahan," Hundley says. "I don't focus on anybody other than myself. We've all had to go through a lot of struggles to get where we have gotten. It's not about the other person; it's about pushing yourself to get better. You only get so many opportunities in this game, and you have to make the most of them."
MILWAUKEE, Wisc. — At a downtown hotel one night in June, a 28-year-old woman stood on a stage in front of a few hundred people, opening up about what she called a hard black line in her life story. She'd been through months of unexplained ailments and inconclusive doctor's appointments, before she learned in Dec. 2016 that she had Stage 3C ovarian cancer. She promptly had a hysterectomy, ending her hope of one day carrying children, and embarked on the uncertain treatment regimen anyone who has been affected by cancer knows all too well.
Brittany Crosby is married to Rees, brother of Packers kicker Mason Crosby. For the past seven years, Mason has chaired the Vince Lombardi Golf Classic, which raises funds for the cancer foundation in the legendary coach's name. He helped to reinvigorate the event, which this year raised around $200,000, bridging the gap between Lombardi's players from the 1960s and the current Packers team. This year, it was more personal.
He asked his sister-in-law if she'd be up for making the trip from Texas and sharing her story. As she spoke, she shined a light on the high-stakes waiting game cancer patients are forced to play as they try treatment options, not knowing if they are working, or how long they will continue to work, or what toll it will take on their bodies. When her tumors stopped responding to chemotherapy, she turned to an immunotherapy clinical trial at MD Anderson Hospital in Houston. Recent tests indicate that Brittany is responding to this treatment, but she's also faced side effects and complications.
Brittany urged the room to support the cancer research the Lombardi Foundation funds, in search of better treatment options. "Something better than what they put us through now, with very slim hopes," she said in her speech.
"It was an emotional night," Crosby says. "It was not a recovery speech, saying that she is in remission, but that she's still in the middle of fighting it. But it's inspiring to me to see that through such a tough time, she continues to try to help other people who might be going through the same thing, continues to find the joy in life, and not let ovarian cancer be the defining thing."
DETROIT — The abandoned football field was covered with tires, glass and debris. It had been built for Mackenzie High, alma mater of such NFL greats as Jerome Bettis, Gilbert Brown and Pepper Johnson. But like many public schools in Detroit, the high school closed down, and the field was left in disrepair.
Carl Davis, the Ravens defensive lineman who attended the adjacent elementary/middle school, wanted kids in his old neighborhood to have a place to play. So in May he organized a community cleanup, recruiting volunteers and passing out T-shirts with his No. 94 on the back. The foundation he started while on injured reserve during his second season in the NFL—Trenchwork, a nod to the position he plays and the challenges he faced growing up in Detroit—is working with the city's public schools to get the field's fence and press box fixed up.
He hopes a local Police Athletic League football team to which he's donated equipment, the West Side Steelers, will be able to play on this field. And in June he hosted a free football camp for 8- to 13-year-olds right here. Davis, a third-round draft pick in 2015, says one of his motivations this season is to earn a second NFL contract so he can do even more to revitalize his hometown.
"Big picture-wise, I'd love to be able to build a rec center for the community," Davis says. "I want to help the comeback of the inner city and create an environment where kids can maximize their ability and potential."
VANCOUVER, Canada — There was a Canadian flag, a Texans banner and more than 200 boys and girls scampering around a community stadium in British Columbia. Christian Covington, the third-year defensive end for the Texans, was back in his homeland hosting a free football camp for kids in his old neighborhood.
Covington's dad, Grover, is the CFL's all-time sacks leader. Christian was also drafted into the CFL, but playing in the NFL was always his goal—and so was bringing that back to his hometown. Teammate Whitney Mercilus joined him, together spending a Saturday morning running kids through drills north of the border.
"If they want to play in the CFL, that's awesome," Covington says, "but maybe I can encourage them to shoot even higher, in whatever they want to do."
Grover retired from the CFL two years before Christian was born, but when Christian was eight years old he started watching tapes of his dad's old games—starting with his Grey Cup victory for the Tiger-Cats in 1986. Christian is about 60 pounds heavier, but he still draws inspiration from his dad's game. Grover was a rookie in the CFL when he was 25, after bouncing around on semi-pro football teams, and his career took off from there—all the way to the CFL Hall of Fame.
"I love to watch him play; that's poetry," Covington says. "I'm 24, and I feel like I'm starting to put it all together; everything is clicking with my movement, hips, quick feet. I'm looking forward to putting that on the field this year, and be more fluid—that's one thing my dad had."
Mark Moseley, Last of the Straight-On Kickers
TEACHING THE NEW HELMET-LOWERING RULE
Later this month, when players report to training camp, each team will have a set of six videos distributed by the NFL for coaches to use in teaching the new helmet-lowering rule. Falcons head coach Dan Quinn suggested the idea in May, during a summit at the league office in which coaches, officials and league executives discussed rule changes in the name of player protection.
Quinn produced the teach tape for the defensive line, a five-minute reel of plays he selected and voiced over, to elucidate good and bad techniques in an effort to eliminate the head from contact. The other five videos were created by head coaches around the league: Todd Bowles, defensive backs; Mike Vrabel, linebackers; Doug Marrone, offensive line; Anthony Lynn, running backs/wide receivers; and Adam Gase, along with Dolphins special teams coach Darren Rizzi, for special teams. The NFL says they will be shared with all 32 clubs, for coaches to use with their position groups during camp.
There's been discussion about how, exactly, the new lowering-the-helmet rule will be applied, particularly in the trenches, where helmet-to-helmet contact is often incidental. Head of officiating Al Riveron indicated to reporters at the May league meetings that linemen need to get their head up coming out of their stance, or they could be penalized. But Quinn says his focus in creating the defensive line teach tape involved plays in which linemen had time and space to make a decision leading up to contact, such as DE vs. OT pass rush and hits on the quarterback. (This matches a note in the rulebook alongside the corresponding unnecessary roughness rule, reported by Pro Football Talk last week, which allows for incidental contact during conventional tackling and blocking.)
"I couldn't see where it would be very likely called for the inside guys," Quinn says. "Not saying it couldn't, but contact happens so quickly when two guys are in a stance across from one another, that it would be difficult. I chose examples where I thought players had a choice to make when they are entering into contact. I thought that would be a really good place to start."
Quinn says among the behaviors he encouraged in his teach tape were players leading with their hands on pass rush and keeping their faces up at the moment of contact, rather than dipping their helmets; and, for hits on the quarterback, putting your head to the side and leading with your shoulder—things coaches are already teaching.
Falcons president Rich McKay, the chair of the NFL's competition committee, said the league will study this season how the rule change may affect interior line play. But, he also points to the wording of the rule: It is a foul if a player lowers his head to initiate and make contact with his helmet against an opponent. "Very rarely do you write a rule with some element of intent in the language, but that was purposeful," he says.
The portion of concussions caused by helmet-to-helmet hits spiked from 38.4% in 2016 to 46% in 2017; the specific behavior the NFL sought to outlaw was the one in which a player is pitched over, with his spine and neck in line with his skull, setting up a collision that, biomechanically, presents the greatest risk of injury to both the tackler and the player being tackled. "In space, where there is distance between players, it's easier to call—once you see that posture and it is to initiate the blow," McKay says. "You're not doing that to initiate contact in much closer quarters."
An exception would be pulling guards ducking their heads, but that falls into the category of a space play. "The No. 1 determinant was how much more of a force was created when you do lower your head and create that spine angle, and how many times that was involved in plays resulting in a concussion, either for the player delivering or receiving the blow," McKay adds. "With that data, with our history, we felt this was the year to make the change."
A video showing that posture, and the resulting brain and spine injuries, was made by the doctors and engineers on the NFL's health and safety team and shown to the competition committee, sub-committees of coaches and GMs and members of the players union starting at the scouting combine. Everyone, McKay says, was in agreement that a change was needed. The original plan going into the March league meetings was to simply clarify the language of the old crown-of-the helmet rule—but when the meeting opened, McKay says, commissioner Roger Goodell recommended handling it as a rule change so everyone in the room would have the chance to discuss it and pass it (it was unanimous).
The rule has sparked criticism from both current players and members of the media. But hearing how coaches are teaching it to their players helps give a clearer picture of how it will be applied. In late May, clubs participated in a 60-minute webinar from the league office about the application of the rule; Quinn said he began conversations with his players during OTAs, focusing on making the right decisions on plays when they have a choice as they enter into contact. McKay makes the analogy of the first defenseless player rules being introduced in the early '90s—it took two to three years to adjust, but now they're called correctly more than 90% of the time.
"Where we are at is a good starting spot," Quinn says. "Bringing some emphasis to it, and that can be an example from NFL to college down to youth football."
 As a quick addendum, I asked McKay if this rule is a step toward eliminating the three-point stance, which has been discussed in the past. He said he doesn't think so.
"There has been discussion of that and will continue to be, but I don't [think we are there] yet," he says. "That's almost to me like when people said the kickoff was definitely going away five years ago. We will evolve, and come up with rules and techniques to respond to the injury data as we get it. But we don't make wholesale changes in the game just to make them."
Michael, Murray and ... OJ? Ahmad Rashad Has Kept His Celeb Friends Close—Most of Them, Anyway
NYC PRIDE, NFL PRIDE
Wade Davis has participated in the NYC Pride March several times, with different organizations. But this year, riding aboard a rainbow-colored float printed with the NFL shield for the first time, he noticed a reaction he hadn't seen before.
"I felt like people were literally going, 'Oh sh--, that's the NFL?'" Davis says. "I never had as many people stop and take a picture of the float as this one. I think people were shocked to see the NFL banner at a pride parade."
New York's annual celebration of the LGBTQ+ community is the largest of its kind. In past years the NBA, WNBA, NHL and MLS each had floats; this year's parade, held June 24, was the first time the NFL and MLB participated.
Davis and Ryan O'Callaghan, former NFL players who publicly came out as gay after their playing careers were over, rode with a group from the NFL league office on a float printed with each of their names. Katie Sowers, the 49ers assistant who is the first publicly out LGBTQ+ coach in the NFL, also marched with Outsports, an online LGBTQ+ sports publication.
Last year when the NFL created an LGBTQ+ affinity group for its employees called NFL Pride, they took the step of signing up for NYC Pride.
Davis has consulted with the NFL for five years on their LGBTQ+ inclusion efforts, and he also consults with other major companies. O'Callaghan, a former Patriots and Chiefs offensive lineman, has become an important LGBTQ+ voice in sports after publicly sharing his story last summer with Outsports. O'Callaghan struggled with painkiller addiction and suicidal thoughts as he privately wrestled with his sexuality, before a psychologist who worked with the Chiefs encouraged him to start coming out to people close to him. He is writing a book about his personal story, due to come out next year, and he plans to use the profits to fund scholarships and opportunities for LGBTQ+ athletes and allies.
Davis and O'Callaghan didn't hear from any current players, straight or gay, about the NFL's Pride float. They're not sure how many took notice.
"For someone in a position like I was in, a closeted gay player, what's most helpful is what happens on an individual basis," O'Callaghan says. That's support from owners, coaches, teammates. Davis has led inclusion training sessions with several NFL clubs and would like to see them be mandated for all 32 teams, encouraging open conversations between current players and gay men who have been in NFL locker rooms. The NFL has had one openly gay player, linebacker Michael Sam, who was drafted by the Rams in 2014 but did not make a regular-season roster.
But on the parade route through the Chelsea neighborhood of New York, Davis took note of a reaction on the sidewalks he'd never seen before—the people on the sidewalks not reacting to a celebrity or a fabulous costume, but to the symbolism of the float itself.
"There are people who believe the NFL or sports entities are more homophobic than the rest of the world, which I don't believe is true," Davis says. "For them to see the NFL in this moment is transformative and forces them to question their own beliefs about the NFL and sports in general and the intersection with the LGBTQ community."
Percy Harvin Takes His Battle With Anxiety Public as He Gets Closer to Internal Peace
…OF THE WEEK
TWEET
Chargers left tackle Russell Okung restarted the discussion about the NFL's salary structure in a lengthy Twitter thread, calling for players to push for guaranteed contracts.
VIDEO
49ers receiver Marquise Goodwin surprises his mom, Tamina, and his sister, Deja, who has cerebral palsy, with a new house.
SOMETHING FROM THE INTERNET**
**Albert Breer created this category called "meme," but I'm old and unhip and don't entirely understand what qualifies as a "meme." When I lamented about this to Albert over the weekend, he replied, "just pick something from the internet." So, here's something from the internet.
Last week NFL.com ran a poll with players about who would make their NFL Mt. Rushmore. The answers included the obvious: Tom Brady, Barry Sanders, etc. Then, Jalen Ramsey replied, "My Mount Rushmore is me with four different expressions." I was barely hip enough to identify this as a Drake lyric, but nonetheless, got quite a kick out of this maybe-meme that perfectly captures the delightful cockiness of the league's best young cornerback.
S/O TO…
Jaguars RB Leonard Fournette, for covering the remaining tuition for an LSU student's senior year of college. Fournette saw a tweet from Jhane Nichol, a fellow New Orleans native whom he said was a trainer of his at LSU, asking for $1 or $5 contributions to her GoFundMe campaign to raise the remaining $5,000. Fournette replied to her tweet, saying he'd pay the whole thing.
QUOTE
"Let me know if you need some money for Leaf. I expect to be very rich when this depp movie comes out."
— Hunter S. Thompson, in a March 1998 letter to Jim Irsay imploring him to draft Ryan Leaf over Peyton Manning, a missive every bit as trippy as Thompson's famous prose.
TEN TAKEAWAYS
1. The NFL's standard pre-Fourth of July news dump was in peak form this year.
On July 3…
2:55 p.m. ET: 49ers announce that LB Reuben Foster has been suspended for the first two games of 2018 for a weapons offense and misdemeanor drug offense from earlier this year.
3:34 p.m. ET: Rams announce that guard Jamon Brown has been suspended two games for violating the league's substance-abuse policy.
3:56 p.m. ET: NFL announces that Packers RB Aaron Jones has been suspended two games for violating the league's substance-abuse policy.
7:12 p.m. ET: ESPN's Adam Schefter reports that Patriots WR Julian Edelman's appeal of his four-game suspension, for violating the league's performance-enhancing substance policy, was denied.
2. Going back to Okung's Twitter thread on guaranteed money in the NFL, the Football Players Health Study at Harvard examined the topic in a report they released last year. In the NFL, only about 44% of a player's contracted compensation is guaranteed, per their report, in stark contrast to MLB (100%) and the NBA (>97%).
"It is not clear that fully guaranteed compensation would be beneficial to the players collectively," the report states, "such that it ought to be preferred to the status quo."
The authors argue that player salaries would likely decrease if contracts were fully guaranteed, since teams would be more hesitant to take on the financial risks, and that opportunities for younger, less-proven players may be constricted, as teams would continue to play highly paid players even as their skills diminished because of the financial commitment. Players, of course, can get fully guaranteed deals—Kirk Cousins did this year, in his three-year, $90 million pact with the Vikings—but they just have to make that a priority in negotiations, namely the players with enough leverage to do so (read: a QB).
The NFL's antiquated funding rule, which requires owners to put the balance of the amount of guaranteed money into escrow, is something teams often cite when pushing back against agents seeking fully guaranteed deals. That's something the players could argue for removal of in the next CBA talks, but as with individual contracts, it depends what they want to prioritize.
3. Last year there was a troubling spike in the number of practice concussions suffered by NFL players during the preseason: 45 in 2017, up from 26 in '16. The NFL warned clubs, ESPN reported, that the increase largely came during 11-on-11 team drills in the first 10 to 13 days of camp, before the first preseason game. How will teams respond, given that the game is both practiced and played with 11 players vs. 11 players? McKay says one adjustment the Falcons may make is not doing as many short-yardage drills, which are prime for contact, early in camp.
"I think it's mostly just awareness of the fact that we can continue to do short-yardage drills over the first three or four weeks, as opposed to just the first 10 days, that acclimation period when players are getting used to pads and contact," he says. "My hope is that last year's data was more of an anomaly in the wrong direction."
The NFL previously addressed preseason concussions after the 2014 season, and saw a reduction from 42 to 29 the following year. But Atlanta president Rich McKay says in that case, there was a handful of teams with higher numbers of concussions, so the NFL talked with those teams about what drills they were doing, etc. In this case, he says, the increase was more evenly spread across the league.
4. This is an interesting discovery by Pro Football Talk's Mike Florio: The NFL's PED policy includes a provision that a player's suspension could be cut in half if he snitches on another player for doing what he's accused to have done. As Florio points out, it's difficult to see a player ratting out a teammate … but what about a rival? And, moreover, what motivated the inclusion of a provision that incentivizes players ratting each other out?
5. There's been plenty of rhetoric from the President of the United States directed toward the NFL, including his scolding of players getting involved in politics. Consider some of the tangible results when they do. Devin McCourty lobbied for reform in Massachusetts' juvenile system, co-writing an op-ed in the Boston Globe with Robert and Jonathan Kraft; in April, Gov. Charlie Baker signed into law a bill raising the minimum age for criminal responsibility from seven to 12. In Pennsylvania, Gov. Tom Wolf signed the Clean Slate bill into law in June, allowing for people with non-violent criminal records who have not re-offended after 10 years to have their records sealed. Malcolm Jenkins, Chris Long and Torrey Smith lobbied in its support and pushed for the final bill to go to a vote before the summer recess. And in Louisiana, Demario Davis and Benjamin Watson wrote a letter endorsing legislation to restore voting rights to those with past felony convictions who have been out of prison for five years. It was signed into law in May.
"We have so much more momentum going into this season than last season," Davis says of the Players Coalition, which earlier this year finalized a nearly $90 million partnership with the NFL to fund their ongoing social justice work. "People have become more aware of the real issues, and I think there's more attention around the work. It's one thing to think players are just speaking out and not taking action, but if you look at the body of work this offseason, the bills passed and policies introduced, being vocal in our communities around these issues, and staying focused on the task despite weathering different storms, it's hard to deny."
6. Melvin Ingram released his debut rap album, "King Talk," in April, and the Chargers defensive end says he's getting ready to drop another project soon; he's been recording every day, in home studios in Los Angeles and Miami, and he's already produced 20 new songs. "I'm working on the release date," he says, "but probably soon. It's a dope project." He hinted that there will be some interesting collaborations on this upcoming album, but he couldn't name names yet (he's represented by Roc Nation Sports, which certainly presents some intriguing possibilities). "All my music comes from my life, me telling my story," he says. "It's a way to express myself." Ingram is just as passionate about music as he is football. We know what he can do on the football field, but as for his aspirations in the rap game? "I don't feel like there are any limitations," he says.
7. The Patriots are sharing their playbooks... well, kind of. When the Patriots got a new set of the iPads that the players use for playbooks and film study, they decided to put the old ones to good use. In June, the Patriots donated more than 70 iPads (wiped of the playbooks, of course) to United South End Settlements, a non-profit organization helping families in the South End of Boston break the cycle of poverty. The iPads will be used for adult job training and coaching as well as the organization's early childhood education and afterschool programs. The older kids in the programs thought it was pretty cool to be able to use the same iPads as their favorite players. And for the staff, which had been sharing just a handful of iPads among them, says USES president & CEO Maicharia Z. Weir Lytle, "it was an incredible donation of a number of iPads we'd never be able to purchase ourselves." This is a neat idea from Patriots team president Jonathan Kraft that could be replicated by other teams around the league.
8. Over the past two years, the NFL has made a commitment to creating a pipeline that hasn't really existed before for women to be considered for jobs in football operations. It's been a major focus of Sam Rapoport, a retired Canadian women's league quarterback, in her position in the league's senior director of football development. This year 23 of the 50 women who participated in the NFL's Women's Careers in Football Forum secured positions on football staffs ranging from high school up to the NFL. And a total of 15 women have been hired by 10 NFL clubs for training camp internships in 2018.
9. Congratulations to two-time Super Bowl champion Justin Tuck, who graduated with an MBA from Penn's Wharton School in May and will this month begin a position with Goldman Sachs as a VP in the private wealth management division, per CNBC. He had a heck of a playing career, and that's a heck of a post-NFL career.
10. If you missed it over the weekend, and if you are already thinking about your fantasy draft (God help us), you will be very pleased with Gary Gramling's 3,000 words of excellent and hilarious fantasy advice. He wrote on Twitter that 112 of those words are fantastic, but I think there's a decent case to be made that it's a few more than that, perhaps 113 or even 114.
OFF-FIELD ISSUES
Just one in this section (I'll spare you my meek World Cup takes and instead direct you to read/listen to/follow Grant Wahl and Planet Futbol). There are many reasons why Serena Williams is great, but this answer to a question from a British journalist about what it's like always being the player to beat, is, like Williams herself, hard to top.
"Every single match I play, whether I am coming back from a baby, or surgery or, it doesn't matter, these young ladies, they bring a game I have never seen before, and it's interesting, because I don't even scout as much, because when I watch them play, it's a totally different game than when they play me," Williams says. She pauses, looks down, and then makes her punchline. "That's what makes me great," she adds. "I always play everyone at their greatest, so I have to be greater."
FIVE-DAY FORECAST
Every person I spoke to this past week was either on his way to or from a workout (sadly, I could not say the same)—the clearest sign training camp is just around the corner. In fact, the Ravens rookies and injured veterans are reporting to camp this Wednesday. They can thank Ray Lewis, since teams that are playing in the Hall of Fame Game (Baltimore and Chicago this year) report earlier than the rest of the league. Ravens veterans join one week later; the Bears report on July 16 (rookies)/July 19 (vets). The remainder of the league will be back July 25 or later.
Also happening Wednesday: The NFL's supplemental draft, which four times in the last five years was a literal non-event, but Albert Breer wrote a good primer last week on why this year's group is a bit more intriguing.
And next week, for your reading pleasure, Robert Klemko is at the wheel of MMQB. See you on Wednesday for real-time analysis of the supplemental draft … just kidding (I think).
Question or comment? Email us at talkback@themmq.com.