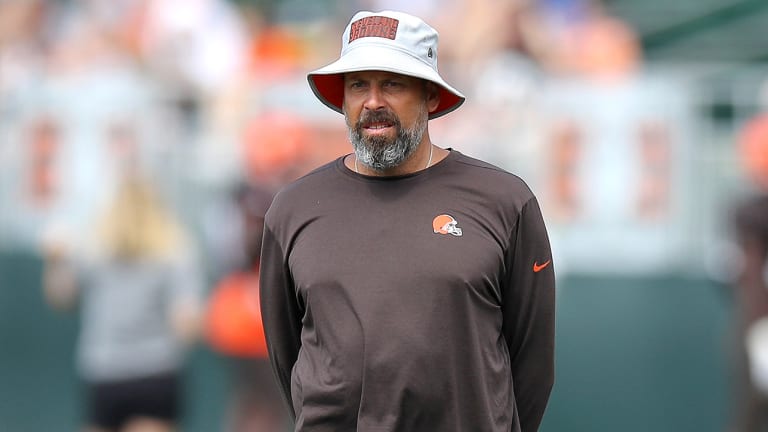 Hard Knocks Recap: Todd Haley Emerges as a Comedic Firebrand
What we learned about Corey Coleman, Tyrod Taylor, Todd Haley and the rest of the NFL's most lovable losers in Episode Two of the HBO documentary series. 
In five years, when Lincoln Riley is leading the Browns to their second straight AFC title game appearance, we're going to dust off this season of Hard Knocks and study it like an ancient Sumerian tablet for insight into how this current reality was forged from wild, cosmic explosions beyond our comprehension.
Here's what we learned from episode 2:
Corey Coleman got vaporized: Whether or not this episode showed the whole truth, it started with a feature on Coleman's massive Cleveland-based shoe collection, then barreled into a montage of poor practice plays and the moment where he slips into Hue Jackson's office on the verge of tears asking for a trade. The Browns obliged, obviously, for a seventh-round pick.
It's hard to view these clips in a vacuum and say Cleveland made the right decision. On one hand, it looks like Coleman was merely being ridden like other underperforming but talented players do when a new, hard-ass coach comes to town. On the other, the Browns didn't hesitate to pull the trigger.
Tyrod Taylor should probably be coaching the Browns: Hue Jackson spent the better part of this episode bewildered, like a man who was just told a wild, unfathomable government secret. Taylor, in an effort to combat the laziness at practice, suggested putting a rolling camera on players during practice and highlighting the lollygagging during a team-wide film session. Not bad, Tyrod!
Myles Garrett is trying to lift his poetry career off the ground: This is an open invitation to the 2017 No. 1 draft pick—we will publish any and all writings here. We understand if you want to hit up the New Yorker first though.
Devon Cajuste seems to be the first of what promises to be many plucky underdog stories this camp: Todd Haley's impression of Cajuste wandering around like a rooster begging to be "sawed off" may have been the best eight seconds of television this week. Also, he communicates with his handsome father via bird whistle. Also also, his dad revealed to his son a THIRD, unknown heart attack live on Hard Knocks? This season is wild, man (also, get better Mr. Cajuste).
A few more notes on Todd Haley: Him railing on Carl Nassib's parents for naming him Carl, then having a full conversation with a man while suspended upside down in some unexplained metal contraption…*chef's kiss.*
Nassib was called out on his compound interest speech: YOU CAN'T FIND 10 PERCENT INTEREST ANYWHERE, CARL.
Gregg Williams continues to be a wild man: It says a lot about Williams that many of his speeches and insane outbursts wouldn't be any more jarring if he was shirtless. This man is already operating at 11 in the weirdness department.
Not getting this newsletter in your inbox yet? Join The MMQB's Morning Huddle.
HOT READS
NOW ON THE MMQB: Robert Klemko talks about Josh Rosen getting outplayed by an Ivy Leaguer in Cardinals practice … Albert Breer checks in on the Patriots with his training camp postcard … Andy Benoit digs into the Ravens and Lamar Jackson in his season preview.
WHAT YOU MAY HAVE MISSED: Learn more about the Ivy Leaguer turning heads at Cardinals camp from April's pre-draft column …  Sam Darnoldadjusts to life in the NFL … Charlottesville a year later: A high school football team deals with the madness in their backyard.
PRESS COVERAGE
1. Ben Roethlisberger is going through the team's concussion protocol after falling during an early portion of practice Tuesday.
2. As it turns out, John Elway doesn't seem all that thrilled with his backup quarterback options now that Chad Kelly is making the climb to beat out Paxton Lynch. Maybe he could use our handy guide on which rookie quarterbacks will force some disposable veterans onto the trading block.
3. Under the radar rookies currently making a splash in the NFC West.
4. Damn, Terrelle Pryor.
5. Speaking of Pryor, Todd Bowles seems oddly concerned about the receiver talking about his own injuries.
6. Bud Light is peppering the city of Cleveland with locked refrigerators full of beer that will open via space technology if the Browns win a game. Side note: Does Bud Light have access to voting machines?
7. It does not seem like the Bills are anticipating any movement on the LeSean McCoy front anytime soon.
8. Packers fans are getting all hot and bothered at the notion that Khalil Mack will get traded there once the Raiders finally admit there's no more cash in the safe.
9. In an alternate life, Christian Hackenberg was carried off the field in the arms of cheerleaders.
10. The Texans have activated Jevoni Robinson, a man who has not played football since high school.
THE KICKER
Text your boss on accident while he's on vacation, and he'll subtly remind you that you're being an ass.
Question? Comment? Story idea? Let the team know at talkback@themmqb.com.