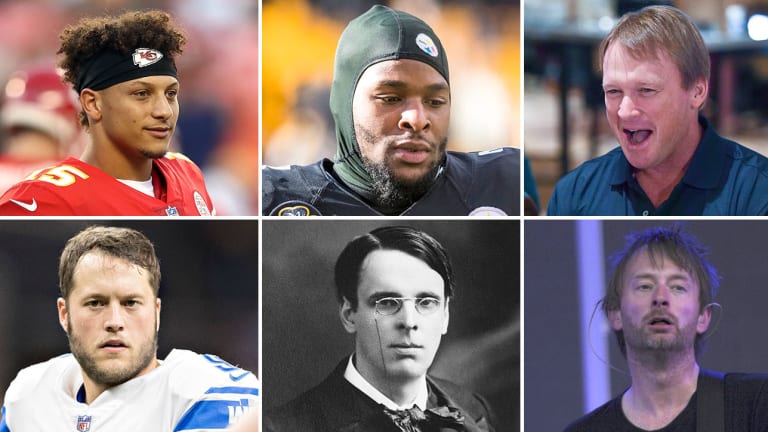 The End of the Ultra-Conservative QB (or 'Lessons of Foles'), the Broken Rookie Wage Scale, and Le'Veon Bell Is Sacrificing for the Right Reasons
Also, Jon Gruden and the art of lowered expectations, W. B. Yeats on the inescapable mortality of the Cowboys' offensive line, the Browns catch a few breaks (especially avoiding Landry Jones), get ready for a Lions-Dolphins Super Bowl, and Sunday musings about Jimmy Garoppolo in Minnesota, OBJ vs. Ramsey and Cam's scrambles. Plus, musical guest: Radiohead!
1. I'd like to kick off this season's inaugural Gameday Mornings column with the following true story:
Remember that Tony Romo commercial for Sketchers where he's walking through the airport talking about how comfortable Sketchers are, or something? As it turns out, that wasn't a traditional commercial shoot. Romo happened to spot a guy limping through the airport in what looked like especially uncomfortable shoes, and just wanted to help him out by telling him just how comfortable—and perfect for air travel—his Sketchers slip-ons were. An ad exec happened to capture the whole exchange on his phone (don't let them tell you you can't record those TSA screenings!), and the Sketchers people were obviously thrilled with it. They offered Romo an endorsement deal on the spot, but he turned it down, emphasizing that he just thought people should have comfortable footwear when at the airport. There was some haggling because the company folks just didn't feel right about it, and ultimately they settled on Sketchers leaving the tip for Romo's breakfast burrito order at the Chili's On the Go.
The point of that—again, very true—story is that we can all agree: Tony Romo seems like a really nice guy. It takes a lot for him to be pushed over the edge and become—in his Midwestern nice guy way—aggressively critical during a broadcast. Which is why it was noticeable last January when, while calling the Jaguars-Bills wild-card game, it sounded like he was going to run down to the sideline, knock some fools out, grab a helmet and line up under center for Buffalo. The game, in case don't you remember (and hopefully you don't), involved the Jaguars scoring a touchdown late in the third quarter to take a 10-3 lead. The Bills, with Tyrod Taylor taking snaps, seemed content to sit back and hope the Jaguars ran out of their own end zone four times, rather than taking a chance downfield themselves. On Buffalo's first play after the two-minute warning, after Taylor tried to dump a ball off to LeSean McCoy to start a final drive that required they move 63 yards for a touchdown, Romo had seen enough:
"Awwwwww, man. He had a touchdown. As silly as it sounds... [Even more distressed] Ohhhh…"
Romo went on to explain that Deonte Thompson was running a post route against Cover-4 and a flat-footed safety. It wasn't a lay-up, but it's a throw that should be made in the first quarter. It's a throw that has to be made trailing by a touchdown in the final two minutes of a playoff game. And that was the story of the Buffalo Bills' demise in a winnable postseason game. The Jaguars defense was great, but certainly not impenetrable (as evidenced by the 42 points they allowed in Pittsburgh a week later, and the comeback they allowed to Tom Brady a week after that).
That Jacksonville defense was—and probably still is—the best in the league, but it can be beaten. Every defense can be beaten. NFL rules now so heavily skew in the offense's favor, and passing game weapons on offense tend to be so much better than defensive back talent on the other side of the ball, that it's time for the ultra-conservative style of offensive football to go away.
If there's one thing we all learned in public schools during the 1990s, it's that turnover margin is very important. So important. The most important. And, to be clear, turnovers are no good for an offense, no one wants those. But the problem is that, over the past two decades, offenses have obsessed over avoiding turnovers, even as the game's advantages piled up for them. It doesn't help that passer rating, an archaic measure of quarterback play, so heavily emphasizes avoiding interceptions. That's how we arrived at a moment like the Bills found themselves in last January.
Not to pick on Taylor and Alex Smith, both fine men and capable players but both of whom epitomize this ultra-conservative, risk-averse style of quarterbacking. If we're going boxing metaphor for their head-to-head matchup last November, it was less two pugilists circling each other for 12 rounds, and more two boxers building pillow forts in their respective corners and periodically peering through the cracks at the other guy. It was a near-refusal to score points. (Don't put too much stock into Smith's 2017 deep-passing improvement, by the way; it's not a high-risk throw when Tyreek Hill is running eight yards beyond the deepest defender before you let it loose).
Contrast that with Nick Foles last January. After struggling through a windy night against the Falcons in the divisional round, he opened things up—with the blessing of Doug Pederson and Frank Reich—against the Vikings in the NFC title game and then again versus the Patriots in Super Bowl LII. It was about testing tight windows, taking chances late in the down and, yes, risking a turnover at times. And it was about trusting that it would work in a league that has more good pass-catchers than guys to guard them, and more and more penalties that can be levied against the defense while, aside from holding, offensive players are granted diplomatic immunity that would make the guys from Lethal Weapon 2 envious. (No, not Mel Gibson and Danny Glover, the bad guys, the South African drug dealer guys.)
As we started to see with the emergence of high-powered offenses in Carolina, Pittsburgh and Arizona a few years ago: Big plays will soon rule the NFL. And we have the young quarterbacks to make it happen. Patrick Mahomes, Carson Wentz, Deshaun Watson, Sam Darnold—these guys are aggressive, and will probably be over-aggressive at times. But they're going to make plays. There are going to be turnovers, but there is also going to be big play after big play. The good will outweigh the bad. 
There's often a conversation about quarterbacks "you can win Super Bowls with." Over the years, teams have won Super Bowls with Trent Dilfer, Brad Johnson, Jeff Hostetler. Absolutely, if you have a historically dominant defense, you can still win a Super Bowl with a guy who plays like Smith or Taylor and will limit turnovers. But if last winter taught us anything, it's that you can actually win a Super Bowl not just with, but because of a guy like Nick Foles. There's a reason the greater Philadelphia area now refers to him as "Impressive Genitalia Foles": Foles and the Eagles took chances. And they did it in a league where the odds are stacked quite heavily in an offense's favor.
2. Last spring I penned my unassailable argument for why the rookie wage scale should be abolished, and that anyone who disagreed with my thesis should be put into a rocket and shot into the sun.
In short, the rookie wage scale not only promotes tanking due to artificially discounted contracts for top draft picks (not sure what Baker Mayfield and Sam Darnold would have gotten on the open market, but it would have been a lot more than what they're getting over the next five years). Tanking hasn't directly come into play yet, but it isn't far away. The Raiders just shipped off their best player in order to scoop up two first-round picks because that's the new math when you're stuck with a quarterback on his second contract. The teams with QBs on rookie contracts are now by far the most aggressive in free-agency because of the extra cap space it creates. Plus, mid-level veterans are now consistently pushed out of the league because of how cheap mid-round picks sign for—the union's whole reason for agreeing to the rookie wage scale was to free up money for veterans, but that money has gone almost exclusively to the players at the top of the market. Teams would now rather scratch a bunch of lottery tickets than pay a proven mid-level player.
Supporters of the rookie wage scale point to JaMarcus Russell and then fold their arms and lean back in their chairs while enjoying a smug sense of self-satisfaction, and that is a tough one to counter considering we've never seen a veteran free agent fail to live up to a hefty contract. Anyway, I'll see you folks in Canton next summer for the Hall of Fame enshrinements of Scott Mitchell, David Boston, Albert Haynesworth and, well, pretty much everyone Washington signed between 2000 and 2010.
However, one bright young man, a shining beacon and wonderful example to the rest of you—his name is Olly and he's from from London (update: Here's Olly on http//www.twitter.com!)—wrote in with an interesting compromise for what will be the increasingly problematic rookie wage scale. It borrows from the concept of the franchise tag system (more on the idiocy of that later), so I can't give it my full endorsement, but it's better than the current system, and much better in regards to the issues with rookie quarterback deals.
Basically, Olly built a system based on the fact that different positions have different valuations when it comes to contracts. Allow me to plagiarize. Olly's rookie wage scale calculation would work as follows (stuff in quotes is written by Olly, just so we're clear):
"First, use both the position drafted and the position played to determine the salary. Second, use a value for the top end of the draft relative to, maybe, the average of the top-15 players at that position (so just extending the calculations used for the franchise and transition tags).
"So a defensive end taken first gets paid the average of the top 15 D-Ends in the league get. A QB taken second would get slightly less than the average of the top 15 QBs but probably more than the player taken ahead of him because QBs are paid more than defensive Ends. You would then be able to extend this down the draft board. There would still be slotted value contracts but they would differ for each position. This would mean that drafted players would not be setting their position market (like Ndamukong Suh once did) but that they would be paid something more in keeping with their actual value [according to the market]. The draft position percentages could be worked out from the already set slotted values for the current rookie contracts."
Olly, in continuing to provide free-of-charge research work for me, then laid out the following chart calculating this system's contracts for the top 10 picks of the 2017 draft:
I still argue that the market should have full control over what rookies are paid (yes, teams are going to have to go back to negotiating with rookies over actual money, not just asinine offset language). But, for those of you who just can't stomach the thought of a young man not playing up to a big contract, Olly's system is indisputably better than the current one.
3a. The biggest frustration to me about the end of the Khalil Mack era in Oakland and the uncomfortable friction between Le'Veon Bell and his teammates (or, perhaps, ex-teammates) is that it all could have been avoided with a small amount of communication.
Odell Beckham Jr. and the Giants might have worked out a long-term contract regardless, but the fact that Pat Shurmur reached out to him as one of his first acts as Giants head coach certainly paved the way for a deal to get done. And the Rams reportedly kept in touch with Aaron Donald throughout his holdout this year and last. If Gruden had just sent a text, or a fax, or just shared his handle for the ham radio, they could have at least explored the possibility of a compromise with their best player. In Bell's case, shoot your O-line a text or two, go grab dinner with them. It's absurd for any player to be going after Bell for trying to get a fair market deal, but do something to soothe the nerves of the guys who have been battling with you and for you over the last couple seasons.
3b. As for Bell's surprise move to not sign his tender, what he's doing is philosophically right, though perhaps not the wisest business move. The system has become a farce when a foundational, All-Pro player can be officially labeled a "franchise player" and be rewarded with a one-year deal for a salary that doesn't even rank in the league's top 50, which is how Bell was compensated a year ago (by my unofficial count, he was the 55th-highest-paid player in football last year, and would be 40th this year on his second season under the tag).
The tag system won't be scrapped, because it's too much of an inviting fallback to cover up bad front-office management, but it should be. At the very least, a "franchise player"—if we're going to recognize the spirit of the old "John Elway Rule"—should be making a franchise-player salary, like what the quarterbacks are getting these days.
All that said, I'm stunned Bell is willing to leave $850,000 on the table this week by not signing the tender considering that, as a guy with 1,635 regular-season and playoff touches already under his belt, he has little chance at ever getting paid at that kind of rate in today's NFL.
[INTERMISSION] Hi, hello, before we move on, a quick note/telethon-like plea: I'm like you. I like to read. I much prefer to read than to listen to things, because then I can take things in at my own pace. But I can't always read. For instance, when I'm driving a car, or operating a gas-powered lawn-care product. So, about five years ago, I made podcasts a part of my life.
Here's the thing about podcasts: The successful ones aren't the mindless yammering you usually get on sports talk radio. They're informative, thoughtful and measured. We at The MMQB are fortunate to have not one, but four such shows, that will make you smarter about football on the field and give you a little bit of an insider's insight as to why things happen off it. I should know, because I'm a part of three of those shows, and I'd overturn a large piece of furniture in a fit of rage if I thought any of my shows were anything but informative and interesting.
If you haven't already, I ask that you give a chance to The MMQB Podcasts. Our audience has grown exponentially over the past three years, and the feedback has been overwhelmingly positive (five stars on iTunes!). The flagship show is The Monday Morning Podcast, that's a lot of Andy Benoit and a little bit of me analyzing what's happened on Sunday. Andy, by the way, has been and continues to be the best analyst in our industry, because rather than velcroing onto whatever is the most popular opinion bouncing around Twitter, he consistently checks his work with coaches and players around the NFL. That increasingly rare step of crowd-sourcing actual experts in the field of professional football has led him to claim things like "Sean McVay will be the next great NFL coach" before anyone knew McVay's name, or praising Carson Wentz as NFL-ready despite being an FCS prospect and a potential MVP candidate in the short-term during the lead up to the 2016 draft.
On Wednesdays, insider Albert Breer is joined by Jenny Vrentas and Conor Orr for a look at the biggest news from around the league. Andy and I reprise our verbal love affair with the Deep Dive show on Thursday, previewing the week's upcoming games, and then myself, SI Media Podcast host Jimmy Traina and my childhoood roommate and DRF Sports Form managing editor Scott Gramling have The MMQB Gambling Show on Friday, if you're into that kind of thing. Give us a chance; I don't think you'll regret it. [END INTERMISSION]
4. Credit Jon Gruden for this: He knows how to lower expectations.
As Gameday 10 Things historians know, I'm the world's last Rex Ryan apologist. When he arrived in Buffalo he had no quarterback and a defense that, while it was very good under Jim Schwartz, had been put together for Schwartz, far different from Ryan's complex, blitz-heavy system. The Bills were in no position to compete for a playoff spot. Yet, Rex couldn't help himself, and came in promising playoffs and Super Bowls and Stanley Cups and the annihilation of ISIS. Without a confluence of fortunate events like we saw last year for Buffalo (a comedically bad AFC, a two journeyman safeties ball-hawk like a couple of young Ed Reeds, and you make the postseason with a -57 point differential), there was little chance at the Bills being formidable before a somewhat lengthy rebuild. But Ryan forgot that people actually listen to bluster; expectations were set unrealistically high, and when the Bills won 15 games over two seasons rather than the 10-12 they were probably built for during that span, everyone wanted blood.
Gruden, on the other hand, is playing it cynical but smart. I'm not sure it was realistic to expect the Raiders to return to 2016 levels (they were probably worse than last year's 6-10 record would suggest), but they have one of the best young quarterbacks in football, which is more than many playoff hopefuls can boast. Gruden spent the summer telling anyone who would listen that the roster stunk. And now, with Khalil Mack shipped off, it's hard to deny that. It all seemed a bit unnecessary since Gruden was signed to a contract that will keep him as the Raiders' head coach through the next ice age, but things were already threatening to get ugly the next two years. If the Raiders string together a couple of 4-12 seasons before they head to Vegas, at least Gruden can say, "I told you so," instead of, "whoops."
5.Things fall apart; the centre cannot hold;
Mere anarchy is loosed upon the world,
The blood-dimmed tide is loosed, and everywhere
The ceremony of innocence is drowned;
The best lack all conviction, while the worst
Are full of passionate intensity.
I trust we're all familiar with that W. B. Yeats passage, written about the inescapable mortality of the Cowboys' offensive line. (Yeats truly was a man before his time.)
Sunday in Charlotte, we might get a glimpse at the Cowboys' somewhat-near future when they can't lean on the most dominant front-five in football, fueled mostly by the best trio of blockers in the game: Tyron Smith, Travis Frederick and Zack Martin. Most will—rightly—point out that these guys are all firmly in their prime, at ages 27, 27 and 27... uh, respectively. Of course, just as I tell the folks at Denny's every time they won't let me order off the senior's menu (I will have that plain grilled tilapia, the regular-menu one has all that other stuff on it): Age is just a number.
Martin just got his pay day and will presumably play until the end of time. Frederick, of course, will miss this game and, I'd assume, a few more as he recovers from a bout with Guillain-Barre syndrome (my brother had that!), an auto-immune disorder that affects the nervous system. Frederick should make a full recovery, but 2018 might be something of a wash (at least the first half). Smith is a little more interesting. He's battled knee and back problems the past two seasons. And he came into the league at age 20; he has seven seasons of wear and tear on his body—with 108 career games (regular season and playoffs), he's half a season behind Russell Okung (115) and one season behind recently retired Bills center Eric Wood (121). It's not a stretch to say they're much closer to the end of their reign than the beginning.
More problematic: The Free Dak Prescott window is about to expire. Thanks to the aforementioned absurdity of the rookie wage scale, Prescott's compensation over his first three NFL seasons has been an Entertainment Coupon Book worth up to $600 in savings and an 8x10 of the cast of Entourage autographed by Jerry Jones. Prescott is eligible for an extension this summer, when the Cowboys will also have a decision to make on DeMarcus Lawrence—in line for either a long-term deal or a bump as a second-year franchise-tag guy—and Ezekiel Elliott coming up one year after that (though they'll probably just screw around with the franchise tag on Elliott, because that's what you do to running backs in this league). None of this is to say that the Cowboys can't build a contender around Prescott when he's accounting for 12% of the team's salary cap rather than less than one-half of a percent of it, but it will be exceedingly more difficult to do so, and nearly impossible if their O-line isn't playing at the same level.
As for Sunday, with Frederick in the lineup, you would have been looking at a strength-on-strength matchup with the Panthers: The Cowboys' league-best outside-zone running game against a Panthers linebacking corps that is still outrageously talented, even without the suspended Thomas Davis. The absence of Frederick is much more problematic for Dallas than the absence of Davis is for Carolina. That means there will be a fair amount of pressure for Prescott to make something, anything go with what is—again, on-paper, stranger things have happened—the worst group of pass-catchers in the NFL. Two years ago, it looked like the Cowboys were a potential budding dynasty. Things are getting messy now. Sunday will be a good gauge of how prepared they are to work through it.
6. It's been 31 losses in 32 games. A moderately humiliating run on Hard Knocks. The embarrassment that was the Mychal Kendricks saga (perhaps, considering the owner's history, a guy who tells you he's connected to an insider trading investigation warrants scrutiny beyond what you'd get from Dave Foley's judge character in that Kids In the Hall sketch I like). But things are, kind-of, sort-of, maybe I think, looking up for the Browns this week.
First, they caught a break when the Steelers released Browns killer Landry Jones. Jones was 3-0 as a starter against Cleveland. I'm going to state that again but in a slightly different way to ensure that you didn't misunderstand or assume there was a typo the first time around: The Browns, three times, faced the Steelers in games in which Landry Jones was Pittsburgh's starting quarterback, and Cleveland failed to win any of those games. I'm not exaggerating when I write that that is as bad, if not worse, than going 1-31 over a two-year span.
Second, they're apparently going to play the Steelers in a monsoon on Sunday, as some remnants from Tropical Storm Gordon (no relation to Josh Gordon. Ha!) moves through the area. The Browns are, objectively, worse than the Steelers. But there is no equalizer like the weather, and between Cleveland's offensive line and a backfield of Carlos Hyde and Tyrod Taylor, hurricane-like conditions would seem to push this into a much more even fight. I'm not saying they're going to break the streak on Sunday. Unless they do, in which case I was saying exactly that.
7a. At this point, I hope you've accepted the fact that either the Green Bay Packers or Detroit Lions will win Super Bowl LIII.
The Packers were my pick in the official, notarized MMQB preseason predictions, primarily because of (a) Aaron Rodgers, but more importantly (b) Young cornerbacks can turn around a defense. If you look at last year, five of the top 20 CBs in football were in their first or second season (Jalen Ramsey, Marshon Lattimore, Tre'Davious White, William Jackson and Adoree Jackson). The Packers' achilles heel has been cornerback play, where they missed on a bunch of early draft picks. Now, they have three more chances to get it right in 2018 first-rounder Jaire Alexander, 2018 second-rounder Josh Jackson and 2017 second-rounder Kevin King. If two of those guys become good players, Green Bay can go from a C-minus defense to a B-plus unit. And that's enough, with Rodgers under center.
As for the Lions, Matthew Stafford is the NFL's most underappreciated superstar QB, consistently exploiting downfield soft spots that other quarterbacks don't dream of testing, and combining the athleticism and arm talent to make play after play late in the down. He's proven as capable as any QB of winning games late. Now, for the first time in his career, he won't be complemented by one of the five worst rushing attacks in football. Quite the contrary; with their talent up front, plus the addition of stud rookie Kerryon Johnson (the only explanation for his limited preseason workload is that they were hiding him and watching his mileage), the Lions actually have the makings of one of the league's best rushing attacks. I'm a believer that linebacker Jarrad Davis has the chance to emerge as a star once he gets more reps in coverage (he came off the field too often to progress as a rookie, but there's no doubt he has the athleticism to hold up in coverage), and they're talented and opportunistic in that secondary, helping make up for a shaky pass rush. Still, Matt Patricia has more talent to work with than he had in New England last season.
I'm not touting the Lions as a Super Bowl favorite (if you're handicapping it, the Eagles, Falcons, Saints, Vikings, Panthers and Rams should all rank ahead of Detroit), but consider this: The last three NFC champions were the Panthers (2015), Falcons ('16) and Eagles ('17). The season before their Super Bowl appearances, those teams were 7-8-1, 8-8, and 7-9, respectively. If you're looking for a darkhorse in the NFC, the Lions are your team.
7b. As for an AFC darkhorse, look for the Dolphins. Not to get to the Super Bowl, but to steal a playoff spot. This was a team that faced a ton of adversity a year ago, and decided they didn't have the folks capable of handling it in the locker room. So they went out and got a bunch of guys hand-picked by Adam Gase, at the expense of stars like Ndamukong Suh and Jarvis Landry, and even last summer Gase was touting Ryan Tannehill as a breakout candidate. Before there was Sean McVay and Kyle Shanahan, there was Gase as the NFL's whiz kid coach. And, if the success of McVay and Shanahan—not to mention Doug Pederson winning a title with Nick Foles under center—taught us anything, it's that a great coach with a great system can carry a team. I think that's Gase in Miami this year.
7c. The Bills and Titans are both better teams than they were a year ago, and are certainly set up better for long-term success. Yet, both 2017 playoff teams are probably going to have worse records than they did last year.
8. A couple of miscellaneous notes for Sunday's games…
a. I fear Jimmy Garoppolo is about to get his pretty face busted in Minnesota. I hope I'm wrong, because it's awesome that a dude from Eastern Illinois is 7-0 as a starter, but the loss of Jerrick McKinnon took a dimension away from this offense that the Niners need against this dominant Vikings D.
b. If I was Pat Shurmur, I'd keep Odell Beckham Jr. in the slot for the majority of Sunday's matchup with the Jaguars. Beckham has looked fairly comfortable playing the slot in the past. Jalen Ramsey—he of the offseason of takes so bad and non-sensical that they're less a sign of confidence and more the rantings of an attention-starved man-child—is probably less comfortable moving inside. For the Giants, it's a chance to make the opponent's best player play on their terms.
c. I'm interested to see what Norv Turner has cooked up for Cam Newton. Turner might not test well with the young people, but we've seen veteran coaches change their stripes in the past (look at Bill O'Brien before and after Week 2 of the 2017 season), and Turner had a year-and-a-half to figure things out after his system couldn't survive an injury-ravaged O-line in Minnesota. Mostly though, I hope Cam does a lot more scrambling this year. He has always been used on designed runs, which built an inaccurate reputation as a running QB. If anything, he's too stubborn about hanging in the pocket. If he throws a little bit of improvisation into his game as a scrambler, I think that's going to tip things enough in the favor of a Panthers offense to allow them to overcome a shaky O-line (again).
9. Not sure what that thing the Falcons did on Thursday night was. Matt Ryan seemed to arrive expecting an evening of leisurely catch when he suddenly found himself in the middle of a professional football game—it would explain a performance that would best be described as lethargic (he did mix in a couple of big-time throws, though still no explanation of why he was so obsessed with hitting the crossbar of the uprights on the final series). Julio Jones was all-world for the most part but repeatedly looked gassed, and Deion Jones and Desmond Trufant both missed snaps because of cramps, I guess because they didn't eat enough potassium or need to get those pajamas Tom Brady wears.
Though, certainly, the most crushing blow of the night was Keanu Neal's torn ACL, knocking one of the league's most underappreciated young stars out for the season. Damontae Kazee is a good Plan B, undersized and lacking the explosiveness of Neal, but instinctive and competitive. Still, the Falcons can't overthink this: Go get Eric Reid.
Reid spent last season playing under Robert Saleh who, like Dan Quinn and defensive coordinator Marquand Manuel, was plucked from that Seattle staff. Reid could probably get up to speed quickly. He's a downgrade from Neal in coverage, but would be a similarly physical, tone-setting presence in the middle of the field. And if Kazee manages to hold him off, Reid can provide depth at safety and linebacker, where he filled in for a portion of last year.
My guess is Reid's continued lack of employment is less about collusion and more about cowardice across ownership—he would be an asset for literally every team in the league. Assuming the Falcons right the ship on offense (that will happen soon, right? Right?), they're a legitimate Super Bowl contender. Losing Neal is a problem, but they have an obvious solution available in Reid.
10. Ladies and gentlemen . . . Radiohead!
• Question or comment? Email us at talkback@themmqb.com.