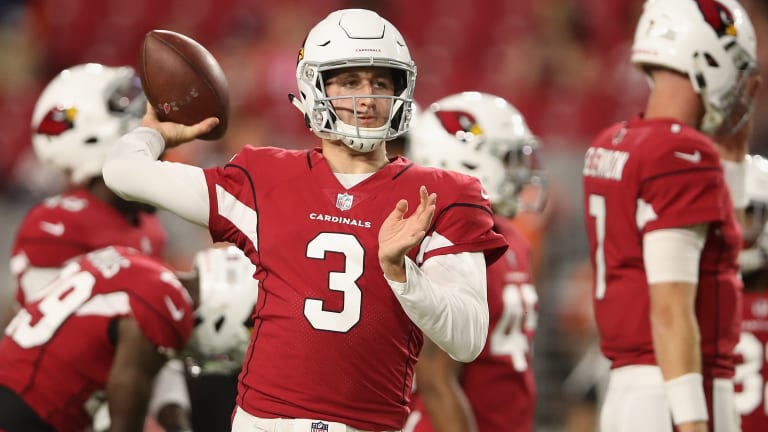 Josh Rosen Enters for Cardinals, Replaces Sam Bradford vs. Bears
Cardinals rookie quarterback Josh Rosen entered in place of Sam Bradford during the fourth quarter against the Bears on Sunday.
Cardinals rookie quarterback Josh Rosen replaced Sam Bradford in the fourth quarter during Week 3's contest against the Bears. The appearance marked Rosen's NFL debut.
Rosen entered while Arizona trailed 16-14 with 4:31 remaining in the game.
On his first possession, Rosen drove the Cardinals down to the Chicago 45-yard line before he was intercepted by Bears cornerback Bryce Callahan on fourth-and-five. He completed three of his first six pass attempts for 27 yards.
Arizona's defense forced a three-and-out, giving Rosen another chance with 44 seconds left. He needed to drive 80 yards with no timeouts.
Rosen was nearly picked off for a game-cinching pick-six by Bears safety Eddie Jackson, but defensive end Khalil Mack was flagged offside on the play. Rosen managed to gain a first down with a 12-yard scramble, giving the Cardinals one last play from the 46-yard line with five seconds remaining. He was sacked by Chicago defensive back Sherrick McManis on the final play.
Rosen finished four of seven for 36 yards and one interception.
After the game, Cardinals head coach Steve Wilks told reporters he will further evaluate his quarterback position before naming a starter for next week's contest vs. the Seahawks. Arizona fell to 0-3 after Sunday's loss.
The Cardinals selected Rosen with the 10th pick of the 2018 NFL draft. The UCLA product was the fourth quarterback taken, behind the Browns' Baker Mayfield, Jets' Sam Darnold and Bills' Josh Allen. He's also the fifth  rookie quarterback to appear in a regular season game this season (Lamar Jackson, Ravens).
Bradford did not appear to be injured at the time he was subbed out. He completed 13 of 19 passes for 157 yards, two touchdowns and two interceptions. He fumbled on the series prior to being pulled.