49ers Won a Game of Inches to Clinch the NFC's No. 1 Seed—and the NFL Playoffs Are Set
The NFC West title came down to the final plays of the game, and a San Francisco rookie came up clutch in securing that victory vs. Seattle. Also, Philadelphia and Tennessee are playoff-bound, and their quarterbacks couldn't be more pleased, the ramifications of Miami's upset of New England (Patriots in the—gasp!—wild-card round?!), loads of coaching hiring and firing news and more.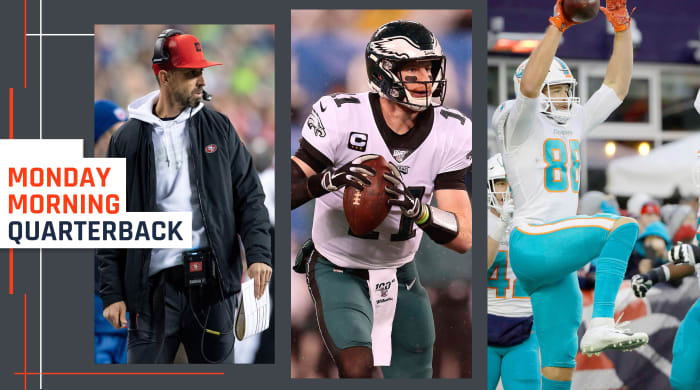 The 2019 NFL regular season would end, naturally, on a review. But before that, there was a furious, Russell Wilson-led comeback, a costly delay-of-game penalty that prevented us from watching Pete Carroll having to decide on whether to run Marshawn Lynch from the one again and, finally, a little-known 49ers rookie linebacker putting the brakes on the game's final possession at his own six-inch line.
San Francisco had the second pick in April's draft. Eight months later, the team finished with the second-best record in football. The Niners are 13–3, the No. 1 seed in the NFC, and it's all thanks to Dre Greenlaw.
Here's your setup: Fourth-and-five from the Niners' six, Seahawks with the ball and trailing 26–21, Russell Wilson in the shotgun, three receivers to left, one to his right, with a back offset to that side, too. At the snap, Greenlaw saw running back Travis Homer flare out into the right flat, so he shuffled that way. But as he read Wilson's eyes, he saw the quarterback looking in the other direction, so he planted his foot, and started moving back to his right.
"I'm shuffling back where he's looking, because the more time he takes, the more the slant is gonna be inside," Greenlaw said from the Niners' locker room. "I sit back, start shuffling inside, and then I realized basically the guy is running across the field. And I knew it was fourth down, and I knew the game was on the line and I'd just have to empty the tank."
Greenlaw did, indeed, leave it all out there. Tight end Jacob Hollister, running that slant, caught the ball from Wilson at the two, and turned to the goal line. Greenlaw hurled his body at him. Hollister contorted to stretch for the score. Greenlaw stoned him less than a step short.
How valuable was that step? Consider this: If not for that step, San Francisco would be the No. 5 seed, traveling across the country to Philadelphia this weekend. Then would probably have to make trips to some combination of New Orleans, Seattle and Green Bay over the two weeks to follow if they were to advance through to the conference title game.
Instead, if the Niners play another game away from home this year, it'll be in Miami for the week of Super Bowl LIV. Which, suffice to say, is a massive difference, and makes the possibilities that third-year coach Kyle Shanahan laid out for his players postgame all the more real.
"Basically the message was, 'We're not done yet,'" Greenlaw said. "At the end of the day, we want to be NFC West champs, but at the same time, we still want to play more. We've got plenty left in the tank. That was the message. We're gonna rest up this week and come out next week and be ready to face our opponent. We'll be ready to go."
They'll be rested too, thanks to this rookie's heroics.
***
The 2019 regular season is complete! Twelve teams remain alive, and 20 are going home—and we've got it all covered in this week's MMQB. Among the things we're going to cover here …
• Carson Wentz's next step as a quarterback.
• Ryan Tannehill's reemergence at the position.
• The Dolphins' massive upset of the Patriots and what it means.
• All the Black Monday rumors.
But we're starting with a quick look at how the day shook out, through the lens of the regular season's final contest.
***
Greenlaw was giddy when we talked, and rightfully so—for a rookie to make that kind of play to finish Year 1 is pretty storybook. But he didn't hide that this all kind of been a blur. He only became a starter after Kwon Alexander went down in October, and he's been so focused on keeping up that he hasn't left much time for reflection, which made it hard for him to really contextualize what he'd just done.
"I'm always looking forward—'OK we get a bye week this week, we can kinda rest,'" he said. "I'm thinking about who we play next, so I'm very excited and very thankful."
He then conceded, "I'll enjoy it for a couple minutes."
And he should. A look at the playoff picture reiterates just how impactful what he did was. Here are the seeds for both conferences heading into wild-card weekend:
NFC: 1. 49ers, 2. Packers, 3. Saints, 4. Eagles, 5. Seahawks, 6. Vikings
AFC: 1. Ravens, 2. Chiefs, 3. Patriots, 4. Texans, 5. Bills, 6. Titans
We've already been over what the Niners avoided with Greenlaw's stop. Now Seattle has to confront that trip to Philadelphia, plus the reality of having to go to either Santa Clara, Green Bay or New Orleans in the divisional round if they win—and then play another road game for the conference title, should it come to that.
And that's despite the fact that the SEahawks won 11 games. It's been a funny year in that way. The Saints won 13 games and the Patriots won 12, and neither team got a bye. The Vikings were 10–5 coming into Week 17 and locked into the NFC's final seed.
That tells you the field is pretty flat, and the competition should be fairly wide open, making things like weeks off and home-field advantage important—and plays like Greenlaw's huge.
***
PHILLY'S WENTZ IS CHERISHING THE (POSTSEASON) MOMENT
It really smacked Eagles QB Carson Wentz across the face when he looked up at the MetLife Stadium scoreboard and saw the clock crawling towards zero. He was about to set his date to play into January. And thanks to some bad injury luck, it's been a long time since he could say that.
"It hit me definitely as the clock was going down there at the end," Wentz said, over the cell phone from the winning locker room. "Last time I played in January I was in college [at North Dakota State] and we were playing in a national championship game. And I'm just grateful to be healthy at this point. The last few seasons with the injuries and everything I've dealt with, watching from the sidelines, I'm just extremely grateful for this opportunity.
"And hopefully we can go do something special now. Hopefully you can hear all that."
Through the phone, you absolutely could: The Eagles locker room was popping, and for good reason. Philly had just put away the NFC East with a 34–17 win over the Giants, and this victory was like a lot of the rest of them. It didn't come easy. The players had to grind it out and trade haymakers with the other team deep into the second half before pulling away late.
And they had to do it, again, undermanned. Wideouts Alshon Jeffrey and DeSean Jackson and running backs Corey Clement and Darren Sproles are all on injured reserve. The Eagles got Jordan Howard back this week, but he didn't carry the ball against New York. Tackle Lane Johnson was still out, and TE Zach Ertz (ribs/back) was a new addition to the inactive list.
As a result, the Eagles' leading rusher on this day, Boston Scott (19 carries, 54 yards; four catches, 84 yards), started October on the team's practice squad. Their leading receiver, Greg Ward (six catches, 43 yards), was with Scott on the practice squad in September, months after being on the roster of San Antonio Commanders of the AAF. And two other guys seeing playing time, TE Josh Perkins and WR Robert Davis, were on the practice squad on Thanksgiving.
Mix those guys in with a couple of promising young second-round picks, RB Miles Sanders and TE Dallas Goedert, and it was enough. And it was enough—mostly because Wentz wouldn't let it go the other way, which he sees as his responsibility.
"It's the quarterback's job to try to keep everybody together, keep the train rolling, no matter who's in there," Wentz told me. "I would say, at the same time, these guys made it easy on me. They're willing to learn, willing to do what they're asked to. And it's just been fun to see the growth of each guy. I mean, every week, the moment in the spotlight's not too bright for any of these guys. It's been pretty fun to see.
"It's somebody different every week making a big play. That's pretty special. Not a lot of teams can say that."
Indeed, a couple of Ward catches midway through the third quarter sparked a nine-play, 62-yard drive that, finally, got the Philly offense untracked and gave the visitors a 17–10 lead. And when Saquon Barkley answered with a scintillating 68-yard touchdown run, the Eagles' offense, led by Wentz, flashed its resiliency.
Four plays into the next drive, Davis made a 41-yard circus catch to move the Eagles into Giants territory. A holding call negated it. So what did Wentz do next? He rolled right and took another shot, launching a dime to Deontay Burnett, promoted to the active roster off (yup) the practice squad on Friday, for 39 yards. That set up a 50-yard field goal from Jake Elliott to put the Eagles up 20–17. They wouldn't trail again.