The NFL and NFLPA Need to Agree on Additional Coronavirus Protocols Soon
The season is fast approaching, and both sides need to work together to tie up a few loose ends before the season can start. Plus, how Washington should go about picking a new team name, the top seniors in the 2021 draft, 10 takeaways from this bizarre offseason and more.
For three months now, the NFL and its players have had a luxury that other sports leagues and athletes have not. COVID-19 has yet to claim a single game, or even training camp practice of theirs and, officially at least, only one preseason game has been cancelled to this point. They've gotten to watch everyone else do some things right, other things wrong, and plan ahead accordingly, while handling all of their business remotely.
You could hear the air coming out of that balloon on Friday afternoon, as the union convened a call of its membership.
No longer were the questions far-off hypotheticals. We're less than three weeks away from the league's first camp practices—scheduled to be held by the Chiefs and Texans (because they're supposed to kick off the regular season on Opening Night) on July 25—and it wasn't hard to hear change in the tenor of the conversation. At one point, in fact, no less of a star than three-time Defensive Player of the Year J.J. Watt pressed the NFLPA brass on when the league's plans for 2020 would be firmed up.
"We're reporting exactly three weeks from tomorrow," Watt said, with all of his peers listening. "We're working our training programs around July 25. If this gets pushed back a month, that'll change your entire mentality."
Watt wasn't the only guy on the line looking for answers. Many on the call were.
Here's one: The NFL and NFLPA are operating as they are right now, and have been challenged to hammer out details, in large part because things are changing in our country on what feels like a day-to-day basis. Three weeks ago, it looked like America was working toward containing the spread of COVID-19. Now, not so much. So it's really hard to say where we're all going to be on July 25. Or July 28, when the other 30 teams report.
There is another thing I know after talking to people involved the last few days, and it may not be the most encouraging thing to say, based on how June went. I believe, because those guys inside believe, that the NFL and the 1,900 or so players who play in it are largely at the mercy of what happens around them. It's why when those players do report, we're certain to get dozens of positive tests. And trust me when I say everyone expects that.
It's also why if America's struggling with COVID-19 in a month, the league will be too, in its effort to get football back on the field.
Thus, the message that NFLPA assistant executive director for external affairs George Atallah wanted me to pass along on Saturday: "If you want football to start on time, wear a mask."
I asked Atallah if that was addressing the players. He said no. It was for everyone.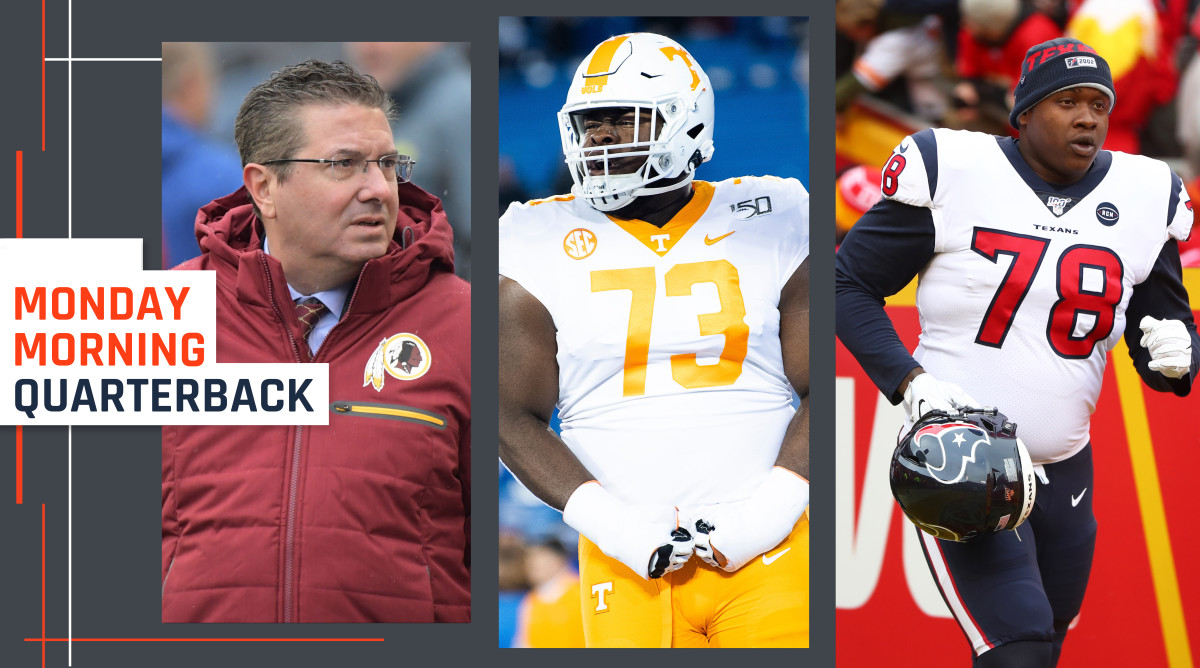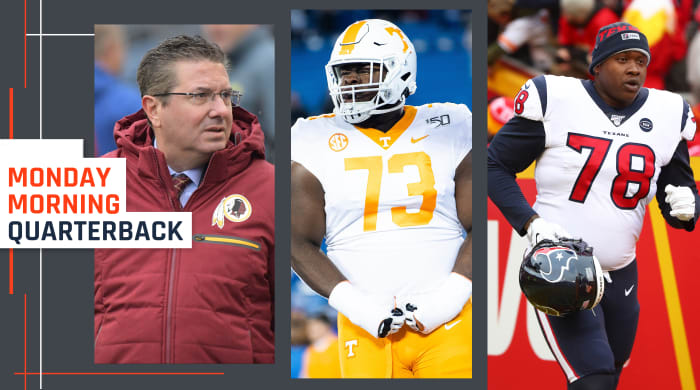 ***
So this was supposed to be my ease-into-vacation MMQB, but a lot happened the last few days, which is why I'm here, writing it from the living room of our vacation house. (Trust me, I'm not complaining … I know that's the job.) Anyway, in here, you'll find …
• More on the Washington nickname change.
• A first look at the NFS grades for the 2021 draft seniors.
• Ten Takeaways from a really weird offseason.
But we're starting with the call on Friday, and what it means for where football is going in the fall.
***
About 45 minutes into the call, the subject of player safety came up. At that point the group discussed why a bubble would be impossible, given the amount of players involved, and the additional infrastructure needed to run a football team. In explaining it, ex-NFL linebacker Don Davis, now a senior director at the union, acknowledged the risk that every guy would be undertaking by deciding to strap up for the 2020 season.
He was then asked point blank if he'd play, given the circumstances.
"That's a great question," Davis answered. "We have 1,900 members, and not all of your 1,900 members are going to be comfortable with playing.… You all will have to make that decision, as a grown man."
Then he was asked more directly if he, personally, would play.
"I'm gonna play," he said, in response to the hypothetical. "I'm gonna do what I need to do so I can get my money."
We've already seen cases of that decision going the other way in other sports. Dodgers pitcher David Price and Nationals first baseman Ryan Zimmerman are opting out of the baseball season. Lakers guard Avery Bradley and Pacers star Victor Oladipo are opting out of the remainder of the basketball season. And how such a situation will be handled is one of a bunch of loose ends that need to be tied up before the green light comes on for football players to come back to work.
In an effort to make things as safe as possible for the guys who do make the decision to play in 2020, task forces from the league and union have been on calls with one another on pretty much a daily basis to set protocols that they're confident will mitigate—not eliminate—risk. Here's a quick rundown, with just 19 days left until the Chiefs and Texans start practicing, of what's left for the league and union to agree on.
The opt-out. The league and union still have to discuss how they'll go about handling players who decide not to play. The NFLPA is pushing for all players to have the chance to sit out the year if they're uncomfortable participating, with their contracts tolling for 2020. Whether or not the league will try to limit that to at-risk players remains to be seen.
My guess is all players are given the option to sit out the year. We'll see.
The preseason. This is fairly simple. The NFL wants two games—with each team playing one at home and one away—so every team can test both its home-stadium and travel protocols before doing it for real. And it wants those games played in what would've been the second and third full weekends of the preseason to allow for an acclimation period and a two-week period prior to the opener during which teams aren't mixing.
There's also, of course, revenue that'll be lost if those games aren't played, which, obviously, is no small issue to the owners. And I'm told plenty of coaches and GMs have told the league that having some preseason game action with which to determine a roster, and then ready it for Week, 1 would be huge for them—particularly with OTAs, minicamps and joint practices wiped out.
The players want to follow the guidance of the NFL/NFLPA joint committee for health-and-safety, which called for a three-week acclimation period before anyone even puts a helmet on. That timeline would make playing any preseason games pretty difficult (three weeks after July 28 is Aug. 18), especially if you want teams to be by themselves for the two weeks leading into the opener.
Additionally, and rendering the math there less relevant, the joint committee advised that the whole preseason be canceled, based pretty much on this question: Why are we creating 32 safe training-camp zones, and then mixing everyone for games that don't count? It's a fair point, and a reason why the players voted for their leadership to pursue the cancellation of all preseason games.
The worst-case scenarios. Really, I can't imagine there's much disagreement that a COVID-19 reserve list is going to be necessary. Simple math, again, can lead you here. If there's a small outbreak and say 12 players test positive in mid-October, by which point teams are using most of their seven gameday inactive spots to stash guys with relatively minor injuries, everyone's going to have a problem.
Could it be abused? Sure. Teams could use it to manage some of those minor injuries, passing players off as having symptoms to save a roster spot. But the downside on the other end is much worse—the NFL can't have players not reporting symptoms for fear of being cut. Which is why, to both the league and union, allowing players to report without any unintended consequences is paramount.
There are two other questions on the periphery here. One would be how these injuries are classified. The union wants all positive COVID tests classified as football injuries, which would mean guys would get paid. The NFL might want leeway on that, particularly if a player was being irresponsible away from the facility. The second is figuring out what constitutes a big enough outbreak to force the forfeiture of a game.
On that one, it could be raw numbers (i.e. too big a percentage of the team can't play). But I was given another that might be more likely—where a large number from a single position group gets wiped out (like, say, a bunch of offensive linemen), creating a player-safety issue.
Conduct detrimental. This term has become a buzzword in pro football. It allows teams to fine players and put them on notice for possible suspensions, and it could come into play here if players or coaches break the protocols.
I do think there's a level of agreement on this one—as one source said, "The protocols are only as good as the people are willing to stick to them." Most of this is common sense. Wear a mask at the grocery store. Don't have gatherings of more than 10 people. Don't go to the bar. And so on.
Thing is, the vast majority of NFL players are in their 20s, and a lot of them, for good reason, enjoy taking advantage of the status being a pro athletes gives them. Which makes this one easier said than done.
The money. Things have been pretty smooth between the NFL and union, and that's mostly because until just recently the financial issues that need to be worked out hadn't been discussed. And while discussion on the looming revenue shortfall has now begun, they haven't waded into the heavy stuff quite yet.
That heavy stuff? With the revenue numbers expected to be way down this year, the formula on the 2021 cap is likely to spit out a relatively ugly number, and having the cap drop helps no one. It hurts owners, because it makes it tougher to plan. It hurts team-builders and coaches, because it's almost certain to cause a bloodletting on a lot of rosters. It hurts players for very obvious reasons.
So I'd expect discussion soon to center on how the union and league will make sure that number is level. They could, potentially, borrow from this year. I think what's more likely is that they borrow from 2022 and beyond, which will make negotiating long-term deals much more complicated for teams in the coming months (hence the boatload of premium young veterans who haven't gotten their blockbuster second contracts yet).
***
And there are two points I'll wrap up with here.
The first is that the communication is going to have to get better over the next few weeks.
The head athletic trainer will captain this whole effort for most teams, and I was told a story from one club a couple weeks ago—and this one's from a really stable, well-run franchise—where the trainer asked the head coach if he had any details at all on how to proceed, the coach told him no, and the two wondered how it was possible that neither guy had a clue on where things were going with a little over a month left before camp.
That's a problem, and it was further reflected in a post on Pro Football Talk from over the weekend that mirrored what I've heard from a lot of guys. And it's a problem largely as a result of negotiations being ongoing.
The second is that I believe, given everything that's going on, the league and union have actually worked fairly well together on this—and that's despite what I just said about the level of communication. They're on the same page with their goals, to get a football season going and to minimize risk, and that's obvious in how some elements of the plan have come together.
One example is deciding not to hole players up in dorms or hotels during training camp. I asked for the reasoning on that one, because I thought it might be an advantage to keep everyone in one place. But the counter I was given was pretty compelling, and is actually one thing the NFL's taken from college football's fits and starts thus far (the number of young, asymptomatic players being the other)—one guy gets sick and the hotel/dorm is suddenly a petri dish. So it totally makes sense to separate guys as much as you can.
Or it does so long as those guys are responsible, which brings us back to original point. The NFL and NFLPA can't control everything. They can't control their players when they go home. They also can't control federal, state and local restrictions.
In fact, as of right now, based on New York law, a Buffalo Bills player who lives in Texas would have to self-quarantine for 14 days before returning to work. Is it fair that, in this case, a player would have to show up on July 14, and may have trouble working out in the interim, for a July 28 camp start date? It's not. And pro sports may well get an exemption on this one. But if that doesn't happen, then that's the reality for this hypothetical guy.
Which underscores the simple fact, again, that there's still a ton of uncertainty in how this is all going to work. And that's really because the same sort of uncertainty is hovering over the United States of America as we sit here on July 6.
So … we'll see.
***
CHANGE IN WASHINGTON
Let me start here: Based on what I know, I'd be stunned if the Washington football franchise plays another game with the nickname they've had since 1933.
It's over. Maybe they'll have a new name by Sept. 13. If they don't, my strong guess would be the team will go without a nickname for 2020 (call them Washington FC, as our own Conor Orr suggested, for the time being), rather than keeping the status quo. It's fairly obvious we've passed the point of no return.
And you may have noticed over the last few months that the team name disappeared from The MMQB, including in places like power rankings or draft grades where we list all 32 teams. We didn't make a huge deal of it, but two people deserve credit for it. The first is Peter King, the founder of the site, who stopped using the nickname on principle all the way back in 2013 (scroll down in this column and he followed it up here). That was his choice, by the way. He didn't force it on anyone else, and I used the name routinely after joining the site in 2016, in large part because I didn't see this as my stand to take.
Maybe I was wrong on that. Either way, it wouldn't be too long before I didn't have a choice. That's because earlier this year SI's new copy chief, Julie Kliegman, barred the use of the name across all SI publications as part of our new stylebook.
My feeling? It's a football team, and people are offended by the name, so change it. It's that simple. This wasn't a small group of outrage mongers either. It was an entire race of people who've suffered many hardships in this country, and don't need people like me telling them what to think. Nor do they need someone polling whether or not something is a racial slur when the dictionary defines it as a racial slur.
At the end of the day, we're talking about a business that exists to put 11 overgrown adults at a time on a field to play a game of ball. And I love football. It puts food on the table for my family. But the world was never going to spin off its axis when the inevitable became the reality, and the time to change the name came.
I can tell you that commissioner Roger Goodell has been working hard with Washington owner Dan Snyder on this over the last couple weeks, and that work is expected to intensify in the coming days.
As for what I'd like to see happen, I think the right thing to do here is to engage the Native American community, and make sure the name reflects the franchise's history (Braves was actually the original name), if that community wants it to. If they don't, and want a clean break, that's fine too. But I think the least the NFL and the team can do after all this is work with them to find solution.
After all, it was just seven years ago that Snyder said, "We'll never change the name. It's that simple. NEVER—you can use caps."
Never came faster than a lot of people anticipated. And even if this was about Nike (which has its own issues on the human rights front, by the way) and FedEx (whose founder is a Washington minority owner) than doing the right thing, the right thing will now be done.
So now those guys playing a kid's game in representation of D.C. and its surrounding area will be called something else. And it's about time.
***
TOP SENIORS IN THE 2021 DRAFT
In years past, The MMQB has had draft week around this time of year. That's in flux, because of all the uncertainty surrounding the college season. But I still wanted to give you something draft-related before I go, so I figure what better way than to introduce you to some of the 2021 class's best.