MMQB: Joe Burrow Says This Is Who the Bengals Are Now
The young quarterback is not surprised about Ja'Marr Chase's incredible rookie season or blowing out the Ravens. Plus, the physical Titans punish the Chiefs, the latest on Deshaun Watson trade rumors, Joe Judge, Kliff Kingsbury, Derek Carr and more from Week 7.
No more than an hour after Joe Mixon and Samaje Perine had broken off long touchdown runs to deliver twin knockout blows and send 70,000 fans at M&T Bank Stadium to the exits, the face of this operation, 24-year-old Joe Burrow, lacked even a hint of an uptick in his voice as he explained what he and his Bengals teammates had just done.
Why? Well, Burrow's not surprised by it in the least.
And if you are, then you should listen to what the quarterback said when I asked if he felt like Sunday's stunning rout of the Ravens was a sign the Bengals' ship is turning.
"No, it's already turned," Burrow told me. "That chapter from yesteryear is gone and behind us. And this is who we are now. We're a tough, physical team that's hard to beat, and we're going to be in every single game because of the defense that we have, and the playmakers that we have on the outside. So it's exciting. Excited for the city, excited for the organization, but we're not satisfied."
Bengals 41, Ravens 17 felt like a whole lot more than another Week 7 win.
It wasn't just the score or the opponent, either. It was everything. It's how Burrow and his LSU teammate Ja'Marr Chase have systematically erased doubts from training camp over and over again. It's how Chase has turned that summer skepticism from a few drops into the greatest start by a rookie receiver ever. It's how Burrow continues to play with less and less fear, so soon after ACL surgery.
It's how Zac Taylor, Brian Callahan and Lou Anarumo have created aggressive, heady units capable of carrying out aggressive game plans. It's how a patched-together secondary full of guys signed from winning programs has come together to lead the defense. It's how Bengals director of player personnel Duke Tobin's starting to catch fire draft-wise.
And it's added up to a Bengals team that—surprise!—would be the AFC's No. 1 seed if the regular season ended today, carrying road wins against its division's powerhouses in Pittsburgh and Baltimore, and a sort of belief that was forever in short supply in Cincinnati before Burrow and Chase arrived.
"We came ready to play football, worked at practice and it translated to the game," Chase told me postgame. "I don't think we're scared of anybody. I don't think we scared of nobody to be honest. … We got enough courage to go into anybody's stadium to play football. That's how we execute, how we practice and how we bring it to the game."
The Bengals brought it on Sunday, alright. And they left with quite a story to tell.
---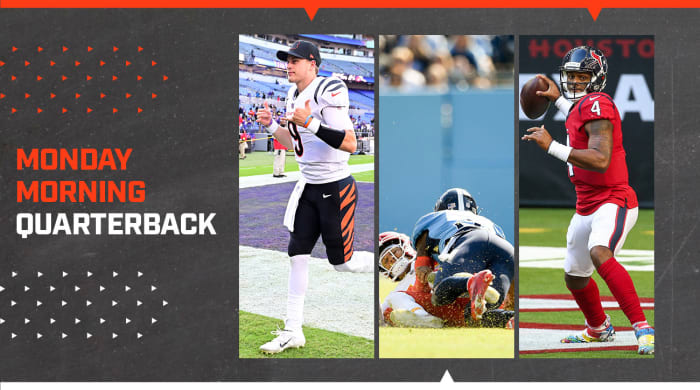 It was Blowout Sunday in the NFL—11 games were played and only one was decided by a single possession—but that does not mean we're lacking for material. In this week's MMQB column …
• A look at the surging Titans and their destruction of the Chiefs.
• An update on, and dive into, the Deshaun Watson trade situation.
• A very different week of preparation for Giants coach Joe Judge.
And a ton more! But we're starting with the Bengals, and their new place in the AFC hierarchy.
---
For the record, what you saw with Burrow and Chase over the summer was real. We've already detailed what Burrow went through during that stretch where he was off, and how it was part of his process coming back from ACL surgery. And as for Chase, his own bout with inconsistency in the dead of August was part of a process too—having come off a year off, after he opted out of the 2020 college season.
"I wasn't really worried about it, really much at all, to be honest," Chase said. "I felt like it was just me not getting better with my hand-eye coordination, because I was out so long. Coming back, knocking a bit of rust off me, I had to make sure I get back to normal, back to myself."
Two months later, Burrow's clearly himself, and Chase is too, and together they've helped change everything in Cincinnati.
It's been six years since the Bengals last made the playoffs, and within that drought established stars that helped the team make it to the postseason five years running, from 2011 to '15, were cycled out, which left a blank canvass on which the new coach, Taylor, and the holdover scouting chief, Tobin, would reimagine the team.
One thing that was clear: They wanted to stock the locker room with guys from winning programs. So they brought Vonn Bell and Trey Hendrickson from the Saints, Mike Hilton from the Steelers, Chidobe Awuzie from the Cowboys and Trae Waynes from the Vikings. The first draft pick with Taylor as coach was a left tackle from the Alabama juggernaut. Then, in consecutive years, came two studs off perhaps the greatest college offense of all time.
The Bengals knew to change the mentality, they needed to bring in guys who expected success, even if that success didn't come right away.
"We have another year in the system, we brought some guys in during free agency that have really helped us and then we've drafted well the last three years," Burrow said. "A lot of guys have hit and are really performing for us. So we knew what we could be, but it feels great to have it show up on the field."
It did in Pittsburgh in September, and again earlier this month, when the Bengals went toe to toe with the Packers into overtime. It most certainly was all on display in Baltimore on Sunday. And even on Saturday night, if you looked closely enough, you might've seen it coming.
That was the point at which Chase found something to exploit in the Baltimore defense and All-Pro corner Marlon Humphrey in particular: "I was just remembering how he plays slants, how he plays in-routes, how he plays speed off the ball." Chase and Burrow discussed it and, sure enough, through the first half they saw their opening to take advantage.
Humphrey was pressing Chase at the line, but then bailing off the receiver right away at the snap. Chase and Burrow figured the rookie receiver could run hard at Humphrey, catch him in his backpedal, then break in and run away from him. And it happened with six minutes left in the third quarter of what had been a seesaw game at that point.
Chase got Humphrey off-balance and caught the ball short. Humphrey ran after him, but because the move caught him, Humphrey was stumbling. So when he got to Chase, the receiver easily spun free from his tackle attempt, then ran past everyone for an 83-yard touchdown that made it 27–17 Bengals.
"I just gave him a quick hesitation at the line, just gave him a quick burst and separated at about five yards on a slant angle. And everything was there," Chase said.
Minutes later, Burrow put his trust implicitly not just in Chase, but also in the team's once-maligned defense. On the offense's next possession, the Bengals drove from their own 15 to the Baltimore 9, from which point Burrow took a sack, which led to a third-and-goal from the 16—not exactly an advantageous situation for the offense. From there, Burrow threw one up down the right sideline at Chase, and Humphrey picked him off.
A high-percentage throw, it was not. But there was a calculation to his risk.
"Our defense has proven to be one of the best in the league, and they've really turned into an attacking-mindset defense," Burrow said. "And that's what's hardest to play against. Our defensive coordinator, Lou [Anarumo], is doing a great job of mixing up coverages and looks, and they're tough to go against, even in practice. So I was upset with that pick, but I've been taking chances like that this year because we have our defense is playing so well.
"And so that allows me to be more aggressive in certain situations."
Four minutes later, the Bengals' defense justified Burrow's trust by forcing a turnover on downs at the Baltimore 38, and that's where Cincinnati really flexed its newfound muscle. Four punishing runs later, the last one a 21-yarder from Mixon,