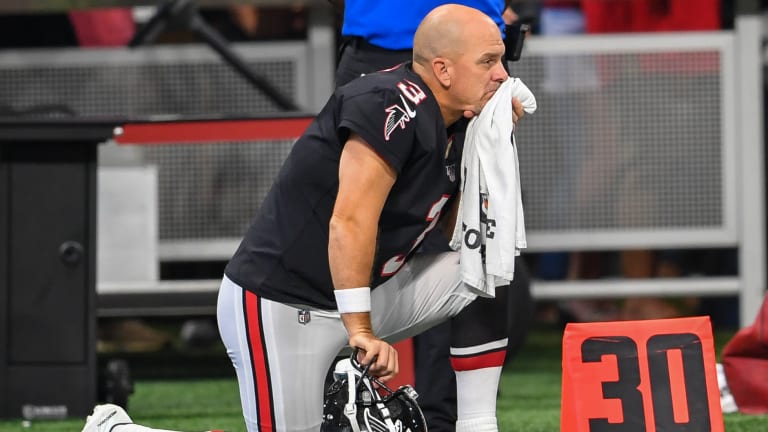 Falcons Release Kicker Matt Bryant
The Atlanta Falcons have released kicker Matt Bryant ... again.
The Atlanta Falcons have parted ways with kicker Matt Bryant for the second time this year. 
The Falcons announced they released Bryant, the team's all-time leading scorer, and signed kicker Younghoe Koo.
Bryant missed a pair of field-goal attempts -- from 51 and 53 yards away -- in the 27-20 loss against the Seattle Seahawks this past Sunday. He also hit the upright on an extra-point that would have tied the game in the final minutes of a 34-33 loss versus the Arizona Cardinals in Week 6 on Oct. 13.
On Monday, reports surfaced that the Falcons were going to work out kickers during the bye week, but still, the news to release Bryant comes as a bit of a shock. 
If there was a Hall of Fame for kickers, Bryant would probably be in it. He's kicked in the NFL for 18 years, spending 11 of those seasons with the Falcons. During his career, he's made 85.6% of his field goals, which ranks 13th all time.
For perspective, Adam Vinatieri, who is a surefire future member of the Pro Football Hall of Fame, owns a 84.1 career field-goal percentage.
Bryant has struggled this season, but most of his misses have come from beyond 50 yards. Inside of 50 yards, he's made 7 of 8 but outside of that distance, he's gone 2-for-6. Bryant is also 14-for-15 on extra-point tries.
At 44 years old, it's not all that surprising Bryant is struggling from longer distances, as he doesn't have the same power in his leg from a few years ago. 
Furthermore, the Falcons signed him off the couch late in the preseason. Maybe the lack of offseason football workouts is paying its toll.
The Falcons cut Bryant early in the offseason to save salary cap space but then gave him a raise to come out of his forced retirement to replace a struggling Giorgio Tavecchio in the preseason. Those facts make it even more surprising the Falcons are parting ways with Bryant.