Vital facts about the U.S. National Junior Team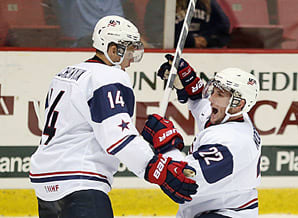 With the World Junior (Under-20) Championship coming up in Ufa, Russia on Dec. 26, Team USA convened at the New York Rangers' training facility in Tarrytown, N.Y. on Sunday for three days of practice. After Tuesday's skate, the team will be off to Europe for exhibitions against Sweden (Thursday, Dec. 20) and Finland (Saturday, Dec. 22) before taking on Germany in its WJC preliminary round opener (Thursday, Dec. 27). Russia, Canada and Slovakia follow. (Click here for the schedule.)
Former NHL defenseman Phil Housley, the highest-scoring blueliner in NHL history (1,232 points), will be making his head-coaching debut for Team USA after serving as an assistant at the World Juniors in 2007 and 2011, and with the 2011 U.S. men's national team. He also brings rich international experience on the playing side, having skated for the junior team in 1982 and for the US National Team at two Canada Cups, six world senior championships, and the 1996 World Cup of Hockey. On Monday in Tarrytown, he put his team through a lively half-rink game with the losing squad sentenced to 20 pushups at the end of practice. "We saw some battle out there," he said. "It's good to see that coming together. It's most important now to see where people fit into their roles."
Some vital facts and figures about the team:
? The U.S. won gold at the world juniors (under-20) in 2004 and 2010, and bronze in 2007 and 2011, but will be seeking redemption in Ufa after failing to medal at last year's tourney where Sweden beat Russia in the final in Calgary. Canada took the bronze. Only defenseman Jacob Trouba, forward J.T. Miller and goaltender John Gibson have returned from that squad.
? Of the 26 invited players on the preliminary roster, 23 have been drafted by NHL teams. Seven were first-round picks. Defenseman Seth Jones of the Western Hockey League's Portland Winterhawks and forward Ryan Hartman of the Ontario Hockey League's Plymouth Whalers are draft eligible and expected to go high next summer. Forward Cole Bardreau of Cornell University is the lone undrafted free agent.
? There is great potential in that 15 players on the preliminary roster skated in at least one of the last two Under-18 world championships, where the U.S. won gold: Jones and Trouba (2011-12); forwards Tyler Biggs and Rocco Grimaldi (2010-11); Gibson, defensemen Jake McCabe and Connor Murphy, and forwards Bardreau, Miller, and Blake Pietila (f2011); forwards Hartman and Riley Barber plus defensemen Matt Grzelcyk, Patrick Sieloff and Brady Skjei (2012).
? Expect the team's strength to be its depth on the backline and in goal. Jones, an 18-year-old from Plano, Texas, is a savvy, smooth, skilled defenseman who currently ranks fifth in scoring among WHL blueliners and is a solid candidate to be the first or second player chosen in the 2013 NHL Entry Draft. His dad, Ronald "Popeye" Jones, spent 12 years as a forward with seven different NBA teams and is now an assistant coach with the Brooklyn Nets. Seth took up the game while Popeye was playing for the Denver Nuggets.
? Trouba, a Winnipeg Jets prospect who currently plays for the Michigan Wolverines, is known as a fierce hitter in the mold of Scott Stevens. After delivering a right shoulder check to the head of Northern Michigan's Reed Seckel as Seckel cut across the middle of the ice during a game in November, Trouba received an automatic one-game suspension. He was lucky to avoid more, even though Seckel had his head down on the play. As for his talented new WJC teamates, Trouba has great respect, sayimg "It's good to have these guys on your side for a change. I'm tired of playing against them."
? On Monday, the IIHF informed USA Hockey that Ottawa prospect Stefan Noesen, the Senators' 2011 first-round pick, would not be eligible to play in the WJC. The talented right winger for the Plymouth Whalers scored 17 goals in his first 26 games but was suspended for 10 games by the OHL for a charging penalty against Tyler Hore of the Oshawa Generals on Dec. 8. He will have seven matches left on his suspension when the WJC tournament begins. Dave Ogrean, USA Hockey's executive director, released a statement saying, "While we respect the IIHF's decision, we don't feel the process is equitable."
? Another key player to watch is Alex Galchenyuk, the Milwaukee-born Belarusian forward who spent much of his youth in Europe after his parents moved there to support his dad's hockey career, which took them to Germany, Italy and Russia. (Galchenyuk's father is from Belarus; his mother from Russia.) The Sarnia Sting captain now ranks second in scoring in the OHL with 61 points in 33 games, and was named the OHL's Player of the Week for Dec. 10-16 after posting five goals and three assists in two games. It's been a strong rebound season for Galchenyuk after he missed all but two 2011-12 regular-season games after suffering a knee injury in a collision with a goalpost in September 2011. The Montreal Canadiens weren't daunted by his injury or all that missed time, though. They took him third overall in the draft last summer. (Mark his homecoming game, of sorts, on the calendar: the U.S. will face Russia in Ufa on Dec. 28.)
? Based on average size, the tallest group of players, by position, is actually . . . the goaltenders. Gibson, an Anaheim Ducks' second-round pick who plays for the Kitchener Rangers, is 6'-3"; Providen College's Jon Gillies, a Calgary Flames third-round pick, is 6'-5"; and Garrett Sparks, the Toronto Maple Leafs' seventh-rounder who plays for the Guelph Storm, is 6'-2". With a gold from the U-18 Championship in his pocket, Gibson should get the call in goal during this tournament, so long as his strained hip flexor remains manageable. That would give Gibson a chance to atone for a mini-meltdown against the Finns at last year's championships, when he took a penalty, surrendered a power-play goal and came unglued.
? Former Rangers goalie and two-time Olympian Mike Richter attended Monday's practice and he sees one big difference between junior players today and those in his day. "They speak so well and they're so composed," says Richter, who won silver for the U.S. team at the 2002 Olympics in Salt Lake City. "We were like deer in headlights. They have the sound bites."