2013 NHL Northwest Division preview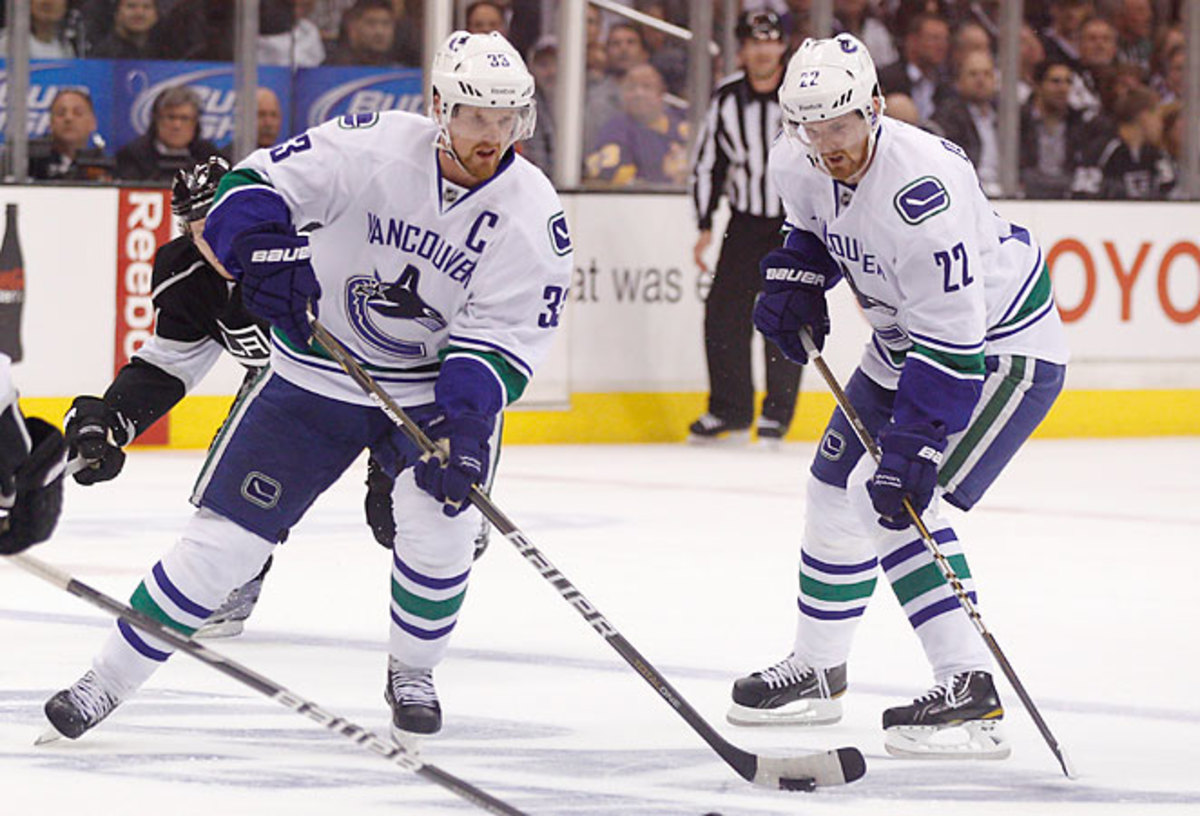 Vancouver Canucks
Power Rankings | Milestones | Central | Pacific | Southeast | Atlantic | NortheastHACKEL: Short season will challenge NHL coaches | MUIR: Wild year on way
Coach: Alain Vigneault 2011-12 record: 51-22-9, 1st in West, lost to Kings in first round Vital signs (stat ranking): goals-for (4th), goals-against (4th), power play (4th), penalty kill (6th), PIM (6th) Notable adds: D Jason Garrison, D Cam Barker Notable losses: D Aaron Rome, D Sami Salo, C Sami Pahlsson Team roster
Outlook: The Canucks have skated through the last two regular seasons as the league model, winning the Presidents' Trophy in both years. With skilled forward lines that are balanced and deep; a workmanlike defense corps and two goalies most NHL teams would gladly hold on their rosters, the Canucks have all the tools for a Stanley Cup run. That they have been able to keep their lineup essentially unchanged is a testament to the Canucks' front office and the commitment the players have to winning in Vancouver. Led by twin powers Henrik and Daniel Sedin, their offense has ranked in the NHL's top 5 the last three years. Their defense, fourth in the NHL in goals allowed, also put up 40 goals last year (fifth in the NHL), a number that could certainly rise with the addition of Jason Garrison's heavy shot, which found the back of the net 16 times last season. Though there may be some controversy over which of their two formidable goalies wins the No. 1 job, it's a luxury of riches for a team that should contend from the start.
Key Players: Cory Schneider and Ryan Kesler. With the talented Schneider signed to a three-year, $12 million deal, and the team eager to hand him the starting role, beleaguered incumbent Roberto Luongo became trade bait that could bring in some help to cover for Kesler's absence while the 2011 Selke Trophy-winner recovers from wrist and shoulder surgeries. Kesler's two-way game will be missed and his return to full health greatly boosts the Canucks' chances of making a deep run in the playoffs. The big question, though, is can Schneider thrive in the glare of the team's passionate, demanding and fickle fan base? One minute, Luongo was their hero; the next, an overpriced lawn ornament.
Minnesota Wild
Coach: Mike Yeo 2011-12 record: 35-36-11, 12th in West, did not make playoffs Vital signs: goals-for (30th), goals-against (T-14th), power play (27th), penalty kill (15th), PIM (9th) Notable adds: LW Zach Parise, D Ryan Suter, C Zenon Konopka, C Torrey MitchellNotable losses: RW Nick Johnson, LW Guillaume Latendresse, F Erik Christensen Team roster
Outlook: GM Chuck Fletcher won the off-season jackpot, luring the league's two most coveted free agents, winger Zach Parise and defenseman Ryan Suter, to the Land of 10,000 Lakes. The two signed matching 13-year, $98 million contracts -- that's just $19,600 per lake -- but sometimes drastic measures are necessary to revive a team that hasn't made the playoffs in four years and hasn't won a postseason series since 2003. Last season, after a promising start, Minnesota's lack of depth began to show as injuries hit and losses piled up. Defensively, the team struggled to insulate goalies Niklas Backstrom and Josh Harding, allowing more shots than all but one other team in the West. Enter Suter, the 27-year-old smooth-skating and skilled puck-moving defenseman who combined with Shea Weber to give Nashville one of the league's most intimidating defenses. Suter is a workhorse, and led the Predators in ice time three of the last four years. His patience with the puck and superb decision-making skills will help keel Minnesota from being trapped in its own zone so often.
Key player: Zach Parise. The 28-year-old winger is exactly the kind of jolt the anemic offense in St. Paul sorely needed. The Wild hasn't had a 30-goal scorer since Marian Gaborik tallied 42 in 2007-08. Parise, a seven-year NHL vet, hasn't scored fewer than 30 in a full season since his rookie year. Dogged and persistent, Parise makes those around him better, and will help improve the league's worst offense.
Colorado Avalanche
Coach: Joe Sacco 2011-12 record: 41-35-6, 11th in West, did not make playoffs Vital signs: goals-for (23rd), goals-against (11th), power play (9th), penalty kill (12th), PIM (17th) Notable adds: C John Mitchell, RW P.A. Parenteau, D Greg Zanon Notable losses: C Jay McClement, C Peter Mueller Team roster
Outlook: An uneven 2011-12 season was an improvement over the disastrous fall Colorado experienced two years ago. So it's with hope that the Avs enter '13. With the exception of standout rookie winger Gabriel Landeskog and 21-year-old center Ryan O'Reilly, the Avs' more established stars struggled last season. Center Paul Stastny put up a career-low .67 points per game and Matt Duchene had just 28 points in 58 games. After breaking out with 45 points in '10-11, David Jones finished with 37. If there is a silver lining in Denver, it's the fact that at its best, Colorado's offense can be far better. A respectable power play will help, though the Avs will need more than the league-low 223 opportunities they got last year. On the flip side, the penalty kill will likely take a hit this season with the loss of veteran Jay McClement. The Avs' blueline remains thin and relatively inexperienced, which isn't ideal for goalie Semyon Varlamov, who hasn't shown the consistency it takes to be an unquestionable No. 1, but he is coming off some solid play in the KHL during the lockout. And speaking of Russia, Colorado's situation with O'Reilly, who signed a two-year deal with the KHL's Metallurg Magnitogorsk (there is an out clause if the Avs offer him a bigger deal), could very well mean their leading scorer won't be back.
Key player: Gabriel Landeskog. A brilliant rookie season, one that earned him the Calder Trophy, carries with it enormous expectations. Just 82 games into his NHL career, the 20-year-old winger was handed the reins of this team, becoming the youngest captain in NHL history last September. It's an immense responsibility that has the potential to become a burden if the young phenom doesn't live up to his first season in the league (22 goals, 52 points, team-leading plus-20). But Landeskog has exuded maturity since even before he was drafted second overall in '11. He's smart and responsible on both ends of the ice, and as a 6-foot-1, 204-pound power forward, he has even more room to grow and learn.
Edmonton Oilers
Coach: Ralph Krueger 2011-12 record: 32-40-10, 14th in West, did not make playoffs Vital signs: goals-for (T-19th), goals-against (23rd), power play (3rd), penalty kill (14th),  PIM (13th) Notable adds: D Justin Schultz, RW Nail Yakupov, D Mark FistricNotable losses: D Taylor ChorneyTeam roster
Outlook: A white-hot start last season (8-2-2 through Nov. 3) may have provided a glimpse into the future. But it wasn't long before reality sank in, and the young Oilers finished 14th in the West. The bright spot, however, was winning the draft lottery, and for the third straight year, Edmonton selected first, taking Russian winger Nail Yakupov, who joins winger Taylor Hall and center Ryan Nugent-Hopkins as the hoped-for saviors of the long-rebuilding franchise. The trio of superstars-in-waiting lead a dynamic and wildly skilled top six that will score and score often. Playing for Edmonton's AHL affiliate, the Oklahoma City Barons, Hall and Nugent-Hopkins, along with their linemate and last season's leading scorer Jordan Eberle, accounted for 47 of the team's 115 goals. Drafting so much skill up front, however, has left Edmonton with a relatively lackluster defense corps. Rookie Justin Schultz, a 22-year-old Kelowna, B.C. native who comes into the shortened season as a Calder favorite, injects much-needed skill, and it won't hurt that he's already gotten familiar with some of his Oilers teammates by playing in OKC. But still, Edmonton's roster remains lopsided, and it won't be easy to sustain success without balance.  
Key player: D Ryan Whitney. The 29-year-old defenseman, a seven-year veteran who played for Pittsburgh and Anaheim, has battled injuries ever since arriving in Edmonton in March 2010. In the last two seasons, he has been limited to just 86 games, and even when he has played, he seemed rather ineffective. At full health, Whitney is a top-tier NHL defenseman; what Edmonton needs him to be in order to bring some stability to their blueline.
Calgary Flames
Coach: Bob Hartley 2011-12 record: 37-29-16, 9th in West, did not make playoffs Vital signs: goals-for (T-27th), goals-against (T-14th), power play (13th), penalty kill (9th), 885 PIM (18th) Notable adds: C Bob Hartley, LW Jiri Hudler, D Dennis Wideman, LW Sven Baertschi, C Roman Cervenka Notable losses: C Olli Jokinen, D Scott Hannan, RW David Moss, RW Tom KostopoulosTeam roster
Outlook: For the last three years, Calgary has had the misfortune of finishing just outside the playoff picture. Being so close, the Flames continue to tweak their roster instead of going for wholesale change. That's come at a price, however; as they had the second highest payroll in the West last season and come into '13 with the fifth highest in the NHL. They also have a new coach and a new system. Considering the paltry 202 goals the Flames scored last season, the fewest since the '04-05 lockout, they will need something to spark their sticks. Michael Cammalleri, who scored 19 points in 28 games after being acquired from Montreal last January, can relieve Jarome Iginla of some of the scoring burden. Jiri Hudler should provide a secondary option (at $4 million per year, he'd better), and defenseman Dennis Wideman will be looked upon to move the puck out. But too much has to go right for the Flames to contend. Goalie Miikka Kiprusoff, at age 36, is still among the league's steadiest, but he and Iginla cannot carry the team forever. This might be the year that demands wholesale change in Calgary.
Key player: RW Jarome Iginla. The 35-year-old veteran All-Star, in the last year of his contract, is still every bit as effective as he was in his prime. He's scored at least 30 goals in each of the last 11 seasons, and fewer than 50 points just once in his career. His penchant for slow starts will hurt in a shortened season, but he remains the lifeblood of the organization. Calgary has been Iginla's only home for the last 15 seasons, but if the Flames struggle to stay in the playoff picture, he will be a hot commodity at the trade deadline.
Northwest's biggest surprise (for better or worse)
Jarome Iginla's streak of 11 seasons with at least 30 goals will come to a screeching halt in this strike-shortened season. There aren't enough games, and he doesn't have enough support around him to make it 12.
Northwest breakout player
Nail Yakupov, Edmonton Oilers: The No. 1 pick in last June's Entry Draft joins a team of other über-talented youngsters. The 19-year-old winger will likely start out on the Oilers' second line with center Sam Gagner and veteran Ales Hemsky, avoiding most top defense pairs, who will be matched against the Barely Legal line of Taylor Hall, 21, Ryan Nugent-Hopkins, 19, and Jordan Eberle, 22. Yakupov also comes into Edmonton in midseason form, having scored 18 points in 22 games playing for Nizhnekamsk Neftekhimik in the KHL this fall, and at the World Junior Championship.
Northwest's unsung hero
Alex Edler, Vancouver Canucks: His team is primarily known for its buzzing offense, led by those Swedish twins. But on the blueline, the 26-year-old Edler has quietly become a top-tier defenseman. In '10-11, he was on pace to score 53 points before a back injury ended his season in January. Last season, he played 82 games and scored a career-high 49 points.
Hottest seat in the division
Greg Sherman, Avalanche GM: Entering his fourth season heading Colorado's front office, Sherman watched his team withstand a disastrous fall, but has taken his time rebuilding the club into what Denver fans hope will be a contender with high draft picks (Matt Duchene, Gabriel Landeskog) and a couple of notable trades (Semyon Varlamov, Erik Johnson). But time is running out for real results. Another dismal season could spell disaster.  
Cool fact
Edmonton led the Western Conference with 12 players who skated either overseas or in the AHL during the lockout.