Shanahan should explain when players avoid ban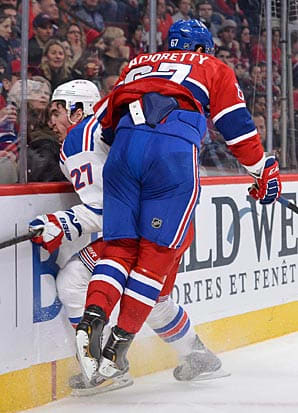 In his season and a third on the job as the NHL's doyen of discipline, Brendan Shanahan has set a new and commendable standard for transparency by explaining to the hockey world why this guy or that guy deserves to sit out a few games for an on-ice transgression. The next step might be for him to explain why sometimes players don't deserve a suspension.
Let's take the case of Canadiens winger Max Pacioretty, who always seems to be in the news for something unusual. Pacioretty eluded a fine or suspension on Sunday for his Saturday night boarding of defenseman Ryan McDonagh of the Rangers. It was a game in which the Canadiens -- who are playing the way the Rangers did last season -- continued their unlikely rise from worst to first in the Eastern Conference, but that's another story.
Pacioretty has already endured an appendectomy, a skate laceration to his side, and an alleged bite from Toronto's Mikhail Grabovski (video) this season. Of course, he was also on the receiving end of one of the NHL's most intensely debated hits, the vicious run taken at him by Boston's Zdeno Chara in 2011, and was deservedly suspended for a head check to Kris Letang last season. Obviously, Pacioretty is magnetized for controversy.
He has also become a very good hockey player. Pacioretty was Montreal's top scorer last season, and has just started finding the net with consistency again. So they trembled a bit in Montreal at the thought of him taking an unpaid vacation, courtesy of the Department of Player Safety.
Turns out that what Pacioretty did to McDonagh failed to meet the criteria that the Player Safety guys have for suspending players for boarding. He got a two minute minor on the ice while McDonagh, who is New York's best defenseman, got a bloody mouth and more. He missed the second half of that game and may sit out Tuesday's tilt against the Jets.
The problem is, we don't know why Pacioretty got off with nothing after the hearing that Brendan Shanahan's group held on Sunday. They've been excellent at explaining why players do get suspended through the "Shana-ban" videos, which have been valuable teaching tools for players, coaches, general managers, fans and the media. It would be equally valuable to explain why a player has been exonerated.
Well, let's go to the tape. Now, not long before Pacioretty rammed McDonagh, the Blueshirts defenseman had rammed the Habs winger on this play.
Nothing was called (every time I see that sort of play, it reminds me a little of what Claude Lemieux of the Avalanche did to the Red Wings' Kris Draper back in 1996) and not long after, McDonagh rubbed out former teammate Brandon Prust along the boards and shook him up as well. So Pacioretty may have been motivated to shake a little more Tabasco into the jambalaya on this play. That's certainly the way CBC's Garry Galley saw it, calling Pacioretty's hit "payback."
But Galley also noted that McDonagh had turned into the hit --- and if you watch McDonagh, he winds up as if he's going to rim the puck on his forehand around behind the net, and then he quickly reverses his direction and tries to go up the boards the opposite way. Unfortunately, Pacioretty was right there, cutting off his access to the boards on the other side.
If that's the way the Player Safety panel saw things, it would remove the onus from Pacioretty. (Rule 41.1 on Boarding reads in part: "The onus is on the player applying the check to ensure his opponent is not in a defenseless position and if so, he must avoid or minimize the contact. However, in determining whether such contact could have been avoided, the circumstances of the check, including whether the opponent put himself in a vulnerable position immediately prior to or simultaneously with the check or whether the check was unavoidable can be considered.")
During his postgame press briefing, however, Rangers coach John Tortorella raised another point. He alleged that Pacioretty had charged into McDonagh, claiming both of his skates left the ice while making contact, which would be illegal. You often hear a player "left his feet" to deliver a hit; of course, that's anatomically impossible, but so are a few other things hockey players say to each other.
Here's Torts, always so quotable:
"How high did Pacioretty jump on his hit?" he asked reporters. "Anybody give me an answer? I'm asking you guys. Over/under? No one can give me an answer?"
That prompted a few cute reactions on Twitter, one person in mock horror hearing Tortorella speak about players on other teams, something he often refuses to do to the media, and another suggesting that the reporters should have responded with "Next question," which Tortorella has been known to do when he doesn't like a particular media query.
Perhaps the Rangers' coach did get Shanahan's team to consider another interpretation of what Pacioretty did to McDonagh, that he had gone beyond the bounds of acceptable behavior via the charging route. Or maybe they Player Saftety guys planned their little phone chat with Pacioretty on their own. Regardless, the only video evidence we have seems inconclusive to me on whether both of Pacioretty's feet were elevated when he made contact, although they have other angles at their disposal in their video suite.
At the end of the process, the league decided that Pacioretty would face no further punishment. Canadiens fans breathed easier and Rangers fans breathed fire. But everyone was left wondering about the reasoning behind the decision.
In this truncated season, Shanahan has added to his video collection, expanding beyond specific suspension explanations and going into some detail to reveal the thought processes behind how the supplemental discipline process works.
This video was posted on NHL.com last Friday and deserves wider exposure.
Shanahan goes through the process by which incidents that could potentially lead to suspensions are evaluated. His department seems pretty methodical about it. He says they looked at over 800 incidents last season, of which only 63 resulted in hearings. He gets input from everyone in his department and, he says, "If, after this part of the review, we conclude that no NHL rule has been broken, the review ends there, regardless of injury or history."
If a hearing takes place, it is not assured that a suspension will result. Last season, eight of the 63 hearings ended up with no further discipline, which was the case with this play (and with Grabovski biting Pacioretty). If Shanahan and Co. decide on a suspension, that's when an injury or a player's history is taken into consideration. After Erik Karlsson's injury, those who cried out for Matt Cooke to be squashed like a bug under the foot of NHL discipline on the basis of his history of dirty hits misunderstood at what point the league looks at a player's rap sheet.
The last part of the process is producing a video of the incident. Here's where it might be helpful to all for a little alteration and consider creating a visual explanation when a hearing doesn't result in a suspension.
In addition to the video above that explains the supplemental discipline process, Shanahan also released a video on Saturday on the specific topic of goalie interference, a much-discussed call dating back to last season when Boston's Milan Lucic ran the SabresRyan Miller, leading to GMs calling for better protection of goaltenders. Here's that one and it's worth watching, as it shows why some contact warrants action fromm the league and some doesn't. Again, it's well detailed and admirably exacting.
Presumably, we'll be getting more videos like this on other rulebook violations that frequently lead to fines and suspensions. Perhaps that's when we'll learn for sure why Max Pacioretty wasn't suspended for his hit on Saturday. But releasing a specific video on this incident after his hearing would have been even more helpful.