Next wave of outdoor games; Leafs-Wings rivalry match; more
Expect the NHL to play more outdoor games next year with Minnesota a lock to get one; plus more news, notes, highlights.
Off The Draw
An expanded slate of outdoor games was the hot topic as the NHL's Board of Governors wrapped up its winter meetings on Tuesday in sunny Boca Raton.
Commissioner Gary Bettman told the assembled media that he expects the league to host more outdoor games next year than the two on this season's calendar.
"We won't do six [as in 2013-14, but] we'll probably do more than two," he said. "If I had to guess, and it's only a guess, it's probably three or four. It's probably what we're talking about. It's a nice, manageable number.
"Last year was kind of unique. In addition to the Winter Classic, we were positioning ourselves to go out to the Olympics, we were positioning ourselves coming back. We had only five venues for the six games because we wanted to accommodate all three teams in the New York/New Jersey area. So it was a little different. But if you look back at what we did, there was a rhyme and a reason to it. But you know what, it was pretty overwhelming to our events people, and frankly the Olympic break helped us manage putting on so many games. One size doesn't fit all."
Power Rankings: Blackhawks keep change at the top coming
He added that the league likely will announce next season's sites sooner rather than later. "We would like to get further in front of the schedule than perhaps we've been. The clubs would like more lead time. So we're trying to do that."
One league source suggested that the announcements could roll out around the All-Star Game festivities in Columbus next February.
So, who gets a game next year? To start, look north.
"Obviously, at some point, Minnesota needs, deserves and should have an outdoor game," Bettman told a crowd in St. Paul just last week. "It's something we'll deliver on at some point."
Minnesota then is a mortal lock. The state has a long history with the game outdoors—the 2013 Hockey City Classic featuring the University of Minnesota and Ohio State drew a crowd of 45,000 to TCF Bank Stadium last winter—and the team has high-profile players including Zach Parise and Ryan Suter to build its promotion around. TCF or Target Field, home of the Minnesota Twins, are the likeliest sites for a game that's more likely to be part of the Stadium Series than a Winter Classic.
Denver's Coors Field is another likely Stadium Series site, especially since next season is the 20th anniversary of the Avalanche moving to Colorado. There have been whispers that the team's struggles this season could put a crimp in that plan, but with marketable young stars like Nathan MacKinnon and Matt Duchene, a natural rivalry with Detroit to exploit, and a prominent marketing relationship with Coors (the title sponsor of the Stadium series), the smart money says the Avs finally get their game.
Winnipeg apparently already has the Heritage Classic in the bag to celebrate the Jets' fifth anniversary season.
"The NHL has confirmed to me they are going to do an outdoor game in Winnipeg," team chairman Mark Chipman said last year at these same meetings. "I don't have a specific date to announce but it would be our preference that we do it in the 2015-16 season. The league's commitment to doing an outdoor game in our city is fantastic. It's something we've been talking about for some time and it's part of a significant strategy to do outdoor games and it will be great to be a part of it."
Investors Group Field, home of the CFL's Blue Bombers, is the obvious site in the city.
The best bet for the final game site is Boston. It has already hosted a pair of outdoor contests, but the Bruins have yet to play their traditional rivals from Montreal. That could be the hook that lands them not just another outdoor appearance, but the Winter Classic.
And then there are the outliers: a neutral site game in Las Vegas or at Beaver Stadium in Happy Valley, PA.
One team executive told SI.com that he wouldn't be surprised to see the league float a test balloon in the potential expansion market of Vegas just to see how it would land. "That's the sort of huge splash the league likes to make," he said. "People outside of hockey would take notice."
The same exec raved about the potential of Penn State's football stadium, which boasts a seating capacity of 107,282. Assuming that it could handle that many for hockey, it would give the league another shot at the world attendance record currently held by a Michigan and Michigan State at Michigan Stadium in December 2010. That game attracted 104,173 fans. (The NHL sold 105,491 tickets to last season's Winter Classic between the Maple Leafs and Red Wings at The Big House, but thousands of fans arrived late because of a storm and not all of their tickets were scanned, so they couldn't be officially counted toward the record.)
"Those (games) would be destination events," the exec said. "And you could recycle a couple of teams [like Pittsburgh] that they wouldn't necessarily want to go back to in another setting."
GALLERY: THE NHL OUTDOORS
The NHL Outdoors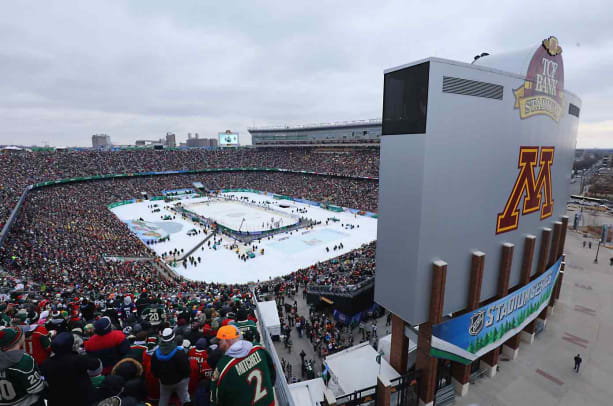 What to watch tonight
FanNation hockey throwdown fantasy game picks for Wed. December 10
Maple Leafs at Red Wings (8 p.m. EST; NBCSN, TVA, SN)
Two of the NHL's hottest teams hook up for NBC's Wednesday Night Rivalry. 
Special teams have been the key for a Red Wings club that's gone 7-1 since losing to the Maple Leafs back on Nov. 22. Their power play is clicking at a solid 21.8%, seventh best in the league, and had scored in six straight games before getting blanked in Sunday's 3-1 win over Carolina. The penalty kill has been even better, standing third in the NHL at 87.1%. It hasn't hurt Detroit to have PavelDatsyuk back in the lineup, either. The flashy veteran has seven goals and 11 points in seven games since returning from a groin injury. Linemate Tomas Tatar is nearly matching his pace, going 3-4-7 during his past five.
The Leafs come into this one boasting some firepower of their own. After beating Calgary 4-1 on Tuesday night, they've scored at least four goals six times during a 6-1-1 run. Phil Kessel has three goals in his past four games, but Toronto is getting offense from up and down its lineup during this hot streak. Goalie JamesReimer is expected to make his first start for the Leafs since he coughed up six goals in a loss to Buffalo on Nov. 15.
Oilers at Ducks (10 p.m. EST; SNW, SNOL, FS-W)
The battered Ducks won't have Corey Perry (out 3-to-4 weeks with a knee injury) or newly signed keeper IlyaBryzgalov (warming up his game in the AHL) in the lineup, but the league's top team shouldn't have any trouble taking on the worst in the opener of a home-and-home series. DevanteSmith-Pelly is expected to slide into Perry's spot on the top line beside Ryan Getzlaf, who has 33 points in 30 career games against Edmonton.
The Oilers, losers of 12 of their past 13, will be looking to rebound after suffering a 5-2 loss in San Jose on Tuesday night. If there was anything to take out of yet another dispiriting defeat, it was the play of the newly constructed line of Leon Draisaitl, Nail Yakupov and Jordan Eberle. Their chemistry was obvious, suggesting that this group might have the potential to play second-line minutes.
Rest of the schedule: No other games
What you missed last night
Hot Links
• The death of Sgt. Michael Cathcart in Afghanistan last month hit home especially hard for the Carolina Hurricanes. The team honored the local hero in a special service on Tuesday night.
• The Dallas Stars are practicing patience with a young, porous defense. Not sure though how much patience they have left for their experienced but porous goaltenders.
• Good grief. Even Dave Schultz is resigned to the declining presence of fighters in the NHL today.