IndyCar's James Hinchcliffe talks Iowa, replacing Danica, more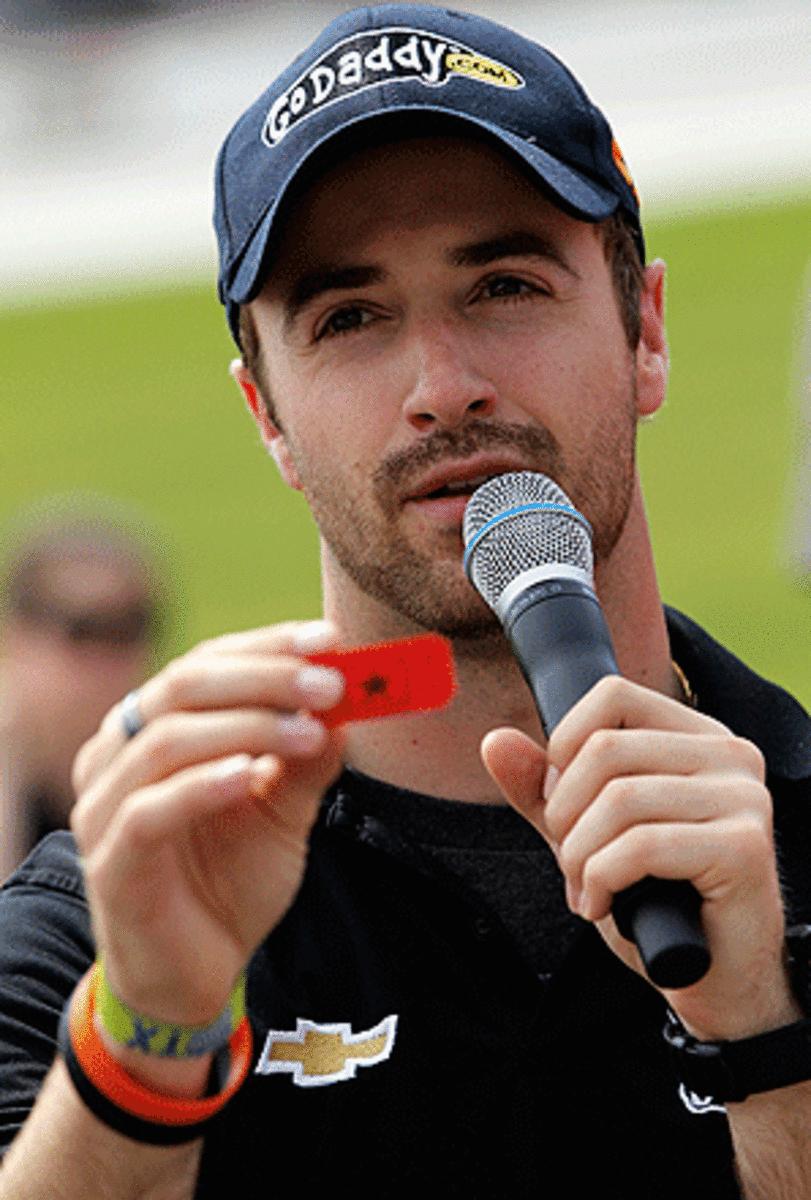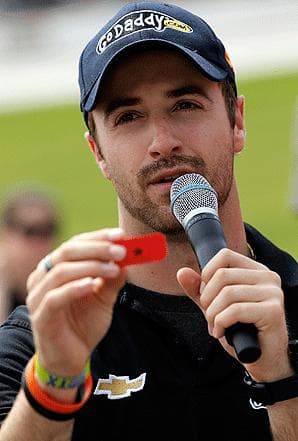 The self-proclaimed "Mayor of HinchTown" is only in his first full year in IndyCar, but James Hinchcliffe is already attracting a lot of attention. When Danica Patrick made the switch from IndyCar to NASCAR, GoDaddy hired the 2011 Rookie of the Year as its new IndyCar driver. Replacing Danica is no small order, but Hinchcliffe is embracing the spotlight. The two have started a friendly video campaign to determine who gets their face on GoDaddy's homepage (you can see the latest one here).
Hinchcliffe has consistently finished in the top six for every race in the season except at Belle Isle in Detroit, when a deteriorating track took him out and caused a 21st place finish. With all eyes on him, the 25-year-old driver insists that he is only halfway through the season and anything can change. But if he keeps his top-six streak alive, he will be a legitimate contender for the IndyCar title.
SI.com: How do you feel about stepping into Danica Patrick's shoes? Should we expect to see you in Super Bowl commercials now?
James Hinchcliffe: I'm not sure if you'll see me in Super Bowl commercials. But the commercials you do see me in, I guarantee, I'll be wearing more than she does, or at least has in the past. But no, it's been a lot of fun. It's a tough act to follow, you know, she was the biggest thing in IndyCar racing. So jumping into that car and that ride certainly brings some added attention. But it's such a cool company to work with, and Danica is still in the family. We're both still GoDaddy drivers, so it's been fun to work with her on some of these things. We've got this campaign for the homepage we're doing back and forth.
SI.com: I've seen the videos, they're pretty funny. Who comes up with those ideas? Do you participate in brainstorming the videos?
JH: Yeah, absolutely. We have the videos up on HinchTown, those are mostly created by me and the minds at Andretti Autosport, and the promotions were mainly done by GoDaddy. We have a very open dialogue, we had some cool ideas come from them for our videos, and some of our ideas were made into commercials, things like that. It's cool that there's that open communication between us and their creative department. We all think the same, we all have the same sense of humor, and I think that comes across in the videos we make.
SI.com: Along the same lines, I hear that you're Mayor of HinchTown. How exactly did you win the election?
JH: The election was quite simple. What you do is you build your own town, name is after yourself, make sure nobody runs against you, and you're pretty much a shoo-in.
SI.com: And that's democracy?
JH: Exactly. And nobody has had the common sense to try to run against me, or else I probably would lose. But for the time being, I think my position is safe.
SI.com: Let's talk racing. You've been doing really well except for Belle Isle and the issue with the track. What happened and how do you bounce back from that kind of thing?
JH: Yeah that was one of the most bizarre experiences of my life. I mean, the race track was deteriorating as we drove over it. And the fact is this was happening from about lap five or six. The race was allowed to continue and the track just got worse and worse until eventually a chunk of concrete got ripped right out of the track, lodged under the front of my car and lifted my wheels off the ground, and just fired me straight into the tire wall. It's just ... what do you say? It's one of the weirdest situations I've ever seen in racing.
So that was frustrating and very disappointing, because in my mind it was an avoidable situation. It wasn't complete dumb luck; I think there was an error on the part of race control to let the track get that bad. But it is what it is, and at the end of the day, once it's happened you can't change it. There's no point in dwelling on it for too long, we just focus on trying to come back strong. And we managed to do that in finishing the top five the next week in Texas and one better and got on the podium the week after that in Milwaukee, so hopefully we're back on to a good streak here.
SI.com: You've been doing well consistently. You're second in the points with no first-place finishes, and the next driver with no first-place wins is in sixth. Obviously you have to be consistent to do that. But what track or race do you think will give you the best chance to get that first place win?
JH: You know, it's something I try not to think too much about. I unload every Thursday at the race track thinking, 'Hey this could be it.' If you look back over the year at the street courses or road courses, short roads or super speedways, we got a good car. We've been getting good finishes, with the exception of Detroit. So there really isn't one type of race track that seems to be suiting me, or my setup, or my team better than another. It really has been a well-rounded, all-around good program. That's been better for us; it really opens up the options that hopefully any one of the next seven races could be a legitimate shot at us reaching the winner's circle.
SI.com: On that same note, do you have any plans to pass Will Power in points?
JH: It's actually not something I'll lose a whole lot of sleep over. It's only my second year; it's my first full year in IndyCar, actually. Just to think that we should be competing for the championship is a little bit much, and I think we exceeded expectations just to be where we are, which is saying a lot. Some guys have had problems, some of them to their own doing, some of them not.
It's so close right now, I mean I think second to fifth is only a dozen points or something. I know I still gotta prove myself, I gotta get that first win out of the way, before I can be a last-race-of-the-season championship contender. So I'm not too fixed on it, I'm happy with where we are, I'm happy with the job we've done. We have some more realistic short-term goals that I'm focused on, rather than looking at the big-picture championship just yet.
SI.com: In an interview three years ago, you said your goal was to win the IndyCar championship. This only being your first full year, how does it feel to be so close to your goal already?
JH: It's an incredible position to be in, but we're only halfway, and looking at how much has happened over the first eight races, you can't say what will happen over the next seven. We're just going to take it one race at a time. It's still my goal one day, if it doesn't happen this year, it won't destroy my soul. We've done a really good job this year, but hopefully we can take the strength and momentum and just keep building on that, keep going forward. Next year we can come back much stronger, and be a legitimate contender from the first race.
SI.com: This is the first time there will be heat races at Iowa, how do you feel about that, and what's your strategy for the heat races and the actual race, besides driving fast?
JH: [Laughing] Wait there's more to the strategy than that?
SI.com: Well I was hoping you would be able to tell me that.
JH: Well, I for one am excited about the prospect of the heat races, because it's something new and different. I'm all for trying new things to attract new fans and keep people's interest. It's no secret that qualifying is not the most exciting thing for fans to watch, as nerve wracking as it can be in the car. You know, maybe with the exception of Indy 500, normal qualifying is a long hour. This really spices things up, and it'll get people to tune in on Friday night and see how it plays out.