Kyle Busch could save his season with a win on updated Bristol track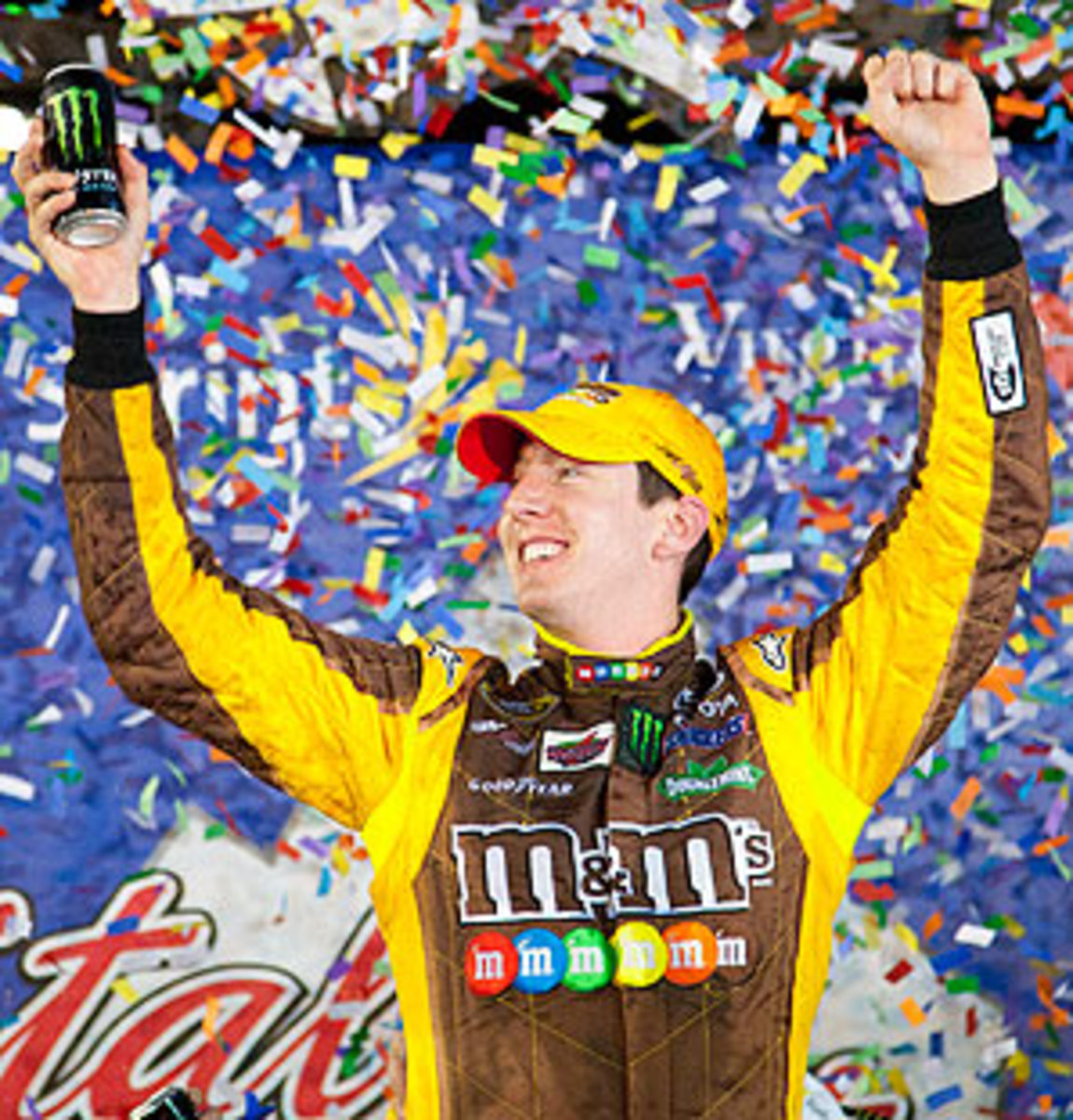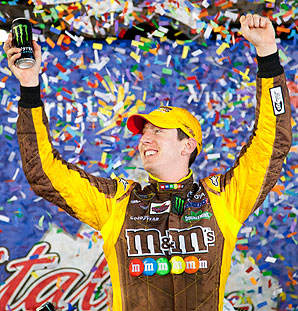 He is the new Kyle Busch -- older, calmer and wiser behind the wheel.
This was common narrative on Busch, 27, heading into the 2012 Sprint Cup season. He cut back on his Nationwide and Truck schedules to increase his focus on the Sprint Cup series, and he swore that he'd learned his lesson from his meltdown at Texas Motor Speedway -- in Nov. 2011 during a Truck race, he intentionally wrecked Ron Hornaday under caution, which prompted NASCAR to park Busch for a Cup race and caused his owner, Joe Gibbs, to sternly tell Busch he was out of second chances. Busch said he listened and promised to be a different driver this season.
He has, but it hasn't worked out very well so far. Through 23 races in 2012 a more sedate Busch hasn't been a speedier Busch. Yes, he did win in April at Richmond, but otherwise he's been fairly quiet this season. Busch is currently 14th in the standings, and he probably needs to win one of the final three regular season races to advance to the Chase as a wildcard.
His best shot should come Saturday night at Bristol Motor Speedway in Tennessee. Busch has won four of the last seven Cup races at the short track and has a total of five victories in 15 career starts. Busch excels at "manhandling" his car through the steeply-banked corners at Bristol -- a term that Darrell Waltrip once used to describe to me what it takes to win here -- and he typically runs his fastest laps late in the race, which is impressive given that Bristol is the most physically demanding stop on the Cup schedule for the drivers.
But this likely will be a different kind of Bristol race. In 2007 the .533-mile track was repaved with progressive banking, creating three separate racing grooves. This didn't sit well with fans because it largely eliminated the bumping and banging for which Bristol was famous. Before the repave, the best way to pass was to pull off a move called the bump-and-run -- a driver would bang into the rear bumper of the car in front of him, move him up the track, and then roar by. Year and year out, this track produced some of the season's most compelling racing, which is why Bristol pre-2007 was one of the greatest spectacles in all of sport with its sparks that flew through the night.
Then post-repave, crowds started to shrink. A string of 55 straight sellouts ended. Empty swaths of seats seemed to grow larger with every race. Why? Because the side-by-side racing that the repave fostered was less than thrilling.
So to try to lure fans back into the stands, Bruton Smith, the chairman and CEO of the track's owner Speedway Motorsport, shaved off the progressive banking after the March Cup race at Bristol in the hope of restoring the bump-and-run style. The top groove of the concrete was grinded down and the banking was changed from 30 to 28 degrees. Smith, a carnival barker extraordinaire, claimed that this would be the most arresting race of the season.
Will it be? Well, in Wednesday night's truck race at Bristol, drivers preferred the middle groove around the track, and it was virtually impossible to pass on the bottom, where the bump-and-run maneuver was predominately performed in the pre-2007 Bristol. In fact, truck driver Timothy Peters led all 204 laps to win the race. That's right: Not a single lead change.
What will this mean on Saturday night? No one in the Cup garage really knows. Teams have said that past setup notes from Bristol won't apply to this race, but I still think that the drivers that have traditionally performed well at Bristol will flourish on Saturday night because bottom line, it takes an aggressive, get-the-hell-out-my-way type of mindset to win at the world's fastest half mile. That's why I'm picking Kyle Busch, who for one night will revert to the old Kyle Busch and who -- with a win -- could very well save his season.
Here are four other drivers to watch at Bristol:
1. Brad Keselowski
After finishing second at Michigan last Sunday, Keselowski tossed a verbal dart at Jimmie Johnson, who right now is considered the overwhelming favorite to win the 2012 Cup title. When Johnson blew an engine late in the race, Keselowski said it was "good to know they're frustrated, 'cause they should be. We nailed it."
Keselowski also nailed it at Bristol in March. He led 232 of the 500 laps and took the checkered flag, which was his second win at Bristol in five career starts at the track. Given that Keselowski already has three wins this season and is a lock to make the Chase, expect him to charge hard for the W on Saturday night. He should be in the lead pack as the laps wind down.
2. Jimmie Johnson
Johnson has clearly had the fastest car on the last three non-road course tracks -- at Indy, at Pocono, and again last Sunday at Michigan, where he would have won if not for an engine failure with six laps to go. One of the big storylines to follow is whether or not Johnson will maintain his mechanical edge at Bristol. Johnson has led at least 76 laps in six of the last seven races here and has one career victory at Bristol.
3. Carl Edwards
Edwards is in a situation that's even more dire than Kyle Busch's. Currently 12th in the standings with zero victories in 2012, he needs to win at least one regular season race and maybe even two to secure his spot in the Chase. His season isn't dead yet, but the reading of last rites will commence shortly if Edwards doesn't run well on Saturday night.
Edwards has two career wins at Bristol in 16 starts, but his last victory here was four years ago. A top-five run is a must for the No. 99 team -- and maybe that won't even be good enough if other wildcard contenders perform well over the next three weeks.
4. Greg Biffle
Biffle is easily the most underappreciated talent in NASCAR today. After winning on Sunday at Michigan, he blazed into the points lead and now he looks like he'll be one of a handful of serious contenders in the Chase -- especially given that his specialty is intermediate-length tracks and five of the ten playoff races take place at these 1.5- and 2-mile venues.
Biffle and the No. 16 team are riding a nice wave of momentum right now -- they've had four top-10 finishes in the last five races. Biffle has never won at Bristol in 19 starts, but he did sit on the pole here in March and led 41 laps. With nothing to lose, he'll be a risk-taker on Saturday night -- with his setup, in the pits and on the track.
Another driver who will go all-or-nothing is Busch. The stakes couldn't be higher for Busch on Saturday night, and it says here he'll deliver a tour de force and notch win No. 2 of 2012 -- and, in the process, essentially lock himself into the Chase.