Stalled in F1 development series, Conor Daly tests for IndyCar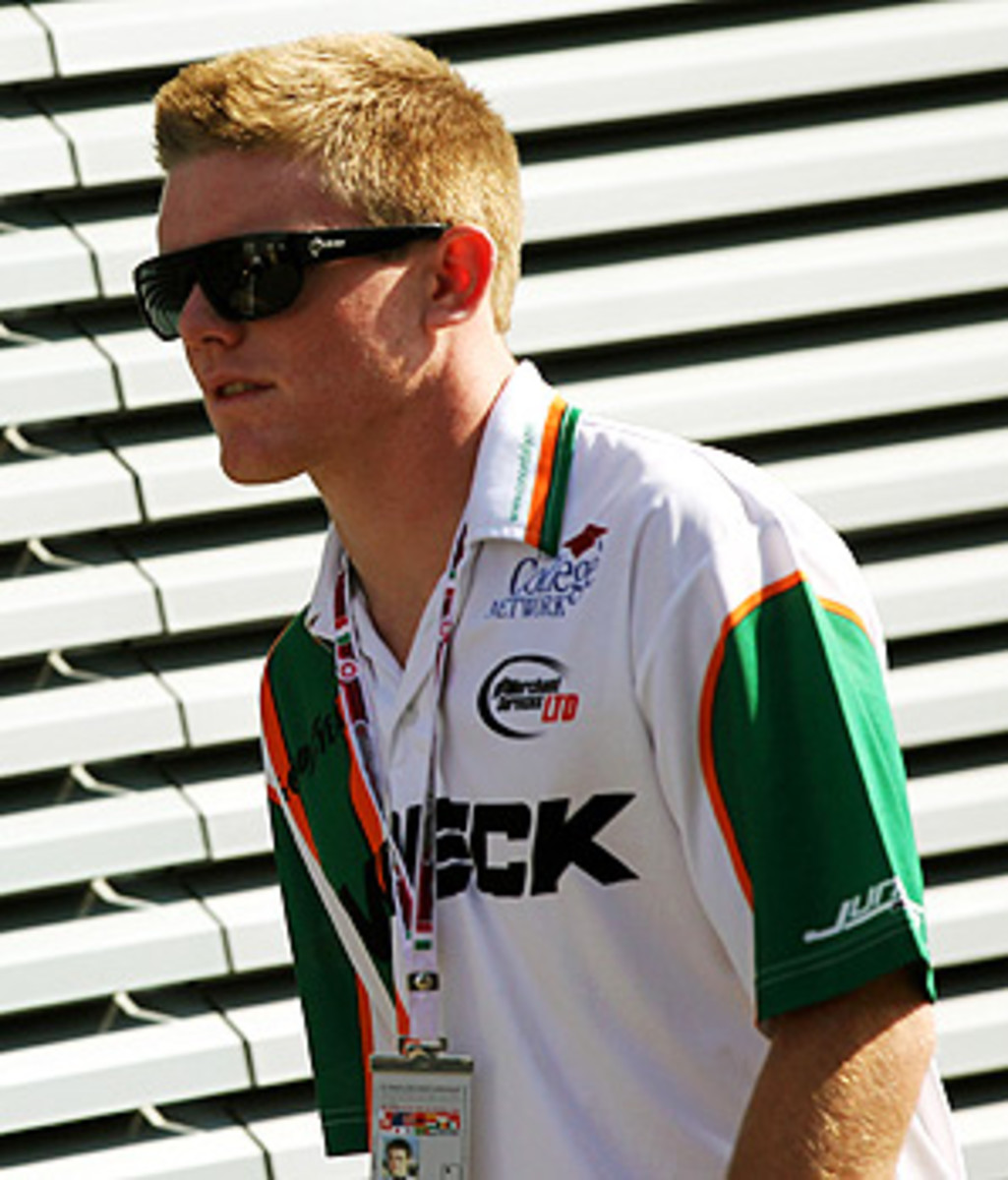 American Conor Daly spent the past two seasons laying the groundwork for a Formula 1 career, racing in the GP3 Series in Europe. He's not far away from the big show; GP3's 2010 and 2011 champions are both racing in F1 in 2013. The 20-year-old also has genetics on his side: his father, Irishman Derek, raced in F1 from 1978 to 1982, making 66 IndyCar starts including six in the Indy 500.
But facing an uncertain future, Daly made the first step to switching to the Izod IndyCar Series by testing A.J. Foyt Racing's famous No. 14 Dallara-Honda at Sebring, Fla. on Thursday. Again, he's following his father's footsteps -- Derek switched to IndyCar late in the 1982 season.
"[Conor] was impressive," team managing director Larry Foyt said. "I like Conor a lot. He was easy and smooth; he was everything I thought he'd be. He was really quick out of the box. We didn't want to throw too much at him, but he got comfortable and gave great feedback. Our engineer, Don Halliday, has a lot of experience with a lot of drivers and he said Conor was spot on."
The Foyt team has settled on a to-be-announced driver for the ABC Supply-sponsored No. 14 for 2013, but they're talking about in potentially putting together a second car program for Daly.
"We wanted to see if we worked well together with Conor and I think it went great," Larry Foyt said. "I know he's been racing in Europe, but he's excited to race in America. I don't know if a full season for a second team is possible, that might be tough, but there are definitely some ways to start working together and we always run multiple cars at Indy."
Daly, who celebrates his 21st birthday on Dec. 15, has always considered IndyCar as a viable alternative to F1. He also understands the reality of the sport -- funding is an integral part, and it's often hard to find for prospects to break into the highest, and most expensive, levels.
"I would love to do it, to be involved with a second car at Foyt in some way," Daly said. "I know they have an interest in me for the future and we'll have to see what happens in the next few weeks. I have a real passion for IndyCar and also Formula One and I've devoted my career to Europe for the past two years.
"But it takes a lot of funding. I love driving race cars, but I need to make a career out of it, a living, and whether that's Formula 1 or IndyCar, that's the two I have to look at."
Daly has won races in every series he's driven on both sides of the Atlantic. He was the Skip Barber National champion with five victories, and won five straight races in the Canadian Formula Ford 1600 Series in 2008, his first year in cars. He had one win in his rookie year in Star Mazda in 2009 followed by a championship Mazda season in 2010, in which he set records for wins with seven and poles with nine.
Star Mazda is part of the Road to Indy program, which awards the champion a substantial scholarship to move into a higher series. Daly split his money between five races in Firestone Indy Lights (he won the Long Beach Grand Prix), and GP3.
"It was a great program we worked out with Mazda with the scholarship," Daly said.
Without the scholarship money for the 2012 season, Daly found funding primarily through investors in order to return to GP3. He was very competitive, winning at Barcelona and finishing second twice and third twice. He finished sixth in the championship, but it wasn't good enough to ensure funding for a 2013 campaign, moving to the next step on the F1 development ladder.
"We had a great season and we finished sixth in the championship only because we didn't score points in two races [at Monaco] when we had some mechanical issues and a big crash," Daly said. "It was a performance-based contract with investors and I didn't do quite well enough."
Daly tested in the World Series by Renault -- one of two top-level F1 feeder series that costs about $1.6 million to run -- in October, but decided to look at IndyCar, too. He's always had an interest in since he grew up in Indiana.
"I heard that A.J. Foyt's team was looking for a driver for the ABC Supply car and I got in touch with Larry [Foyt, A.J.'s son who runs the day-to-day operations] and he seemed pretty down the road with another driver contract wise," Daly said. "We met at the F1 race in Austin (Texas) and we kept talking. [...] I was racing in India and he called me at about 3:00 a.m. and asked, 'What do you think about testing for us?' I was over the moon. I thought it was an awesome opportunity for me and a good opportunity for the team to do some testing."
The Sebring test was Daly's first time in an IndyCar, a machine with more horsepower (estimated at 700 to 750 for the test) than he'd ever driven before.
"It was great," Daly said. "It was one of those things where you wish we had one more day. It was a lot to learn, but [our lap times] seemed pretty competitive in the morning. We tried to improve the car and got it fixed, but we already used our last set of tires before we got it sorted out. That was satisfying that we got it to handle so well at the end the day. That was cool."
Even after dabbling in IndyCar, Daly hasn't closed the door on going back to Europe for the World Series by Renault.
"I don't know what to do," he said. "The funding is not in place for IndyCar or World Series by Renault. I have to figure out the best route to put a program together. I'd love to race IndyCar at some point, the question is whether it's next year. I'm absolutely looking at the black and white. Racing is such a rough business. You make a wrong decision and things don't go well and everybody forgets about you."
It's a nervous time for Daly, who sees the urgency in keeping his career moving forward by racing in the next-best series in 2013. But the test with Foyt has partnered him with a team whose owner has won the Indy 500 four times as a driver and once as an owner in the effort to put him in a second car. It figures that Daly will be the next of Foyt's rookies at Indianapolis and, perhaps, a limited schedule in the IndyCar Series.