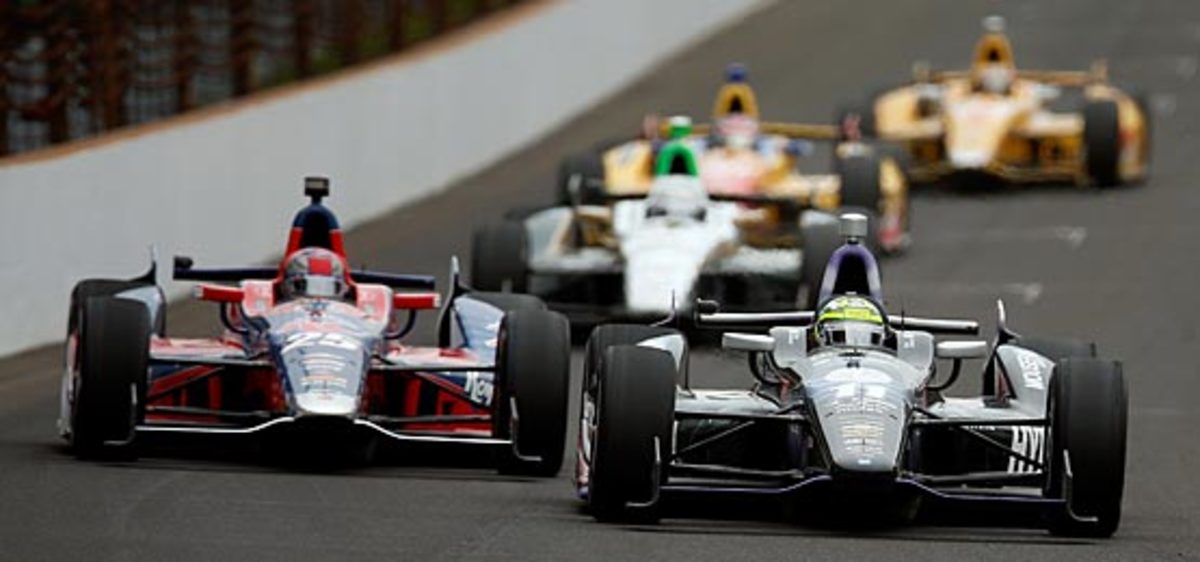 Welcome to SI.com's live blog of the Indianapolis 500, where Tony Kanaan won the 97th running of the race.
2:59 Kanaan made an inside move on the restart, getting past leader Hunter-Reay before a Franchitti crash brought out the final caution of the day. First win for KV Racing Technology in the IndyCar series.
2:56: Munoz second, Hunter-Reay third, then Andretti, Wilson, Castroneves and Allmendinger.
2:55: Franchitti hits the wall. Another yellow with two laps to go. Kanaan is going to win the Indy 500.
2:54: Kanaan just told his team that he's going for it. That it's going to be all or nothing.
2:51: Hunter-Reay leading, Kanaan second, rookie Munoz third, Andretti fourth, Justin Wilson. It's very doubtful we'll have a new four-time winner today, Castroneves is sixth, Franchitti is ninth, and neither has shown the speed to run with that front group.
2:49: Seven to go. Caution. Rahal crash way back in the field. Restart will be interesting. Dramatic finish coming.
2:46: Hunter-Reay passes Kanaan, 11 to go, but Kanaan retakes the lead with 10 left. Real tight racing. Intense action.
2:45: Kanaan is in the lead with 11 laps to go, Hunter-Reay second, Andretti third. Franchitti is seventh.
2:44: There have been 63 lead changes, wow. Hinchcliffe is leading and Franchitti has suddenly shown up in second. Where did he come from? Has he been saving fuel for the end? He still has to pit again.
2:42: Andretti is running 11th with 17 laps to go. He'll cycle forward as others make stops.
2:37: Lap 181, Marco in for his final stop. It's been 44 years since an Andretti has won at Indy. Munoz leading the race. An Andretti win would take away decades of frustration and pain for the family and their fans. Mario won in 1969 and had many, many fast cars, but couldn't get to the checkered flag first. In 1987, Mario had led almost from start to finish and had a lap lead with 23 laps to go and a valve spring in the engine broke and he fell out.
Michael Andretti had great races and never won at Indy. In 1991, Rick Mears passed Michael on the outside in Turn One with two laps to go. In 1992, Michael dominated the race, had something fail late in the race and fell out. His dad, Mario, and brother, Jeff, were both injured in the race and were at a hospital waiting surgery when he dropped out. Said Michael: "This is such a cruel, cruel place." But they keep coming back and Marco was second to Hornish by fractions of seconds. A win would end the Andretti curse at Indy.
2:36: Lap 179 of 200, race leader Kanaan goes in for his final pit stop.
2:33: Hunter-Reay leading, Andretti secood, Kanaan third. Carpenter is eighth. He's never been able to get back to the lead group since a round of pit stops and it probably means his car isn't handling the traffic well.
2:31: Tagliani has pitted, apparently brushed the wall. Bell, Panther's hope, slapped the wall exiting turn two and has pitted.
2:30: Allmendinger is leading again, but he's running with less fuel than the other contenders and will have to stop earlier and take on more fuel than they will.
2:27: Hunter-Reay has just been told by his team that he's to go all out from this point on, 37 laps to go. ABC just showed a graphic with a band of rain 45 minutes to the west. If there aren't too many caution laps, the race should finish before the rain gets here.
2:26: Hunter-Reay leading, Andretti second, Allmendinger third. Three Americans at the front. There hasn't been an American winner since 2006 with Sam Hornish Jr.
2:23: We've had plenty of green flag racing today and no opportunities for alternative pit strategies. This is a 500 that looks like it will go to the fastest car.
2:22: Dixon leads one lap, pits. 44 laps and one pit stop to go.
2:21: CarlosMunoz leading, Dixon in second. Maybe Honda does have a chance.
2:19: Hunter-Reay in the lead, his best run in the 500 ever, Munoz second, Castroneves third. Hunter-Reay pitting.
2:17: Dixon is up to ninth, but Ganassi teammate Franchitti is 17th. It's been a long day for Dario.
2:15: Andrertti is leading, Castroneves second, Hunter-Reay third. It's shaping up as a shootout at the end between them, Kannan and, maybe if he can get back up there, Allmendinger.
2:12: Allmendinger pitting again, lap 144. He was out of sequence. Hunter-Reay leading, Castroneves third. He's been known to save something for the end, his mentor is Rick Mears and that was always what Mears did.
2:09: Allmendinger now back in the lead.
2:08: Hunter-Reay leading, Viso second, Allmendinger third. He's a very impressive rookie.
2:04: There have been 38 lead changes, a new race record, breaking the mark of 34 set last year. The 500 has four or five legitimate contenders with 65 laps to go. Viso is in the lead.
2:02: Tagliani took the lead for one lap, first Honda in front today, then pitted. Andretti emerged in first after the round of green flag stops, Hunter-Reay second, Kanaan third, the surprising Viso fourth. Allmendinger is eighth and back on the lead lap.
1:57: Graham Rahal has made a big move up to 10th. Munoz, in his first IndyCar race, is fifth. We've now had 34 lead changes among nine drivers.
1:56: Kanaan and Andretti pit, here come the others.
1:53 Kanaan is back in the lead, lap 117, Andretti second, Hunter-Reay third. Viso fourth.
1:50: Allmendinger makes a green flag pit stop.A crew member also reached into the cockpit. It's a costly stop for A.J., he's dropped to 25th and is a lap down. 23 cars still on the lead lap.
1:47: Four drivers are out of the race: Hildebrand, Saavedra, Buddy Lazier and Pippa Mann. 29 running. Reliability has never been better in the Indy 500.
1:45: Can Allmendinger keep it up? It would be quite a story, suspended by NASCAR, released by Roger Penske, rehired by Penske for IndyCar.
1:43: Allmendinger is the surprise, at least to me, of the race, taking the lead at halfway, 100 laps.
1:41: Power fell to seventh after the pit stops. Allmendinger passed Kanaan for the lead lap 98.
1:36: Kanaan has come out the leader frm the round of pit stops, Hunter-Reay second. Tagliani is the top Honda in ninth. The evidence mounts that Chevrolet has superior power to Honda and equal fuel mileage.
1:35: Power pits, lap 90. It's the start of another round of pit stops.
1:32: It's still Power leading at 85 laps. Big moment for him. He's the road course ace at Penske, like Danny Sullivan in the 1980s.
1:28: Chevrolet is holding onto its advantage from qualifying as we near the halfway point. Tagliani is the top Honda, in ninth.
1:27: Dixon has fallen to 16th, Franchitti 17th. It may not be their day.
1:24: Will Power drafted past Kanaan going into turn three and took the lead on he 75th lap. Hunter-Reay is third. It's the first Penske car to lead today, I think.
1:23: Allmendinger, driving for Penske, is eighth and the top rookie. He's was the prerace favorite for Rookie of the Year. He's among the drivers we featured in this gallery of those who have started both the Indy 500 and Daytona 500.
1:21: Dixon is up to 12th, his high point in the race, at lap 67. Townsend Bell is up to 10th from 22nd. He's driving for Panther, and with Hildebrand out, he's their hope for a first Indy 500 win.
1:18: Hunter-Reay has decided to see how he likes leading and passed Andretti for the lead, But Carpenter jumped into the front on the next lap. What's that. 22 passes for the lead? It's been among six drivers.
1:15: On the restart, Andretti passed Hunter-Reay at start/finish, the 20th lead change in the race. It looks like we're headed for a record, set last year with 34. Andretti definitely looks like he's got the strongest car, but there's a long way to go.
1:12: Hunter-Reay takes the lead during the pit stops, Andretti second, Carpenter third, Kanaan fourth, Power fifth. James Hinchcliffe has made a move up to seventh, Franchitti is 17th, Castroneves sixth.Lap 60 just completed.
1:09: Takuma Sato spun exiting turn two, just lost it, loose, but didn't hit anything and has been restarted. Went a lap down. .... Caution Everybody pitting.
1:06: Carpenter and Andretti continue to trade the lead. Hunter-Reay is hanging in third. Graham Rahal and James Jakes were just fined $10,000 in the middle of the race for violating something.
1:01: Seventeen lead changes so far today. Andretti took lead from Carpenter, Carpenter passed Andretti, leads at 49 laps. Hunter Reay third, Castroneves fourth, Kanaan fifth. Franchitti struggling, has fallen to 18th.
12:58: Back to green flag racing, lap 43.
12:53: Still under caution. Ed Carpenter the leader, has led 15 laps today. He's followed by Andretti, Hunter-Reay and Castroneves. Kanaan is fifth, Franchitti slipped back to 13th.
12:45: The first pit stops are cycling through, James Jakes from Rahal Letterman Lanigan with a Honda is leading on fuel mileage.
Caution, lap 36, Sebastien Saavedra was passing between turns three and four and somebody moved down and knocked him into the grass. He spun and went up the track and brushed the outside wall, Right front suspension damage, wheel crooked. He's undoubtedly very unhappy with whoever put him in the grass.
12:42: Kanaan has pitted, here comes Andretti down the pit lane. Lap 30. Hunter-Reay is in the lead, Munoz second. Carpenter pitted too. All have Chevrolet engiines.
12:40: Franchitti has moved into 10th and Sato is 12th. Alex Tagliani is the top Honda in ninth.
12:35 -- Kanaan and Andretti have swapped the lead a couple of times, sometimes on the same laps, and Kanaan is in the lead. Andretti just passed Kanaan on Lap 25 for the lead, Carpenter holds third, Munoz fourth, Ryan Hunter-Reay is fifth.
12:32 -- Hildebrand wasn't injured in the crash. He's been checked and released to drive. But it won't be today.
12:30 -- Lap 13, Kanaan into the lead, Andretti second Carpenter third. The drivers with the balance in their cars can really draft and pass.
12:27 -- Kanaan jumped past Viso. Kanaan has always been good at Indy, but has been the Lloyd Ruby of this era. Kanaan is past Andretti, Andretti retakes second on the inside into turn one.
12:24 -- Some cars decided to take advantage of the caution to pit very early. They're either worried about fuel mileage or didn't have anything to lose. Carpenter is the leader, followed by Andretti, E.J. Viso, Carols Munoz, Will Power, Helio Castroneves and Tony Kanaan. Franchitti is up to 13th. Restart now.
12:19 -- Three laps down, crash exit in turn one , looks like JR Hildebrand's Panther Racing hit the outside wall, got loose trying to pass on the outside, Hildebrand is out of the race.
12:16 -- The field starting to form up in 11 rows of three, on the front straight the race is green, Carpenter is easily into the first turrn, leadng the race. Marco Adretti drafted past rookie Carlos Munoz on the back straight into second.
12:12 -- The massive crowd has filled the more than 250,000 seats. The cars are sitting on the grid. The 97th Indianapolis 500 is on the verge of starting. Check out some of SI's preview content here.
There is anticipation of a tremendously competitive race among the media and likely with the fans. There were a record 34 lead changes in the first year of the new chassis and engine formula a year ago, and the cars and engines have been refined and are far better understood by the fans. I picked Marco Andretti earlier in the week and I'm sticking with him.
Jim Nabors is starting to sing "Back Home in Indiana." The rainbow colored balloons have been released from the infield. At this moment, everybody at the Speedway is happy be a Hoosier.
Marii Hulman George, the head of the famous family that has owned the Speedway since 1945, just gave the command, "Ladies and Gentlemen, start your engines and the pace car driven by San Francisco 49ers coach and Panther Racing part owner Jim Harbough has started driving around the two and a half mile track. The cars have started, zigging and zagging to warm their tires. It's especially important on a cool day like today. In 1992, on a day cooler than this, pole sitter Roberto Guerrero spun on the track on a pace lap.
12:01 p.m. ET: It's cool, in the 60s, and overcast at the Indianapolis Motor Speedway. Rain isn't expected until late in the afternoon when the race will be over. The national anthem has been sung and driver introductions given.