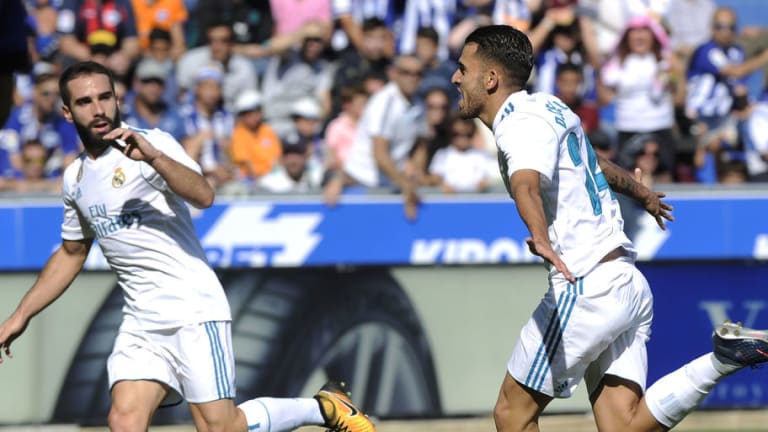 Real Madrid Star Defends Ceballos by Claiming Underused Players Who Don't Get Angry Are Bad for Team
Real Madrid defender Dani Carvajal has said he understands the frustration of teammate Dani Ceballos, following his 29-second cameo at the end of his team's 3-1 victory over Leganes on Wednesday night.
21-year-old Ceballos, who joined Los Blancos from Real Betis in the summer, has found game time hard to come by this season, featuring in just seven La Liga games so far for a combined total of 187 minutes - including less than minute in the win over Leganes earlier in the week. 
However, while there have been reports of Ceballos' frustrations and even a summer exit, his teammate Carvajal has insisted that squad rotation comes with the territory at a club like Real and, as a result, frustrations are normal - even positive for the team.
"There are 24 players in the squad and we all want to play," Carvajal told Marca. "If someone doesn't play and they don't get angry it's even bad for the team. Wanting to play and show what you can do is good.
"At the end of the day there are many games, so the coach is rotating a lot. We all have to give our all because the team benefits and if the team wins we will all be happy. The coach needs us all.
"In three days we have another game, then on Tuesday we play again, and we have to be prepared to give our all and make things difficult.
"They are the coach's decisions, my teammates and I will go to the death with him."
However, Carvajal is very much focused on his team's performances, hoping they can replicate their Wednesday night display.
"We are going to work and try to cut the gap," he said. "We will fight, have patience and go game by game. Our objective is to climb up the table, now we are third."
The Spanish full-back also explained the difference between Real Madrid's performances earlier this season and their current form. Confidence plays a big part.
"I think the ball is going in, which is fundamental," he explained. "In the first part of the season it seemed like the goal was smaller. It didn't want to go in, now it's starting to go in and we are gaining confidence, we're flying."