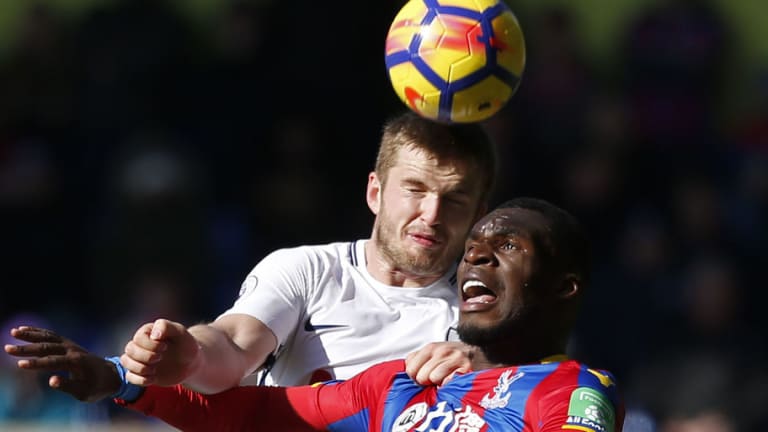 BBC Pundit Alan Shearer Doesn't Hold Back in Criticism of 'Afraid' Crystal Palace Striker
Alan Shearer has criticised Crystal Palace striker Christian Benteke, and claims the former Liverpool front man was 'hiding' during Palace's 1-0 defeat to Tottenham Hotspur on Sunday. 
Benteke only touched the ball a total of four times in the final third against Spurs, and only once in the opposition's box, and Shearer was ruthless in his post match evaluation.
Speaking on BBC's Match of the Day 2, via the Croydon Advertiser, he said that the striker was "scared to miss" due to his lack of involvement in the game. 
"He actually runs in behind the goalkeeper so he doesn't get a touch on the ball, and he hides behind the goalkeeper," the Newcastle legend claimed. 
He was not completely critical of the ex-Liverpool frontman's performance: "Work rate is not really a problem, he is tracking back for his team.
"But again, he has got to react quicker, he has got to bring people in and he has got to be sharp and be alive. And he has got to be more aggressive in the air - he lost too many headers and that is supposed to be one of his strong points."
The Newcastle legend also compares him to fellow Belgian attacker Romelu Lukaku, who in contrast had a fantastic game against Chelsea later in the day.
"When you compare him [Benteke] and [Romelu] Lukaku, a few years ago they were actually neck and neck - but now look at the difference between them," Shearer continued.
"It is like making excuses, and you have got to take responsibility and be a leader in your team and try to score goals at least, and not be afraid." 
Benteke had started off well for Palace since signing from Liverpool for around £27m in August 2016. He contributed 15 goals last season in 36 appearances.
This season has been a different story though, with only the two goals in 22 games, as Palace struggle amid an injury crisis.