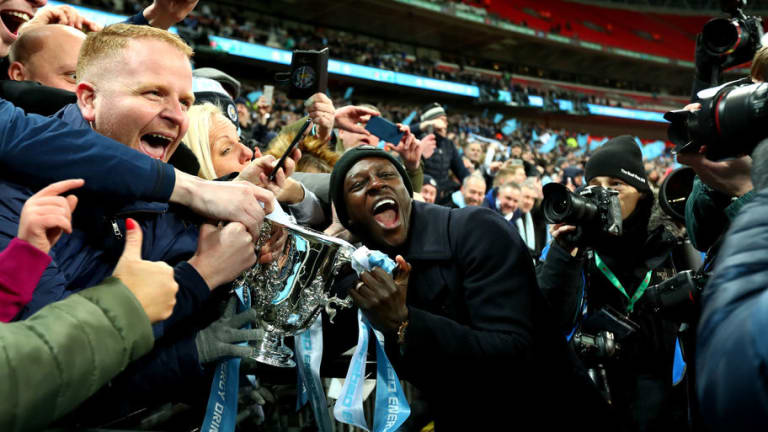 Story Behind Manchester City Defender Benjamin Mendy's Picture With Police Revealed
The story behind a picture taken of Benjamin Mendy talking to two police officers following Manchester City's 3-0 League Cup triumph over Arsenal at Wembley on Sunday has been revealed after the defender offered an explanation via his Instagram account. 
City opened the scoring in the 18th minute when Sergio Aguero chipped the ball over a stranded David Ospina.
Guardiola's side compounded Arsenal's misery with a dominant second-half display with goals from both Vincent Kompany and David Silva ensuring a deserved 3-0 win for the Premier League leaders. 
The victory secured the Citizens' first piece of silverware since Guardiola took over at the Etihad in 2016. 23-year-old Mendy, who arrived from Monaco in a £50m deal in the summer, didn't feature having sustained an anterior cruciate injury in September which he is yet to recover from. 
Nevertheless, that didn't stop the French international from celebrating with his teammates and fans. The excited Mendy was seen mingling with the crowd and even let fans lift the Caraboa trophy.
The full-back then went one further and asked police whether they could allow fans onto the pitch, as revealed by his Instagram account, when he posted the a picture of him with two officers with the caption reading: "When the teacher don't want you to have fun with other people in the class #LetTheFansInBro"
Unfortunately for City fans, the police weren't too keen on granting his request and they instead had to watch on from the sidelines. 
Nevertheless, the Etihad faithful probably wont have to wait too long until they are allowed to celebrate on the pitch with the players - with the table-toppers currently boasting a 13-point gap to 2nd-placed Manchester United.