Teenagers are now an endangered species in tennis; more mailbag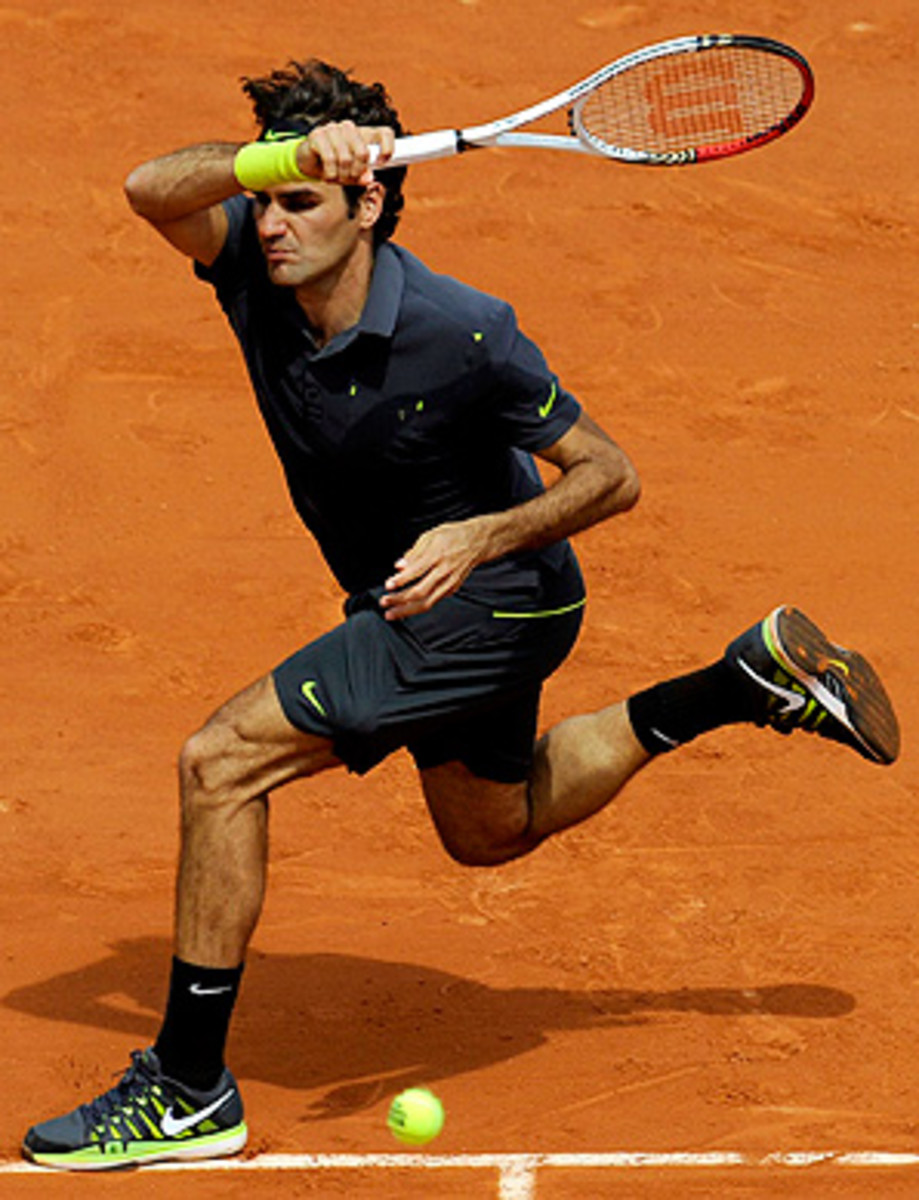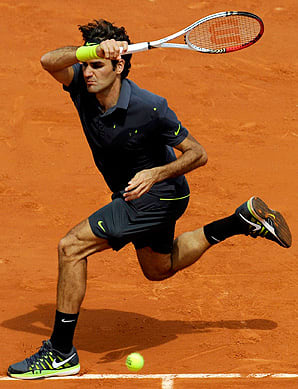 While pondering this, John Isner suffered another marathon of a match, which ended in a five hour and 41 minute defeat...
The French Open has a funky logo this year.
Now what it needs is a slogan. We suggest: "Sweatin' to the Oldies." Yesterday may have been Kids' Day at the French Open, but the draws are free of the young (and not simply because Donald lost in round one). Seldom has tennis seen an older field -- or more mature, as we say in polite circles.
As recently as a decade ago, tennis was overrun by kids. Michael Chang, Pete Sampras and Boris each won Majors as teenagers -- same for Martina Hingis, and both Serena and Venus Williams. Lindsay Davenport, a late bloomer mind you, was barely 22 when she won Wimbledon. Today? Ryan Harrison is 20 and he is prospect.
Teenagers are an endangered species, especially on the men's side.
In their stead is a legion of full-fledged adults. Of 128 men in the main draw, 37 -- Roger Federer among them -- are aged 30 or above, which is the highest proportion of thirty-somethings in the draw of a Major in the Open Era. Among the women, Li Na (30) and Francesca Schiavone (31) are among the survivors. In doubles, the best men, Bob and Mike Bryan are each 34, but babies compared to the best women -- who lost yesterday -- Lisa Raymond (39) and Liezel Huber (35).
Why the graying of the field? For one, we hear it all the time: tennis has never been more physical. As such, it requires full bodily maturity. The notion of player weighing under 100 lbs. -- as 16-year-old Tracy Austin purportedly did when she won the U.S. Open at just 16-years-old in 1979 -- is comical. Likewise, imagine a player with the developing physique of a teenager trying to slug out wins against the broad-shouldered ATP players.
Modern-day tennis also requires a certain emotional maturity. As the sport has gone global and events are disbursed throughout the world, the dynamic has changed. In former years, a family could load up the car and transport a top prospect from an event in Hilton Head one week to Atlanta the next and to Miami the week after that. Getting from Dubai to Rotterdam to Palm Springs is different exercise altogether.
The system is stacked against young players, too. The Age Eligibility Rules -- aka the Capriati Rules -- had their desired effect, making it difficult for young players to break through. And to burn out.
One wonders, too, about the role of injuries. Roger Federer notwithstanding, you'd be hard-pressed to find a player who hasn't missed a chunk of time with one medical malady or another. These injuries are unfortunate and have all sorts of consequences -- physical, yes, but also spiritual and financial. But they also had an added effect of a forced vacation -- a gap year, as it were. Players may miss time in their 20s, but they tend to reclaim the years on the back end.
Brian Baker, the Comeback Kid, ought to inspire every injured twenty-something battling injury. But so should Tommy Haas (33), Juan Carlos Ferrero (32) and the rest of the veterans holding their own at age that was one fit for retirement.
After losing to Schiavone the other day, Kimiko Date Krumm (41) was asked about her advanced age. "I just passed 80 years of age," an interrogator wondered. "Will you go on like me?"
Without missing a beat, she answered: "I am still fit, so why not?"
Mail call
Jon: Considering that the semifinal Davis Cup match for the U.S. will likely be on red clay, why do you think Courier won't use Brian Baker? He's obviously now our second best singles player on clay after Isner, especially considering the uncertainty surrounding Mardy Fish.-- Scott, Charlotte, NC
? To some extent, you gotta dance with who brung you. After their loyal participation, you don't kick Mardy Fish -- or even Ryan Harrison -- to the curb. That said, Baker clearly has aptitude on clay and a feel for the surface. He is a smart veteran player. Only the most solipsistic player doesn't draw inspiration both from his history and his humility. Bring him along for the trip. Light a fire under a few players, perhaps. But I don't think you start disassembling the team.
I think pundits keep forgetting the duo that won the RG the last two times, Li Na and Schiavone. They are playing well even if it's a bit too early to say, but I think whoever will come out of their quarter will win it all.-- Alessandro Biglioli, Calgary, Canada
? Duly noted. Li Na I could see. And I agree she hasn't gotten her due. Schiavone is more of stretch.
Hi Jon, since two of your semifinal picks on the women's side (Serena and Barthel) are now out, care to revise your picks? And please don't just give us something like "major surprise" as you've been doing for the females in the last few slams. It's a total cop out!-- Stefan, St. Andrew, Jamaica
? I don't even deserve a mulligan this time. I readily cop to some horrific picks this year (though I did take comfort knowing Steffi Graf, Chris Evert and Martina Navratilova were among those picking Serena!). Obviously, you have to consider Sharapova, now that Serena is out of her quadrant. And I could see Azarenka catching and giving us the familiar storylines ("A few points from defeat in her first match, she righted the ship and never looked back, mixing metaphors as she won the title). Li Na has looked great again.
Back to Serena, a Williams confidant claims that a) Serena put on significant weight since Charleston and talk that she came to Paris in peak condition is nonsense. b) Wimbledon looms large. "If she doesn't play well there, sadly, I don't think she'll win another Slam."
Just passing that on.
Hey Jon, can you clear up the mystery of how the French Open makes the draw. Looking back over the past few years, previous ones had No. 1 playing No. 4 in the semis and No. 2 playing No. 3. This year they changed it up to No. 1 vs. No. 3 and No. 2 vs. No. 4. Why the change, who decides and why is there no consistency?-- Jon, Vancouver
? Very reasonable question but we should just create a cut-and-paste short answer: The one and two seeds are in opposite brackets but three and four are sprinkled randomly in the other two quadrants. Then five through eight each go in separate eighths, but randomly determined (so the top eight seeds couldn't meet before the quarters; but one could play five, six, seven or eight). Same drill for nine to 16 and 17-32. Got that?
You know, for years we've gotten questions about the draws at Grand Slam. "Why do the Slams depart from typical seeding," whereby one plays eight, two plays seven, etc., a la the NCAA hoops tournament? We've answered that the tennis authorities like to mix it up (No. 1 could play either four or three in the semis, etc.) because if the ranking don't budge, you could end up with the same pairings at each Slam; these "random sprinklings" are a way to ensure that won't happen.
A lot of you dismissed this. But take a look at the men's game. Inasmuch as the ranking don't budge, Nadal and Djokovic would end up always facing off in the semis. Personally, I don't mind that, because of the luck of the draw, Federer might have to face No.3 sometimes and Nadal might get No.4. This question was made for Power Point!
Shots, miscellany
? Brian Baker formally applied for a wild card to Wimbledon. Let's see what happens.
? Christina McHale goes into the third round and all but assures herself a seeding come Wimbledon.
? Thanks to Michaela Reger of Miami, FL for answering my tweet providing translation to this video:
I'm attempting to respond to your translations request regarding the Joao Souza vs. Marcel Granollers match, albeit in more than 140 characters. Disclaimer, I am a German native and therefore not a native speaker but have been told by one that I could almost pass for one... so here we go. Apparently, Souza fans heckled Granollers all match long to set the stage. At a critical point in the match Granollers had the help of the net cord or line (wasn't made clear) to win that point and Souza shouted at him that his shots were all luck. Supposedly, both Souza and his fans were upset that Granollers was winning despite his injury and heckled him more when stretching out his calf. On the change overleading 5-4 in the fourth set, Granollers finally grew tired of the heckling as well as Souza's comments that he was only lucky, that he hit all netcords and lines, and thus asked Souza to show him some respect, because a match is not won on luck alone.
There are parts in the video where it is hard to tell who says what as you can't always see the face of the players and certainly not the face of the fans; however, after Granollers asked for some respect he gets repeatedly told to shut up, shut up, go play! After he hits the winning shot and approaches the net he directs a "Vamos, Toma!" (Let's go! Take that!) gesture at the Portuguese fans that have been heckling him all day. The trash talk goes back and forth until he walks off the court. Again, due to camera angle, not sure who says what at all times; however, the trash talk translation you asked for included things such as, "shut up," "you are a son of a bitch," "you are a piece of sh*%," and things of that nature. All in all, I get the feeling after watching the video several times that Granollers felt the Portuguese fans behaved "unprofessionally" and unsportsmanlike toward him throughout the match and he grew tired of being harassed and/or heckled throughout the entire match. Also, in the interview, he appears upset about being told by Souza that he was winning because he enjoyed more lucky shots. With the tension at the end, he admits that he lost his composure but never directed any trash talk toward anyone directly, or in particular. That's all I have and I hope it helps."
? Brandon of Chicago has today's LLS: Robin Soderling and Eckhart Tolle -- long lost ... Nephew and Uncle?