Federer shows signs of brilliance, and aging, in loss to Djokovic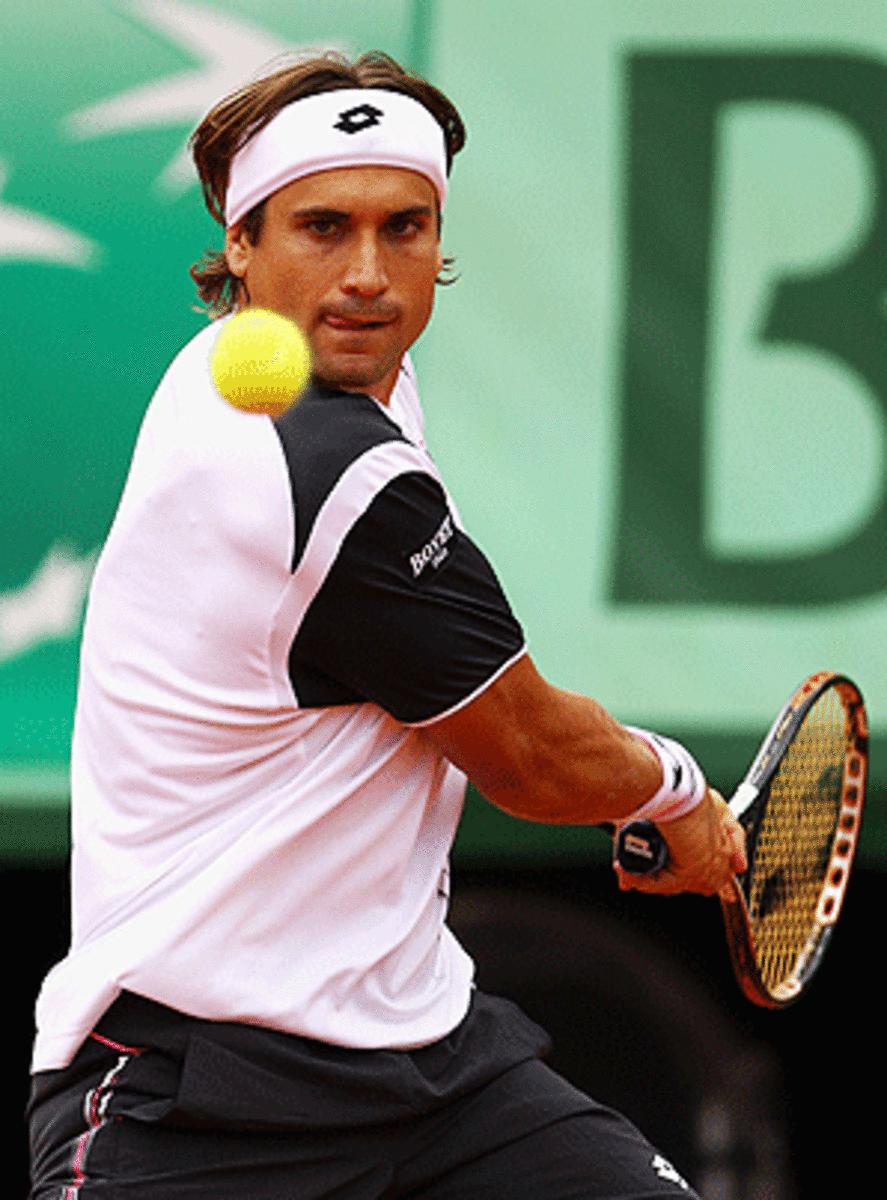 We talk often about the "arc" of a career. But athletes' careers don't move in lines, or even in curves. There are twists and bends and curlicues and double-backs. As sports figures get on in years, they don't go into free fall. It's the consistency that goes first. Sometimes they have the magic. Other times there's no coin --- only a tuft of gray hair -- behind their ears.
On one side of the ocean this week, you see it with the Boston Celtics. On another, you see it with Roger Federer. The Fed is 30, which, in tennis years, almost qualifies him for a pension. He is not the player he was, say, five years ago, when he was winning three majors annually, often elevating tennis to performance art. As he's reminded daily, it's been more than two years since his last major title. His ranking is now No. 3 -- and has been for most of the last year. In 2012, he has lost to the likes of John Isner and Andy Roddick who, also, is not the player he was in his prime.
Yet other times Federer has done a fine impersonation of, well, Roger Federer. There are brilliant shots, points, matches, even tournaments. He's beaten Rafael Nadal this year. He's won a big-ticket Masters Series title. He's reached the final four of both majors. But it's come in spasms. It's a flicker, not a flame. A spurt not a flow. So it goes, as an athlete ages. One game, you're hitting your shots and locking down LeBron. The next game, you get blown out at home.
After Rafael Nadal made paillard out of David Ferrer, 6-2, 6-2, 6-1, making the sixth seed look like a rank amateur, it was Federer's turn to throw down against Novak Djokovic. A year ago, the two played in the same venue in the same round, and Federer scored his best win of the year. Channeling his old self, he beat Djokovic in four sets, the last time Djokovic lost at a major. It was flicks and angles and clutch serving, especially in a pair of tiebreakers. Federer, you may recall, punctuated the win by putting a finger to his mouth. "Ssshhh, stop your talk, all you who bury me."
On Friday, Federer surely felt an instinct to cover not his mouth, but his eyes. This was one of the days aging players have to endure, an unsightly afternoon when he looked less like a contender than a middle aged man having a bad day at the office. His 46 unforced error count was disturbingly high, especially measured against his modest 33-27 winners -- a lousy over/under as Jim Courier would say. Playing desultory tennis in windy , tricky conditions, Federer dropped the first set. He broke Djokovic twice to start the second set, rallying a partisan crowd. Then he lost serve four times -- an unsightly mix of double-faults, mishits, perplexing routine errors -- and dropped the set. He dropped the third set, 6-3, the fifth time he lost to the player ranked No.1
Djokovic has not played particularly well this entire event. His play Friday wasn't exceptional either. But he played fine defense. No need to take big risks when your defense is so good. And the other guy keeps missing. As someone sagely noted on Twitter it felt more like a Federer loss than a Djokovic win.
After match point, there were no gestures. Federer's faced etched in disappointment he acknowledged the crowd with a "Sorry-wasn't-my-day" look. There will be better days ahead. Anyone discussing an obituary is delusional. Late in the match, as if to remind us of his capabilities, he uncorked the finest topspin lob you'll see, making it look as easy as clearing his throat.
But here's the unfortunate part of aging: who knows when the good days will come?
Mail call
I realized this week that I've started to think of Ferrer as the real No. 4. Maybe not so much because he's really the fourth most talented player on any given day, but because he's started doing something with great consistency that the top three guys do with absolute consistency -- beat the players they're supposed to beat. I'm actually expecting him to rise to No. 4 this year. Too much?-- John Dugan, Memphis, Tenn.
? Before he ducks out, a round of applause for David Ferrer. He is the fifth best player in the men's game, which is not unlike being the fifth Musketeer or the sixth of those burger-making guys.
With Federer, Djokovic, Nadal (his tormentor Friday) and, to a lesser extent Andy Murray, on the scene, there's nothing but table scraps left for the rest of the field. In another era, a player like Ferrer would be winning majors. In this one, he's never even made a final and Friday marked only his third seminal appearance.
Still he is better than 1,949 of the world's 1,954 other ranked ATP pros. And it's not because he's bigger or serves faster or pounds the ball with more force. Not at all. At 5-foot-9, he's among the smallest players. At age 30, he's among the oldest. No, Ferrer achieved his position by outworking the field. He is tennis' Calvinist, a firm believer in the virtue of hard work. He grinds through his matches -- "The bulldozer," as the Spanish call him -- happy to play for as long as it might take. When he's not competing, he's in the gym or out for a run. A trainer of an American player once witnessed Ferrer in action and came back demoralized. "He must have run 10 miles at a ridiculous pace," the trainer said. "You know how he cooled down? By jogging."
He lost on Friday, badly. And is clearly disappointed. "Well, I tried to do my best, but when the opponent was better than me in the moment, I don't have to say nothing, no?" But a lot of players with twice his talent haven't achieved half as much.
An interesting discussion point in Friday's topic of the top women's seeds "choking" in the big tournaments where you wrote: "When you see seeds disappear, committing scads of unforced errors, when you see players winning a Slam and then losing in round one, it's clearly less a function of depth than of shaky nerves. Me? I rather enjoy these WTA battles, even if the tennis isn't always pretty, even if accomplished players lack self-belief and implode before our eyes." I think another part of this discussion could and should be on the best of three sets vs. best of five sets debate. Would Serena have won her first round if she were playing a five set match? Would Stosur have pulled herself together? I'm just suggesting that the comparison to the men is not exactly apples to apples.-- Stacey, San Jose
? I don't disagree. Again, just watch these matches and even casual fans can discern that the Big Three are really good and rise to the occasion; and that certain WTA players (Friday, we look at you, Sam Stosur) can lose it mentally. But a bigger sample size -- i.e. best of five -- would work in the women's favor. Conversely, if the men played best of three, Juan Martin del Potro would have been playing Jo-Wilfried Tsonga on Friday!
In your top five men who haven't won a major/slam, I can't believe you forgot former No. 3 and Wimbledon finalist David Nalbandian. I believe he has accomplished more than any of the five that you have mentioned. He was a grand slam finalist and has reached the GS semifinals numerous times. He was the first player to defeat No. 1 Federer and No. 2 Nadal twice in a tournament and has won a Master 1000 series twice, once beating the top three seeds (Federer, Nadal and Djokovic) in the same tournament! Come on, Jon. How could you forget him?-- Jake, San Diego
? Yeah, a few of you noted that. Nalbandian made the noise in 2002-04, after Agassi and Sampras and before Federer and Nadal. So that probably cuts against him. But you're right. He belongs on the list.
I read on Beyond The Baseline that players are grumbling about the lack of lights for night play at Roland Garros. But isn't there something real and romantic and suspenseful about dusk falling on big late matches that makes them not just late, but great? Think last year's semi between Fed and Djokovic; and how about the so-called greatest match ever, the 2008 final between Federer and Nadal at Wimbledon? I say, sometimes appreciation is better than progress. Your take? -- Randy Burgess, Woodstock, NY
? Personally, I like that play draws to a natural close. Also, in June it doesn't get dark until well after 9 p.m. so it's not as though anyone is getting shortchanged. The officials often speak about a local ordinance against having lights. (Rest assured they would love the revenue that would come with the added sessions). At some level this is a moot point. When the complex gets its facelift and the "new" Roland Garros is christened in 2017, there will be night play.
"Me? I rather enjoy these WTA battles, even if the tennis isn't always pretty, even if accomplished players lack self-belief and implode before our eyes." As a Midwestern basketball guy, you can appreciate that this is exactly how I have felt watching the past 10+ years of slugfests in the Big Ten -- notably any Wisconsin game and, of course, the classic 38-33 game between Penn State and my Illini. Or at least I tell myself I enjoy them... Frustratingly enjoyable...-- Cliff Andrus, Atlanta, Ga.
? I suspect we would enjoy each other's company.
This photo made me think of a fun/interesting exhibition match: A top men's ATP player put in a wheelchair and play against a top wheelchair player, such as Vergeer. What do you think? How do you think that would go? (disclaimer: I've never seen wheelchair tennis in person).-- Jason, Surprise, Ariz.
? Interesting. I like it, if done tastefully, of course. Long as we're here:
Esther Vergeer won the women's wheelchair event (see: sun, east). But what do you guys make of this: all four semifinalists were from the same country. I smell documentary. Stephane Houdet won the men's.
Shots, miscellany
? Here's Brad Gilbert summing up Nadal today: "Between the little beast Ferrer and club Monaco, Rafa beat them 36-7 that is so scary good, they might need both guys to best him?"
? George of NJ: "The biggest tennis upset of all time has to be Chang beating Ivan Lendl. No one could have ever imagined Chang would win that match."
? Greg W. of Washington, DC: "A tad unconventional perhaps, but I have an excellent pair of long-lost siblings. I saw a Dave & Busters commercial on TV and thought I was going to see some tennis soon: the Dave and Busters logo and the Roland Garros logo."
? Andrew of Vancouver: I've got one for your Miscellany "twins" page. Roger Federer and eminent, and alas recently deceased, historian Paul Fussell.
? Because it's our last day here's another:
Clavian of Fort Lauderdale: "Not exactly look-alikes but same pose, no? Djokovic and Triple H."