Proposed changes are a serious unforced error for NCAA tennis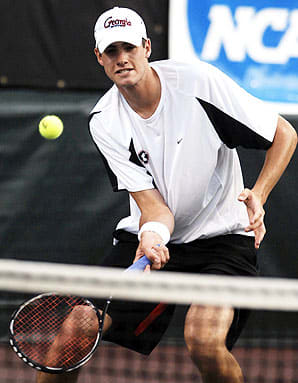 "If you think change is hard, wait until you try irrelevance," the saying goes. There's truth there. Change and innovation are often healthy and necessary and vital for survival. But change needs to be managed, too.
We start our discussion this week by looking at the proposed changes to the NCAA tennis format, a topic that has generated a great deal of displeasure and dissent in the Kingdom of Tennis.
For a full report, read this.
Here's the upshot: these are perilous times for college tennis. College tennis generates virtually no revenue, so too often the sport is on the chopping block when athletic departments need to cut programs, either to comply with Title IX or simply to save money. Attendance at many events is declining. It is seldom considered for television. And for too long, coaches have skirted the spirit, if not the letter, of the college sports by fielding teams dominated by overseas -- and overage -- ringers. (Here's one example among many.)
This spring and summer, a committee sought to enact changes "that enhances the sport" and to "increase the marketability and improve the visibility" of the NCAA tennis championships. While the coaches on the committee hardly represent the most prominent programs -- a cause for concern, probably worth addressing later -- these are people of integrity, making decisions with the best interest of the sport in mind. Read the report and it makes a lot of compelling and persuasive points.
That said, their most dramatic proposed change -- playing a tiebreaker in lieu of a third set -- is a serious unforced error. This isn't an alteration or an adjustment. This is the redefinition of an entire sport. This is like the manager of the classic rock station pondering change. And instead of adding Coldplay or Muse to the rotation, he decides to turn it into a polka music station.
The third set is the guts and heart and meat of college tennis. It is here that mental and physical fitness is brought to bear. The third set becomes a referendum on who you are. It's where all those "life lessons" are dispensed and absorbed. Reducing the third set to a tiebreaker cheapens the entire experience. My tennis career peaked when I was about 15 years old, but a quarter-century later, I can still recall vividly the third sets I won and lost. And I suspect most players have similar experiences.
Apart from the organic change, the tiebreaker creates a huge disincentive for players with pro ambitions to take the John Isner route and hone their skills in college. With this "shotgun" format, the college game won't come close to simulating the pro game. The fitness level will be different, as will the rhythms and pacing of matches. If college baseball suddenly went to six-inning games, what pitcher with designs of the Majors would stay in school?
The USTA and the ITA are sending a letter to the NCAA today -- yes, you win a free steak with your fourth alphabet soup reference -- opposing these changes. Players, coaches and fans have used social media to rally the base. Jack Sock's camp sent me this petition a few hours ago.
I want to end by expressing some measure of sympathy for the committee here. Tennis is famously change-resistant and tethered to tradition. Whether it's missing out on the "big data" trend or missing out on merchandising opportunities, whether it's failing to address the rash of injuries or the runaway string technology or the diminishing relevance of Davis Cup, this paralysis is often to the sport's detriment. This committee had a mandate to initiate change and, collectively and individually, they are getting pummeled. Some of their ideas make a lot of sense.
But doing away with a third set? That is madness. One hopes they reconsider and try a second serve -- taking a little off it next time.
*****
Much as we all loved tennis' presence at the Summer Olympics, there was some collateral damage. For one, it had the effect of pilfering some of the thunder from the U.S. hardcourt events, turning matches into "who?" versus "huh?" amid a (heat) rash of big-name withdrawals.
We got back to some semblance of normal this past week in Cincinnati. Roger Federer beat Novak Djokovic (again!) to win the Western and Southern title and, more important, emerge as a favorite -- however slight -- at the U.S. Open. On the women's side, Li Na has returned from hibernation and gave us another strong week of tennis, backing up her run to the Montreal final with her most significant tournament win since the 2011 French Open. (We all need somebody like Li Na.)
Other results of note: looking little like the dynamo who ruled the lawns of London, Serena Williams lost to Angelique Kerber. (Don't read too much into this defeat.) Venus, meanwhile, played another strong event before losing in the semifinals to Li Na.
In what should prove to be one of the more entertaining subplots for the 2012 U.S. Open, the WTA will formally announce its plans to address the vexing issue of grunting. Early reports are that the WTA will focus on eliminating the soundtrack among the up-and-coming players, but basically let Azarenka, Sharapova et al continue doing business as usual.
Quick story: in the lead-up to the Olympics, I played a small role in making this excellent video on Claressa Shields, the irrepressible boxer who ended up winning Olympic gold. In the middleweight boxing final, however, she got a warning for "accompanying her strokes with loud noises." A second warning would have cost her several penalty points.
(As reader D.P. of London stated, "So now it's official: even women's boxing has more 'class' than tennis.") If you're a WTA leader, you have to show more "lead" and less "er" here. Clearly this is an issue that offends and bothers many, and more worrisome, turns fans into former fans. Giving a pass to the current violators is -- not unlike a mid-rally grunt--regrettably tone-deaf.