Serena adds to status as greatest of generation with fourth U.S. Open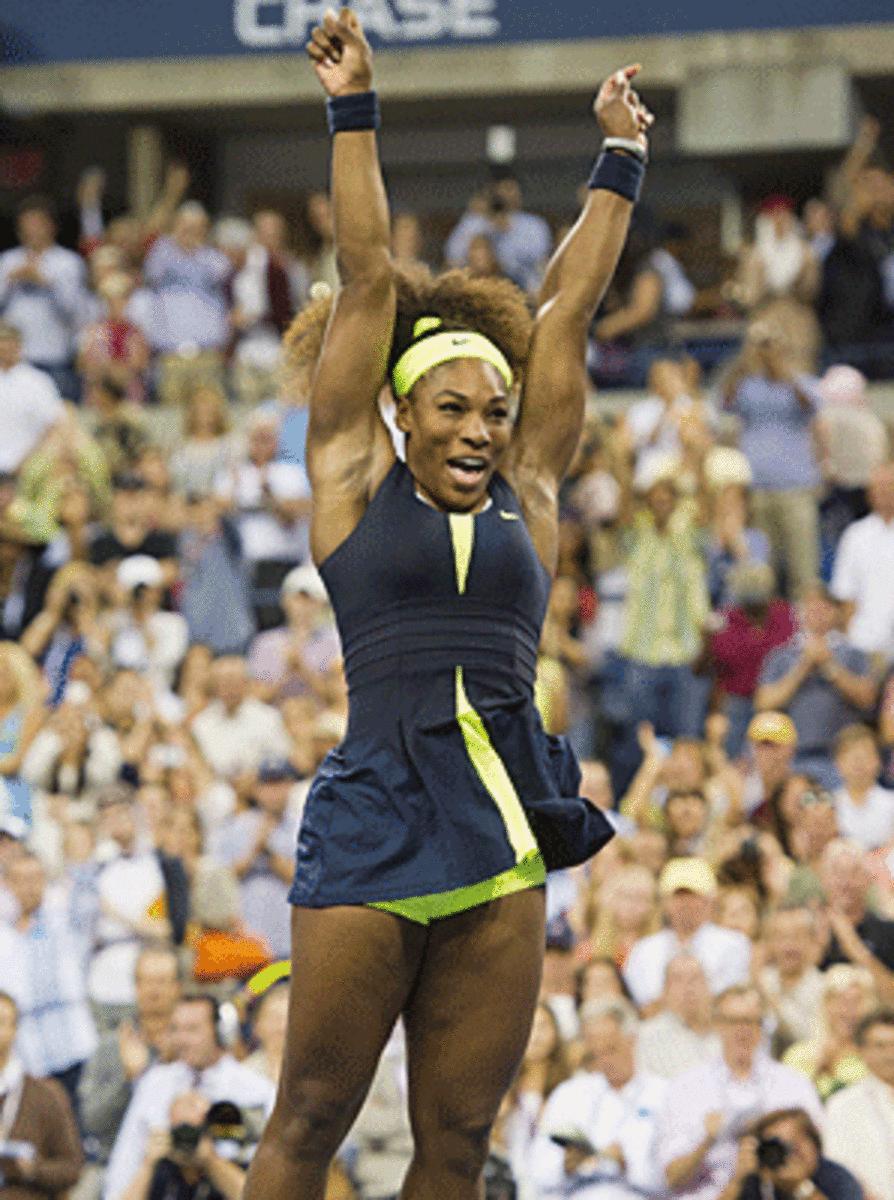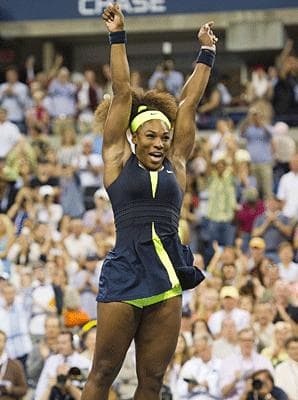 NEW YORK -- The pugilistic style of tennis preferred by Serena Williams evokes natural comparisons to prizefighting, where the greatest champions win titles when they're young and keep them until they're old.
By that measure the 30-year-old Williams ranks among the best of all time, perhaps at the very top, after Sunday's 6-2, 2-6, 7-5 victory over Victoria Azarenka for her fourth U.S. Open title at Arthur Ashe Stadium. A sellout crowd of 23,771 watched Williams come from behind in the final set to win a 15th major singles championship in the same venue where she captured her first as a 17-year-old second-year pro back in 1999. 
There was no congratulatory call from President Obama on Sunday evening like the one she received from Clinton back then, shortly after she'd become the first black woman to win a major since Althea Gibson more than 40 years prior. Yet then again, phone calls from chief executives are typically reserved for special occasions. Serena's major wins have become matters of routine.
This particular triumph, however, was anything but. 
It wasn't always played at the highest quality -- both Williams and Azarenka finished with more unforced errors than winners -- yet it was the most dramatic women's Grand Slam final in recent memory. And it made demands of her savant's brilliance, a greatness so pure and often uncontested, that Serena's rarely been required to supply.
Azarenka is the future, a nominal title once held by Serena that she anachronistically remains unwilling to relinquish. The 23-year-old is no paper champion. She is a reigning Grand Slam titleholder and legitimate No. 1, who entered Sunday's final with a 32-2 record and four titles on hard courts this year. Her two-handed backhand ranks with Serena's serve among the most feared weapons on the tour, complemented by a return game that's lifted her to the pinnacle of the sport.
Yet Williams presented a nightmarish stylistic matchup for the young Belarusian -- who entered Sunday's final with just one win in their 10 head-to-head meetings -- and few expected her to offer much resistance against a peaking Serena, who'd roared into the final having dropped just 19 games in six matches and looking as fit and fresh as ever. Serena in two was the groupthink around courtside when the first ball was tossed at 4:57 p.m. 
Imagine the shock nearly two hours later -- the eerie hush throughout the world's biggest tennis stadium -- when Williams found herself down a break and in danger of losing a championship that seemed a foregone conclusion after a banner summer that saw her sweep the singles and doubles titles at Wimbledon and the Olympics.
That's when Williams won 16 of the last 22 points, raising her arms in triumph and collapsing to the concrete when Azarenka pushed a backhand a foot past the baseline on match point. Serena couldn't make a shot -- then couldn't miss when it counted.
This is what they came for. This is what they want.
"I honestly can't believe I won," a beaming Williams said during the on-court trophy ceremony, a victory that earned her a $1.9 million payday. "I was preparing my runner-up speech."
No one watching the early stages of Sunday's match could have imagined Williams finding a way to lose. She sprinted out of the gate, winning the first seven points to hold at love and force Azarenka into a 0-40 hold in the Belarusian's first service game. Azarenka showed admirable fight in saving four break points, but Williams took the game when her opponent pushed a backhand long. Although early, it was clear Azarenka would need to conjure her best tennis to even make a dent in the match.
With Azarenka serving at 2-5, 0-30 to stay in the set, Williams responded with a vicious two-handed backhand winner down the line that was clocked at 85 m.p.h. to set up three set points -- of which she needed just one to finish off the opening frame in 34 minutes. Azarenka appeared to have no answer for Williams' booming serve and powerful, flat groundstrokes.
Then Azarenka capitalized on a lapse in Serena's concentration, breaking Williams for just the third time in the entire tournament to open the second set. She consolidated it at love with some of her best serving of the afternoon, including a 106-m.p.h. ace. Azarenka's reputation as a clean ball-striker, mere rumor throughout the opening act, made itself apparent as the set progressed and Serena's sloppy footwork led to error-prone tennis. 
Azarenka has always tried to extend the baseline exchanges against Serena, leaving herself vulnerable to Williams' court coverage and ability to uncork sharply-angled returns on the run. But the American's movement appeared mysteriously out of sorts during the middle set. The crowd, whether galvanized by the underdog or hoping to witness the first U.S. Open women's final in 17 years to extend three sets, was squarely in Azarenka's corner.
"I definitely had to relax," Williams recalled. "I feel like the more relaxed I am, the better I play. I got a little tense, a little bit tight, and things weren't looking good. The more I stayed calm, I won more points."
Azarenka had lost 13 consecutive sets to Williams dating back to the 2010 Australian Open quarterfinals -- a match she came from ahead to lose. Yet the Belarusian's pristine 12-0 record this year in three-set matches augured well if she could keep the momentum on her side. It wasn't to be.
The third set played out as afternoon gave way to evening, the most shocking plot turn coming with Williams serving at 3-3, when Azarenka managed to win four straight points to break the Amercian at love and move within touching distance of a second major championship in nine months.
"I thought if I could just force another game," Williams said. "Obviously I never give up. I never, never quit. I have come back so many times in so many matches. I wasn't too nervous. I just thought if I could get to the next game. It was always the next game."
Serving for the title at 5-4, Azarenka blinked, committing three unforced errors as the match went back on serve. It was the second of four straight games Azarenka surrendered to hand Serena the match, a capitulation that left her bawling into a towel in her chair as Williams soaked in the acclaim.
"She's definitely the toughest mentally there is, and she's got the power," Azarenka said, referring to the Williams serve that topped out at 125 m.p.h. during the third-set pressure-cooker. "For me she's the greatest player of all time. She took the game to the next level."
Eighteen months ago, when Williams confirmed she'd suffered a hematoma and pulmonary embolism, there was no guarantee she'd ever play tennis at an elite level again, let alone the stratospheric heights on display over the past four months. The health scare had come on the heels of a foot injury that required surgery and sidelined her for the second half of 2010.
The U.S. Open had also proven a complex riddle for Williams in recent years. She'd played here just twice since last winning in 2008, imploding famously over a controversial foot-fault call in a semifinal loss to Kim Clijsters in '09 and absorbing a shock defeat to Sam Stosur in last year's final. That significance wasn't lost on Williams. "To do it here," she said. "To come from the gold medal to win the U.S. Open is unforgettable."
The 13 years, 11 months and 29 days between Serena's first and most recent major championships is just one of countless records established by a player widely recognized as the greatest of her generation. Now Serena -- the oldest U.S. Open champion since Martina Navratilova in 1987 -- trails only Margaret Court (24), Steffi Graf (22), Helen Wills Moody (19), Navratilova (18) and Chris Evert (18) on the all-time Grand Slam leaderboard. Yet few would pick against Williams, and a serve widely regarded as the most fearsome in the history of tennis, in a one-off.
"I really think a champion is defined not by their wins but by how they can recover when they fall," Williams said. "I have fallen several times. Each time I just get up and I dust myself off and I pray and I'm able to do better or I'm able to get back to the level that I want to be on."
Having captured multiple Grand Slam championships in her teens, twenties and now her thirties, Williams insists the best is yet to come. 
"Even though I'm 30, I feel so young and I've never felt as fit and more excited and more hungry," Williams said. "Even with this win like I'm sitting here so excited still to play the next Grand Slam and see what I can do. Just to do more, I love that feeling. I feel like it's overdue. I'm excited."
Serena may no longer be the future, at least in the long term, but she's very much the present.