HOF takes stand against B. Hewitt; wrapping up a dramatic Davis Cup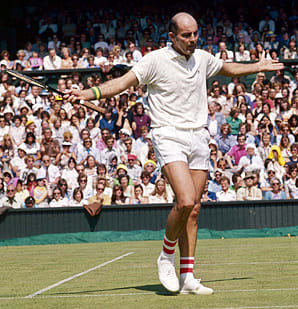 The International Tennis Hall of Fame took a stand on Bob Hewitt last week and gained a healthy dose of integrity in the process. One can only hope that in suspending Hewitt and stating that "his legacy ceases to exist," the Hall hit the ignition switch for further sanctions -- for they are long overdue.
Hewitt's sordid behavior came to light in August 2011 when The Boston Globe, in the wake of a six-month investigation, reported that Hewitt sexually abused underage girls he coached in the Boston area and his native South Africa from the 1970s to the early '90s. Six women publicly identified themselves as Hewitt's alleged victims, and the explosive report triggered an HBO Real Sports segment that sent Mary Carillo on a fact-finding mission to South Africa.
The results were stunning. Four women went on camera with Carillo to reveal their long-standing torment. One of the accusers, Twiggy Tolken, said, "He's still going to rot in hell, but for now he's here on earth, and people are going to know how sick he is."
Carillo's report revealed the alleged victims' ordeal in graphic, shocking detail. Ray Moore, a South African player of Hewitt's generation, said he had long suspected what was going on, then broke into tears during the interview, saying he should have done more.
Hewitt declined to be interviewed for the piece, instead issuing a statement: "I only want to apologize if I offended anyone in any way."
"You didn't offend me," one of the alleged victims said in response. "You destroyed me."
As the evidence piled up against Hewitt, it became abundantly clear that the South African Tennis Federation planned no punitive action unless criminal charges were filed. The Hall of Fame hired Michael J. Connolly, a former federal prosecutor and a partner in the Boston-based law firm of Hinckley, Allen & Snyder, to conduct a separate investigation, one that spanned dozens of interviews over several months and concluded in September. The Hall's response was a unanimous decision to suspend Hewitt, removing his plaque and all other references to him at the Providence, R.I., headquarters and on its website.
Suellan Sheehan, who has accused Hewitt of raping her in South Africa when she was 9 years old, told The Associated Press, "The liberation I feel right now is indescribable, and the emotion is overwhelming. This is what I set out to do. But he still needs to go to jail."
Whether South African authorities will intensify their probe into the 72-year-old Hewitt, believed to be living on the country's south coast, remains to be seen. But this initial surge of justice comes as a relief to Carillo, who said via e-mail, "I've been corresponding with three of Bob Hewitt's victims, and they are extremely happy with the Hall's decision and grateful that we did the piece. But the real kudos should go to Bob Hohler, who did the original serious journalism for The Boston Globe. I truly admire his efforts and tenacity."
Hewitt hasn't expressed a hint of contrition or regret, instead taking aim at Andre Agassi, who admitted in his book, Open, that he experimented with crystal meth, got caught by the ATP, then lied about the indiscretion and escaped punishment.
"Back in South Africa, where this has finally become big news, Hewitt's lawyers are demanding to know why Agassi has not been suspended from the Hall," Carillo said. "Their contention is that it's because he's an American."
Carillo went on to say that Hewitt's wife, "who has long known the truth about her husband, is standing right beside him. I think he will spend an awful lot of time, money and effort attempting to regain his reputation and stay out of prison, and maybe he will. But the truth about him is finally being recognized, and that seems to be bringing a large measure of comfort to his victims."
A weekend in Prague
So many great things happened during the Davis Cup final between the Czech Republic and Spain in Prague. Radek Stepanek staged the performance of his life for the hosts, outlasting Nicolas Almagro in a winner-take-all match his countrymen will never forget. The atmosphere was fittingly boisterous and wild. And it was a time to remember how storied Czech players of the past -- Martina Navratilova, Hana Mandlikova, Jana Novotna, all the way back to Jaroslav Drobny and Jan Kodes -- gave us so many distinctively thrilling moments over the years.
The best part of all, from my standpoint: Tomas Berdych wasn't the main man for his country.
Give Berdych due credit for his talent, and know for certain that everyone on tour regards him as an opponent to fear. But he's ... what's the word? I'm thinking "fop" says it best. He's a fop. He doesn't quite get it. When it comes time to honor players for sportsmanship and fortitude, he'll never be mentioned.
As a big proponent of drilling balls directly at your opponent's body in certain situations -- a strategy approved by anyone with a trace of competitive fire -- I'll never forget Berdych's pathetic performance at this year's Australian Open. More than any match result, to me, it absolutely defined him. Nicolas Almagro hit a close-range forehand at Berdych's body, and instead of taking this harmless shot to the arm like a man, Berdych refused to shake Almagro's hand at the net and got booed off the court after a ludicrous attempt to explain himself over the on-court microphone.
All right, so the man is weak-minded. It takes all kinds. Not everyone can be John Newcombe or Boris Becker out there. But then, on the eve of this final, Berdych went out of his way to ridicule Almagro, saying, "He will be the weak link upon which we can build our victory. He's missing that little something that distinguishes great players from the rest."
Now, why the hell would he say that? Some earnest trash-talking might work in the hands of John McEnroe or Jimmy Connors, but Berdych came off as a crashing boor, to the point where once-neutral fans began rooting against him.
He was dead wrong, of course. Almagro gave Berdych such a physical and emotional challenge during their five-set match on Friday, it gave the Spanish team cause for hope -- even as the match was lost. David Ferrer, ostensibly an underdog against Berdych on the Czechs' lightning-fast home court, went out Sunday and scored a titanic victory. What a fine development in this hostile setting: a crucial match won by the superior player and the better man.
Almagro may have lost both of his singles matches, but he didn't get rattled, and he competed with honor. Stepanek responded to pressure in the fine Davis Cup tradition, rising to a personal-best level so as not to disappoint his passionate supporters.
Berdych certainly deserved his opportunity to smile, embrace his teammates and dance around the court during that zany post-match celebration. But this long-anticipated weekend wasn't about him, and for that, we should all be thankful.