Ricky Henderson Turns 55
Thursday P.M. Hot Clicks
Rickey Henderson turned 55 on Wednesday and if any athlete deserves their own birthday photo gallery, it's Rickey. Tom Verducci wrote a great profile of Henderson in 2003 full of funny anecdotes. This is my favorite:
"Over 24 seasons in the major leagues, Henderson never spent his meal money. Before each trip players get an envelope filled with cash equal to the daily rate as negotiated by the players' association ($73 this year), multiplied by the number of days on the road. Henderson would take the envelopes home and put them in shoe boxes. Whenever one of his three daughters did well in school, Henderson would allow them to choose an envelope from a shoe box, a little game he called Pick It. The jackpot was getting an envelope from one of those 13-day, four-city trips. The girls would keep the money. "They do what they want with it," he said. "It gives them motivation for their school and something to do, like a job."
Tale of Two Billboards
A Philadelphia radio station took a shot at Cowboys owner Jerry Jones with this billboard that is being featured all over Philadelphia. On the opposite side of the spectrum is this "Class Act" billboard for Mack Brown that is hanging along Highway 183 in Texas.
Hello. I Need Attention.
Chad Johnson showed up at a Florida Toys R' Us wearing a Carpe That F***ing Diem t-shirt.
(Throwback) Lovely Lady Of The Day
Thursday P.M. Hot Clicks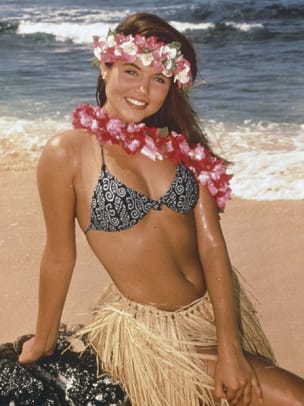 It's time for another installment of Throwback Thursday LLOD. I took requests on Twitter and the overwhelming favorite was Tiffani Thiessen. I focused primarily on the Saved by the Bell years to stay consistent with the throwback theme, but that's no disrespect to BH 90210 Tiffani Thiessen, who produced this memorable scene. As always, send your Lovely Lady of the Day suggestions, throwback or otherwise, to me on Twitter @AndyGray35.
Poor Roy
Pacers center Roy Hibbert was not pleased with ESPN for confusing him and Ian Mahinmi.
Two More NBA Fashion Items
Lost in the madness of the sleeved jerseys is the fact that a bunch of NBA players wore Christmas-themed sneakers during yesterday's games. As for those sleeved jerseys? We compiled the best tweets about this major fashion faux pas.
Better With Age?
Speaking of fashion, here's a nifty infographic about the evolution of NBA uniforms.
Odds and Ends
Jadeveon Clowney was ticketed for driving 84 MPH in a 55 MPH zone. It's his second speeding incident this month ... Kudos to Eagles coach Chip Kelly for throwing a Beverly Hills Cop reference into a discussion of Sunday's game against the Cowboys ... Paul Rudd does a solid Dennis Green impersonation ... Udonis Haslem, Mike Miller and Chris Andersonare now underwear models.
Now This is a Christmas Card
I don't know who Paul Little is, but he had the time to recreate every scene of Home Alone as his virtual Christmas card. Did I mention he plays every character in the movie?
High Schooler Breaks Backboard
Kyle Gouveia, a 6-foot-7 senior out of Calaveras High School (CA) breaks the backboard on a dunk. (HT Bob's Blitz)
Michael Jordan Breaks Backboard
Michael Jordan breaks the backboard during a 1986 Nike Exhibition Game in Italy
Rickey Henderson Video of the Day
A young Rickey Henderson is unhappy with his salary so his teammates give him a jar of money.