Happy St. Paddy's Day. Weekend Hot Clicks writer Brett Smiley with you today. Hit me up with tips or tourney picks at basmiley@gmail.com or on Twitter @brettsmiley — and follow me, too.
Still Going Mad
Louisville mascot furious over its #4 seed in the region of death. Or, just standing there. (Getty Images)
We covered lots of March Madness this morning and there's more to get to now. I need at least a day and a half to digest the numbers and a couple hours to convince my wife that it's perfectly normal to carry a tabbed binder with the dozen-or-so brackets I'll be submitting.
Round-up: Before you submit your perfect entry, let J.J. Redick offer some crucial bracket-winning advice ... Check out the NCAA tournament "All-Name Team" featuring BeeJay Anya and Dallas Ennema ... SiriusXM's Evan Wilner scripted 68 Jim Nantz final calls for every team in the field -- and it's glorious ... Check out BYU's "WE MADE IT" reaction video ... Pharrell's Happy inspired Wisconsin-Milwaukee to make a fun video with some truly horrific dancing (particularly at the 1:00 mark) ... Baylor's hype video begins with a not-so-potent Tobey Maguire monologue from TheGreat Gatsby but it got me by the end ... Great scene at Michigan State where a young girl battling cancer got to help Sparty cut down nets ... And lastly, here's "snubbed" SMU sitting with Sad Keanu.
Just Jim Harbaugh and a Walrus Doing Push-ups at Six Flags
Harbaugh's additional animal adventures included kissing a sea lion and bottle-feeding a tiger. Leave it to a walrus to make Harbaugh look downright likable.
Unfortunately It Does Not Qualify for Prime Shipping
In Germany, Amazon sells baseball bats ... as plus-sized sex toys. (SFW, I guess?)
Lovely Lady Round-up
Monday's P.M. Hot Clicks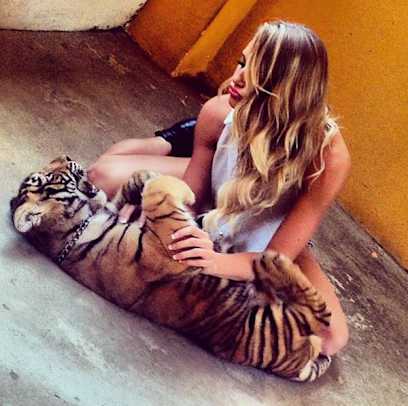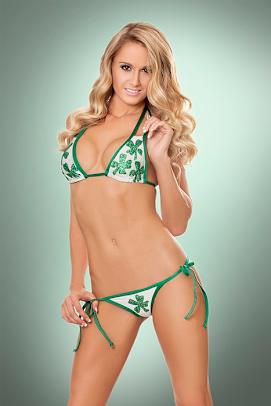 That's Florida-based model Jade Kastl sporting the St. Patrick's Day-themed swimsuits. You can follow her on Instagram and Twitter. ... Former Miss USA competitor and sideline reporter Allie LaForce is on board for CBS's hoops coverage ... You probably want to take a look at this Camille Rowe gallery ... Xenia Deli modeling some spring/summer attire.
Steve Smith Came Through for That Tortured Panthers Kid
The story from Weekend Clicks about the young Steve Smith/Panthers fan who suffered an emotional breakdown upon Smith's release now has a happy ending.
An Aluminum NES System
It exists -- and it's right here.
300-pound Defensive Lineman Flashes Serious Wheels in Relay Race
Great initial burst off the line. Solid motor. -- Scouting report
Odds & Ends
Top 20 athletes with Irish connections ... Twins recite limericks for Glen Perkins and Ron Gardenhire ... Mr. Met, styled for the occasion ... Richard Shermanmakes a cameo in Stanford's N-E-R-D-S video ... Terrell Davis' reaction to the 4.4-magnitude earthquake this morning ... How the NBA is using K-Pop to dominate Asian pop culture ...KHL player suffers concussion after fans drop him on his head ... Nationals are in trouble for those spring training drones ... Surprise: Meatheads brawl in stands at UFC 171 ... Rickie Fowler's new wedge has a mustache.
Way Too Close to a Shark for Comfort
A diver, a GoPro camera, a shark, a sharp poker, and apparently no blood. [Next Impulse Sports]
[youtube https://www.youtube.com/watch?v=MuJmrv_KF24]
Funniest Thing I've Seen All Day
The pooch has to work on that ball control but otherwise, looking good.
March Madness Frisbee Trick Shots
I'm impressed by the velocity of these shots. [H/T Sean]
[youtube https://www.youtube.com/watch?v=ar6K628ZGlc]