Put Up Your Voo-Dukes
Two winners emerged during Saturday's rematch between Manny Pacquiao and Timothy Bradley, both of them from the Pacquiao family. Sure, the Pac-Man avenged his 2012 loss to Bradley and reclaimed the WBO Welterweight title, but perhaps he might have fallen short if not for the spell that his mother Dionesia Dapidran-Pacquiao cast on Bradley.
It's cool, though, because Dionesia and Bradley hugged it out after the fight. Read some more thoughts and theories about Dionesia's cosmic mind powers here, and get your GIF/video highlights from Pacquiao's decisive victory here.
Best Shots From Augusta National
Gear up for the final round with the best photographs from The Masters. Bubba Watson and 20-year-oldrising star Jordan Spieth lead the pack at 5-under. The final pairing of Spieth and "Mr. Watson" (as Spieth calls him) will tee off at 2:40 PM. Note to anyone attending: Don't do this.
Bo Pelini Trolls Parody Account, Hoists Cat for Spring Game Entrance
All hail Bo Pelini and the mighty Cat-Huskers!!!
Cheerleader of the Week
Weekend Hot Clicks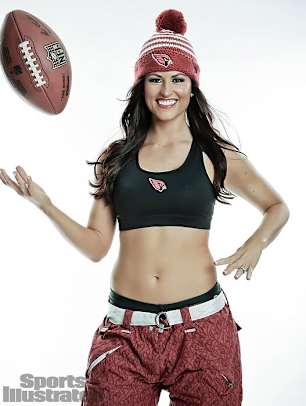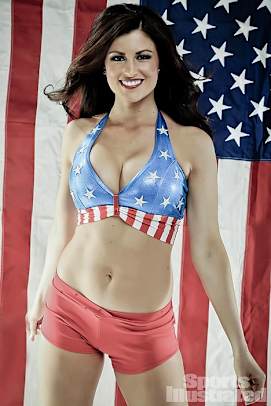 Get to know dance fanatic and Arizona Cardinals cheerleader, Tessa.
My friends would be surprised to know that: "I treat my dog like a human. When I leave the house, I have to say (in a high pitched voice) 'Bye my Hossy Boy, mamma loves you. You be good, see you in a little while, pup!'"
The "most played" songs on her iPod: "What I call 'BOOTY TUNES.' It's a combination of pop, hip-hop, and techno to keep me amped up during workouts."
Favorite websites: "You will find AZcardinals.com, eBay.com and Youtube.com in my search history. A lot happens in the NFL during the offseason, so it's important to stay in the know. What can I say about the other two… I love shopping and a good laugh!"
One guilty pleasure: "I have two -- cinnamon rolls and white cheddar popcorn. If you haven't loaded your popcorn with white cheddar at the movie theater, you're missing out."
Click here for Tessa's full gallery.
Frozen Four IDIOTS
Congratulations to the Union Dutchmen who captured its first ever Division I national championship last night with a 7-4 win over perennial powerhouse and No. 1 seeded Minnesota. Back home in Minnesota, Gophers fans apparently numbed themselves to the loss with copious amount of alchohol, and then infuriated a local television man by repeatedly crashing his on-the-street report.
Playing the Long Con
Jeff Francouer's El Paso Chihuahuas teammates (Padres' AAA affiliate) dug in last month for a long-con on the apparently imperceptive outfielder: They convinced him that teammate and pitcher Jorge Reyes was deaf. First basemen Cody Decker captured highlights and commentary about Francouer's continued obliviousness, including the excellent reveal. One of the best baseball pranks I've seen in a while.
Feats of Athleticism, a Continuing Series Starring Rob Ford
In this edition, Rob "Tommy Boy" Ford drills a soccer ball at a youth soccer player from about 15 feet away. I'm pretty close to launching a Kickstarter campaign for a Rob Ford reality show.
The Time Florida Players Showed Up at an Open Gym...
... and destroyed some regular college kids. Gotta unleash that UConn aggression somehow.
Odds & Ends
Great shot of Edmonton fans giving a standing ovation for retiring hero Ryan Smyth ... What happens at $1 beer can night in the ECHL ... Someone messed with Ryan Fitzpatrick's Wikipedia photo ... An adoring Harrison Barnes fan brought a sign to the game, Barnes responded with a funny signed card ... Shawne Merriman is set to join the WWE ... Well played, whomever is in charge of UConn's trophies ... This is how you sacrifice your body to catch a football ... JustinVerlander's teammates can finally stop making fun of him now that he's collected his first (and second) hit in the bigs ... Knicks, Lakers and Celtics all out of the NBA playoffs for the first time ever (H/T r/nba) ... Injury impact in the EPL this year ... Ronda RouseyExpendables 3 poster ... Stephen Curry missed a breakaway dunk, then did what he does best ... Karl Ravechcan barely contain his enthusiasm for the loquacious, adjective-tastic Stephen A. Smith.
Hurricanes React to New Nike Uniforms
[youtube https://www.youtube.com/watch?v=AcjJmn6PpxU]
David Ortiz Addresses the Obama/Selfie Controversy
Blame Sam-SUN.
Game Ending Beer Pong Slam
Bob's Blitz has one more for you but this one's my favorite: