Monday's A.M. Hot Clicks: Steve Smith Gets Revenge, SNL burns NFL
Hello friends, Brendan Maloy here. Andy is still out scouring the nation for the finest in artisanal internet links, so I will be handling this morning's Hot Clicks. Feel free to find me over @MaloyBrendan on Twitter
NFL Notes
Saturday Night Live torched the NFL in its season premiere ... The Ravens' Steve Smith followed through on his promise to light up his former team and his tipped pass may have been Sunday's most exciting play... Bears WR Brandon Marshall put a nasty shake on Packers DB Davon House but it was not enough to prevent a Green Bay rout... Geno Smith took out some anger on a fan after a Jets loss ... Reggie Wayne got fined by the league's fashion police ... J.J. Watt's scored another touchdown, this one on an interception return. Check out more of the Week 4 action in this gallery. (See the full-size version here.)
Best Pictures from Week 4 of the 2014 NFL Season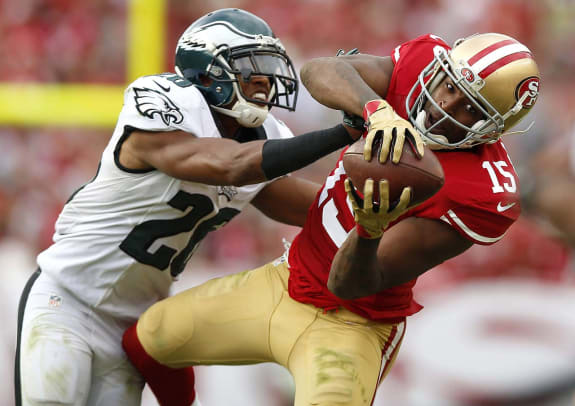 College Football Notes
As usual,Andy Staples' Punt Pass and Pork andMartin Rickman's Between the Hashes covered everything you could want to know about Saturday's college football action, but I would be remiss not to give a little extra love to the Ohio State strength coach with the tackle of the year on a rowdy fan. This week's College Gameday crowd also featured some of the season's best signs so far, with the top honor going to "I'm Fat Lets Party"
Ryder Cup Notes
The United States took a 16.5 - 11.5 beating in the Ryder Cup and Phil Mickleson and captain Tom Watsontraded shots after the third consecutive U.S. loss.
Lovely Lady of The Day
Hot Clicks tribute to the past loves of Derek Jeter continues this morning with a look at former MTV VJ Vanessa Lachey (née Minnillo). The 1998 Miss Teen USA winner is currently expecting her second child with singer Nick Lachey, but somehow manages to look identical to her reign on Total Request Live. (Click here for full-size gallery)
The Warriors' new uniforms are garbage
Golden State debuted a new version of the much-talked-about sleeved jerseys and the internet was quick to point out that the unis resemble a bag of garbage, which was probably not the team's intent.
Mariners' Tom Wilhelmsen refuses to Turn Down
From the Vault
Rare SI Photos of Magic Johnson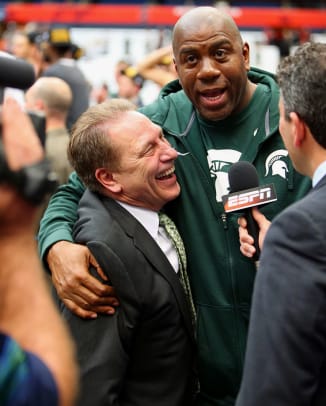 On this day in 1992, Magic Johnson announced he was returning to the NBA, so take a minute to enjoy SI's collection of rare Magic Johnson photo's, celebrating the happiest man in the history of sports.
Odds & Ends
Red Sox pitcher Joe Kelly took a picture with Derek Jeter, and his wife made fun of him ... Even the Red Sox scoreboard honored Jeter ... The Big 12 is asking 74-year old Bill Snyder to update his wardrobe ... Steve Ballmer is the richest man in the world of sports ... Paul Konerko made a touching tribute to his kids in his final game ... Now you can make a four-layer, deep-dish pizza ... Michael Jacksontried to teach Kobe Bryant to meditate.
Russell Wilson Dancing With Puppies
Hope you guys like smiling.
Downhill Skateboarding Looks Exhilarating
Middle School Football Team's Perfect Trick Play
The team calls this play the "Ugly Kardashian"