Fantasy football roundtable: Title game risks, more debate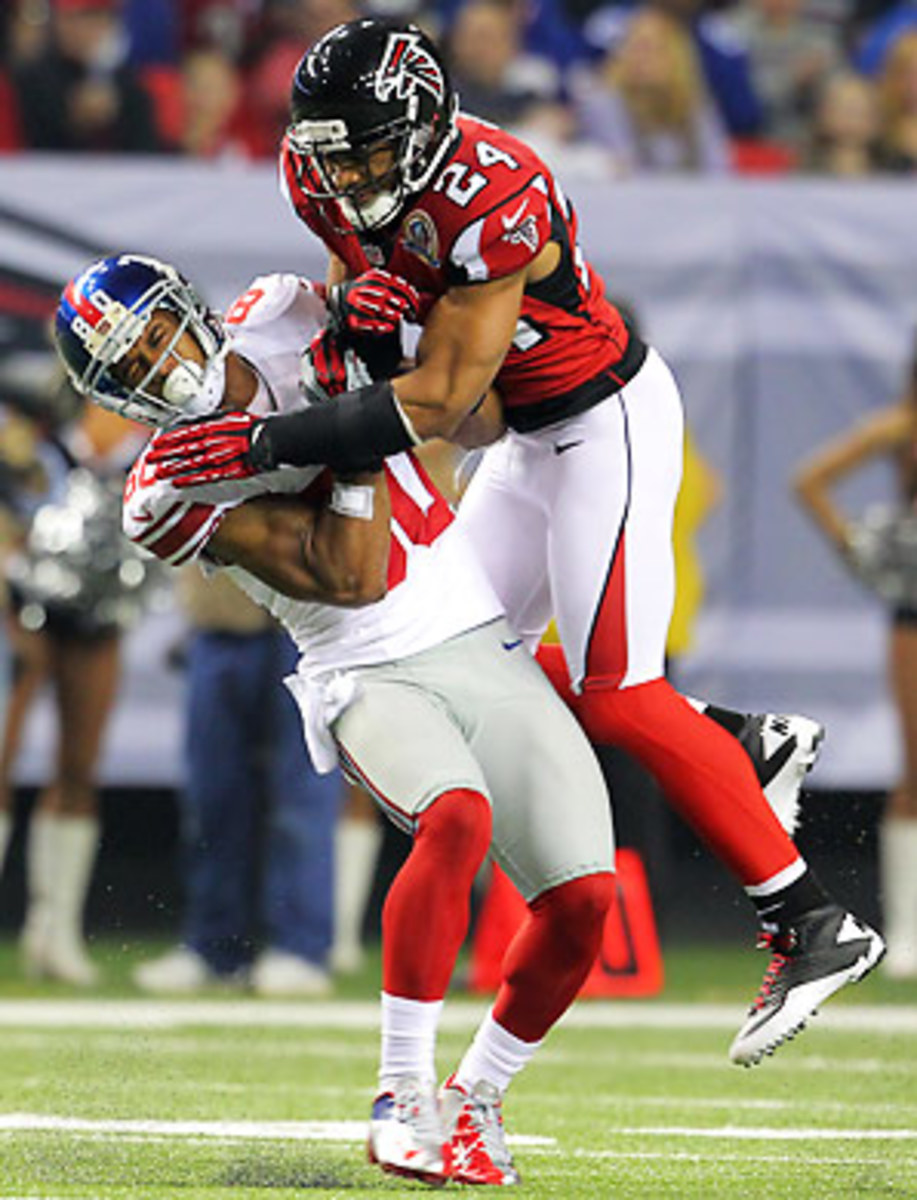 The NFL fantasy season is filled with tough decisions. Join SI's roundtable of fantasy experts to help sort through the lineup choices, injuries and waiver wire options that can make or break a season. Check in all day Sunday on the @SInow Twitter feed for SI's real-time fantasy analysis of this week's games.
1. From Doug Martin to Ray Rice to the entire Giants offense, there were a number of surprisingly bad performances from fantasy stars in Week 15. Whose poor game has you most worried for Week 16, which istitle week for most leagues?
Mike Beacom: Fantasy owners should fear the Giants right now. Victor Cruz and Hakeem Nicks combined for 55 yards receiving last week, and Eli Manning contributed his worst game of the year. Their next opponent (Baltimore) has allowed a league-low 13 passing scores this season and ranks 10th in opposing QB Rating.
Will Carroll: I think it's mostly matchups -- or new offensive coordinator Jim Caldwell, in Rice's case -- and wouldn't worry too much beyond the norm. There are some tough matchups for some of the usual fantasy stars, but I'd expect that in any week. There are also some positive matchups. Given that, I'd worry a bit about Martin and Rice again. I'm also a bit hesitant to count on Marshawn Lynch as he goes against the Niners.
Eric Mack: David Wilson's huge opportunity wound up being a huge bust. It wasn't his doing, either. The Giants, inexplicably, gave a lot of rushing attempts to Kregg Lumpkin out of the shotgun. Why didn't those runs in space go to someone with more speed? Now, there are reports Ahmad Bradshaw will return to the lineup against the Ravens. If that is the case, Wilson will move from a potential star to the fantasy goat he has been for the first 13 weeks of the season.
David Sabino: I fear the most for Rice. The Ravens changed their offensive coordinator, removing Cam Cameron and replacing him with Caldwell, but the offense had no rhythm against Denver until the game was already well out of hand. Joe Flacco appears to be lost and defenses can stack the line against Rice.
2. Has the volatility seen at running back this seasoncaused you to reassess your approach to the draft?
Beacom: The once-popular "two stud running back" approach is as dead as disco for several reasons: how coaches use running backs, the number of quality fantasy backs on the board, etc. But draft rules, in general, are dangerous to follow. For the past few years there has been no consistent approach to building a successful fantasy team; it changes year to year. I never go into a draft with a set strategy. Instead, I watch what those around me are doing and adjust accordingly, round by round.
Carroll: Not really. My draft strategy has been evolving over the past couple years, willing to consider quarterbacks and even wide receivers in the first round. Some non-running backs have risen as high as fourth or fifth overall, but I think next year will look pretty much as fantasy owners have come to expect. Arian Foster and Adrian Peterson are an easy 1-2, but where guys like LeSean McCoy and Rice go will depend a lot on the offseason coaching moves for their teams. Add in Martin, Lynch and Trent Richardson, and there will be plenty of first-round running back talent from which to choose. The question will be whether Robert Griffin III will be overdrafted and cause a run on quarterbacks. I think we'll see that in many leagues.
Mack: Fantasy football has been moving more toward quarterbacks, wide receivers and tight ends in the early rounds, but missing on those positions can be just as dangerous as having the bottom fall out of your early round running back. Just ask any Matthew Stafford, Larry Fitzgerald, Jimmy Graham and Rob Gronkowski owners. The good news for those who favor running backs is Peterson's return to prominence, along with the emergence of the young Martin, Richardson and Alfred Morris. There are some solid first-round backs if you don't want to put your eggs into the elite quarterback basket (Aaron Rodgers, Drew Brees, Tom Brady, Peyton Manning and Cam Newton). Also, the addition of RGIII, will allow more backs to slip a few picks. If you throw in Calvin Johnson, there might be as many as seven non-running backs as candidates to pick in Round 1.
Sabino: If anything, I'm a bit more sold on drafting running backs and quarterbacks only in the first round. I see no fewer than nine running backs (Peterson, Foster, Martin, Johnson, Lynch, Morris, McCoy, Rice, C.J. Spiller) worthy of first-round consideration. I'll also stick with my original thesis that you're better off passing on wide receivers until at least the fourth round.
3. What piece of advice would you giveany owner lucky enough to reach the fantasy title game?
Beacom: Don't overthink. Inexperienced fantasy owners panic in the championship round. They scramble to piece together their best lineup, look too much into matchups and lose focus of the most important thing there is to know about fantasy success: slow and steady wins. As longtime University of Texas coach Darrell Royal liked to say, "dance with the one that brung you" -- or, in this case, the players who got you here.
Carroll: Dance with who brought you. It's easy to get too cute, to overthink things, and stop doing what has worked for you all season. Unless you had Russell Wilson and James Jones -- which means your strategies went wrong and you lucked out on the waiver wire -- you've been steady, so keep with that. Play your studs, find the positive matchups and try to enjoy it rather than chugging Maalox.
Mack: Don't change a thing. Whatever process you have gone through to pick your team and set your lineup has worked perfectly to this point. Overanalyzing isn't necessary, even if the stakes are higher than they have been all season.
Sabino: Don't try to get too cute with matchups. Put your best players into your lineup and watch them play. They're the ones who got you there.
4. Knowshon Moreno put together another solid outing in Week 15 for the Broncos. Is he someone you would consider drafting early next season?
Beacom: I don't think so. Like everyone else, I'm surprised he has done so well in place of Willis McGahee, but I do not believe Moreno is the longterm answer for this offense. Keep in mind he has been active for only 42 of 62 games since joining the Broncos in 2009, and since stepping into the starting lineup four weeks ago, Moreno has averaged just 4.1 yards per carry. Even if he replaces McGahee next season, I wouldn't view him as anything more than a No. 3 back in most leagues.
Carroll: Early? Maybe. Peyton Manning will be back, and he seems confident in Moreno, but Willis McGahee should be back as well. I think they could flip-flop roles, but Ronnie Hillman will be in the mix as well, and let's face it, Manning will be the focus of the offense. Moreno is a guy with upside who I'd try to grab as an early RB2.
Mack: Well, there are a lot of circumstances to consider before that happens. Has he earned the right to start for the Broncos next year? Yes. But we would have said that before and he was never given the opportunity. The good news is that he is out of John Fox's doghouse and has proved to be as good as any back in the league since McGahee went down. There does tend to be some overrating done on backs who produce in crunch time, though, so that might mean Moreno will be more overrated and tougher to get at an appropriate value next year. There are no guarantees from Week 16 to the Hall of Fame Game.
Sabino: Should he enter next season as the Broncos' No. 1 back as expected, I would draft him in the second or third round despite his long injury history. A running back playing in his prime with a quarterback like Manning is a valuable asset, and I can see Moreno being drafted accordingly.