Baseball is back (thank goodness) and it's better than ever (really)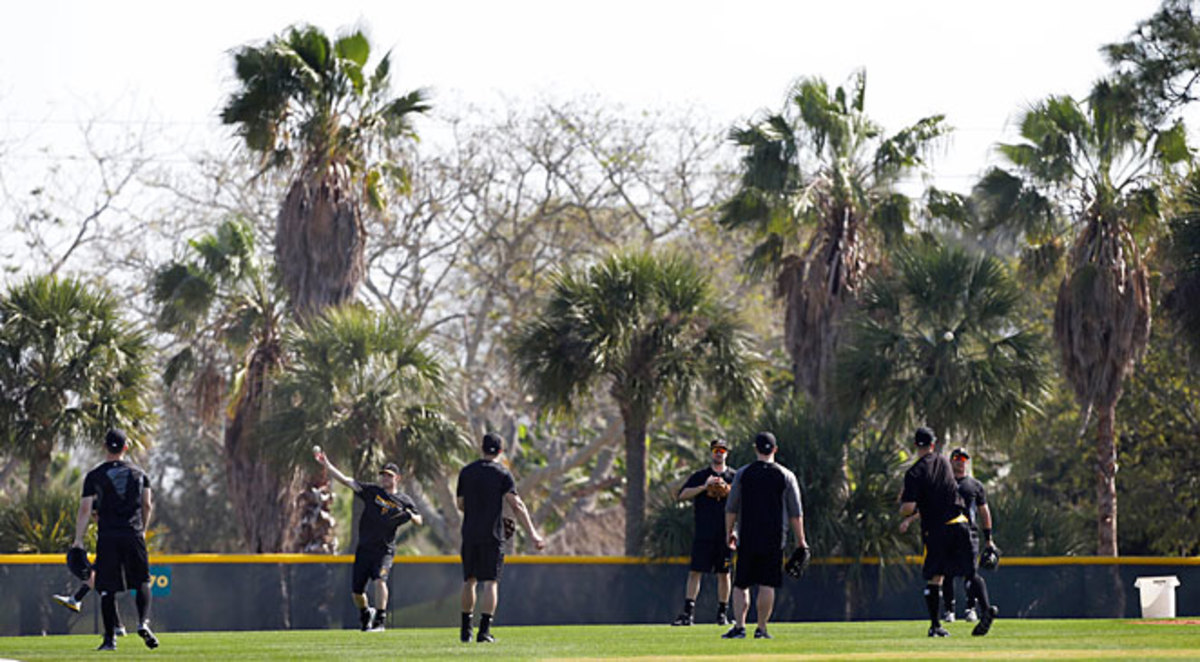 Some people in New England awoke last Saturday morning unable to walk out of their homes, such was the heap of snow -- measured in feet, not inches -- barricading their doors. Windows served as exits to begin digging out from winter's wicked wrath.
Meanwhile, any true baseball fan, no matter his or her clime, could relate to being so overwhelmed the past two months. In record dumps the bad news fell. After too much talk about steroids, especially from the verbal gymnasts to excuse or endorse their use, nobody won election to the Hall of Fame. The shutout was followed by the grim reminder that even drug testing does not stop the covert willfulness to cheat fellow players and fair play: a major PED scandal erupted in which a dozen active players were connected to a Coral Gables, Fla., anti-aging clinic that is under investigation by MLB.
In these same dark mid-winter weeks, we lost two beloved Hall of Fame gentlemen who wore but one uniform throughout their iconic major league service: Stan Musial of the Cardinals and Earl Weaver of the Orioles.
Boy, if ever we needed spring training none too soon, this is the year. For the quick demise of winter, look not to Punxsutawney but to Arizona and Florida. Snowmelt for a baseball fan begins this week with the sweetest three words this side of a Valentine's Day card: pitchers and catchers.
What makes this spring training even more welcome than usual is the realization that we already have entered an era of the greatest competitive balance the game ever has known. Spring training always brings about optimism, but now huge changes in the game -- drug testing, two wild cards in each league, boffo television money, caps on draft and international spending -- have spawned a sport that breeds close games and close races.
Only 10 teams make the playoffs, but at least 12 are built to win the World Series: the Yankees, Rays, Blue Jays, Tigers, Rangers, Angels, Nationals, Braves, Reds, Cardinals, Giants and Dodgers. You can make a case for another handful or so of teams to expand the "most likely to succeed" list.
The point is that baseball has executed the remarkable trick of siphoning offense from the game while making it more popular, and what's making it more popular is the real possibility that many teams can win -- not just the usual spring training marketing sleight of hand with slogans and blather.
The time when power was condensed in the I-95 corridor -- Boston, Philadelphia and New York won the World Series from 2007-09 and provided the game's primary economic engine -- has been over for years. We've turned a corner without even knowing it. The Rays, Jays, Tigers, Rangers, Nationals, Reds and Dodgers stand just as much of a chance of winning it all as the erstwhile Big Three. How strange is that? Those seven franchises have combined for zero World Series titles in the 18 seasons under the wild card format.
What's going on? Take a look at the biggest trends in the game today and how they influence competitive balance:
? Offense stinks
Hitters never have struck out more often than they do in today's game. The rate of hits per game has dropped six straight years. The average major league hitter has batted .255 each of the past two years. It's only the second time since the DH was adopted in 1973 that hitting has been that bad two consecutive years; the other occasion occurred back in 1988-89. The rate of runs per game hasn't cracked 8.64 three straight years for the first time in two decades.
? Pitching rules
Pitchers used to complain that nearly every advancement in baseball favored hitters: the DH, smaller strike zones, smaller ballparks, weight training, steroids, body armor, maple bats, harder baseballs, etc. But the rise of information technology -- video, spray charts, advanced analytics, pitch F/X, etc. -- overwhelmingly favors the defensive side of the game.
Layered upon those changes is the universal adoption of late movement on pitches. The wonder of Greg Maddux's two-seamer and Mariano Rivera's cutter -- to make the ball dart or dive especially late -- is now standard operating procedure. The evolution of Roy Halladay from an over-the-top four-seam classic pitcher to a three-quarters cut-and-sink master is proxy for an entire generation. Hitting stinks because hitting never has been harder.
? To clarify, young pitching rules
Teams do such a good job of developing pitchers that you can win with pitchers who don't have vast experience. Washington, Baltimore and Oakland all went from a losing season in 2011 to the playoffs in 2012 primarily with young pitching. Check out the two tables for more:
Now check out the teams with the most starts by those 30-and-older:
? The West Coast is the new economic engine
Felix Hernandez of Seattle (elbow willing) will be the highest paid pitcher in history -- until Clayton Kershaw of Los Angeles leapfrogs him.
Four of the six most expensive free agents who switched teams over the past four years landed in Los Angeles: Zack Greinke of the Dodgers and Albert Pujols, Josh Hamilton and C.J. Wilson of the Angels. The Angels and Dodgers combined will outspend the Yankees and Red Sox combined.
The Giants have won two of the past three World Series while boosting their payroll 46 percent, from $96 million in 2010 to $140 million this year. In that span the Dodgers increased their payroll 113 percent, from $102 million to $217 million.
? Fans like close games and close pennant races more than home runs
One of the great myths about The Steroid Era is that steroids "saved baseball" and made for a great period of huge economic growth. It's baloney. After the great home run race of 1998, per game attendance went down three of the next five years. Take the best per-game attendance in The Steroid Era (1995-2003) and it would be the worst attendance rate of The Testing Era (2004-2012).
We are in an extremely rare period in the game's history because offense is down and attendance is up. There are many reasons why this is happening, including something as macro an issue as the frightening pace in which America is becoming an entertainment-based society. We spend roughly three times as much money on entertainment as we do education. According to the Bureau of Labor Statistics, our overall spending from 1991-2011 rose 33 percent, but our spending on "Fees and Admissions," which includes what we pay to watch sports, jumped 65 percent.
To an audience craving entertainment, baseball has provided more competitive games. Home runs are great, but having an outcome in doubt is better. The stands empty out in a blowout and stay full for a close game even if the ball never left the yard.
How much has the game changed? Consider this: Here are the seasons with the most games decided by one or two runs. Note three of the four seasons with the most such close games occurred in the past three years.
1. 2011: 1,192
2. 2010: 1,181
3. 2005: 1,163
4. 2012: 1,154
5. 1998: 1,124
Here's another snapshot to ponder: comparing vital stats of 1999, at the height of The Steroid Era, to last season:
It's a neat trick: you lose 1,000 home runs and pick up 2,000 fans per game.
But it's not just about the logic that the fewer runs are scored the more likely the games are to be close. It's also about the depth of good teams. The 12th best team in baseball this year is way better than the 12th best team in 1999.
? Money doesn't buy championships
Okay, it helps. But the most important "skill" in baseball today is the ability to stay on the field. With steroids and greenies banned, younger players, who tend to be fitter and healthier, are more important than older players. And because service time is a major component of salary, younger players also are cheaper than older players.
I've already demonstrated how young starting pitching is an asset, not a liability. Keep this in mind as well: the average age of position players last year (28.5) dropped to its lowest level since 1993.
The Dodgers, emboldened by a ridiculously lucrative local TV contract that further defines our gluttony for entertainment, are the most intriguing team to watch this year because they have borrowed from an old model to try to win at today's game: overspend on veteran players the way the Yankees, Red Sox and Phillies once did.
While the Dodgers become the biggest spenders in baseball, New York is on a self-imposed salary cap for 2014 ($189 million) and for two years has not handed out any of the top 20 free agent contracts. The Red Sox are preaching fiscal conservatism after the quest for "sexy" name players blew up into a 93-loss season last year. The Phillies essentially sat out the free agent market while hoping Chase Utley, 34, Ryan Howard, 33, and Halladay, 35, still have enough of that all-important "stay-on-the-field" skill at a combined cost of $55.2 million.
? There is no "formula" to win the World Series
I do believe good postseason teams have a good "rally" profile on offense; they cut against the trend of a strikeout-dominated game by putting the ball in play and advancing runners in many ways. I used that theory last year in picking the Division Series, Championship Series and World Series and went 7-for-7. In the Giants, especially after Marco Scutaro joined Angel Pagan at the top of the lineup, I saw the same quality that made the Cardinals the 2011 world champions: they fight off strike three in a game where it comes too often.
But the talent gap is so close among teams and the postseason format such a minefield that I have to admit luck is a huge factor. San Francisco rode a magic carpet. It went 6-0 in elimination games, saw Reds ace Johnny Cueto leave with an injury after getting one out, watched Brandon Phillips of Cincinnati make the first out of a potential clincher at third base and won a game when Hunter Pence hit the same pitch three times.
? The game turns over quicker than ever
Thirteen teams posted a losing record last year. One of them -- and probably two -- will be in the postseason this year. Book it.
In the 18 seasons with the wild card format in use, 37 of the 146 playoff teams had a losing record the previous year -- that's 25 percent of all playoff teams, or an average of about two teams every year that turn around from a losing team to a playoff team. It's happened for at least one such team in 17 of the 18 years. Last season, the first with a second wild card in each league, included four such instant winners: Washington, Cincinnati, Oakland and Baltimore.
What does it mean for the 13 aspiring turnaround teams this year? Forget Houston; the Astros have no shot. The Mets, Marlins, Rockies and Cubs are long shots. That leaves two possible surprise teams from among these eight teams: the Jays, Royals, Mariners, Red Sox, Indians, Twins, Pirates and Padres.
Think about that again: the 2012 playoffs are likely to include one or two from among Toronto, Kansas City, Seattle, Cleveland, Boston, Minnesota, Pittsburgh and San Diego.
Surprised? That's the beauty of baseball 2013: we can count on surprises. Never has the game been so unpredictable.