Orioles look to recapture magic, but history is not on their side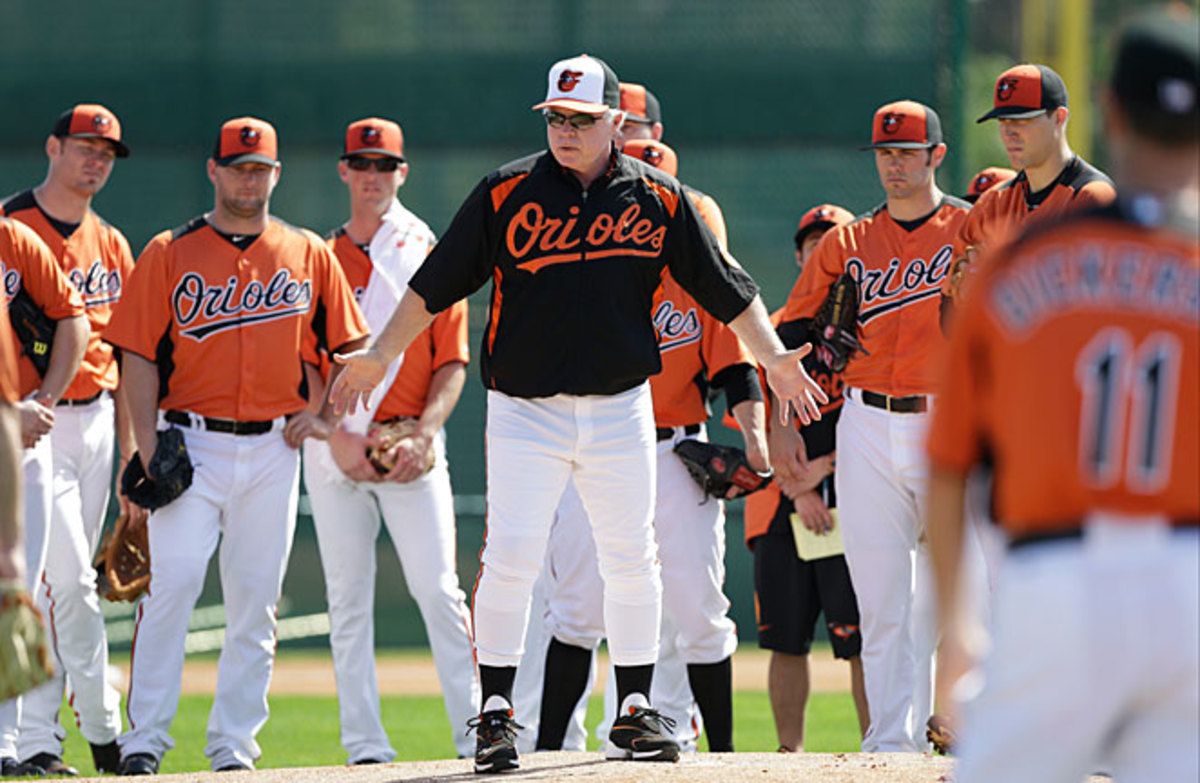 SARASOTA, Fla. -- Watching the Baltimore Orioles win baseball games last year was a study in the illogic. They were poor at getting on base and scoring runs, only one pitcher threw enough innings to qualify for the ERA title, only one pitcher won more than nine games and none won more than 12, and they had more players strike out 100 times (seven) than any team in the history of baseball. Oh, and they burned through 52 players, many of whom were part of the Les Miserables-like cast of 75 that suited up for their Triple-A team, Norfolk.
Somehow, like one of those mentalist tricks where a spoon appears to bend untouched, the Orioles won a wild card spot with 93 wins.
How did they do that? It made sense if you let yourself believe that the O's won an inordinate amount of close games because of the depth in their bullpen and because they hit more home runs than all but one team in Baltimore history, with many of those homers late-game decisive bolts. A cynic, fully aware of the randomness of one-run outcomes, would suggest they were one of the luckiest teams in baseball history.
Count the Nevada gaming industry as a cynic. The Atlantis Casino in Reno put the over/under number of wins for the Orioles this year at 76.5, the lowest number of any team in the AL East and -- gulp! -- lower than those of the Pirates, Royals and Indians. The way Baltimore GM Dan Duquette figures it, the odds are that his team will be better than last year.
"Our core players, guys like [Adam] Jones, [Matt] Wieters, [Nick] Markakis, are all young and just getting to their prime years," Duquette said. "Our defense improved in the second half last year with the additions of [outfielder Nate] McLouth and [third baseman Manny] Machado and [Mark] Reynolds moving to first base. We had the second-best record in the league down the stretch. So we should be better defensively. And Machado is a special player. He's what, only 20? You're looking at someone who definitely profiles as a middle-of-the-order hitter."
All true, just as is the large inventory of quality pitchers that give manager Buck Showalter depth and versatility, even if he has no true ace. Duquette is the Antiques Road Show of GMs, collecting thrift shop and consignment pieces with the hope that beneath the dust and rust is hidden value (i.e., McLouth, Lew Ford, Luis Ayala, Jason Hammel, Miguel Gonzalez last year). This year, the signing of Jair Jurrjens gives Showalter 13 starting pitchers to evaluate -- 13! -- among 60 players in camp.
The Orioles essentially return the same spoon-bending team from last year. They checked out free agent outfielder Josh Hamilton, but saw the sticker price and kept on walking. Here are their only roster additions: Russ Canzler, Alexi Casilla, T.J. McFarland, Yamaico Navarro, Trayvon Robinson and Danny Valencia, the kind of names that do not elicit runs at the box office.
What Baltimore has announced with a quiet offseason is that it believes what happened last year was not a fluke, but the start of something big -- a cultural shift for a franchise that endured 14 straight losing seasons until then.
"The players believe in the manager," Duquette said, "and the manager believes in the players. That's only a good thing."
Maybe Duquette is right. But to be right -- for the Orioles to have another year like last year -- requires them to obliterate strong historical forces that suggest what they did is not sustainable.
First, consider their record in one-run games: 29-9, the greatest winning percentage in such games in baseball history (.763). The previous best full-season record in one-run games had held up for 104 years, going back to the 1908 Pirates.
Including strike years, the 2012 Orioles were only the 15th team since 1900 to win 70 percent of their one-run games. If winning close games represented a sustainable skill -- if you believe the ability to play small ball, or a good bullpen, or a manager's strategic skills, or anything short of pixie dust provides a logical reason for it -- you would expect such a clutch team to win one-run games the next year at a similar clip, or at least close to it. But it's not true.
Of the previous 14 teams to win 70 percent of their one-run games, all of them but the 1908 Pirates won fewer such games -- a lot fewer -- the next year. (The 1909 Pirates won the same number of one-run games.) Here's what happened to the 14 members of the .700 club the year after luck was with them:
History suggests the Orioles will be about eight games worse just in one-run games this year.
That's not all. There is another force working against them: teams that make huge jumps in win totals almost always backslide. The 2012 Orioles won 24 more games than the 2011 Orioles. Over the 17 full seasons with the wild card in use (1996-2012), they became the 15th team to improve their win total by at least 22 victories. Among the previous 14 teams with a +22 jump or more, all of them had worse records the next year and none of them made the playoffs. Here's the bad news for the Birds:
Recent breakout teams just don't get even a little better after they just got a lot better. Thirteen fewer losses for the O's puts them at 80 wins -- still better than the wise guys in Nevada expect, but back to a losing season.
Of course, none of this history matters a whit in the Baltimore clubhouse, which these days is filled with killer ping-pong games, bumper pool matches, 60 players with 59 lockers (an auxiliary locker was needed) and a grownup confidence that comes from falling one game short of the ALCS last year.
"Now I know to take a breath," centerfielder Adam Jones said about the postseason experience. "I didn't take a breath all five [ALDS] games. My friends texted me, 'Don't be afraid to take a breath.' Me, Markakis, Wieters, Machado . . . we all got to the postseason for the first time. Now we know to take a deep breath and just do what got us there."
Jones, 27, has become one of the faces of the franchise, a 32-homer, Gold Glove centerfielder last year who finished sixth in MVP voting and was thrilled to be named the centerfielder of Team USA in the World Baseball Classic. Before Jones left for spring training, one of his mentors, Hall of Famer Tony Gwynn, told him, "Now it's time for you to show it all."
And Jones nodded in acknowledgment of the message: it's time for him to hit the next level, including, as he said, "team leadership and whatever it takes."
Jones stands as a proxy for the state of the franchise: having turned one corner, it still has enough youth, confidence and "ceiling" to believe last year was just a beginning, not a fluke. History suggests otherwise, its pages filled with teams that regressed after winning so many one-run games as well as teams that regressed after they took an enormous leap in wins. It's the kind of history that calls for the Orioles, if they expect to play another October, to defy logic again.