Ranking the 10 most powerful people in baseball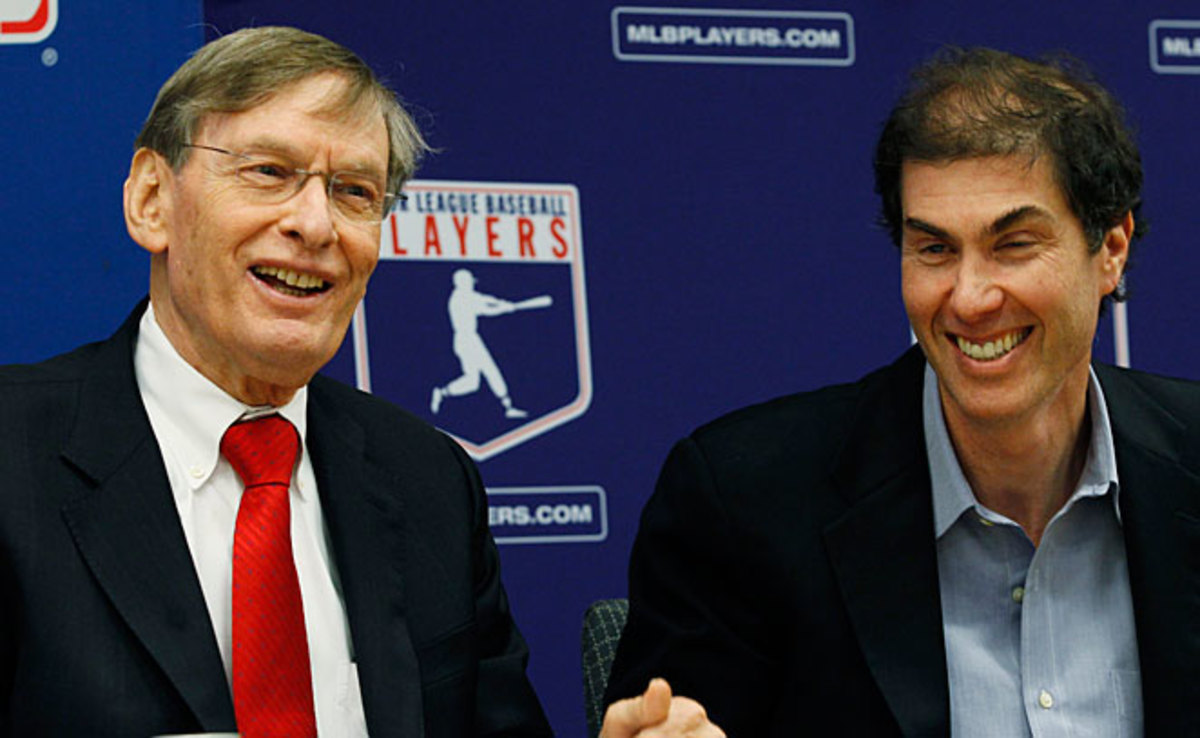 The most powerful force in sports is television money -- and has been since Game 6 of the 1975 World Series, when three days of rain turned an afternoon weekend game into an 8 p.m. start on a Tuesday night. NBC affiliates were steamed about losing their sitcoms. But by the time Carlton Fisk waved his home run fair, the ratings were through the roof and sports had become part of primetime American life for good.
That driving force has become even stronger in today's age of technology because sports hits the sweet spot of what attracts viewers and advertisers: it reaches young men, provides a ton of content relatively cheaply, and best of all is best consumed live -- that means an engaged audience and no zapping through commercials on your DVR.
By that measure, if you were to choose the most powerful people in baseball you might as well line up the TV executives from Fox, Turner, ESPN, MLB Network, Time Warner Cable, YES, Comcast, etc., and you would have a very good argument. But let's say you have to actually work in baseball, not just with baseball, to be considered for baseball's 10 most powerful people. Now the list becomes a little less clear and a lot more fun. Check it out:
1. Bud Selig, MLB Commissioner
No one is close. Selig has served in the role of commissioner since 1992, a tenure second only in length to that of the first commissioner, Judge Kennesaw Mountain Landis (1920-44). Selig rules in the manner of a powerful speaker of the house: he knows where the votes are and he knows how to play hardball when needed. Almost nothing happens in baseball unless it occurs on Selig Time. When he's ready for change (expanded playoffs, caps on amateur spending, etc.) it gets done, and when he's not (the Athletics' move to San Jose, expanded replay, etc.) it doesn't.
His greatest assets are his institutional knowledge, his love for the game and the daily energy he brings to monitoring all baseball intelligence, large and small. As one owner once put it, "The amazing thing about Bud is he knows all the issues unique to every club. Part of that comes from having the background of running a club himself (as the former owner of the Milwaukee Brewers). But it also comes from the unbelievable amount of time he puts in on the phone with all the other owners."
Selig was scheduled to retire after the 2012 season, but the owners, knowing full well they can't find anybody better than him, convinced him to sign on for another two years at about $22 million a year. The contract takes him through the 2014 season, when Selig turns 80. He has insisted there will be no more extensions.
2. Mark Walter, Chairman, Los Angeles Dodgers
How does an owner who hasn't been in the game for even a year become so powerful? Easy: just get your hands on a $7 billion windfall, which is what Time Warner Cable agreed in January to pay the Dodgers over 25 years, beginning next season, to broadcast their games. After Frank McCourt ran the Dodgers into bankruptcy, Walter, the chief executive officer of Guggenheim Partners, a privately held global financial services firm, led a group that purchased the club for a record $2.15 billion. The value of the club was tied to the 2013 expiration of the Dodgers' current TV deal -- a great accident of timing as rights fees for regional sports networks have been exploding.
Now Walter has the highest payroll in the game, a refurbished beauty in Dodger Stadium, and the rest of baseball complaining that only a fraction of his TV money actually counts toward revenue-sharing and luxury tax formulas.
3. Scott Boras, player agent
His image may be that of the most polarizing agent in the business, but Boras gets results. It's not only the contracts he negotiates -- Prince Fielder (9 years, $214 million), Adrian Beltre (5 years, $80 million), Jered Weaver (5 years, $85 million), Matt Holliday (7 years, $120 million) and Jayson Werth (7 years, $126 million) to name some recent deals -- but it's also the top-notch players he continues to bring into his agency. Next up on the free agent market: Robinson Cano and Jacoby Ellsbury. And next up among the players who could influence the next decade: Bryce Harper, Gerritt Cole, Stephen Strasburg, Matt Wieters and Elvis Andrus.
Boras, who turned 60 last fall and has been negotiating deals since 1982, is as relevant as ever. With his extensive list of top clients, his roster of available nutritionists, trainers, sports psychologists and the like, his training facility, propriety database and a GM's obsessive interest in player development and franchise values, Boras qualifies as running baseball's unofficial 31st franchise -- with just maybe a payroll to rival those of the Marlins and Astros.
4. Bob Bowman, Chief Executive Officer, MLB Advanced Media
Maybe baseball isn't what jumps to mind when you think of hugely successful high-tech startups, but it should. Under Bowman's leadership, MLB Advanced Media is putting baseball into the hands of more consumers in more ways across more platforms and for more profit than any sport. Almost half the 74 million tickets sold to MLB games are sold online. The AtBat apps for phones and tablets annually are among the top-grossing apps on iTunes. And people gladly are plunking down about $120 to watch MLB.tv.
One of Selig's greatest achievements as commissioner was convincing owners a long time ago -- when no one knew what this new-fangled Internet thing could do for revenues -- to share future online revenues equally rather than having every franchise out for itself. It was his "Pete Rozelle" moment. Bowman has made them very, very happy.
5. Michael Weiner, MLBPA Executive Director
He's been described as the smartest man in the room (any room), but without the need to flaunt such a distinction. Weiner, who has worked in the MLBPA since 1988, has deftly continued the collegial relationship between the MLB and union suits -- though Weiner's preferred suit is jeans, sneakers and a casual polo. The current five-year Collective Bargaining Agreement was constructed with virtually no rancor and extends labor peace to an unprecedented 21 straight years.
Under Weiner's leadership, baseball players became the first North American team sport athletes to agree to in-season blood testing for HGH as well as state-of-the-art testing protocols to better detect synthetic testosterone and other PEDs. Moreover, Weiner recently said the union will consider tougher penalties for PED users if players continue to voice the need for such a change.
6. Rob Manfred, MLB Executive Vice President, Economics and League Affairs
Often mentioned as a potential successor to Selig, Manfred is responsible for MLB's relationship with the union as well as all human resource issues within the game. His power and responsibilities grew after Selig decided not to replace Bob DuPuy, the former MLB president and chief operating officer who left in 2010.
Manfred essentially is Selig's field general, devising or implementing strategies at ground level on a wide range of hot-button issues, whether it be ushering the Dodgers through bankruptcy and sale, firing an arbitrator after Ryan Braun won his appeal of a failed drug test on a technicality, or flying to Miami to gather information on the Biogenisis PED scandal. After meeting with Manfred, Miami New Times editor Chuck Strouse aptly described him as "a charming bulldog with an upstate New York accent."
7. Derek Jeter, shortstop, New York Yankees
He is more than just the most popular player on the world's most popular team. In the vernacular of the business of entertainment today, Jeter is a brand unto himself. No player is more respected by his peers. No player appeals more to both children and parents. Madison Avenue, Park Avenue and Main Street all love him. He is the rare athlete today who is likable, humble, untouched by scandal and synonymous with winning. And oh by the way, the man can still play a bit. At age 38, he led the major leagues last year in hits and came to the plate more times than anybody in the history of the game from age 36 on.
8. Tim Brosnan, MLB Executive Vice President, Business
Brosnan's domain, the business of baseball, is very good these days. Last year he sewed up $12.4 billion in national television deals from 2014-21, representing more than a 100 percent jump from the existing deals. Brosnan also oversees licensing, sponsorship, domestic and international broadcasting, special events and MLB Productions. Under Brosnan, for instance, in 2004 baseball signed the largest non-television media deal in sports history (a $650 million deal with Sirius XM radio) and in 2009 launched the MLB Network, the most successful network launch in cable television history. (Full disclosure: I serve as an analyst on MLB Network.)
9. Mike Trout, outfielder, Los Angeles Angels of Anaheim/Bryce Harper, outfielder, Washington Nationals
These are your cutting edge tech stocks. Do you want to buy in now? Players such as Justin Verlander, Buster Posey and Felix Hernandez have greater resumes, but the 2012 Rookies of the Year are entered as a tandem here because they represent the power of potential. Look at it this way: say Selig decided to make everybody in baseball a free agent today. Nobody would get more money than Trout, who at age 20, and virtually without the entire month of April, put up one of the best seasons of a generation -- for rookies or veterans.
Said one agent, "The Angels valued Albert Pujols at age 41 at $30 million. How much do you think the prime years of Mike Trout would go for right now at that rate? It's got to be more than $30 million."
Harper is a year younger than Trout and is one of the game's great attractions because he has light-tower power, plays the game so hard on a winning team in a major market, and, in a manner that is common in football and basketball but is rare in baseball, had national brand recognition even before making it to The Show.
10. Hal Steinbrenner, General Partner, New York Yankees
Okay, he doesn't need the back page of the tabloids the way his father did, but the Yankees are still the Mona Lisa and a Steinbrenner still owns the most valuable property in baseball. Now that's power. Steinbrenner flexed his financial muscle recently in agreeing to sell 49 percent of the YES network to Rupert Murdoch and News Corp. The most valuable regional sports network in the country was valued at $3 billion. After three years, News Corp. has the right to increase its stake in YES to 80 percent.
Steinbrenner faces a crossroads over the next 10-12 months. He wants to sign Cano to an extension, cut the team's 2014 payroll to $189 million to accrue significant tax and cost savings under the CBA and still field a team capable of winning the World Series. Will the Yankees actually stick to a self-imposed salary cap at a time when baseball revenues, especially on the TV side, are booming? And can they still win while doing so? Stay tuned.