The case for the World Baseball Classic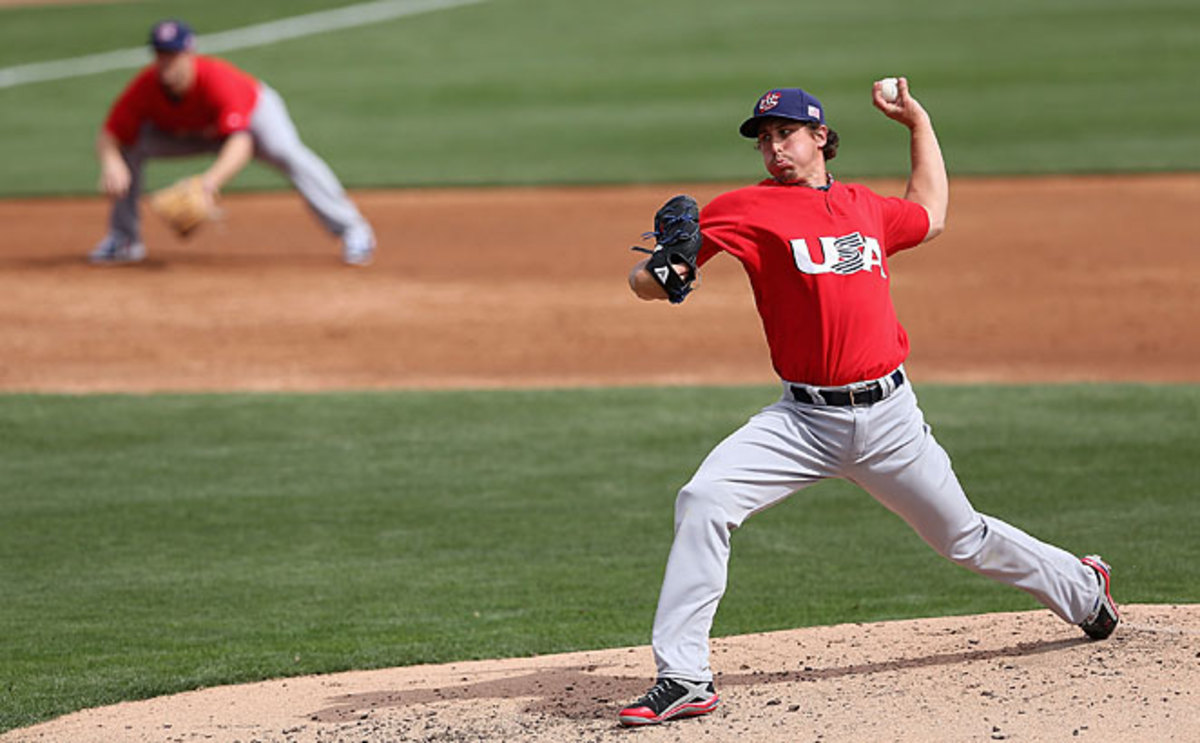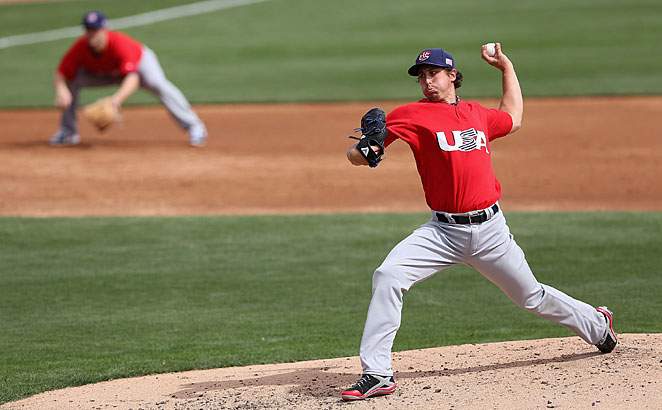 SCOTTSDALE, Ariz. -- Angels ace Jered Weaver threw three innings against Italy Wednesday in Tempe, Ariz., but it was not a World Baseball Classic game. It was your garden-variety, sparsely-attended midweek afternoon spring training glorified scrimmage, especially with Los Angeles trotting out an entire jayvee team behind Weaver. He was, as pitchers like to say this time of year, "just getting my work in." He wanted no part of pitching in the actual WBC, which would have required him to ramp up his throwing regimen by about three weeks to get to game-ready shape.
"I would love to do it," Weaver said. "[But] my first priority is to be healthy and get ready for my organization."
A few hours later, Derek Holland of the Texas Rangers, wearing a red USA jersey, worked on fielding grounders on a back field of Salt River Fields in Scottsdale with Greg Maddux, the USA pitching coach and the winningest pitcher alive. Holland will start Sunday against Canada.
"I jumped at the chance," Holland said about playing in the WBC. "It's a childhood dream come true. I have grandparents who were in the service. They were at Pearl Harbor. I've always felt like if I weren't a baseball player, I'd be in the service, too. So it's the chance to represent my country. And to work with Greg Maddux and be around all of these great players is just something that's too good to pass up. It really is a childhood dream coming true."
One tournament. Two AL West pitchers. Two different viewpoints. Neither one is wrong, though the reasons to opt out continue to get more attention than the reasons for opting in -- at least in the United States.
The World Baseball Classic gets more coverage here for what it is not than for what it is. The best American players don't sign on to play. The games don't get great ratings. They rarely sell out. It's held the wrong time of year. It's not a great betting opportunity. A Kardashian never has been seen at one.
In other words, it's not American enough.
As the USA opens pool play Friday night in Phoenix against Mexico, understand this, American fans, when it comes to the WBC: It's not about you. Yes, that's hard to believe, you with the remote control and the Cheetos-stained fingers, but the WBC is a critical success without you -- and Weaver and Buster Posey and Justin Verlander and Clayton Kershaw and Prince Fielder and everybody else who opted to take a pass on the world's best international baseball tournament.
CORCORAN: Pool D preview: Americans should advance easily
One of the primary driving forces when the WBC began in 2006 -- two years before the Beijing Olympics -- was not to give the gluttonous American sports fan another calorie-laden overprocessed event on his all-you-can-eat buffet. It was to establish a foothold in the largest emerging consumer market in the world: China. The owners and players knew that the biggest bang toward injecting meaning into their catch phrase of "growing the game" meant tapping into a market of 1.3 billion people. That's a lot of MLB.tv subscriptions. The WBC, riding the rocket booster of Olympic interest, was baseball's official invitation for China to join the club. And once China sent one of its own to star in the big leagues -- the Yao Ming of baseball -- the growth of the sport would be unimaginable.
Alas, China hasn't exactly embraced the nuances of the game overnight. After baseball sent some of its best people there, for instance, to help build ballfields for the Beijing Games, almost as soon as the Olympic torch was extinguished the fields were plowed over to make way for a shopping mall. The growth of baseball in China appears to be a longer-term project than what MLB first envisioned.
Since then, however, the 2009 and 2013 WBC tournaments have succeeded in energizing places such as Japan, South Korea, the Netherlands (where a $13 million ballpark is being built), Brazil and throughout Latin America. To borrow from American standards of measurement, the two highest-rated programs in Japan since 2006 -- even higher than the Beijing Olympics--- are WBC final games: Japan's 2006 win over Cuba (which pulled a 43.4 rating) and its 2009 win over South Korea (which did a 37.8). Almost half the TV sets in Korea were tuned to that 2009 thriller.
When South Korea was eliminated in pool play this year, manager Joong-Il Ryu issued a heartfelt, painful apology that stood as perhaps the best evidence yet of the tournament's import. "So I'd like to apologize to the Korean people for disappointing you . . . ," he said. "Some said the players' abilities are not as good as before, but they were the best players I have ever had. I was not good enough as their manager."
Last week in Fukuoka, Japan, more than 2,170 media credentials were issued for pool play games held there. In Taiwan, the game between Chinese Taipei and South Korea drew 23,431 fans, the largest crowd ever for a baseball game there.
Most importantly, the WBC has funneled almost $23 million in proceeds to member countries and the International Baseball Federation to help support grassroots programs.
The sloppy talk radio dismissal that "nobody cares about the WBC," at least not as much as the thrilling competition between catchers Chris Stewart, Francisco Cervelli and Austin Romine in Yankees camp, is provincialism at work.
Worse, still, for the WBC is how MLB's own players, managers and general managers often mistreat it. Teams cannot bar a player from participating in the event unless he is recovering from an injury, but they often apply verbal arm-twisting to let the player know they don't recommend it. One WBC player, for instance, reported that many of his friends who otherwise wanted to play in the event chose not to because their club discouraged it. Other players don't see the logic in leaving their MLB team during spring training -- as if anybody ever needed all seven weeks full of Groundhog Days in spring training.
"We're doing everything here that we would be doing in camp to get ready," said USA third baseman David Wright of the Mets.
The USA is 7-7 in WBC games and hasn't won it yet, which also has contributed to the tournament's lack of relevance on the American sports radar. The two quickest ways to upgrade its profile in the states is either the USA comes up with a Dream Team or it wins the tournament in spectacular fashion. (Best case scenario for generating interest: the USA plays an undefeated Cuba team in the final March 19 in San Francisco, because Cuba still clings to a cloak of mystery and notoriety as something of an enemy of the state.)
The Dream Team idea sounds good -- that Verlander would throw to Buster Posey backed by an infield of Fielder, Dustin Pedroia, Troy Tulowitzki and Evan Longoria and an outfield of Mike Trout, Bryce Harper and Andrew McCutchen, none of whom are here. But baseball doesn't have true national stars the way basketball does, and the Dream Team concept isn't happening because the American player typically does not hold nationalism above obligation to employer. (Don't expect shame or apologia from USA if it doesn't win yet again, for instance.)
When first baseman Mark Teixeira of the Yankees and USA was knocked out of the WBC with a wrist injury, USA officials had to make several calls for a replacement before winding up with Eric Hosmer of the Royals (a fine choice, by the way). A USA source said team officials inquired about Ryan Howard of the Phillies, but were told Howard was not in game-ready shape. They also asked about Fielder, who had turned them down in November but was thought to be harboring second thoughts. Apparently not -- Fielder declined again.
USA need make no apology for the team it will put on the field Friday night, especially with an outfield of Ryan Braun, Adam Jones and Giancarlo Stanton representing 110 home runs from 2012. The tournament isn't perfect and never will be because there is no time of year for it that doesn't involve some compromise.
(Can we at last please have a moratorium on suggestions of a better time of year to hold the WBC? Do you not think that MLB and the IBF have been studying this for more than seven years? Every other time period -- late March, All-Star break, November, etc. -- is fraught with more problems than what we have now.)
This is not to say the tournament cannot continue to be tweaked as it evolves. The tiebreaker procedures need a review. The USA probably should play out of the country in pool play instead of essentially competing with itself (i.e., spring training) in Arizona. (The team drew 43,000 in Toronto in 2009 and would be a huge draw in Puerto Rico or the Dominican Republic, where they don't get to see many major leaguers.) Player access -- behind the scenes cameras, in-game microphones on players, etc. -- should be enhanced to better tell the narratives of the tournament.
This is, after all, just the third WBC. The third Super Bowl was blacked out in the host city of Miami and kicked off at 3:05 p.m.
The odd part about the American criticism of the WBC is that it generally comes from players and people who never actually have seen the event, like dismissing an ice cream flavor upon name alone. If you watch the event, especially in person, you cannot help but be hooked. "The intensity," Wright said, "is up there. This is not by any means an exhibition."
Much of the fun is in finding out just how different the American game of baseball can be: the sights, songs and smells in the stands; the way the Cubans swing from their heels and manage games with an urgency that walks right up to the line of panic; the way the Japanese keep their bat on plane for so long through the strike zone and play the littlest form of littleball (they had one extra base hit in the first three games and had as many walks as strikeouts); the way the Dominicans admire and celebrate home runs; the way the Canadians, so many of whom also grew up playing hockey, are loaded with lefthanded hitters; the way the Italians bring world-class flavor to the traditionally prosaic postgame spread ("Oh, to die for," recalled pitcher Jason Grilli of the 2009 postgame culinary delights).
Indeed, the beauty of the WBC can be found in exactly the same vein why it hasn't played as well here: because it is so very un-American.