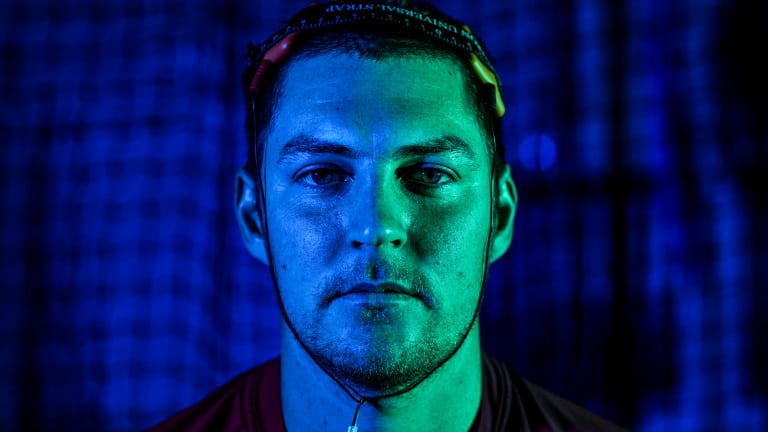 Trevor Bauer Is More Concerned With Being Right Than Being Liked
He's the ultimate self-made star: an average (if that) athlete who leveraged a sharp baseball intellect and obsession with data into a Cy Young candidacy. He knows a whole lot more than the rest of us. So why does he act like he wants us to despise him?
This story appears in the Feb. 25, 2019, issue of Sports Illustrated. For more great storytelling and in-depth analysis, subscribe to the magazine—and get up to 94% off the cover price. Click here for more.
Trevor Bauer sits on a folding chair in a drafty warehouse, sipping applesauce from a plastic cup and electrocuting his brain. Well, electrifying his brain, actually. Bauer, who values precision, points out that there's an important difference. To electrocute something means to injure or kill it. But he will spend 20 minutes with one milliamp coursing, not unpleasantly, between the electrodes affixed near his temples in an effort to improve the organ that was already most responsible for his near Cy Young season with the Indians last year—which, he will tell you, should have been a Cy Young season for real.
The technique is called Transcranial Direct Current Stimulation, or tDCS. Studies have suggested that it can temporarily increase synaptic plasticity, thereby helping subjects acquire skills faster. The U.S. military has used tDCS to expand the capabilities of its target analysts, but Bauer's mission today is to revamp his changeup. "Anything to expedite the learning curve," he says.
The warehouse is one of three in an industrial park outside Seattle that houses Driveline Baseball, the think tank-slash-laboratory-slash-training center where Bauer, now 28, has spent most of every offseason since 2013. He is designing this pitch—which will become the final weapon, possibly, in a six-piece arsenal—with the help of machines manufactured by Trackman and Rapsodo (which reveal not only each pitch's speed but also its movement, spin rate and axis) and a high-speed camera made by Edgertronic, which captures, at 2,000 frames per second, the behavior of each of his fingers as the ball leaves them.
The applesauce is a snack.
While the tDCS device—basically a nine-volt battery with wires attached to it—is new, last winter Bauer deployed the other technologies to develop a slider. The slider worked, and he finally performed as he always told everyone, through six average seasons, that he would. His ERA dropped nearly two full runs, from 4.19 in 2017 to 2.21, the third best in the majors. The point of the slider was to keep hitters from focusing on his curveball, which has always been excellent. The changeup, ideally, will keep hitters from looking for his slider. 
Driveline is a testosterone-soaked place—if a woman walked through any of its doors during the two days in January that I spent there, I didn't see her—and Bauer loves to perpetuate the puerile jokes that clank around like foul balls. He likes to begin his pitch design sessions at 4:20 p.m. He throws three sets of 23 pitches; add them up. He wears T-shirts that read bofa, which ostensibly stands for Bauer Outage For America but is really a reference to male body parts that, unlike the brain, come in sets of two.
Every action undertaken in the warehouses is categorized as either High-T, meaning high testosterone and therefore aggressive and competitive, or Low-T, meaning not. Everyone at Driveline constantly tells Bauer that he falls into the latter category, which seems like trash talk until he reveals that he has asked them to call him that because he is Low-T, physiologically. The normal level of testosterone in the bloodstream for males runs from 250 to 1,100 nanograms per deciliter. Over the past six months, Bauer's has ranged between 180 and 400, which means, he says, that despite a formidable training regimen and strict diet, he finds it nearly impossible to cut his body fat. To his frustration, the latter increased this winter by 1%, to an unimpressive 22%.
In fact, if you were to line up all of the 50 or so players who were training at Driveline on the days I visited and draft them based on body type alone, Bauer would go nowhere near the top. He is 6' 1", about 200 pounds, and is notably unsinewy. 
Still, Bauer was by far the most accomplished baseball player at Driveline, and its alpha dog. He had focused on pitching since watching Tom Glavine, Greg Maddux and John Smoltz star for the Atlanta Braves on TBS as a boy and deciding he wanted to be like them. Back then his father, Warren, didn't know much about baseball, but he did know about processes—how one thing becomes another. He had been trained as a chemical engineer and worked in the oil fields of California, figuring out how to pull the heavy oil, difficult and expensive to extract, from wells after all the light stuff had been tapped. For Trevor, baseball success would be heavy oil, obtainable only by a process no one had tried yet.
Now, says Bauer's former Indians teammate Andrew Miller, "he's shockingly one of the best pitchers in the game, and it's not because he's built like Aroldis Chapman or Nolan Ryan. He's not Nolan Ryan—and yet he throws like him." Exactly like him in form, if slightly slower in result; Bauer painstakingly modeled his mechanics after the all-time strikeout king's, and last year his fastball averaged 95 miles per hour and topped out a shade beneath 100.
Bauer's journey ought to inspire, says Kyle Boddy, the founder of Driveline. "What people should learn about him—what kids should learn about him—is that, f---, it really is possible to pitch in the big leagues, even if you're just an average, nerdy kid. It requires otherworldly effort, but it can be done."
For 20 years Bauer has engineered himself for one task only: to throw a baseball. Despite the time of day at which he likes to begin his pitching sessions, he doesn't smoke anything; he's never been drunk; his haircut is a number 3, all the way around; he can't throw a football 10 yards. 
Last year, he was running sprints in the outfield when his longtime Cleveland teammate Michael Brantley looked at him with a cocked eyebrow.
"Dude, you are so slow," Brantley said. "Why are you running sprints? You're not fooling anyone."
"Brant, I never claimed to be fast," Bauer said. "I'm good at two things in this world: throwing baseballs, and pissing people off." 
Bauer is known to Sonya May, her husband, and their four children as Just Trevor. The May family got to know Just Trevor when he was 17 and assigned to stay with them at their home in Cary, N.C., for a week during tryouts for USA Baseball. Sonya could immediately tell he wasn't like the other teenage prodigies; he was the only one who spent his downtime reading Physics Today and doing card tricks for her kids. 
"He reminds me of Sheldon Cooper on The Big Bang Theory," May says. "He's the most honest person, and he's not going to sugarcoat anything. People aren't used to that." The Mays were used to it—they are a family of avionics engineers—and a decade later Bauer considers Sonya a second mother and one of his closest friends, a group that isn't large in part because of his allergy to all things saccharine.
Sheldon Cooper is perhaps the most beloved character on TV, but baseball's Sheldon is widely seen as a villain, or at least a pest. In conversation Bauer's effect is unremarkable. He relaxes; he smiles. It's the content of what he says that is different. 
For instance: Bauer says he was certain he was going to win last year's AL Cy Young until Aug. 11, when a line drive off the bat of the White Sox' José Abreu fractured his right leg. Even though he trailed the other front-runner, Chris Sale of the Red Sox, by a slim margin in ERA, 2.04 to 2.22, "Sale was going to fade," Bauer says, "like he always does, and I would have run away with it." Sale wound up getting hurt, and the Rays' Blake Snell won the award, but Bauer thinks that if the writers were going to give it to a pitcher with only 1802⁄3 innings—and not Houston workhorse Justin Verlander—then the winner should have been Bauer himself, who threw 1751⁄3. He tied for sixth. Of his own teammate Corey Kluber, who came in third, Bauer tweeted in November: "Plot twist, I was better than Kluber this year."
"I try to make the things that I say be based in reality, based in facts, and truthful," Bauer says. "And if that's the case, and you want to be upset at me for stating the truth, that's your choice. I don't know if I'm not afraid of sticking middle fingers in people's faces, or if I enjoy it. But I end up doing that a lot."
He's always been this uncompromising. As a kid in California, all he wanted to do was strike batters out, and those results were the ones he reported to Jim Wagner, his first private pitching coach.
"How'd your weekend go?" Wagner would ask.
"I threw four innings, struck out 11."
"How many did you walk?"
"It doesn't matter, Jim. I struck out 11."
On his recruiting trip to UCLA, he wore a hat bearing the logo of his favorite college basketball team: Duke. The Bruins' hoops coach, Ben Howland, met the baseball recruits and shook their hands, but pulled his hand away when he saw Bauer. "You're going to have to take off that hat," Howland said. 
Did he? "No, of course not."
A current outrage for Bauer is what he is certain is the widespread use among major league pitchers of foreign -substances—particularly a pine tar–rosin blend called Pelican Grip Dip—to make their fastballs spin more and consequently get hit less. Such substances, smuggled to the mound by belt buckle or glove or hair, are banned, but umpires check for them only at a manager's request. Bauer believes skippers don't because their own hurlers are sticky-fingered too. 
He says, "If I used that s---, I'd be the best pitcher in the big leagues. I'd be unhittable. But I have morals." He reveals now that he did use Pelican for one inning last year, the first of his April 30 outing against the Rangers, as some statheads had sussed out. He threw nine four-seam fastballs, and they averaged 2,600 revolutions per minute, about 300 RPM higher than normal. Then he stopped, and his spin rate dropped to its standard 2,300 RPM for the remainder of the game. He felt as if he had proved his point.
Bauer has a reputation as a troublesome teammate. Some members of his organization have griped that the clubhouse consists of "24 plus Trevor," and, says one player, "I think Trevor cares about Trevor a lot." Of course he does, Bauer says. "In what world is me being a Cy Young winner bad for the team?" he asks. "The better I am, the better the team is, so you should want me to be selfish about how good I am."
He will drop everything to help out a teammate who asks, he says, but most don't. "I could've fixed Cody Allen's curveball in two days last year, but I couldn't tell him anything because he's a veteran and he doesn't want to listen," Bauer says. Allen, the Indians' former closer, saw his ERA rise from 2.90 to 4.70, and his free agency value plummet. 
But less established teammates, like Shane Bieber and Nick Goody and Neil Ramirez and especially Mike Clevinger, are turning to him increasingly often. "He has a rep of having bad character, for some reason—for almost being too honest," says Clevinger, who, like Bauer, is 28, but unlike Bauer, has shoulder-length hair and gives off a surfer vibe. "It's not like he's saying a bunch of lies. The truth hurts, sometimes. His attitude is, if you don't like me, there's 7.5 billion people on this planet, so I'm pretty sure there's others that will, so you can go kick rocks. That bonds us."
In starts early last season Clevinger's arm would begin to bother him after a few innings, and his velocity and performance would tumble from there. Frustrated, he asked Bauer what he was doing wrong. "TB sat there and in two seconds said, you're drifting down the mound, you're not using your backside properly," Clevinger said. Thereafter, Bauer would hole up in the Indians' video room during Clevinger's starts and call him in, even between innings, to diagnose his mechanical inefficiencies, a practice that Clevinger says upset the Indians' coaching staff. Clevinger's breakthrough came in an outing against the White Sox on June 19; he struck out 10, allowed one run, and his fastball averaged 95 miles per hour, two miles faster than his season's standard. Afterward, Indians manager Terry Francona publicly theorized that the radar gun at Guaranteed Rate Field might have been inaccurate.