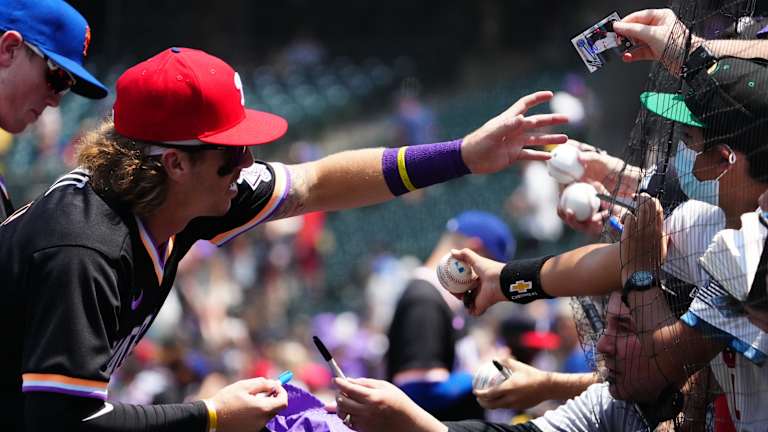 Phillies Prospects Stott, O'Hoppe Shine in First Week of AFL
Philadelphia Phillies prospects Bryson Stott and Logan O'Hoppe particularly impressed in their Arizona Fall League debuts.
The Arizona Fall League (AFL) is owned and operated by MLB and many of the league's top prospects participate. The Fall League consists of six teams divided up in the East and West divisions. Currently, seven Philadelphia Phillies are assigned to the Peoria Javelinas.
The AFL began play on Oct. 13. Out of the seven Phillies on Peoria, their top positional prospect Bryson Stott and catcher Logan O'Hoppe have dazzled offensively during their first week.
Stott, 24, ranked as the number two prospect in the Phillies' system by Inside the Phillies, has bat .400/.625/.600 with three doubles, four runs, three RBI, two stolen bases, nine walks, and four strikeouts in 24 plate appearances.
O'Hoppe, 21, and the number 11 ranked prospect in the Phillies' system according to MLB.com, was hitless through his first 11 AFL plate appearances. But on Monday, O'Hoppe ended that drought with a double, two singles, and three RBI. He's also stolen two bags in four games.
LF Simon Muzziotti, 22, who signed with Philadelphia in 2016, has a double, one RBI, two runs, two walks, and two strikeouts through 13 PAs in three games in the AFL.
RHP James McArthur, 24, who signed with the Phillies organization in 2018, made his AFL debut on Monday for Peoria. McArthur allowed one run on one hit, walked two, and struck out six through four innings. 
RHP Hans Crouse, 23, and the number three ranked prospect by Inside the Phillies, made his AFL debut on Oct. 15 in a 2-1 Javelinas loss. Crouse pitched four innings, surrendering two runs on three hits, walking two, and striking out six. 
Minor League Baseball reporter Sam Dykstra noted on Twitter that Crouse "looked dominant at times, out of control in others. Fortunate to get away with just the one run in the top of the fourth, after working the bases loaded with 0 out," which sounds awfully similar to his major league debut.
LHP Damon Jones, 27, was drafted by the Phillies in the 18th round in 2017, and made his major league debut this past season. Through two games in the AFL, he's pitched three innings, picked up one save, and has yet to allow a run.
LHP Erik Miller, 23, drafted by Philadelphia in the fourth round in 2019, struggled in his first appearance with Peoria, allowing two runs on three hits in 1.0 IP. However, the lefty did pick up two strikeouts in his debut.
Be sure to follow Inside the Phillies for our continued coverage of the Phillies' seven prospects' performances in the Arizona Fall League!
More From SI's Inside The Phillies:
---
Make sure to follow Inside the Phillies on Facebook and Twitter!