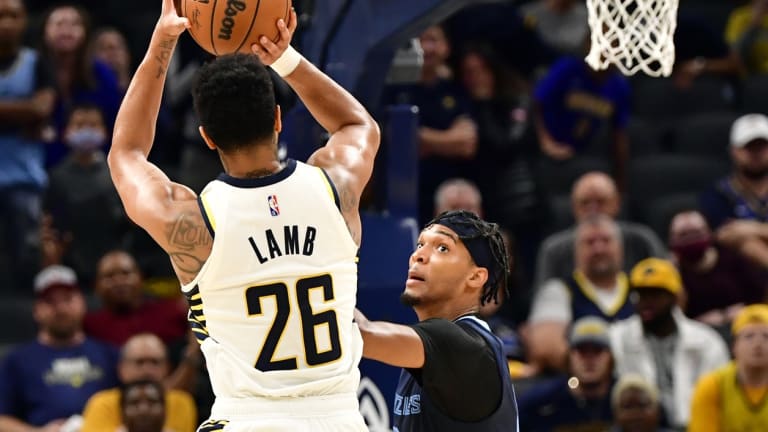 Check Out The Game-Winning Shot This Former, Thunder, Hornets And Current Pacers Star Made Against The Memphis Grizzlies On Wednesday
The Indiana Pacers beat the Memphis Grizzlies (who were without Ja Morant) on Wednesday night in Indianapolis. Jeremy Lamb hit a game-winning shot with very little time remaining.
Jeremy Lamb was the hero on Wednesday evening in Indianapolis for the preseason game between the Memphis Grizzlies and Indiana Pacers. 
The 29 year old shooting guard nailed a shot with 3.6 seconds remaining in the fourth quarter to take a 109-107 lead over the Grizzlies.
The shot ended up being the eventual game-winner, and the clip can be seen in a Tweet that is embedded below from NBA TV.
Pacers star Myles Turner also commented on the clip from NBA TV of the shot, and his post can be seen embedded below from his Twitter account. 
Lamb has played for the Oklahoma City Thunder, Charlotte Hornets and is entering his third season with the Indiana Pacers. 
This will be his tenth season in the NBA. 
Related stories on NBA basketball
Enes Kanter And Myles Turner Get The Same 2k Ranking: Myles Turner of the Indiana Pacers got the same rating in NBA 2k22 as Enes Kanter of the Boston Celtics. The two centers getting the same ranking comes as a surprise. Turner is one of the best defenders in the NBA, and while Kanter had a productive season, he is not on the same level as Turner. CLICK HERE.
Could The Pacers Really Bring Back Lance?: Lance Stephenson has worked out for NBA teams recently, and it appears as if he is trying to make a return to the NBA. One report says the Indiana Pacers could look to bring him back. CLICK HERE.
NBA Central Division Notebook: NBA 2k22 gave Steph Curry of the Golden State Warriors the same ranking (96 overall) as Giannis Antetokounmpo of the Milwaukee Bucks. Even though Antetokounmpo just won the NBA Finals MVP, is he actually a better player than Curry? CLICK HERE.