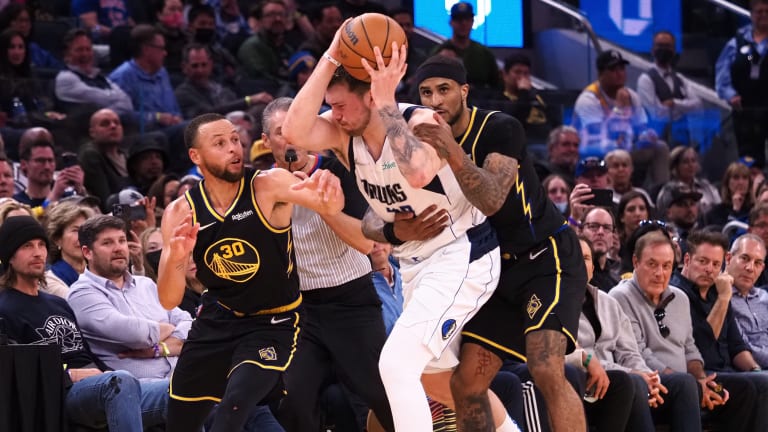 Warriors Blow Another 4th Quarter lead in 107-101 Loss to Mavericks
The Golden State Warriors have had a hard time closing games with big leads lately. It happened again against the Dallas Mavericks.
Before Sunday evening, the Golden State Warriors had won 62 consecutive games when leading at any point by 20 points or more.
That streak was snapped, though, thanks to a 34-point performance by Luka Doncic and the Dallas Mavericks (36-25), who handed the Warriors (43-18) a 107-101 loss at Chase Center.
The loss also marks the second straight home game where the Warriors have held at least a 10-point advantage yet still lost, drawing questions regarding Golden State's ability to close games as the playoffs approach.
"I thought we kind of lost our spirit and energy when [the Mavericks] made that push," Warriors head coach Steve Kerr said after the game. "We did not maintain our grit coming down the stretch."
Through 36 minutes, the Golden State Warriors had played a masterful game against a Mavericks team looking to work its way up through the Western Conference Standings in the last quarter of the season.
Building a 14 point lead heading into the final frame of the game, the Warriors had even led by as many as 21 points. Through it's quick ball movement to its hard-nosed defense, Golden State appeared to be coasting to another blowout victory — similar to the Warriors' 132-95 win over Portland Thursday.
Unlike Thursday, though, which saw the Warriors even resting their starters in the fourth quarter, the Warriors allowed something to take place that hadn't happened in 62 games — they let a team that was all but out of the game reel itself back into contention.
Through an eight-and-a-half minute stretch in the fourth quarter, the Warriors failed to score a single basket, missing 11-straight shots.
"There was a point where we started missing shots and that started to affect our defense," Warriors guard Stephen Curry, who finished the game with a team-high 27 points, said. "It really felt like we had the game under control and for whatever reason our energy switched."
Both Curry and Kerr referenced a period where the Warriors' body language even changed as players began to hang their heads and fall victim to the momentum shift that Dallas began to ride.
What started as a 14-point fourth quarter lead quickly flipped into a six-point deficit with less than a minute to play as the Warriors were outscored 33-13 in the final frame.
"We played 36 great minutes heading into the fourth and gave ourselves a lead," Curry said. "In this league, that should be enough."
The question now becomes; can Golden State become a team capable of closing out games?
As of late, the answer has been a resounding "no" after dropping back-to-back home games where it held a double-digit lead.
The Warriors don't seem to be concerned, however. Rather, head coach Steve Kerr and Co. are choosing to look at its rash of bad losses as a chance to learn before the postseason — a time when games are truly never over until the final buzzer sounds.
"I think it's actually good to go through this," Kerr said. "This is what it feels like in the playoffs. This is what it feels like when you're playing against a really good team and the game is never over. That's why we stress all the details we do."
Curry echoed this sentiment after the game.
"It's a good lesson to learn even though it sucks to have to go through it," Curry said.
Up next for the Warriors will be a series of road games, including a chance to redeem themselves against the Mavericks in Dallas. The first of the four games on the road trip will be a Tuesday night matchup against the hosting Minnesota Timberwolves.