Offensive outburst, meeting of legends set up conference finals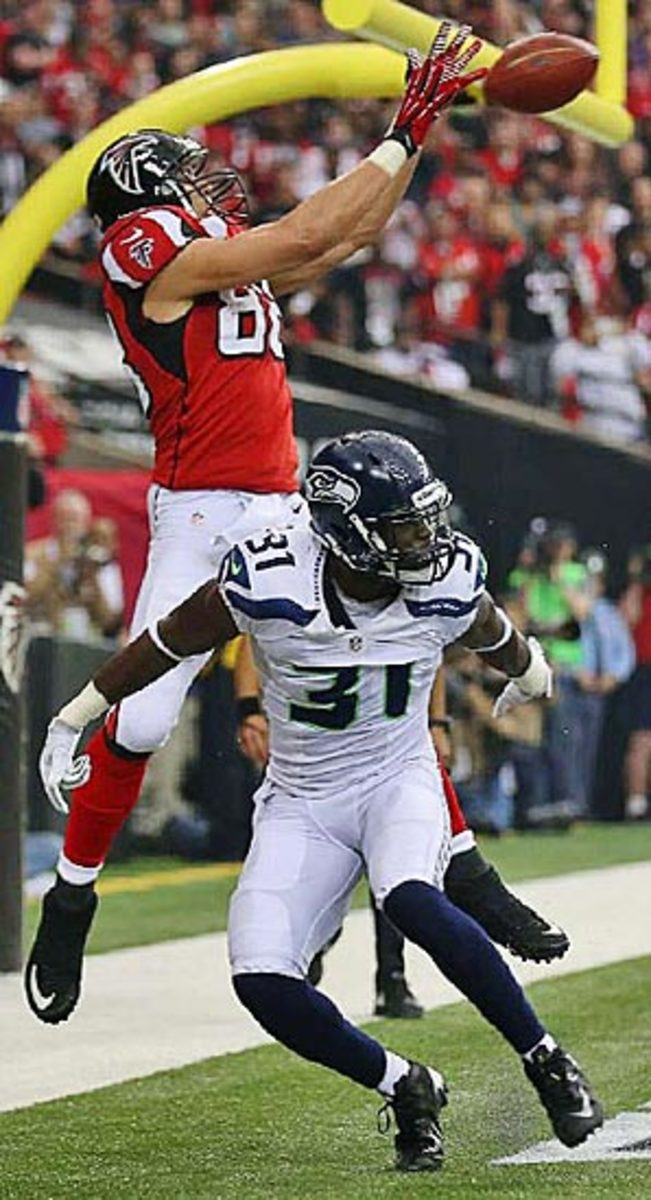 DENVER -- Ray Lewis was sick Saturday night, 90 minutes after the Ravens had stunned the Broncos here, and he was waiting in a stadium anteroom to be connected with Deion Sanders for an NFL Network interview. "Flu?'' someone asked him. He nodded in the midst of a coughing jag, said he'd had it all week, sounding like a Contagion victim. He did not look good, and if it hadn't been Deion on the other end, Lewis would have walked away. Then word came from a Ravens security man that waiting in the locker room was the vanquished Peyton Manning, who wanted to see him. And Lewis very much wanted to see Manning. As NFL Network technical people fiddled with the connection, seconds passed. Patience got thin.
"I'm missing a great warrior right now," Lewis said to no one, a sense of urgency in his voice.
After eight minutes, the interview was over and Lewis was unhooked and he walked back into the nearly deserted Ravens locker room. There was Manning, waiting in a charcoal suit with his wife, Ashley, and their 21-month-old son, Marshall. Hugs all around.
Ashley Manning, hugging Lewis, said: "I'm not very happy, but I'm happy for you,'' and she sounded like she meant it.
Peyton and Lewis talked quietly, out of earshot, for four minutes. It's right that no one would hear it. Manning had a sad smile most of the time, and Lewis a wide one.
Over the years, I've seen a few of these postgame meetings between friends or stars with admiration for each other. Most often it's a handshake, a few whispered words, a hug, and one is off to his team bus and the other off to his life. This was longer. This was one of the greatest linebackers of all time, in the last month of his football life, and one of the greatest quarterbacks of all time, after one of his toughest losses, who had to say goodbye to Lewis. I heard only one word out of either man, standing a few yards away, and it was Lewis saying, "Respect.'' Not sure of the context, but come on. Connect the dots.
The buses were waiting for Lewis, and he had to go, but Ashley said, with a touch of the fan in her, and knowing that Marshall Manning one day would appreciate it, "Can I get a picture?"
Peyton Manning, Ray Lewis, Marshall Manning. Smiling for the iPhone.
A powerful, cool moment on a weekend full of them. None quite like this one.
***
We have a Final Four. And I think Kaepernick just ran for another touchdown
In the NFL's 93rd regular season just completed, the average game featured 45.6 points and 694.4 yards of offense. This is what the four games this weekend gave us:
Baltimore 38, Denver 35: 73 points, 877 yards.
San Francisco 45, Green Bay 31: 76 points, 931 yards.
Atlanta 30, Seattle 28: 58 points, 908 yards.
New England 41, Houston 28: 69 points, 877 yards.
Ray Lewis in, Peyton Manning out. Colin Kaepernick in, Aaron Rodgers out. Tony Gonzalez in (more importantly to a very fidgety fandom, Matt Ryan in), the ridiculously charismatic Russell Wilson out. Tom Brady in, Arian Foster out. No Brady-Manning XIV this weekend, but who won't watch Lewis chase the Brady hurry-up offense. And Seahawks-Niners III would have been a San Francisco treat, but I'll take the NFL's fastest-rising star since Tebow, Colin Kaepernick, on the fast track of the Georgia Dome. The championship weekend lineup's pretty good, even without Manning.
AFC Championship Game:Baltimore (12-6) at New England (13-4), Sunday, 6:30 p.m. Only once in the 42 previous seasons since the AFL-NFL merger in 1970 has a conference championship matchup and site been the same in back-to-back years (Houston at Pittsburgh, 1978, 1979.) Not much is different for the Ravens from the 23-20 loss last year in the title game, other than the two men who had forgettable last minutes of the game, kicker Billy Cundiff (shanked a 32-yard field goal attempt) and wideout Lee Evans (had the winning touchdown pass chopped out of his hands), are out, and Justin Tucker and Jacoby Jones are in. This just in: Tucker and Jones had pretty good games in Denver.
This game could well turn on the Patriots secondary's ability to prevent big plays from Joe Flacco, who went right after Champ Bailey Saturday night and twice burned him with deep touchdowns. And, of course, Flacco threw the 70-yard answered prayer of a touchdown to Jones to force overtime. Pittsburgh has the Immaculate Reception. Baltimore, it's on you now: Name that play.
"I definitely watched him play on Saturday,'' safety Devin McCourty said of Flacco Sunday night. "He did what he's done all year. He's made big plays and big throws for them. He has a calmness about him, a demeanor that the team follows. I thought he did a great job against the Broncos. Most people thought that game was over, and to deliver that ball down the field -- in a situation where everyone knows that's what you have to do -- he threw the perfect pass.''
In their last three meetings, New England's beaten Baltimore twice, but Flacco has five more touchdown passes (seven to two) than Brady, and has thrown for 107 more yards. Flacco's a good road quarterback. So the seventh conference title game in the Belichick-Brady Era sets up to be a dramatic game, even without the specter of it being -- for the third straight week -- Ray Lewis' last football game. "He's like the godfather of football,'' Vince Wilfork said.
NFC Championship Game: San Francisco (12-4-1) at Atlanta (14-3), Sunday, 3 p.m. Okay, we've gotten the obvious storylines out of the way. Tony Gonzalez breaks the 15-year schneid of no playoff wins. Matt Ryan and Mike Smith finally win, by the enamel of their teeth, their first playoff game in their fifth season together. (Can you imagine what it would have been like for Smith and Falcons GM Thomas Dimitroff to have taken the walk of shame up to high-expecting owner Arthur Blank's office this morning to explain losing that game? Not a pretty sight.) Now the storyline the world will be bludgeoned with this week is how Atlanta will defend Kaepernick, who appeared indefensible against Green Bay behind the best offensive line in the league. At least if Kaepernick were playing at Candlestick in January, there'd be a chance he'd be slowed by a muddy field. But on the indoor FieldTurf carpet at the Georgia Dome? Look out. Saturday night, he rushed 11 times for 107 yards and a 20-yard touchdown in the first half, then five times for 74 yards and a 58-yard touchdown gambol in the second half. "I played him my last two years in college,'' Atlanta linebacker Sean Weatherspoon said Sunday. "Sacked him once --and believe me, I consider that a great accomplishment. I thought he was like ... Vince Young. This will be the ultimate test for our defense.''
***
Four storylines of the weekend:
Manning goes down in flames (with an asterisk).
The asterisk, of course, is that Denver safety Rahim Moore made one of the all-time dumb plays in a playoff game. His job, as one of the three deep safeties on the field with 40 seconds left and a seven-point lead and the Ravens 70 yards from the end zone, was to make sure he didn't let anyone get behind him. And Moore did. He was either lazy or had a lapse in concentration, and Jacoby Jones beat cornerback Tony Carter and Moore for the 70-yard touchdown that led to a six-quarter game, the fourth-longest in NFL history.
And while we're at it, Denver coaches, you've got 3rd-and-7 at your 47 at the two-minute warning. Baltimore's out of timeouts. You've got one of the greatest third-down-conversion quarterbacks ever, with two tight ends he trusts implicitly. And you run your third tailback into the middle of the line? Seriously? Then, with 31 seconds and two timeouts left at your 20, the game now tied, Manning kneels? Double seriously? I'm serious: Either Peyton Manning was injured and the Broncos told no one, or that's Coaching Negligence 101.
"That was an audible,'' Manning said of the 3rd-and-7 Hillman run. "Don't put that on [offensive coordinator] Mike McCoy.'' Okay. I still don't like it. Hillman ran it 22 times Saturday. Four times he gained seven yards or more. I want the ball in Manning's hands there.
Anyhoo ...
Fourteen minutes into overtime, Manning had a 2nd-and-6 at the Denver 38. He rolled right, looking for good friend and first-down security blanket Brandon Stokley, and he slightly pivoted to throw back across his body. Now, raise your hand if you thought what I thought when Manning's arm was in motion and he looked to throw back across his body ... Brett Favre, 2009 NFC title game, aiming for Sidney Rice, and Tracy Porter steps in front of him and picks it off. Here came Corey Graham, the Baltimore cornerback, in front of Stokley, and he wrestled the ball into his gut for his second Manning interception of the day. Six plays later, the Ravens won it with a field goal.
In the quiet of the Ravens' locker room, after Manning saw Lewis and Lewis walked out of the room, Manning saw me and we briefly re-lived the fateful throw. All season, he's been telling people his arm strength was a work in progress, and it certainly still is. He beat himself up for making a throw that an aging quarterback probably shouldn't have tried, and certainly not an aging quarterback coming off four neck surgeries in this comeback season.
"I should never have thrown that ball,'' he said.
He had plenty of help, but the fact is, Manning's a 9-11 playoff quarterback with one Super Bowl victory who turns 37 in March, and he knows there aren't going to be many more chances. It's going to be a painful offseason for him.
The Patriots have to make do again without The Gronk. Doubt they're too worried.
Rob Gronkowski, the most dangerous tight end currently playing the game, won't be playing the game anymore this season. He re-broke his formerly fractured forearm Sunday, per Mike Florio of ProFootballTalk.com, and he's lost until next season. Gronkowski missed five full games in November and December with the original break, and this is probably why you won't hear a discouraging word around the Patriots this week:
Pats in the 11 regular season games with Gronkowski: 35 points, 433 yards a game.
Pats in the five regular season games without Gronkowski: 34 points, 417 yards a game.
Brady and Wes Welker (126 catches in 17 games) are as in sync as any quarterback and receiver can be. Aaron Hernandez was targeted 51 times by Tom Brady in the five games Gronkowski missed; he's simply interchangeable with Gronkowski, even though they're different players.
And the fact is, Brady wouldn't care who his weapons are. He's going to find receivers. In New England's 10-1 run, Brady's thrown 27 touchdown with just five interceptions, and his command of Josh McDaniels' offense is at an all-time high. Blitz him, he kills you. Play seven in coverage, he'll take the checkdown and move the chains. Get his favorite receivers hurt (Gronkowski's out now, and Danny Woodhead, with a thumb injury, might be), he'll find Shane Vereen five times for 83 yards and two touchdowns.
"He's our leader,'' Belichick said of Brady after the game. I wonder if in his entire coaching career Belichick has bestowed those words on any other player. He's our leader. Brady, playing as well as ever, won't have many more chances this good to win a fourth Super Bowl.
The Colin Kaepernick Show, episode eight.
Keep these things in mind after Kaepernick's eighth NFL start, the 14-point rout of the Packers, in which he set the NFL record for rushing yards by a quarterback (181) in a game:
? Blaine Gabbert was chosen 26 picks ahead of Kaerpernick.
? The following players were chosen ahead of Kaepernick: Jake Locker, Adrian Clayborn, Anthony Castonzo, Danny Watkins, James Carpenter, Jonathan Baldwin, Jimmy Smith, Gabe Carimi, Cameron Jordan, Cameron Hayward, Derek Sherrod, Ras-I Dowling and Aaron Williams.
? Buffalo passed on him twice, and Arizona, Tennessee, Jacksonville, Minnesota, Miami, Cleveland, Philadelphia, Jacksonville, Kansas City and the Jets once apiece. Buddy Nix, Rod Graves, Mike Reinfeldt, Gene Smith, Rick Spielman, Jeff Ireland, Tom Heckert, Howie Roseman, Scott Pioli and Mike Tannenbaum -- the GMs who passed on Kaepernick in the 2010 draft -- must be asking themselves, "Maybe we should have seen this trend coming."
Notice one thing about those 10 draft-day deciders: Six have been fired since the day Kaepernick was chosen 36th overall by the Niners in April 2011.
Matt Ryan, and a city, sighs.
No quarterback GQs it like Matt Ryan. When I met him one night at the Scouting Combine in 2008, he wore a dark suit, blue Oxford shirt, and dress shoes. Yesterday, after the biggest win of his life, he wore a suit, thin tie with tie clasp. Par for his course. The theory is, as with many quarterbacks these days, Ryan represents the company, and he wants the public to see the best side of him.
Atlantans since the 2008 draft have seen a quarterback who said and did all the right things ... except win a playoff game. He'd lost three, and played poorly, overall, in them, and so the pressure was on him in a very big way to win this one. But he did something different this year: In the past, he'd still watched college basketball and the occasional SportsCenter during January. No more sports. No more newspapers, websites or talk radio either. He spent the last two weeks being blissfully unaware of his surroundings.
"What'd you watch instead?'' a few scribes wondered in a small cluster with the natty Ryan Sunday.
He seemed embarrassed for a second. "TMZ, a little bit,'' he said. "The NFL's so big, it's hard to completely ignore it, but I tried."
But he liked the sports ban. He liked not hearing the public outcry about do-or-die for this current iteration of the Falcons. "Sometimes,'' he said, "it's good to be naïve."
For much of the second half, in a game against Seattle the Falcons, obviously, had to have, he was not helping his cause. He threw an interception to Earl Thomas -- poor decision, lofting one up with one of the best free safeties in the game patrolling that side of the field -- that helped the Seahawks come back from a 27-7 third-quarter deficit to take a 28-27 lead with seconds to play. There were 25 of them left when Ryan got the ball at the Falcons' 28, needing about 40 yards to feel good about the chances of Matt Bryant making a field goal.
He hit Harry Douglas for 22 to midfield, then considered his options on the next snap, with 19 seconds left. As Ryan surveyed his options at the line, he noticed strong safety Kam Chancellor, who'd been successfully (mostly) jousting with Tony Gonzalez most of the day, off Gonzalez. Instead, Seattle matched a linebacker on Gonzalez. "I felt good about that matchup,'' Ryan said. "Felt real good.'' Gonzalez went up the seam and Ryan nailed him with a perfect strike. Gain of 19. The Bryant 48-yard field goal won it.
"I'm happiest for Matt,'' said Gonzalez. "People talk about the pressure for people to win a playoff game, and when they'd mention me, I'd think, I'm on the bottom. Matt Ryan needed this, and he went out and did it.''
INSIDE GONZALEZ'S CLUTCH LAST-MINUTE CATCH
One more note from Denver ...
The quarter-by-quarter scoring line at Denver:
Baltimore played 45 men; backup quarterback Tyrod Taylor was the only active player to not play.
Denver played 45 men; backup quarterback Brock Osweiler was the only active Bronco to not play.
The game was tied at 7, 14, 21, 28 and 35.
Quashing the quashee.
The 2013 season will be Bill Cowher's seventh in a row without coaching in the NFL.
On Tuesday, at a CBS Super Bowl media event, Newsday's Neil Best asked Bill Cowher if he planned to coach again one day. "Yeah,'' Cowher said. "It would be a challenge, but I think that's probably why I would get back into it, because of the challenge.''
On Saturday, on The NFL Today, on CBS, Cowher said: "Contrary to reports, I have no plans on coaching. I plan on being with one team, and that is this team here at CBS."
That's what I love to see: a man dispelling a rumor about himself that he started.
DEITSCH: INSIDE THE OBAMA SUPER BOWL INTERVIEW
***
One final note this morning:
There's so much happening around the league, and my notebook is so full of stuff I couldn't get to this morning, that I'll do a mini-MMQB on Tuesday this week. Among the topics:
? Andy Reid speaks.
? A GM tree grows in Buffalo.
? What kind of coach Cleveland's getting in Rob Chudzinski.
? The Seau/CTE aftermath.
? Meet David Caldwell.
I'll have it up Tuesday morning, and, as always, will send the link to you via my Twitter feed, @SI_PeterKing.
The Deep End
Each week, thanks to play-by-play game dissection by ProFootballFocus.com, I'll look at one important matchup or individual performance metric from one of the weekend games. Reports PFF.com czar Neil Hornsby on the divisional round:
"The most surprising note of a great weekend of football? Denver cornerback Champ Bailey played his worst game in five years and really hurt the Broncos Saturday in their 38-35 loss to Baltimore. The look on Bailey's face as time and again he was beaten deep by Torrey Smith made the Broncos plan of matching him up, one on one, with the speedy wideout seem like the height of optimism. Clearly it didn't work. What led Denver coaches to believe that this was going to be a viable option?
"On the evidence of a full season of play. Bailey had gone one-on-one with the best receiver of nearly every team Denver had faced. And, until Saturday it had worked every time. Bailey had a superb season. We voted him our 2nd Team All-Pro corner (an honor that was replicated in the AP All-Pro team released on Saturday) because he stood out on tape and this was reflected in the numbers too.
"In terms of giving up first downs/touchdowns per coverage snap he was ranked fourth overall among corners, and of those above him, no one was given the same coverage responsibilities he had. On balls that traveled over 20 yards in the air he allowed only three to be completed all year, with none of these going for touchdowns. Covering the likes of Vincent Jackson, Andre Johnson, A.J. Green, Roddy White and Brandon Lloyd, Bailey gave up only 17 completions of more than 10 yards and a single touchdown all year.
Then there was the small matter of how great a job he did in Week 15 against the same Ravens team; allowing only three passes to be completed on 46 coverage snaps, for 26 yards. In the rematch Saturday, the numbers were brutal enough (five receptions, 128 yards and two touchdowns, with the other three catches also going for first downs) but could have been worse; you could add on another 65 yards and another TD but for Flacco overthrowing Smith with Bailey badly beaten.
"This wasn't a risky gamble. It was made on the back of a whole season of evidence of him performing a similar role and doing it very well. Nothing is ever guaranteed in football."
Fine Fifteen
1. San Francisco (12-4-1).Seahawks held the Niners to 13 points in each regular season meeting. That's a good reason San Francisco breathes a sigh to be facing Atlanta in the NFC title game -- even if it's on the road -- instead of playing Seattle at home in Candlestick Park.
2. New England (13-4). First for Ray Lewis there was Andrew Luck, then Peyton Manning, and now Tom Brady. Quite a retirement fair he's holding. Brady is so in the groove right now it's hard to believe he's 35.
3. Baltimore (12-6). A bit unfair, but true: Joe Flacco, seven playoff wins in five years; Peyton Manning, nine playoff wins in 14 years. Flacco tries to make it eight Sunday against the Patriots.
4. Atlanta (14-3). If that game Sunday wasn't exactly what this season has been for Atlanta, I don't know what would be. Dominance for a while, no pass rush whatsoever without John Abraham, slippage for a while, and snatching a win at the end. But those 491 yards allowed? Put on your schematic cap, Mike Nolan. A performance like Sunday's against Colin Kaepernick will send the Falcons home for the winter.
5. Seattle (12-6). Welcome to the playoffs, Mr. Wilson. See you back soon, and often. The game is better with you in it.
6. Houston (13-5). The Texans trying to scale Mount Patriot reminds me of the Colts trying to do it once Tom Brady took over as quarterback. Indy lost the first six Brady-Peyton duels by an average of 14 points a game. Hang in there, Matt Schaub.
7. Denver (13-4). Everything seemed to come so hard for the Broncos Saturday. I'll always think Peyton Manning should have loosened up the secondary more with deep throws.
8. Green Bay (12-6). Not to be a sports radio host or anything, but watching the Green Bay defense look so powerless and feeble Saturday, I wondered if Mike McCarthy would seriously think about replacing Dom Capers as defensive coordinator.
9. Washington (10-7). Opening day is 34 weeks from yesterday -- unless the NFL gives Washington a Monday-nighter the first weekend, and one extra day of healing for Robert Griffin III's wounded knee.
10. Indianapolis (11-6). Big loss for Colts GM Ryan Grigson, with right-hand man Tom Telesco going to San Diego as GM.
11. Minnesota (10-7). I don't believe in this day and age and 16-game schedule that Adrian Peterson will ever run for 2,500 yards. But I believe he can, and will, break Eric Dickerson's record sometime in the next three years.
12. Cincinnati (10-7). Still find it hard to fathom how a combo platter of Mike Zimmer as coach and Hue Jackson as offensive coordinator wouldn't be a step up for one of the five coachless teams.
13. Chicago (10-6). The Bears have had more coaching interviews in 2013 than wins in 2012. By my count, it's 13-10.
14. New York Giants (9-7). Good for Ernie Accorsi, helping trusted long-time adviser Dave Gettleman land the Carolina GM job. Gettleman was always an Accorsi fave, and owner Jerry Richardson bought into him when they spoke at length.
15. St. Louis (7-8-1). TheRamsversus NFC West this year: 4-1-1, plus-30 in point differential.
Text Message of the Week
"The Seahawks are my new favorite team."
-- Brett Favre, in a text to Seattle kicker Ryan Longwell, sent Tuesday, a couple of days after the injury in Washington to Steven Hauschka on Jan. 6. Longwell is a close friend of Favre's, and was one of the three Vikingswho flew to Mississippi to persuade Favre to return to the Vikings for one last season in 2010.
The Award Section
Offensive Players of the Week
Colin Kaepernick, QB, San Francisco. Kaepernick showed football fans the future of the position Saturday night -- at least part of it. He played one of the best games a quarterback has played in postseason history, rushing for 181 yards on 16 carries -- a rushing record for a quarterback in a regular season or playoff game -- and two touchdowns, while throwing for 262 yards and two touchdowns. That's a whole lot of fours: 444 yards, four touchdowns.
Joe Flacco, QB, Baltimore. He threw 59- and 32-yard touchdown passes to Torrey Smith in the first half to keep the Ravens in the game. Then he made one of the great clutch throws in playoff history, the 70-yard touchdown shot down the right sideline to Jacoby Jones with 31 seconds left in the fourth quarter to force overtime. Then he made a throw that won't go down in history but should.
It was a 3rd-and-13 pass to tight end Dennis Pitta that flipped the field. Instead of the Ravens having to punt from the back of their end zone in overtime and giving Peyton Manning a short field to work with, with only a field goal needed to win the game, Flacco hit Pitta for 24 yards. And by the time Baltimore punted, the Ravens pinned the Broncos at the Denver 7 ... and soon, Manning would throw the interception that put a dagger through Colorado's heart.
Tom Brady, QB, New England. He played a typically brilliant Brady game -- 25 of 40, 344 yards, three touchdowns, no interceptions, 115.0 rating -- on the day he broke former idol Joe Montana's record for playoff victories, with 17. I remember when Brady won the SI Sportsman of the Year award in 2005, and his dad talked about what an honor it was because his son often came home from school during the football season in the Niner glory years and wanted to read about Montana's exploits. Brady isn't one to say much about awards or stats, and he didn't after the game. But it has to mean something to him.
GALLERY: MOST POSTSEASON WINS BY QUARTERBACKS
Defensive Players of the Week
Rob Ninkovich, LB, New England. With the Pats holding a 24-13 lead in the third quarter but pesky Houston driving, Ninkovich, this Patriots generation's Mike Vrabel-esque big-playmaker, leaped high to snare an interception from Matt Schaub. Not a great throw, but a better pick. A few plays later, Brady hit Brandon Lloyd for what turned out to be the deciding touchdown pass. For the game, Ninkovich, playing with the remnants of a painful hip injury, had four tackles, two tackles for zero yards or less (one of which was negated by penalty) and a recovered onside kick. What a valuable player he's turned out to be.
Corey Graham, CB, Baltimore. I thought he was the best defensive player on the field, easily, in Baltimore's double-overtime win over Denver. His 39-yard touchdown return of a tipped interception gave Baltimore a 14-7 lead early. His aggressive pass breakup of a Peyton Manning-to-Brandon Stokley pass on a third down in the second quarter forced a Denver punt. And he was in the right place at the right time in overtime, picking off Manning to set up the game-winning 47-yard field goal. Not bad for a guy who was pigeonholed as a special teamer only when the Ravens signed him from Chicago last spring in free agency. "I knew when I signed it was the best decision I ever made in my life,'' Graham said after the game. "Well, one of the best. Probably marrying my wife was the best."
Special Teams Player of the Week
Trindon Holliday, PR/KR, Denver. Holliday was a revelation for the Broncos after being picked up on waivers from Houston and handed the kick and punt return duties. Saturday was his 11th game for Denver, and his 90-yard punt return for touchdown in the first quarter was his third touchdown return. Then, on the opening kickoff of the second half, Holliday took a kickoff four yards deep in the end zone and ran it back 104 yards for his second score of the day. It's the first time in playoff history that a man returned a punt and a kick for touchdowns in the same game. So he stands alone this weekend among all special teamers.
Dr. Z Unsung Man in the Trenches of the Week
The award for the offensive lineman who was the biggest factor for his team in the weekend's games, named for my friend Paul Zimmerman, the longtime SI football writer struggling in New Jersey to recover from three strokes sufferedin November 2008. Zim, a former collegiate offensive lineman himself, loved watching offensive line play.
Joe Staley, LT, San Francisco. He wasn't the best of the Niner linemen on a day they dominated Green Bay, but playing with a painful right arm injury (he called it a bruise) that caused him to play one-armed for much of the game, Staley held Clay Matthews to one sack and one pressure of Colin Kaepernick. One thing Dr. Z always loved in the trenches was a guy who gutted out injuries. That's what Staley did, and he played a huge role in allowing Kaepernick to be a phenom Saturday night.
Coach of the Week
Jim Harbaugh, head coach, San Francisco. We all know why. For going against the tide and playing Kaepernick. Being bold is a big reason Harbaugh has made it to the NFC Championship Game in each of the first two years of his coaching career, and never having a two-game losing streak, and building a 26-8-1 record. Averaging 13 wins a year in a coach's first two seasons in the league. That's some impressive stuff.
Goats of the Week
Rahim Moore, FS, Denver. By not covering the back end when one of the fastest receivers in football, Jacoby Jones, was streaking down the right side of the field, Moore allowed Flacco to complete one of the most dramatic touchdowns in recent playoff history -- the 70-yard bomb to Jones with half a minute to play. That play enabled Baltimore to tie the game and force overtime. And, eventually, win.
Peyton Manning, QB, Denver. For the throw he'll be beating himself up about all offseason, the across-his-body, very weak throw that Corey Graham intercepted in overtime Saturday. Baltimore turned it into the winning field goal in the second overtime of a game that'll live forever, for different reasons.
Quote of the Week I
"Y'all tell Richard Sherman to get some humble pie! And you tell him I said it!''
-- Atlanta cornerback Asante Samuel, walking through the Falcons' locker room after Atlanta's win over Seattle, apparently figuring Sherman was a little mouthy even for the taste of the mouthiest player in the league (Samuel).
Quote of the Week II
"I don't want to be categorized."
-- San Francisco quarterback Colin Kaepernick, asked whether he felt he was a running or passing quarterback after he did a lot of both to lead the Niners over Green Bay.
Quote of the Week III
"It is my fault. When the play was on the line, I didn't make it for our team. If I would have made that play, we'd have been in here rejoicing. I'm speechless right now. I don't even know what to say."
-- Denver safety Rahim Moore, who was late in coverage on the 70-yard touchdown pass from Flacco to Jones, allowing the Ravens to tie the game with 31 seconds left in the fourth quarter. Denver went on to lose.
Quote of the Week IV
"Phil Knight."
-- An unnamed NFL coach with knowledge of why Oregon coach Chip Kelly spurned the Browns and Eagles to stay at Oregon, when asked by me what the primary reason was for Kelly staying put.
Knight is the chairman of Nike, in Eugene, where the University of Oregon is. The coach I quoted is among many who think Knight made it financially advantageous to Kelly, or his program, to stay.
Quote of the Week V
"Do I know that Sean Payton got the raw end of that deal? Yes he did, because I know from reading each and every page of that transcript that what the National Football League said occurred never occurred."
-- NFL Players Association executive director DeMaurice Smith, on ESPN, on what he believes was flimsy evidence used by the NFL in the Saints' bounty case.
Quote of the Week VI
"If I want to see self-serving behavior, warped decision-making, dangerous rationalizations and chuckleheads mortgaging the future, I can go back to watching Congress.''
-- New York Times columnist Maureen Dowd, on the paper's Op-Ed page, harshly critical of the handling of the Robert Griffin III injury situation in the NFC Wild Card game eight days ago by coach Mike Shanahan and Griffin himself.
Stat of the Week I
When the Patriots and Ravens met in 2010, Flacco and Brady each completed 27 passes.
When the Patriots and Ravens met in the conference title game last season, Flacco and Brady each completed 22 passes.
When the Patriots and Ravens met in September of this season, Flacco and Brady each completed 28 passes.
Stat of the Week II
On Saturday, one of the craziest days of football we've ever seen, consider that Baltimore-Denver and Green Bay-San Francisco each saw this scoring progression:
7-0... 7-7... 14-7...14-14....21-14....21-21.
Stat of the Week III
Another sign of the times that the NFL game is changing before our eyes: The Patriots ran 205 more plays in the regular season this year than they did in 2010 -- an increase of 13 offensive snaps per game.
Factoid of the Week That May Interest Only Me I
Included in the New York Jets' contract package being prepared for David Caldwell last Monday -- the day the club gave him a tour of the area and was wooing him to be the team's next general manager -- was a $1 million housing allowance.
In the annals of Perks Given to NFL General Managers, I would say that takes the cake.
Factoid of the Week That May Interest Only Me II
John Clayton's terrific ad spot on ESPN -- "Hey Ma! I'm done with my segment!" -- is obviously the greatest commercial of all time. I saw John in the press box Sunday in Atlanta, and I asked him how many takes he had to do of turning and jumping into bed backward before he began chowing down on the Chinese.
"Twenty-two,'' he said.
Mr. Starwood Preferred Member Travel Note of the Week
I have this reaction to getting back out on the NFL road for the playoffs after a season mostly in the NBC studios: Road, I've missed you.
Went to Seattle to do some interviews Wednesday and Thursday. Misty mostly, raining some, fabulous always. "People don't appreciate Seattle,'' Sidney Rice told me. "I live in Miami in the offseason, but I've learned to love it here, especially in the spring and summer when I'm here. How beautiful it is here at our facility for camp -- you see boats come up to watch practice right out on the lake [Lake Washington].'' ...
Had a chance to see daughter Mary Beth, happily ensconced in the Lower Queen Anne neighborhood ... Took her dog Lucy for a long early morning walk around Kerry Park, which overlooks downtown and the Space Needle. First four people I saw said, "Good morning." ...
Happily squeezed in time for a couple of Manny's Pale Ales, my second-favorite beer in the world ... Passing an elementary school with kids out on the playground, I saw one boy with a "You Mad Bro?" t-shirt. Told Richard Sherman. He said, stunned: "No!!!!'' And of course, the most nettlesome cornerback in the NFL's Final Eight was delighted ... SeaTac grows on me. The halibut takeout at Ivar's is not to be missed on a list of airport fast food.
Denver: Has anyone ever had a smooth approach upon landing at the Denver airport? Not me, either at the old one or new space-age one. I guess it's the proximity to the mountains, but in 33 years I've had some armrest-grippers, like the one on Frontier Airlines around 11 Thursday night ... Balls of snow pelted the rental car on I-25 Friday. Not flakes. Audible little balls. Never saw or heard that before ...
First Taurus rental in years. Nice space-age control panel with SiriusXM Radio ... A pleasure to eat a bison burger with Lindsay Jones and Robert Klemko of USA Today at one of Denverite Jones' favorite local spots, My Brother's Bar, on the northern edge of downtown. Just a bar with burgers, but there was something distinctly un-modern, and superb, about it. As one of the locals at the bar told me, "No TV. No music. If you come here, you have to actually talk to people!" And no sign on the front of the place. One of the best things about traveling this country is finding places like My Brother's Bar ...
OK, so I'm not in half-marathon shape right now. But running three miles on the treadmill at my hotel downtown was, well, altitudinous. A killer ... When my wakeup call came Sunday morning, I heard, "Good morning. It's 4:10 a.m., and it's four degrees.''
Atlanta: "We should be arriving in 15 minutes,'' the pilot said on approach to the Atlanta airport. "Temperature in Atlanta is 63 degrees." ... In the span of one evening and a morning in the air, I've gone from five layers in Denver to my Winnipeg Jets polo walking into the Georgia Dome. Stupidly, of course. Put the darn thing on Sunday morning forgetting that the Atlanta Thrashers turned into the Winnipeg Jets, and a couple of media folks gave a look like, "You couldn't have worn something a little less offensive here today?''
Tweet of the Week I
"Once more, Keepernick!''
-- LATimesfarmer, Sam Farmer of the Los Angeles Times, watching San Francisco quarterback Colin Kaepernick score on a 56-yard touchdown run, his second of the day, in a game in which he ran for 181 yards, a record for a quarterback in any NFL game.
Tweet of the Week II
"If you would've told me during training camp last year that Ravens would attack Champ w/ Torrey Smith...''
-- @RossTuckerNFL, the former NFL guard and current SiriusXM-NFL Radio host, after Smith burned one of the best cornerbacks of this era, Champ Bailey, for two touchdowns in the Baltimore-Denver game.
Tweet of the Week III
"A Notre Dame source tells me that the expected result of Kelly's NFL flirtation is a raise and an extension."
-- @SIPeteThamel, on Brian Kelly's interview with the Philadelphia Eagles last week. Two days after this tweet, on Saturday, Kelly withdrew from the Eagles' derby, and it would likely be naïve to think that he didn't accept a raise and an extension with Notre Dame in the process.
See why I like having Pete Thamel on my team?
Tweet of the Week IV
"Hiring Mike Martz seems like such an Al Davis thing to do."
-- @themantz, SI.com NFLeditor Tom Mantzouranis, after it was reported the Raiders interviewed counter-culture deep-thrower Mike Martz to be their offensive coordinator.
See why I like having Tom Mantzouranis on my team?
Ten Things I Think I Think
1. I think this is what I liked about the conference semifinal weekend:
a. Saturday. Wow. Incredible theater in Denver, and Kaepernick runs wild in San Francisco. That was about six straight hours of captivating football.
b. The Niners offensive line, re-emphasizing its stature as the unquestioned best line in football.
c. FootballZebras.com with educational speculation that Terry McAulay and Bill Leavy will be reffing the conference title games this weekend.
d. ProFootballTalk.com's Mike Florio breaking the Rob Gronkowski re-break of the forearm.
e. Seventeen tackles for Ray Lewis. Now, he's the not the sideline-to-sideline force he used to be; we can all see that. And he gets beat on simple crossing routes now. But he shows up with a ferocity the Ravens will struggle to replace next year.
f. Joe Flacco's complete and utter disregard for caring about his contract -- at least publicly. Refreshing.
g. Torrey Smith taking his place among the best deep threat receivers in the game.
h. The class of John Harbaugh. You can see how much he respects the game and is thrilled to be a part of the big games.
i. Baltimore director of media relations Chad Steele, for having the presence of mind to take an iPhone photo of the private postgame meeting between Peyton Manning and Lewis, sending it to media outlets like ours, and tweeting it so people could share what was a special moment.
j. The physicality, within the rules, of San Francisco's secondary.
k. Greg Roman's credentials. The San Francisco offensive coordinator continues to take that offense to new heights.
l. Tony Gonzalez getting the monkey -- "no, it's a gorilla'' -- off his back, finally winning a playoff game in his 16th starry season.
m. Everything about Russell Wilson, particularly having the presence of a 10-year vet when it comes to knowing when to run and when to buy time to find a receiver.
n. The way Bill Belichick won't be a slave to the running back position. If BenJarvus Green-Ellis wants to make $3 million a year somewhere, God bless him. Belichick just figures he can find a good back. On Sunday it was Shane Vereen, and he gave the Pats three touchdowns.
o. Todd McClure and his Falcons linemates keeping Matt Ryan mostly clean.
p. Earl Thomas. What range, what hands and what production out of the Seattle safety. Two playoff games, two big interceptions.
2. I think this is what I didn't like about conference semifinal weekend:
a. I realize that everyone is in the habit of calling them the "Divisional Playoffs" and that this column is even labeled as such, but I think the name is dumb. Pick something better. "Conference Semifinals'' or "Final Eight." Anything but "Divisional Playoffs.''
b. Houston releasing Trindon Holliday in Week 6. All he's been since is the most productive return man in football, with four touchdowns.
c. Elvis Dumervil and Von Miller with offside penalties on the first Baltimore drive of the second half, giving the Ravens life.
d. Awful game for Ed Reed. Invisible. Missed the tackle on the Demaryius Thomas go-ahead touchdown in the fourth quarter. Had to be the worst playoff game he's ever played.
e. Some Baltimore players' hooting and hollering disrespect of USA Today reporter Robert Klimko in the locker room Saturday night. They were angry at him for recently asking Ray Lewis for comment about his 2000 murder case for a USA Today story written by another writer. I realize Lewis isn't talking about it, and I realize his teammates have his back. But there's no need to try to intimidate a writer trying to do his job. Guys, there's an easy way to dismiss a story. Say, "No comment.'' Say it three or four times and we'll go away. Verbal abuse doesn't make the story go away.
f. Denver turning more arch-conservative than Bill O'Reilly Saturday.
g. The pass-interference call on Champ Bailey on the first series of overtime, on what was almost a game-changing third-down call.
h. Arian Foster: 29 touches, 75 Houston plays. Not enough.
i. Matt Schaub's inconsistency. Not time to throw him out -- particularly after signing him to a new contract in September -- but time to worry about his play.
3. I think I liked what Cris Collinsworth said the other night on Showtime's Inside the NFL. Clearly uncomfortable with what he saw in Washington keeping a hobbled Robert Griffin III in the Wild Card playoff game against Seattle eight days ago, Collinsworth proposed this for every NFL sideline: "I think there should be two doctors. I think there should be a team doctor and there should be a players' doctor that is voted on every team. And if either one of those doctors are uncomfortable with the player playing in the game for any reason they can go to the head coach and say X, Y, Z should be out of the game and that automatically disqualifies him from the game ... I've never liked the whole concept of team doctor anyway, but as we speak right now, doctors are in a relationship with these teams that sometimes is a bit financial and sometimes is a bit professional and there are issues with that relationship.''
4. I think, in light of major league baseball getting its players to agree to in-season blood testing for HGH, the NFL and its players have to stop this evasive dance of semantics and which test is best. The union and NFL have to agree this offseason to begin testing for human growth hormone in time for the 2013 regular season. No excuses. None. If it takes Congress to intervene, do it.
5. I think the TV Player of the Week is someone you've never heard of. His name is Rahul Rohatgi. He's a features producer for NFL Network. In November, he began chasing a story about Peyton Manning's work while coming back from his neck surgeries with his former quarterback coach in college, David Cutcliffe, now the Duke coach.
Rohatgi got Cutcliffe to share the practice video from his sessions with Manning, including the one in which Cutcliffe scripted the exact plays Manning ran in an Indianapolis playoff game, so he could play a simulated game and throw to receivers at the depth he threw a couple of years earlier. "The way they simulated that playoff game was maniacal, but that's Peyton,'' Rohatgi said. "I think David really wanted to tell the story and share the footage, because, well, it obviously doesn't hurt his program. But he wanted everyone to see the incredible work Peyton put into this."
NFL Network aired it Saturday, and the story, camera work and video Rohatgi got -- all very good. Here's the piece if you want to see it.
6. I think I'm glad the 50 voters for the AP All-Pro team got right what the players, fans and coaches got wrong: Richard Sherman as one of two starting corners on the NFL All-Pro team for 2012. Innocent until proven guilty in this country, folks.
7. I think the biggest problem I have, and continue to have, with the AP All-Pro team is that I don't think it mirrors the reality of the current game. The offensive first team includes three backs -- two running backs and a fullback -- and two wide receivers. In what universe would a starting team include three backs? I could see two backs and two wides, maybe. But if I were AP, I'd make it one back, a fullback and three receivers -- and I'd vote for one slot receiver each year.
GALLERY: MY ALL-PRO TEAM
8. I think it would be hard for me to go to the office today, or anytime soon, if I were Mike Zimmer.
9. I think that, while I agree that the Eagles' aggressiveness in interviewing the best college coaches (minus Nick Saban) in the country is good, it says much about the impression of this franchise that Chip Kelly, Bill O'Brien and Brian Kelly all either turned down the chance to coach the team or withdrew their names from consideration after being interviewed.
I understand the vagaries of college coaches interviewing for jobs, and how some of them (most, maybe) want to use the interviews to better their lots in college. But the Eagles have averaged 10.4 wins a year, with nine playoff appearances since the turn of the century. That's about as good as it gets, aside from the Super Bowl drought, in a highly competitive league. But now, this could be a team trending downward.
Owner Jeffrey Lurie said in a club statement: "There is no question we spent a considerable amount of time and effort looking at who we thought were the best collegiate candidates for our head coaching job. We did so knowing that there was a remote chance that these coaches would leave their current posts. We understood that going into the process, but we wanted to leave no stone unturned while trying to find the best head coach for the Philadelphia Eagles. We have no regrets about the effort we made in that direction and we will continue to proceed as planned in our search."
Fine. But would three premier college coaches say no to the Steelers? The Giants? The Packers? Don't think so.
10. I think these are my non-football thoughts of the week:
a. Saw Zero Dark Thirty, and loved it. I have no idea, of course, how accurate the chase for Osama bin Laden by a CIA agent named Maya (and Jessica Chastain is brilliant in the role) is. All I know is it's 157 minutes of edge-of-the-seat story-telling.
b. No clue how Best Picture will be chosen this year. Brutally difficult. I've seen four of the nominees, and this is the order I'd have them in: 1. Argo, 2. Zero Dark Thirty, 3. Lincoln, 4. Silver Linings Playbook ... and I really liked Silver Linings Playbook.
c. Best actor among the four? I'd have Daniel Day-Lewis edging Bradley Cooper.
d. OK. That's the end of amateur hour at the movies. I'm no Rotten Tomatoes.
e. Quirkiest NHL schedule fact: The Los Angeles Kings have a two-game homestand against Phoenix on March 18 and 19. Never seen two straight games in one town on consecutive days in the NHL.
f. I know there has to be something missing when you cut the hockey schedule to 48 games per team. But I don't like scrapping the East versus West games.
g. Every time I see Liz Merrill of ESPN.com at a game I'm covering -- and there she was, outside the Ravens' locker room Saturday night in Denver -- I think: I wish I could write as well and insightfully as she does. She is fantastic.
h. Coffeenerdness: Thanks, Caffe Fiore, in my daughter's Seattle neighborhood, for the great latte Thursday morning. Excellent espresso. Jolting.
i. Beernerdness: The Great Divide Brewing Company gave me my new beer of the road trip: Denver Pale Ale. Crisp, hoppy, smooth. With a great slogan: "Great minds drink alike."
j. Re the Baseball Hall of Fame: I'm just a fan of the game, so I can't tell you my vote would be qualified for anything but an argument at a bar. But I'd probably have voted for Mike Piazza and Craig Biggio, at least. It does bug me when guys who've drawn suspicion for using PEDs but never had anything proven-- like Piazza -- get nixed despite having a good Hall of Fame resume. What country are we in anyway? And I've just always loved the speed, the consistency, the approach to the game that Biggio brought for so many years.
k. But ... and this is a big "but" ... the voters, at least most of them, know things I don't about the players. It's their province, not mine.
l. Off to Atlanta for the NFC game later this week. Mike Nolan's a smart man, and I expect he'll have some good theories on how to pen in Kaepernick. But that's a game I can't wait to see. It'll be fun to be in Atlanta for a few days. I've got tremendous respect for the architects of these two teams, Trent Baalke and Thomas Dimitroff. Should be fun.
The Adieu Haiku
Peyton and playoffs. Nine and eleven. That hurts. But numbers don't lie.