Pray for Matthew Stafford, Take It Easy on Brandon Weeden, and Introducing the Chip-O-Meter
1. I think someone is going to have to check Matthew Stafford's MedicAlert bracelet at some point on Sunday night. By the end of last week's loss in Minnesota, Stafford was John McClane about 74 minutes into the first Die Hard (complete with blood-soaked feet). Now he has to go up against a Broncos team that has, indisputably, the best pass rush in football. I know Stafford is tough as all getup, but I feel like someone should be petitioning the NFL to let him wear a flag belt instead of playing tackle.
* * *
2. I think I'm not about to have a telethon on behalf of Brandon Weeden, but part of me thinks he gets a bum rap. Not because he's better than you think (he isn't), but because he was so absurdly overdrafted, and so absurdly overaged when he was overdrafted, that when he fell on his face in Cleveland he immediately became a punchline. He should have had the career arc of, say, Charlie Whitehurst (or whomever your favorite mid-round pick turned meh back-up quarterback is), in which case fewer people would be pointing and laughing at the Cowboys right now. Weeden is a failure if you view him as a first-round pick. If you always thought of him as the career back-up (or maybe fringe starter) he profiled as coming out of Oklahoma State... well, that's what he is. And when the starter gets hurt, the back-up plays.
* * *
3. During his NBA Rookie of the Year media tour in the summer of 2012, Kyrie Irving stopped by the SI offices for an informal media session. He talked a lot about life in Cleveland, which at that point consisted mostly of basketball and being approached by Clevelanders nervously asking, Uh… so… are you like, gonna leave like LeBron did? We also talked some Browns football, since they had just netted an 11-man draft class (including two first-rounders!) that would surely make them relevant again. Irving said that he was invited to speak to the Browns rookie class that spring to dispense some life advice. He did it (because he's a nice fella), but part of him felt silly lecturing the quarterback Cleveland had taken with their second first-round pick, because Brandon Weeden was (a) an ex-professional baseball player, and (b) almost nine years older than Irving.
* * *
4. I think that, God, if you're reading this, I would like to see a Chiefs wide receiver line up on defense at Lambeau Field on Monday night, intercept an Aaron Rodgers pass and run it back for a touchdown. If that happens, no one will ever question your existence again.
* * *
5. I think I would like to take this opportunity to introduce a new staple of the Gameday 10 Things: The Chip-O-Meter. When an ex-college coach blows up an NFL team to rebuild it in my image, there's two ways it can go: Jimmy Johnson or Steve Spurrier. (Just go with it.) After 10-win seasons in each of his first two years in Philly, Chip Kelly's Eagles are 0-2 after a humiliating home loss to Dallas during which his hand-picked quarterback was throwing the kind of fundamentally sound bounce passes that would have John Stockton nodding in approval, and his hand-picked running back, working behind his re-imagined interior offensive line, barely outrushed me on the day even though I never put on pants after rolling out of bed. So where does Kelly fall on the Chip-O-Meter now?
• THE PULSE OF PHILLY: Jenny Vrentas on how the Eagles are coping with their disastrous 0-2 start. Players are grasping for answers as they try to figure out what has gone wrong and how they can move forward.
* * *
6. I think I think some things about college football…
a. There seems to be some nasty stuff brewing in regards to Michigan State quarterback Connor Cook. I hesitate to fan the flames on this because I really don't have any first-hand knowledge of Cook's personality, but I was stunned to see a senior quarterback, one who passed up a chance to be a first-round pick to return to school, not voted a team captain by his teammates. And I found this Twitter exchange (between John Middlekauff and Daniel Jeremiah, two guys who are certainly plugged in and anything but hot-takers) to be very interesting; something to keep in mind come draft season.
b. At the risk of sounding like a crotchety old man yelling at those gawd-dom kids to get off my lawn: TCU-Texas Tech was, I guess, kind of exciting. But it was also infuriating to watch a game in which the defenses are completely helpless. No one had any interest in covering or tackling, and too many college games play out that way. It's Arena League football minus the paychecks for players.
c. On Friday night it was Brett Rypien, nephew* of Mark Rypien, spinning it for Boise in Charlottesville. Then on Saturday, K.J. Malone, son of Karl Malone, made a spot appearance on LSU's offensive line in the Carrier Dome. And then the Gin Blossoms and Spin Doctors played the Intel Parking Lot in Ocean City. That's an I Love the 90s episode come to life.
* * *
7. I think, while you're counting down the hours to kickoff, you should spend some time with The MMQB Read of the Week: Emily Kaplan on the women of the LFL.
Before Kaplan and editor Matt Gagne began discussing this piece back in the spring, I always assumed the poorly branded Legends Football League (it sounds like I'll be tuning in to see Dan Fouts getting sacked by the ghost of the late Deacon Jones) was populated mostly by women who were… well, more at home in a White Snake video. This story paints a much different picture, of women who are high-end athletes and love football, but have few options outside of this league. (Oh, and you'll probably also have some thoughts about the guy who runs the league and doesn't pay the players because, y'know, capitalism.)
* * *
8. I think these are three guys I like in FanDuel one-week leagues:
QB Nick Foles ($6,500) vs. Pittsburgh: The Steelers come in with arguably the best offense in football. The Rams will have to open things up, and the Pittsburgh secondary is, for the most part, a mess. At the bargain basement price, Foles is worth the risk if you're going to build up other positions with premium guys.
WR Steve Johnson ($5,900) at Vikings: It looks like no Ladarius Green (and, obviously, still no Antonio Gates), meaning the Chargers will be working a three-receiver look almost exclusively in Minnesota. Rising star corner Xavier Rhodes will likely shadow Keenan Allen (or maybe Malcom Floyd), leaving Johnson as a very inviting target for Philip Rivers.
TE Jimmy Graham ($6,300) vs. Chicago: The Seahawks say they want to get Graham involved, Graham (reportedly) is furious about his role in the offense, the Seahawks are at home, at full strength again, to face a Bears team with Jimmy Clausen under center... There's absolutely no reason the Seahawks shouldn't force-feed Graham early and often. And his price will never get lower than this.
* * *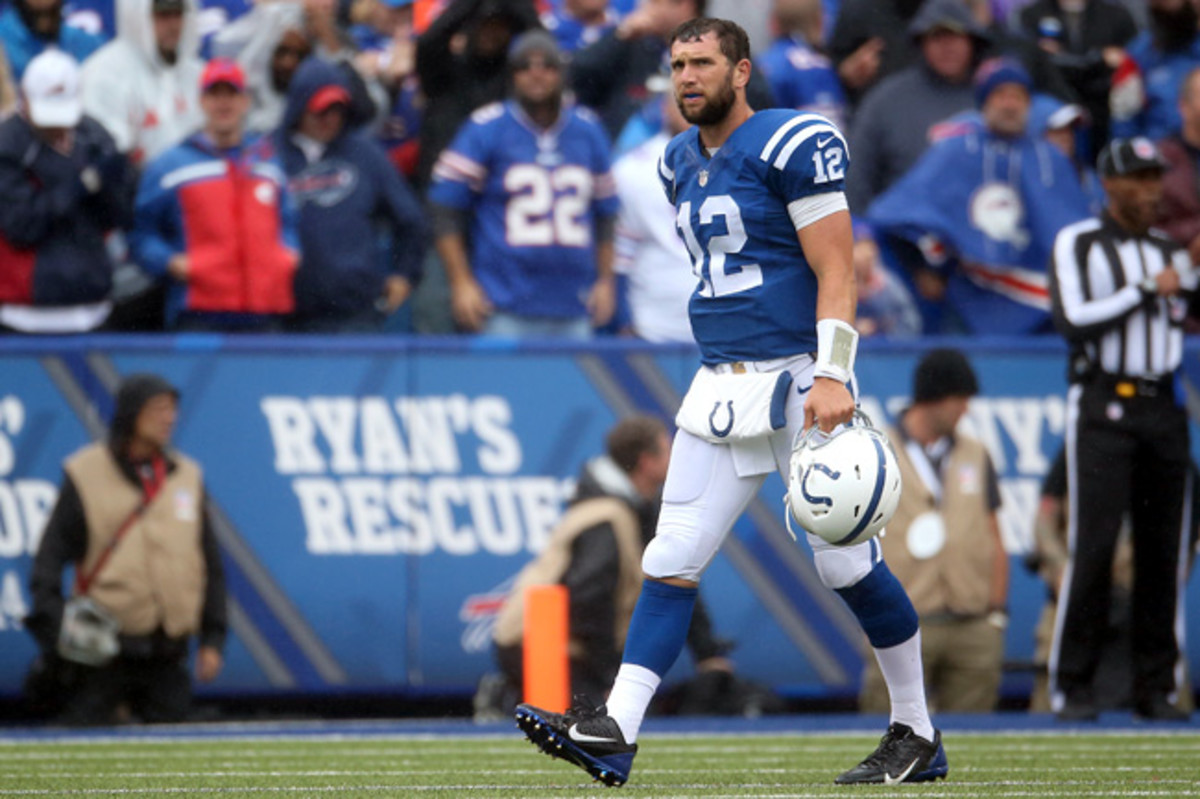 9. Fourteen-plus things I think about Sunday's 14 games:
a. Maybe it's just me, but I look at the Falcons and think huh, this is a 2-0 team? They were a missed field goal away from dropping the home opener to the Eagles, a team in absolute shambles. And last week Eli, Preston Parker and the gang continued to do their best Amazon Prime impression by gift-wrapping a game and delivering it to the Falcons with stunning efficiency. That said, Kyle Shanahan is the best coordinator in the game through two weeks; his creativity in getting Julio Jones, Atlanta's only legitimate weapon, the ball with regularity is a sight to behold. And Desmond Trufant is indeed emerging as an elite cover corner.
b. This is the part of the movie when Andrew Luck wakes up in a cold sweat, realizes the 0-2 start was just a dream and breathes a deep sigh of relief. But wait!, the movie is a Twilight Zone rip-off and then Luck realizes it wasn't a dream after all. But then he sees the Titans on the schedule, remembers his team plays in the AFC South and breathes another sigh of relief. Honestly, the Colts have been sloppy, but things haven't fallen apart. Put it this way: Can you really picture the Titans, Jaguars or Texans hosting a playoff game?
c. Baby steps for Johnny Manziel. I really don't have a problem with returning him to the bench. If the Browns thought Josh McCown was their quarterback of the present two weeks ago, it's a bit silly to argue that one good performance from Manziel should change their minds. They don't need to "see what they have" in Manziel, they need to win games. As I pointed out two weeks ago: Rodgers, Brady, Rivers, Romo, Brees, and Palmer all sat for a year or more at the beginning of their careers. This doesn't stunt Manziel's growth.
d. M&T Bank has been a house of horrors for Andy Dalton (and not just because they turned down his small business loan for that organic bakery he's been wanting to open), with the exception of last year's tip-drill assisted win while facing an injury ravaged Ravens secondary. Career, Dalton is 1-3, completing 55.6 % of his passes with a 4-to-7 TD/INT ratio and 67.6 passer rating in Baltimore.
e. New England has been on the wrong end of some early and mid-season trap games over the years (a Week 2 home loss to a five-win Cardinals team in 2012 and a 20-point thrashing at the hands of Peyton Hillis and the five-win Browns in Week 9 of the 2010 season come to mind). But while I wouldn't be shocked if an improving Jaguars team hung around in Foxboro, the Patriots aren't going to be caught looking ahead with a bye week coming up in Week 4.
f. So Luke McCown it is. The Saints seemed to be rebuilding as more of a run-first, horizontal passing team this year, so maybe this is a preview of an inevitable future. But on the road against a good Panthers defense, and with essentially one NFL-caliber option in the passing game (Brandin Cooks), this is not shaping up to be beautiful football.
g. One more note about how cruel the final act of Drew Brees' career is shaping up to be. Not only does he have to cope with the diminishing arm strength (that's a fact of life for a quarterback in his mid-30s). But his team deals the most dangerous weapon in the passing game, Jimmy Graham, and replaces him with… Brandon Coleman? Seems like that's rubbing it in.
h. The car crash that has been the Bradford/Murray Eagles offense has overshadowed the poor performance of Chip Kelly's most expensive offseason purchase: cornerback Byron Maxwell. Stats Inc. has Maxwell having allowed 13 catches for 224 yards and two touchdowns on 18 targets. That's 12.4 yards per target allowed; among corners targeted 10-plus times this year, only Oakland's Neiko Thorpe (12.7) is allowing more (according to Spotrac, Thorpe carries a $585,000 cap hit, Maxwell $8.7 million). Granted, these things happen when you face Julio Jones. But that game-sealing touchdown Maxwell allowed to Terrance Williams last week looked like Maxwell was doing his best Nnamdi Asomugha impression.
i. I mean, the AFC South is right there for the taking. Arian Foster could be back next week to solidify the run game. I swear I'm not going to harp on the fact that Houston has painted themselves into a corner with their quarterback situation there every week, but if the offense struggles again, and they give one away at home to the Bucs…
j. Eighteen pass attempts, 42 rushing attempts for the Vikings last week, which is certainly the kind of mix they'd prefer. The Chargers just got steam-rolled for 175 yards on the ground in Cincinnati last week. This is an interesting challenge for San Diego's still-suspect up-the-middle defense.
k. You have to think the Rams learned a lesson a week ago in Washington, when their supremely talented defense repeatedly failed to set the edge and gave up big play after big play on the perimeter. They have to be much better than they were the first two weeks of the season, because with Le'Veon Bell returning to the lineup the Steelers could very well have the best offense in football.
l. Arizona's win streak with Carson Palmer under center moved to eight, and Palmer is now 18-6 as the Cards' starter. But I'm more interested in seeing what the 49ers have on the road against one of the NFC's best. San Fran looked great in the opener, and I'm willing to give them a mulligan last week due to some absurd scheduling: a cross-country trip after playing the late Monday nighter in Week 1.
m. The Bills travel to Miami for what will be Tyrod Taylor's first road start. Two weeks in, we're still trying to figure out just what he is as a quarterback.
n. You'd have to think the Seahawks will go out of their way to work Jimmy Graham into the game plan this week. They should have a certain margin of error at home, with Kam Chancellor back and against the Bears, who will be starting Jimmy Clausen.
o. I'll be interested to see whether or not Gary Kubiak lets Peyton Manning just sit back in shotgun and do his no-huddle thing, like he did late in last Thursday's win in K.C., or sticks him back under center on Sunday night. I'm just not sure how much wisdom there is in making your somewhat frail, 39-year-old quarterback compromise.
* * *
10. I think, at 12:58 p.m. ET, you should turn your volume all the way up and press play…
* - In the original version, we incorrectly referred to Brett Rypien as Mark Rypien's son.