Monday Morning Mock Draft
Three days before the draft begins in Chicago, here's an educated guess at how Round 1 will unfold, complete with another Top 5 trade. Plus a peek inside the Eagles-Browns deal, the Josh Norman mess and more
I'll unveil my annual monument to futility, the (sham-mockery of a) mock draft, in a moment. But first, I want to pay homage to a Minnesota legend, from the NFL's most noted Minnesotan.
Larry Fitzgerald on the late, great Prince, gone at 57, decades too soon:
"I attended an after-school program called Horizons. It was at Sabathani Community Center, which was Prince's old junior high school. We shot hoops on the same court where Prince starred on the basketball team. They would tell us when I was a child that if we followed our dreams, we could reach our dreams. They said, 'Greatness is in the halls here. Prince did it, and you can do it, through hard work and dedication.'
"He also funded a lot of youth programs locally, anonymously. The world, and the Minneapolis community, lost an icon."
* * *
Mock drafts are exercises in futility. Two years ago, I was two for 32; last year, five for 32 (Jameis Winston, Marcus Mariota, Trae Waynes, Danny Shelton and Arik Armstead). Worst thing about this year's draft: The suspense is mostly gone at the top. Best thing about this year's draft: The suspense is mostly gone at the top—meaning most of us out here should get at least two right.
• TWO VIEWS ON THE DEFLATEGATE RULING: Peter King and Andrew Brandt weigh in on the NFL's court win over Tom Brady
I'll address a few things (the Eagles-Browns trade, the Josh Norman weirdness, the concussion lawsuit settlement) after the mock, but with the first round three days away, let's get to it. The first thing to know about this year's first round is that the first or second or third player on a bunch of team's boards is going to be sitting there at seven, eight or nine, and so I expect more trades in the first 90 minutes of Thursday night's festivities. Multiple trades. "Someone's going to see Joey Bosa or DeForest Buckner sitting there at eight and blow away Cleveland with an offer," one personnel director said Saturday. "After the quarterbacks, there's a major difference of opinion on players, depending on what team you're talking to."
The other X factor: Paxton Lynch, and the lesser quarterbacks. Cleveland could take Lynch as high as eight. I'm not in the Christian Hackenberg-in-the-first-round club, but some people are. We'll see.
On with the show:
* * *
Peter King's Annual Mock Draft
1. Los Angeles: Jared Goff, QB, Cal. So, are the Rams projecting Goff or Carson Wentz to be better than he really is, because they so badly need a long-term quarterback? "No," GM Les Snead said. "We had great workouts with both of them, and we have a great feeling about both of them. We think both are going to have very successful careers." Not tipping his hand there, but nothing has changed in the 11 days since the trade. Goff has the edge, and it'd be a big upset if he were not the first pick Thursday night.
• HOW A DEAL FOR ONE GETS DONE: Peter King goes behind the scenes for the story of the huge Titans-Rams draft deal
2. Philadelphia: Carson Wentz, QB, North Dakota State. Remember one little factoid (wrote this a couple weeks ago) about the "why are they investing so much in quarterbacks" quandary: The Eagles have $34 million guaranteed for two passers, Sam Bradford and Chase Daniel, but $25 million of that comes this year when, barring a wildcat strike by a peeved Bradford, both will surely be on the team. If they deal Bradford after the season, that's a waste of $4 million guaranteed on his contract for 2017. Wentz would be projected to be the opening day 2017 starter.
3. San Diego: Jalen Ramsey, CB, Florida State. Chargers are men of mystery. They'll get the number one player on GM Tom Telesco's board, but who is it? Telesco learned well from his mentor, Bill Polian, to keep the circle of trust with his board very small. There are two excellent tackles atop this draft, and Telesco could go that way to buttress a big need area. But there's one premier corner, and the Chargers have to be tempted to help a defense that surrendered 44 touchdowns last year. Could also see them trade down for the Notre Dame tackle, Ronnie Stanley.
• THE MMQB:AFC Draft Needs, Fits || NFC Draft Needs, Fits
4. Dallas:Ezekiel Elliott, RB, Ohio State. I think it comes down to Joey Bosa and Elliott here, with strong sentiment around the organization for both. Question is, can Jerry Jones avoid the temptation of picking the best pass-rusher available, Bosa, with all the MIA guys on the Dallas front seven early in the season? The offensive coaches love Elliott and think he'd take major pressure off Tony Romo—and he's an NFL-ready blocker and receiver out of the backfield right now. I think it could go either way, and I'm picking Elliott simply because he has a chance to be a rushing champion, while Bosa is probably an eight-to-10-sack guy.
Mock Trade: Jacksonville trades the fifth pick in the first round to Tennessee for picks in the first (15th overall) and second (33rd overall) rounds, and a mid-round pick in 2017.
5. Tennessee: Laremy Tunsil, OT, Mississippi. The winner for GM of the 2016 draft, if this happens, would be Jon Robinson. He ended up getting one of the two players he'd have taken at number one (Tunsil) here at number 5, and in so doing, picked up two extra second-round picks this year, and first-round and third-round picks next year … not to mention a pick that would give the Titans two long-term tackles for Marcus Mariota. Now if he can only pull this off the way I see it happening.
6. Baltimore: Joey Bosa, DE, Ohio State. The Ravens could be a pivot point for this draft. It's no secret the Titans would love to come up for a top tackle, and if it's not Jacksonville, it could be Baltimore. But I think if Tunsil or even Bosa is here, the Ravens will not trade but rather stay and pick one of the two. Bosa would give Baltimore a day-one starter at a major need position.
7. San Francisco: DeForest Buckner, DE, Oregon. The Niners would strike gold with this pick, because Buckner, at 6-7 and 291, might be the best overall player in the draft. I can also see GM Trent Baalke doing the same thing and take Notre Dame tackle Ronnie Stanley, who might be in the process of passing Tunsil on a few draft boards around the league.
8. Cleveland: Ronnie Stanley, OT, Notre Dame. Browns would love to trade for even more value for this pick. Lots of buzz that coach Hue Jackson likes Paxton Lynch and is advocating for the Memphis quarterback, and it wouldn't surprise me to see a trade down (maybe for a team to move up for Myles Jack or Eli Apple), with Cleveland ending up with an extra second-round pick in a draft packed with second-round and third-round value. But Stanley looks like very good value here as the eventual heir to Joe Thomas. Who knows? If the Browns get a great offer for Thomas, maybe that heir thing will happen this year.
9. Tampa Bay:Vernon Hargreaves, CB, Florida. The Bucs could go offensive line here too, but for a secondary that allowed a pathetic 70-percent completion rate last season, corner is a bigger need area. When NFL teams talk about Hargreaves, one of the things they say is he'll be able to play significant time from week one of his rookie year.
10. New York Giants:Myles Jack, LB, UCLA. Let the debate begin over Jack's health. Or continue. Some NFL teams think Jack eventually will need microfracture surgery on the wounded knee that was surgically repaired last fall. Microfracture surgery is risky, and not every player responds the same to it. But I hear the Giants think Jack's knee is OK. If it is, New York has the best sideline-to-sideline linebacker in the draft, and that's been a huge position of need on the Giants defense.
11. Chicago:Shaq Lawson, DE/OLB, Clemson. Keep hearing the Bears will go defense here, and if this scenario holds, I guarantee either GM Ryan Pace or coach John Fox, or both, will say post-first-round: "We never thought he'd be sitting there at our pick." So many people I spoke with love Lawson's effort, and think his first-step quickness and 4.68 speed is going to translate very well to the NFL. The Bears need a quarterback-disruptor. One X factor: Lawson could need a shoulder procedure, not serious, before the season.
• FILM ROOM: Andy Benoit breaks down tape with Clemson first-round prospectsShaq Lawson and Kevin Dodd
12. New Orleans:Sheldon Rankins, DT, Louisville. Best guess. Truly is. I've heard Paxton Lynch suggested here, with Drew Brees playing this year at 37 and having an onerous future contract, and the fact that Lynch might be best with two years learning from a great one and being indoctrinated by a very smart offensive mind in Sean Payton. But the Saints almost historically are needy on defense, and it's hard to imagine not addressing defense early and often. They allowed 4.9 yards per rushing attempt and an opposing passer rating of 116.1 last year. (Costanza voice: Is that wrong? Is that bad?) Rankins could be the kind of three-down tackle—OK against the run, very good as a three-technique rusher—the Saints have been seeking.
13. Miami:Eli Apple, CB, Ohio State. The guy Miami would love is Ezekiel Elliott, but moving up for him would be extremely hard if he's coveted by Dallas. Still, Apple's an opportunistic pick, a pro-ready cornerback on a defense desperate for one, after starting for two years on an Ohio State defense that prepares its players so well for the NFL. Remember one thing, though, about the Dolphins: Mike Tannenbaum always is ready to move on draft day, so I don't think it's impossible that he could find a way to move up for Elliott, if Dallas passes on him.
• NFL MOCK DRAFT: Robert Klemko predicts picks 1-32 and includes another Top 10 trade for the Browns
14. Oakland: William Jackson III, CB, Houston. With the retirement of Charles Woodson and a subpar corner group, GM Reggie McKenzie would be smart to go corner here. But don't be surprised to see McKenzie pick another very good value player on the board, at a position of need for the Raiders: OT Jack Conklin of Michigan State.
Mock Trade: Jacksonville acquired this pick by moving from 5 to 15 in the first round with Tennessee.
15. Jacksonville: Leonard Floyd, OLB, Georgia. If the Jags sit at five and take Floyd or Bosa or Buckner, or move down and luck out if Floyd's still on the board, think of the difference along the front seven of the 2016 Jags from last season, when Jacksonville was arguably the worst third-down defense in football. What would be new: last year's first-round pick, Dante Fowler Jr., returning from summer 2015 knee surgery; free-agent defensive end Malik Jackson, late of Denver; and a third potential major force. Floyd, the versatile pass-rusher/cover man, is gaining traction late in the draft process. He could be the kind of all-around linebacker Jamie Collins is for New England.
16. Detroit:A'Shawn Robinson, DT, Alabama. New GM Bob Quinn replenishes the middle of the line a year after the Lions lost Ndamukong Suh and Nick Fairley. What's really interesting here is the potential availability of Conklin, a value pick right about now that some line-needy team (Seattle? Arizona?) could want to jump up and take. Quinn, I believe, having been tutored by the risk-taking New England drafters, would be happy to move down for value.
17. Atlanta:Darron Lee, OLB, Ohio State. This would fill a crying need for the Falcons, finding a linebacker with the kind of speed (4.47) to run down plays and get to the quarterback. They'd have been prime candidates for Myles Jack were they picking higher and were Jack a clean prospect. Lee runs the field exceedingly well too.
18. Indianapolis:Taylor Decker, OT, Ohio State. GM Ryan Grigson knows he has significant roster holes, and none more gaping than the offensive line. Colts quarterbacks got hit way too much last year in addition to being sacked 37 times; the running game, at 3.6 yards per rush, was putrid. Decker's not quick, but he's NFL-strong at 6-7 and 310, and you're not going to bull-rush him.
19. Buffalo:Robert Nkemdiche, DE, Mississippi. This pick is one I spent a lot of time on over the weekend, and it's easily the most interesting pick of the second half of the round. Some in the NFL are convinced the Bills will consider Christian Hackenberg here, not so much because of the Penn State roots of the owner (Terry Pegula) but because some in the organization are convinced that Hackenberg, with the proper training, can be a good NFL player. But I can't see it. Rex Ryan's a Tyrod Taylor guy, and he won't want that messed with. Ryan wants a tough disruptor in the front seven from this draft, and it's got to be someone who can get to the quarterback because the Bills were so bad at that last year. Nkemdiche comes with his share of baggage, and it's heavy. In fact, if the Bills don't pick him, I could easily see him sliding out of the first round.
• CHARACTER GUYS: Robert Klemko on how scouts view Robert Nkemdiche and other top prospects with off-field questions
20. New York Jets:Jack Conklin, OT, Michigan State. Versatile player (tackle/guard) who would fit at four of the five line positions. NFL teams love his personality, after he walked on at Michigan State and worked his way up to a top-three ranking among 47 offensive linemen in terms of athleticism at the combine. I toyed with putting Connor Cook here, but I think the Jets still think Ryan Fitzpatrick's their quarterback for at least one more year, and they have bigger needs to fill, including the void left by the retirement of D'Brickashaw Ferguson.
21. Washington: Vernon Butler, DT, Louisiana Tech. A developmental prospect, and a very big man (6-3½, 323) with the ability not just to stuff the run but to power his way into the backfield, and more athletic than he first appears—he runs a 5.15 time in the 40. Some will say GM Scot McCloughan is reaching here. McCloughan would say: I don't care what you think.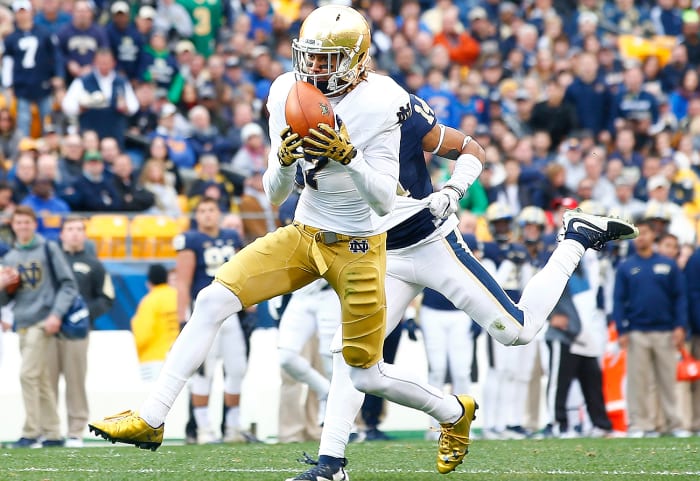 ​
22. Houston:Will Fuller, WR, Notre Dame. The good news: He's the fast wideout, a sub-4.4 guy, the Texans crave to put opposite DeAndre Hopkins. The bad news: He drops the ball too much. But the Texans love everything else about him. One personnel man said the drops are about Fuller not being a totally confident and fluid catcher of the ball, which could come with time. Or not.
23. Minnesota:Josh Doctson, WR, TCU. The Vikings have no idea why the best receiver in the draft—according to several teams—fell to number 23, but they'll take the gift. One of the things GM Rick Spielman wants to get for Teddy Bridgewater is an outside receiver with game-breaking speed and sure hands. Doctson has both.
24. Cincinnati:Corey Coleman, WR, Baylor. The Bengals lost 88 catches from Marvin Jones and Mohamed Sanu—both gone in free agency—and they are eyeing this speedster who played both outside and in the slot and won the Biletnikoff Award as college football's top receiver. Coleman may take some managing off the field, but that has never stopped Mike Brown from drafting or adding a player who might be a bit of a handful. He just puts that on Marvin Lewis's shoulders.
25. Pittsburgh:Mackensie Alexander, CB, Clemson. Very interesting slot, because the Steelers, it would seem, have to address cornerback, and the traditional Steeler way is to take the best guy here, almost regardless of position, and there could be some value picks at cornerback here. But I will not be surprised if hard-hitting safety Karl Joseph of West Virginia is the pick here. He's probably a better value pick than the corners, and Pittsburgh can use a long-term answer at safety, where there is age and inexperience now.
Mock Trade: Seattle trades the 26th pick in the first round to Cleveland for the 32nd and 100th picks in the draft (second-round and fourth-round picks).
26. Cleveland: Paxton Lynch, QB, Memphis. If Seattle stays, I'd forecast Alabama center Ryan Kelly or Texas A&M tackle Germain Ifedi. But trading up assures the Browns of getting the quarterback who fascinates coach Hue Jackson. Lynch will need at least a year of seasoning, which is fine with Cleveland because they want to get it right and will wait if need be. The Browns may consider a bigger trade somewhere in the round if they think Lynch is garnering significant interest and may be picked sooner.
27. Green Bay: Reggie Ragland, LB, Alabama. The Packers could play the versatile Ragland inside and let free Clay Matthews to do what he does best—chase the quarterback off the edge. Ragland's pedigree is tremendous, as the defensive captain of Nick Saban's demanding defense, the SEC defensive player of the year, First Team All-America, two-year starter at a high level and a tough and physical tackler with good instincts. He'll go somewhere in the first round, and Dom Capers would quickly learn to love him.
• INSIDE THE FILM ROOM: Andy Benoit watches tape with Reggie Ragland
28. Kansas City: Laquon Treadwell, WR, Mississippi. He could fall this far because of his 40 time (4.65 seconds), and because other positions are stocked so well. He's the best big receiver in this draft, not quite physical and tall (at 6-2 and 221) on the level of Calvin Johnson, but he made a lot of plays at Ole Miss using his body and physicality to his benefit. He'd be a very good complement to Jeremy Maclin.
29. Arizona: Ryan Kelly, C, Alabama. There are not many more highly respected or well-liked players, overall, in this draft than Kelly. He seems like as much of a lock to be good for several years as anyone in this draft, and that's not an exaggeration. With Arizona scotch-taping this position together in recent times (A.Q. Shipley is currently the starting center, and he is a placeholder for the next center), GM Steve Keim would be filling a need spot with a steady-eddie player who should play in the Pro Bowl one day. Or many days. (Dark-horse possibility here: Illinois defensive end Jihad Ward.)
30. Carolina: Emmanuel Ogbah, DE, Oklahoma State. Now you think I'm really off my rocker. No cornerback here in the first round? After losing Josh Norman in the franchise-tag debacle last week? I just don't think GM Dave Gettleman operates that way. He views the pass-rushers and defensive-line disruptors as vital pieces, because he and GM Marty Hurney before him have been able to fill in on the back end with fifth-rounders, which Josh Norman (2012, by Hurney) and Bene Benwikere (2014, by Gettleman) were. Ogbah's a fast edge guy, which the Panthers need.
31. Denver:Jarran Reed, DT, Alabama. More of a run-stuffer than pass-rusher, but a high-production player in a demanding defense coached by the demanding Nick Saban. Had a big Senior Bowl week, proving to coaches and scouts he'll be, minimum, a rotation player from day one on a good defensive front. "I could see him going anywhere from 11 on," said one personnel man over the weekend. If Reed is there, I say John Elway goes for the value and solves more pressing needs later.
Best players not in first round: West Virginia S Karl Joseph, Kansas State G Cody Whitehair, Michigan State QB Connor Cook.
* * *
On the Cleveland-Philadelphia trade
What struck me more than anything else—with all due respect to how huge this trade was to the long-term future of the Eagles—was the pressure I see that this trade puts on the new Cleveland front office.
So Cleveland did very well in this deal, acquiring first-, third- and fourth-round picks this year (8, 77, 100 overall), a first-round pick in 2017 and a second-round pick in 2018 for moving down six spots in the first round and allowing the Eagles to get in position to take Carson Wentz. But the Browns have made four trades involving first-round picks in the past five years, and every one has been an abject failure. The deals netted Cleveland Phil Taylor, Brandon Weeden, Owen Marecic, Greg Little, Trent Richardson, Justin Gilbert and Johnny Manziel—and the only player left on the Browns is a cornerback whose days are numbered there, the terminally disappointing Gilbert. That is an amazing run of drafting ineptitude.
With that history, then, is it really such great news the Browns are in strong position in the next three drafts? Of course it is. But executive vice president Sashi Brown and his new team of coaches and executives—including analytics guru Paul DePodesta—have to break the cycle in Cleveland, and it will take good drafting, starting this week.
• GOODELL, LEAGUE, WIN BRADY APPEAL: Peter King and Andrew Brandt assess the latest Deflategate ruling
"We know eyes are on us," Brown said Saturday. "This is an important draft for us. We've got to make up ground in our division. But we're confident we won't repeat some of our errors of the past. I think the key for us now is trusting our information and making sound decisions."
In other words, not reaching for Johnny Manziel, doing better homework on what makes players tick (Manziel, the strangely uncompetitive Gilbert), and taking value players where the draft leads them. Teams shouldn't always go by the book and take the best player available, but long-term, you enrich your roster by taking the best players in the draft when your draft slot comes up.
In this case, what I like about the Cleveland side of the deal is the multiple high picks, no matter how far away they are. That was big for Brown. "We thought if we could piece this together, the higher-quality picks were more important, rather than multiple lower picks," he said. No team in the league is in better draft position, as of today, in the next three years. The Browns have six picks in the top 100 this year (tied for most in the league), and they have three in the top two rounds in each of the next two drafts. That is a commanding presence. Now, of course, the Browns' new regime has to be smart about who gets picked, which has been a Herculean task for previous front offices.
* * *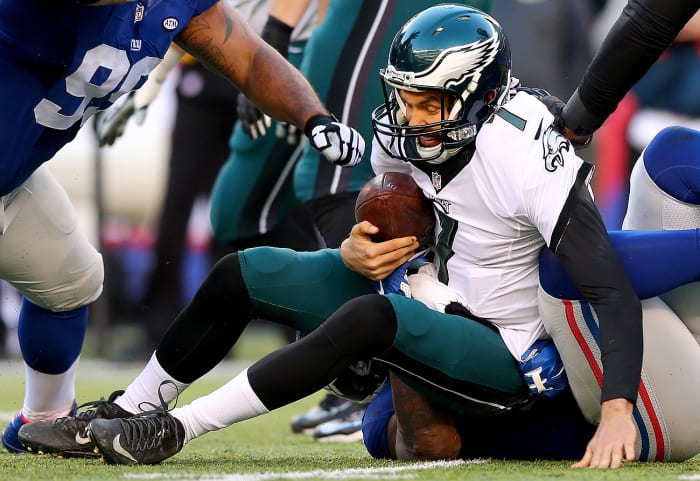 Regarding the Philadelphia side, this explanation from GM Howie Roseman about the quarterback glut on the roster, which will be in full bloom Thursday night with the probable selection of Carson Wentz at No. 2:
"When we sat at 13 in the first round, we studied the draft and found we were really in love with 10 players, and we were motivated to get into the top 10. [Philadelphia traded from 13 to eight with Miami, sending Byron Maxwell and Kiko Alonso to the Dolphins.] We started the process of trying to get a blue-chip player by getting into the top 10 because we felt the odds of us getting that player at 13 were low. We explored our options and made the move to eight. Once we got into the top 10 we started diving into more research on the players and the quarterbacks who were in the top 10 on our board. We were fortunate because of feeling good about Sam as our starting quarterback and some of the players we signed in free agency that we didn't need to be driven by immediate need.
• WHAT THE HECK ARE THE EAGLES UP TO AT QB? Andrew Brandt tries to make sense of Philadelphia's trade, in the wake of signing two quarterbacks this offseason
"Our own history is that we picked once in the top 10 since 2000, and the year we did, in 2013, the first quarterback to go off the board was [at 16]. So there is no guarantee when you are picking this high there will be a QB to pick or teams willing to trade that pick."
It all makes sense—assuming you think Wentz is going to be at least as good as Donovan McNabb was for this franchise, and assuming you think you can scotch-tape Sam Bradford's emotions about being a bridge to the future rather than the quarterback of the future. "We're not looking to get rid of Sam Bradford—at all," said Roseman. "He's our starting quarterback." Roseman and the Eagles have to hope that Bradford works diligently to put together the best season of a star-crossed career, so he can be dealt in 2017 to a team that would view him as the passer of the future.
It's interesting how the two organizations saw the bounty from the picks differently. Cleveland didn't want everything in this draft and next year's; Philadelphia agreed. "Being able to spread out the compensation was important to us," Roseman said. It would have been daunting to not have a one or a two next year. Moving the two to 2018 helped us."
There will be pressure to be right on Wentz, for this reason: The Eagles have denuded the next three drafts to make it happen. After picking at 2 this year, Philadelphia has one pick in the next 150 selections, at number 79 overall. Next year they may not pick in the top 50. In 2018 they'll have one pick in the first two rounds as well. "This was a hard trigger to pull, obviously," Roseman said.
I also addressed one thing with Roseman that has gotten traction in recent days—the fact that the Chip Kelly-regime Eagles last year could not get the quarterback he wanted in trade for the second pick in the draft (Marcus Mariota), while Roseman was able to move up to get the second pick in the draft this year to get a quarterback of the future. Kelly loses. Roseman wins. Simplistically, it's true. But it ignores the fact that the Titans last season simply were not trading the second pick in the draft once it became apparent that the object of their affections, Marcus Mariota, was going to be there at two. 
"That is not fair," Roseman said. "Totally different circumstances. Tennessee was not trading that pick. And if you're dealing with a team that doesn't want to trade the pick, there's nothing you can offer them to make them do it."
I remember talking to then-Tennessee coach Ken Whisenhunt the night Mariota got picked, and he asserted to me that it didn't matter what was offered. Mariota was going to be Tennessee's pick. Roseman is not being gallant here in not blaming Kelly. He's simply telling the truth.
* * *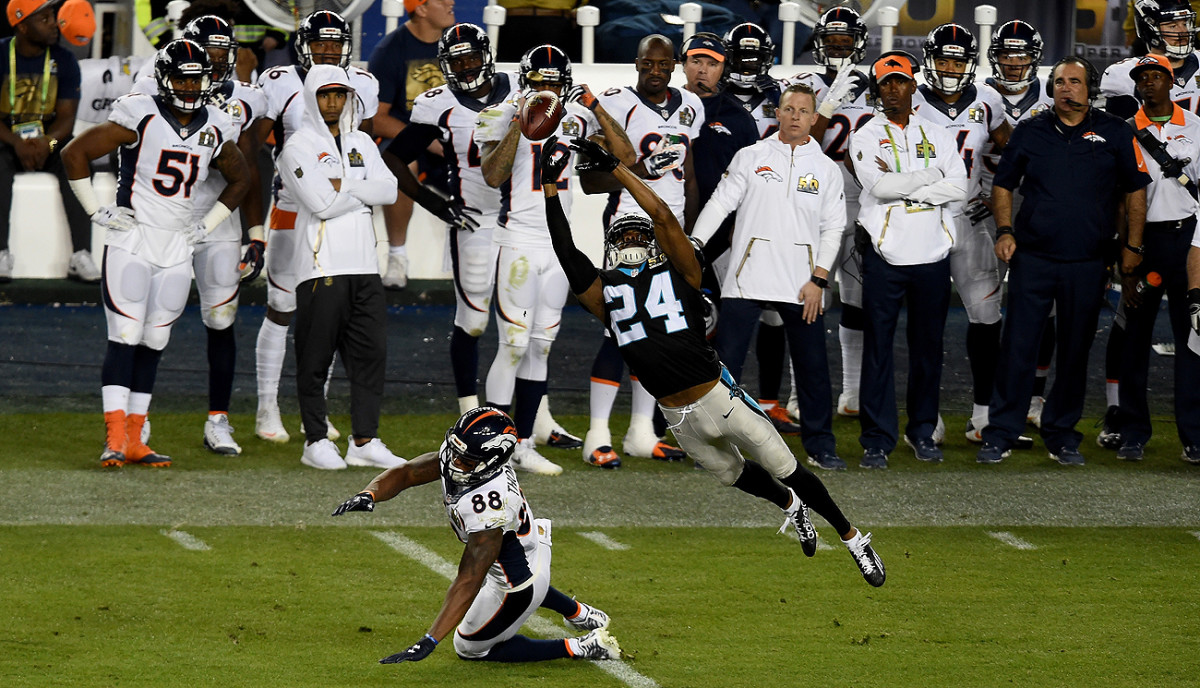 On Josh Norman
I've asked Andrew Brandt, who writes about the business of football for The MMQB, to address the very strange situation of the Panthers rescinding the franchise tag on one of the best cornerbacks in football, Josh Norman, allowing him to become a free agent. Within 48 hours Norman was signing a five-year, $75 million contract with Washington. That deal will pay Norman the kind of money he felt he was worth—$36.5 million in the first two years of the contract. That's franchise defensive player money.
Brandt will check in after a moment. My thought: It's at a time like that, if you're a fan of the Panthers, I believe you have to say, Our GM, Dave Gettleman, has made some questionable decisions before in his four years running the franchise. But he got us out of cap hell, helped maneuver the team around the Greg Hardy scandal and finished the construction of a Super Bowl team around Cam Newton, and he's been very good at finding middle- and low-round players (such as fifth-rounder Bene Benwikere) to contribute to a winner. So let's give Gettleman the benefit of the doubt here.
And if you're on the outside looking in, you have to know that Gettleman looked at the situation, saw a player who wasn't going to make what he wanted to make in a long-term contract in Charlotte, and you figure he and coach Ron Rivera knew Norman might be publicly unhappy. Would that be worth having him on the team at the franchise number of $13.95 million, knowing he might not be all-in? Cut the cord now, Gettleman apparently thought, instead of having it hang over the team all the way to training camp. That's my view.
Regarding Washington, it's a gift cornerback who fell out of the sky to help a secondary bereft of great players … manna from the football gods. Now Washington doesn't have to make cornerback a draft-day priority and can continue to build a long-term team, something GM Scot McCloughan has harped on from the day he walked into the franchise a little more than a year ago. Now Tony Romo (if healthy), Eli Manning and Sam Bradford (if healthy and competent) will have to deal with a respectable secondary against this team, and not just an impact rush.
• Here is Andrew Brandt's take:
There must be a back story to the relationship between the Panthers and Norman, who went from being forced to negotiate with one team to being able to negotiate with all 32. Norman quickly leveraged that interest, whether real or perceived, into $36.5 million in full guarantees from Washington. Gettleman's reference to Norman's excessive contract demands are curious because that is a reason why the franchise tag is used:to preserve rights with top players when there's no common negotiating ground. If Von Miller asked the Broncos for $25 million a year, would the Broncos think for a minute about rescinding the tag? Of course not; they'd be thankful they used it.
When applying the tag, front offices assess the risks of the player: (1) signing the tender right away, guaranteeing him that salary; (2) not signing the tender and perhaps missing offseason workouts, minicamps, even training camp; (3) using tag status to embolden his negotiating position; and (4) expressing rumbles of discontent about the team "dating" but not "marrying" him. Gettleman, a seasoned executive, certainly knew these risks; one has to wonder if something occurred beyond these. One theory suggested is that Gettleman feared that Norman would not sign the one-year tender at any point. That is highly doubtful. Tagged players may miss offseason time, but come real games and real checks, they all sign. Norman was not going to forfeit $821,000 per week to not play in the regular season.
Why, then, did the Panthers not retain Norman for the year and let him pursue whatever contract he desired next year? We can only speculate. Perhaps Norman and/or his agents expressed frustration with the team about something deeper than the tag. Perhaps Gettleman feared Norman would be a negative voice in the locker room. Perhaps Gettleman saw the price of defensive linemen rising and wanted to preserve funds. Perhaps Gettleman had second thoughts about Norman's value. Whatever the story, the Panthers just let a Pro Bowl cornerback, under their control for at least this coming season, walk out the door.
It is hard to believe there is not more, perhaps a lot more, behind this divorce.
* * *
On the concussion appeal settlement
Last week, writing for the majority in upholding the NFL's concussion settlement with a class of more than 20,000 players, 3rd U.S. Circuit Court of Appeals Judge Thomas Ambro said: "It is the nature of a settlement that some will be dissatisfied with the ultimate result. But they risk making perfect the enemy of the good."
The case began in July 2011, with 73 former players suing the NFL and helmet maker Riddell, alleging that the league and Riddell didn't do enough to warn them about the risk of head trauma. A year ago U.S. District Judge Anita Brody approved the settlement, which could see the NFL pay out more than $1 billion over the next 65 years to a class of players who suffer cognitive disabilities between the end of their careers and the end of their lives. Then it went to the appeals court, which approved the settlement 3-0. Those who continue to object—and there still could be a group of players who do—will have to appeal to the same court again, or to the U.S. Supreme Court. If appealed to the Supreme Court, the two sides won't know until November or December whether the high court would hear the case, and then if it is heard there, it would be at least a year before a ruling is handed down.
So, theoretically, if the Supreme Court accepts the case (no guarantee it would), the players who are waiting for settlement checks would likely have a wait of about another two years.
If there are no further objections, lead attorney Christopher Seeger told me Sunday, the first checks could probably be cut in about four months.
"I expect the objectors to continue, unfortunately," Seeger said. "The legal system gives them another crack at it—two cracks, actually, if they choose to use them."
As I see it, the problem with the objecting players pressing further in hopes of getting the award increased, is in opening the case to determine the genesis of head trauma in former NFL players. As I reported when the case was first adjudicated, a major reason why the players are not getting everything they want out of the settlement is that the extent of the damage in players is not solely from NFL games. Some players may have played four or five years in the NFL, and eight or 10 years of tackle football at the college, high school and/or youth level before that. The NFL could, and likely would, argue that the blame for whatever health damage was done to a player should not be all on professional football. As it is, the settlement doesn't ask players who are suffering to prove they are suffering because of what happened to them in NFL games. If a player has the kind of cognitive impairment consistent with mild or severe dementia, he could claim a maximum award of between $1.5 million and $3 million; a claim of ALS would bring a maximum award of $5 million.
Seeger said what is "heart-wrenching'' for him is that claimants who are expecting payments are calling his office for advice on borrowing against the future award, often with lending companies charging high rates of interest. "That happens on a weekly basis," he said. "As much as I would prefer that they not do it, because they are going to get gouged, nonetheless you've got families who need it for college or for the mortgage. Families out there need help."
He said 8,000 former players or their families or estates have pre-registered for benefits that will come once the settlement is finally approved. But none can be paid out until the final objections have been heard. Which, from the sound of it, could still be somewhere between four months and two years away.
* * *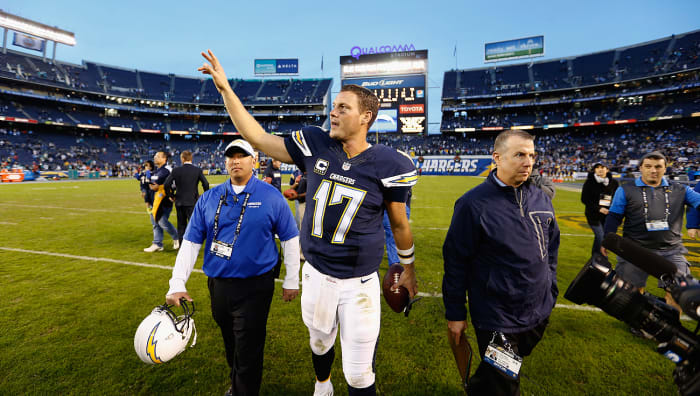 Quotes of the Week
I
"I said it. I mean it. The Chargers belong in San Diego."
—NFL commissioner Roger Goodell, at a rally in San Diego on Saturday to drum up local support to pass a stadium initiative in the city. The Chargers have until January to either get a stadium done in San Diego or declare their intention to move to Los Angeles to join the Rams at a new stadium downtown.
II
"It's going to go quarterback, quarterback, and then San Diego. If San Diego takes Jalen Ramsey, I almost feel like Dallas has to stay with Joey Bosa. It might not be as sexy, but he's a heck of a football player."
—NFL Network draft guru Mike Mayock, on Friday.
III
"You give me your three this year, and I flip you our four this year, and that gets it done. That gets it done today."
—Tennessee GM Jon Robinson to Rams GM Les Snead, about eight hours before the two teams agreed to swap the first pick of the 2016 draft for a bevy of six Rams picks in the first three rounds of the next two drafts. Here's the story.
IV
"You know, he won championships in New York. The AFC, I think, twice."
—Republican presidential candidate Donald Trump, on Buffalo coach Rex Ryan, who introduced him at a rally in western New York before the New York primary election last week.
Ryan's Jets lost the AFC title game twice in his tenure there.
V
"Prince was the soundtrack of our lives, the inspiration for a generation of musicians. He was one of us. He was all of us. And now he's gone."
—The Minneapolis Star Tribune's lead on the death of Prince, by Pam Louwagie and Chris Riemenschneider. Very well done.
Fascinating factoid in this news story about Prince's death: He became a Jehovah's Witness in 2001, and in 2003 knocked on the door of a home in suburban Eden Prairie. The woman at the house let him in, and the paper reported he called himself Prince Nelson and stayed for 25 minutes to discuss his faith.
* * *
Stats of the Week
I
Nerdily rummaging through the Pro Football Focus2016 Draft Guide, I discovered this about a player I believe should be a first-round pick, by someone—6-4, 311-pound Alabama center Ryan Kelly:
Snaps played in 2015: 1,032.
Penalties: 0.
Sacks allowed: 0, in 488 pass-blocking plays.
"He'll start for somebody week one, and he'll start for them for 10 years," said draftologist Gil Brandt.
II
Last year, there were six trades involving first-round draft picks, the lowest number of deals since the turn of the century. We sit at three first-round trades today, three days before the draft begins.
• IS A KICKER WORTH A HIGH PICK? Jenny Vrentas on Florida State's Roberto Aguayo, who could go earlier than any kicker in a decade
* * *
Factoid of the Week That May Interest Only Me
I credit Mark Dalton, the ace PR man of the Arizona Cardinals, for this one. It's quite coincidental.
Jake Arrieta of the Chicago Cubs pitched a no-hitter Thursday, the same day Prince died.
Arrieta, before signing to play major-league baseball, was drafted on June 7, 2004 (by Cincinnati); June 7, 2005 (by Milwaukee); and June 7, 2007 (by Baltimore).
June 7 was Prince's birthday.
* * *
Mr. Starwood Preferred Member Travel Note of the Week
So Time Inc., parent of The MMQB, left midtown Manhattan last year and moved downtown, just across West Street from the new Freedom Tower. Each time I go to work, I take the subway down to the World Trade Center stop, at the southern end of the E line, and walk across the rear of the complex with the two big pools of water surrounded by the engraved names of each person who died in the World Trade Center attack on Sept. 11, 2001. What's so interesting to watch: the faces of the people seeing the majestic new World Trade Center, many of them in slack-jawed awe as they crane their necks to see to the top. What's so interesting to hear: the voices of so many different languages on the plaza as the weather improves, and the crowds swell. I'm not sure, but on Friday, I believe I heard Serbian.
If you have not been to the site, and you have not toured the 9/11 memorial and museum, you will be moved. It's beautiful.
* * *
Tweets of the Week
I
II
III
IV
This tweet was based on the theory that half of the first-round quarterbacks historically are washouts. I'll test that quote down in Ten Things.
V
* * *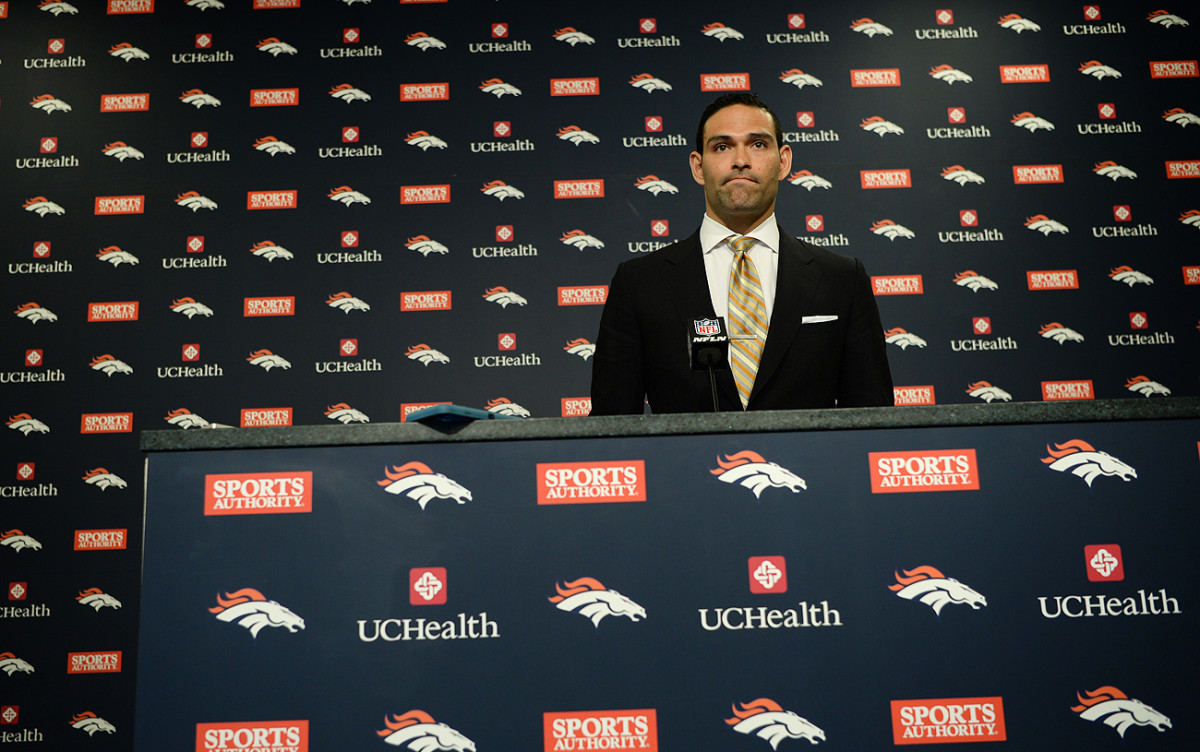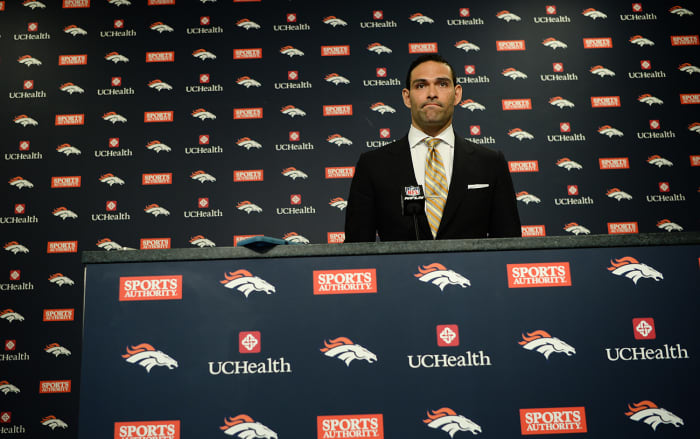 Ten Things I Think I Think
1. I think I will not be surprised if the Broncos exit draft weekend without a highly drafted quarterback, without trading for a quarterback, and with Mark Sanchez and possibly Brian Hoyer competing with a mid-round to late-round rookie (Jacoby Brissett of North Carolina State?) and Trevor Siemian for the three QB spots on the roster. Which, of course, would set up Sanchez to start opening night for the Super Bowl champs against Cam Newton. If that happens, it means GM John Elway couldn't get Colin Kaepernick to take a major pay cut to come to Denver.
• A SUPER BOWL SAFARI: Broncos teammates DeMarcus Ware and Demaryius Thomas recount their celebratory trip to South Africa
2. I think, just so you can plan accordingly, here's the schedule of events for the weekend, live from Chicago's Auditorium Theatre:
• Thursday: Round 1, with the clock scheduled to start about 8:10 p.m. ET. Teams are allowed to take 10 minutes per pick.
• Friday: Rounds 2 and 3, beginning at 7 p.m. ET. Teams get seven minutes per pick in the second round, and five minutes per pick in the third round. Compensatory picks begin at the end of the third round, and teams get four minutes per compensatory pick, regardless of the round.
• Saturday: Rounds 4, 5, 6 and 7, beginning at noon ET. Rounds 4, 5 and 6 get five minutes per pick, with four minutes allowed for seventh-round choices.
3. I think it makes next to zero sense for Buffalo to draft a quarterback high. If the Bills want a Christian Hackenberg in the third round (I still can't find a spot in the first round for him), fine. But Tyrod Taylor played promisingly enough last year to merit a shot at being the long-term guy. And let's be frank: If the Bills go 6-10 this year and the place implodes again, what sense does it make for this coaching staff to saddle the next one with a quarterback it may not like in this year's first round? Buffalo should fix the defensive front first.
• THE HACKENBERG RIDDLE: Jenny Vrentas on the Penn State QB who has NFL teams puzzling about his prospects
4. I think the Raiders are serious about Las Vegas. And Vegas is serious about the Raiders.
5. I think, though I'm on record as saying the Raiders belong in northern California, there's another issue here: The league should not stand in the way of a franchise playing in Nevada if it makes financial sense. It's always seemed a straw-man argument to me about the NFL not doing business where there is legal sports gambling, with the fear that players could become associated with gamblers. Well, there are gamblers everywhere. And they can get their hooks into players in every NFL market right now. Playing in Vegas, to me, would not jeopardize the integrity of football. At all.
6. I think I'd like to take this moment to welcome Albert Breer, late of NFL Network and NFL.com, and Tim Rohan, a writer for The New York Times, to our staff. Both will begin with us later this spring. I'll have a few things to say about our future plans, and the plans for them and for our current staff, after the draft. For now, a hearty welcome to both. I'm really excited about how they'll raise the bar at our site, a bar already set high by our Jenny Vrentas, Robert Klemko, Emily Kaplan, Andy Benoit, Andrew Brandt and our editing team, and our video team. We're just finishing our third year, and we look forward to 30 more.  
7. I think I'm going to test Brian Billick's theory that half of the highly drafted quarterbacks are washouts. I looked at every draft since 2005, and took all the quarterbacks from the top 10 of each draft, and eliminated those from the past two drafts (Blake Bortles, Jameis Winston, Marcus Mariota); it's too soon to judge them, though we've seen positives in all three. That leaves 14 quarterbacks taken in the top 10 of the draft between 2005 and 2013. Breaking it into five categories:
• Hits (4): Matt Ryan, Matthew Stafford, Cam Newton, Andrew Luck.
• Pretty good overall (1): Alex Smith.
• Jury still out (2): Ryan Tannehill, Sam Bradford.
• Jury out, but not looking good (3): Mark Sanchez, Blaine Gabbert, Robert Griffin III.
• Misses (4): Matt Leinart, Vince Young, JaMarcus Russell, Jake Locker.
Looks like Billick was being generous, if Ryan Tannehill might be the sixth-best quarterback among the 14 taken in the top 10 over nearly a decade.
8. I think if you haven't watched The MMQB'sAndy Benoit analyze tape and talk football with some of the best players in this draft, here's one testimonial that may convince you to do so: Some on the Rams' staff watched Jared Goff's session with Benoit and were educated. See for yourself. And all you Eagles fans and North Dakotans: You'll like Benoit's session with Carson Wentz, coming Tuesday at The MMQB.
9. I think the Cleveland-at-Philadelphia opener just got more interesting, and not just because of the trade. Imagine if the second pick in the draft has a great training camp and somehow wins the job for the Eagles. Highly unlikely, but what if Sam Bradford storms out, or gets hurt in camp, and what if the rookie outplays Chase Daniel? At the end of the 2015 season, is there a soul on earth who would have had Robert Griffin III at Carson Wentz (or Goff) in a Browns-Eagles season-opener?
10. I think these are my non-football thoughts of the week:
a. "Hello Mr. Hartman. How are you?"
b. Fantastic piece, Kevin Seifert. You just had to figure Sid Hartman would have met Prince. Had to.
c. Good on Bruce Springsteen, who opened his first show after Prince's death, Saturday night in Brooklyn, with "Purple Rain."
d. Good idea, Don Banks. Donnie Brasco did an oral history of a major quarterback draft, 1971, when the draft was an incredibly different world.
e. This different, in the words of Archie Manning, describing his draft day in 1971, when he was still a student at Ole Miss and was taken second overall: "On the day of the draft, I went over to the athletic department. And at 9:15 a.m., the Saints called, and I talked to the owner, John Mecom Jr., then I talked to Vic Schwenk, the GM, and then he puts me on the phone with J.D. Roberts, the head coach. And those were like 15-second conversations, just welcome to the Saints and we're glad to have you. So I hung up, and the AP [Associated Press] came in and took a picture of me sitting downstairs in the athletic department building. By 10:00 a.m. I was in class. So that was my draft day."
f. Really well-executed by Banks.
g. Baseball is such a mysterious game. Why did Jake Arrietta stink, and now he's the best pitcher on the planet? "Confidence," says Rob Dibble, the former hurler turned radio host. Man, that is one gigantic factor then.
h. Coffeenerdness: The espresso at Otto, the Italian place near NYU, must be tasted to be believed. Might be better than the pizza bianco.
i. Beernerdness: I have often praised the Allagash Brewing Company from Maine, if you've read this space. But the more I try the products of the Maine Beer Company, the more I wonder if there is a two-way tie for first place among fantastic Down East brewers.
* * *
The Adieu Haiku
The draft starts Thursday.
Before then, I hope, just once
It rains purple rain.
• Question or comment? Email us at talkback@themmqb.com.