Sizing Up the NFL Draft's Quarterback Market
The 2017 draft QB class is looking relatively thin. Who's going to be in the market for a QB this spring? And which teams are most likely to reach for a passer?
As Bill Belichick so eloquently stated, the poor Patriots are already five weeks behind. And yet Belichick is fortunate; he won another Super Bowl, plus New England has not one but two coveted quarterbacks on its roster. The big storyline over the next few months will be the quarterback puzzle—and it's sure to be messy, as the college ranks can't replenish the supply fast enough. This year especially.
The consensus among NFL teams, 11 weeks before the draft, is this: All of the draft-eligible quarterbacks have zits. None of the top-tier selections (Notre Dame's DeShone Kizer, UNC's Mitch Trubisky, Clemson's Deshaun Watson) is ready to command a team right away. It might be a reach to take any of the second-level prospects(Miami's Brad Kaaya, Texas Tech's Pat Mahomes, Pitt's Nate Peterman, Cal's Davis Webb) higher than late second round. Any of those prospects could be a fourth-round gem like the Cowboys found with Dak Prescott last season. Yet it feels like some team is going to reach much earlier.
The College Column has previously delved into the merits of the 2017 draft crop:
• Kizer faced unique pressures in South Bend and hopes to outperform previous Golden Dome quarterback flops.
• Trubisky emerged on the scene late, and evaluators are scrambling to find out if it's worth banking on a one-year starter.
• Watson dazzled in the national title game, though concerns linger if his play will translate to an NFL offense.
• Peterman and Webb (also Air Raid) each demonstrated traits as developmental prospects.
• Mahomes, like Luke Falk (who opted to stay in school), embodies the Air Raid conundrum.
As we navigate the next two-and-a-half months, it's important to remember that the draft slots for these quarterbacks may not be as much an appraisal of them as it is a gauge of how needy a team is for a signal-caller. Below I've categorized QB desperation level for all 32 teams, as it stands today. Remember, there are X-factors that will change the equation. (Do the Chiefs believe they've maxed out with Alex Smith? Are the Patriots really going to hold on to Jimmy Garoppolo? etc.)
ABSOLUTE, IMMEDIATE NEED
Cleveland Browns (own No. 1 and No. 12 picks)
San Francisco 49ers (No. 2)
Chicago Bears (No. 3)
Buffalo Bills (No. 10)
Robert Griffin III and Cody Kessler probably aren't the long-term answer in Cleveland, but their presence will keep the Browns from using the top pick on a signal-caller. The 49ers should be the first team to grab a quarterback off the board (I consider Trubisky the favorite) to grow with new coach Kyle Shanahan, though they'll need veteran help. In my opinion the Bears at No. 3 would be best off with this approach, assuming they cut ties with Jay Cutler: Keep Brian Hoyer as a stopgap and wait until the second, third or (hopefully) later round to get a Kaaya, Mahomes, Peterman or Webb. As for the Bills? In my first mock draft I had them taking Watson in the first round. I have no idea where they're going with the position, but if they deem Tyrod Taylor too pricey, they'll need a new QB ASAP.
NEED COMPETITION IN THE NEXT YEAR OR TWO
Jacksonville Jaguars (No. 4)
New York Jets (No. 6)
Los Angeles Chargers (No. 7)
New Orleans Saints (No. 11)
Arizona Cardinals (No. 13)
Houston Texans (No. 25)
Kansas City Chiefs (No. 27)
The Cardinals and Chargers find themselves in nearly identical situations: As Carson Palmer and Philip Rivers' careers wane, it's time to find their heir apparents. I'll slide the Saints in here too, with an aging Drew Brees, though their situation is not as dire. I mentioned the Chiefs as a wild card earlier considering that Smith's contract is essentially a year-to-year deal. While Kansas City could be in play for Tony Romo, remember that general manager John Dorsey was schooled by Ron Wolf, who drafted quarterbacks as often as possible. I love the idea of the Chiefs picking up Watson, grooming him for a year, then perhaps cutting Smith in 2018 to save $17 million in cap space. The Jaguars appear committed to Blake Bortles—for now—but they would benefit from bringing in some competition. The Jets are a mess and appear to have drafter's remorse with last year's second-rounder, Christian Hackenberg. The only thing preventing me from elevating New York to the first group is its plethora of options (Bryce Petty, still there!), and I don't think they should overdraft for a second year in a row. As for the Texans? Their buyer's remorse on Brock Osweiler is no secret; the front office appears poised to give Tom Savage a fair chance, though they'd benefit from restocking with the draft for future (cheap, home-grown) talent in the event Savage does not develop and Osweiler cannot kick his funk.
SHOULD DRAFT A QB FOR LUXURY
Carolina Panthers (No. 8)
Cincinnati Bengals (No. 9)
Baltimore Ravens (No. 16)
Washington Redskins (No. 17)
Detroit Lions (No. 21)
Miami Dolphins (No. 22)
New York Giants (No. 23)
Pittsburgh Steelers (No. 30)
New England Patriots (No. 32)
Minnesota Vikings (No. 47 or 48, pending coin toss)
The Bengals are likely set with the tandem of Andy Dalton and AJ McCarron, though I'd like to see them pick a prospect late—no earlier than the fourth round. Ditto: Dolphins with Ryan Tannehill and Matt Moore, and Panthers with Cam Newton and Derek Anderson. The Lions are secure with Matthew Stafford but need a backup, and it wouldn't hurt to draft an option. Same goes for the Ravens and Steelers, as the AFC North rivals might begin planting the seeds for life post-Flacco and post-Roethlisberger. Monitor Kirk Cousins in Washington, though I'm inclined to believe he'll stay. As for the Vikings? With reports that Teddy Bridgewater's recovery process may extend well into 2017, the front office could begin thinking about a contingency plan for after Sam Bradford. The Giants may be in the market for a new Eli Manning backup. The Patriots are not going to pick a quarterback if they keep Jimmy Garoppolo. But if he gets traded…
FIRMLY SITUATED AT QB BUT COULD TAKE A FLYER
Indianapolis Colts (No. 14 or 15, pending coin toss)
Seattle Seahawks (No. 26)
Dallas Cowboys (No. 28)
Green Bay Packers (No. 29)
Atlanta Falcons (No. 31)
The Packers still adhere to Ron Wolf principles, and though Brett Hundley appears to be a serviceable understudy, don't be shocked if Green Bay takes a QB late. The Seahawks have backup Trevone Boykin under contract through 2018, but after a season in which Russell Wilson got hurt, I expect them to bring in a third quarterback to compete with Boykin, and perhaps to stick around.
PROBABLY NOT DRAFTING A QB
Tennessee Titans (Nos. 5 and 18)
Philadelphia Eagles (No. 14 or 15, pending coin toss)
Tampa Bay Buccaneers (No. 19)
Denver Broncos (No. 20)
Oakland Raiders (No. 24)
Los Angeles Rams (No. 37)
The Broncos are an interesting case here. Trevor Siemian proved he can be an NFL starter, and last year's first-rounder, Paxton Lynch, is waiting in the wings. If anything, John Elway would add a veteran, but I don't see the Broncos needing to draft another quarterback in 2017. The Buccaneers and Titans have their young QBs of the future (Jameis Winston and Marcus Mariota, respectively), though both teams need backups. I expect that to come from the veteran market, though both could pick up a camp arm in the sixth or seventh round. The Eagles are committed to Carson Wentz (and are set with Chase Daniel at No. 2), and Reggie McKenzie did work last year to ensure the Raiders are set for 2017; no need to add more to a QB room featuring young, relatively cheap talent in Derek Carr, Connor Cook and Matt McGloin.
• COLLEGE COLUMN ON THE QBS: Trubisky | Watson | Kizer | Peterman & Webb | Chad Kelly
* * *
FIVE THINGS YOU NEED TO KNOW
Recapping the top college and draft-related storylines of the past week…
1. Joe Mixon was not invited to the NFL combine. Mixon's omission appears to be an application of an NFL policy, implemented last year, that bans prospects with misdemeanor or felony convictions for violent crimes. Though Mixon took a plea after punching a woman in 2014, the NFL evaluates each case's underlying circumstances. Last week I reported that the temperature on Mixon among NFL teams was lukewarm; some front offices might not drop the running back too far down their boards, while others may remove his name completely. All of this shows the NFL taking a hard stance on punishing players for behavior before they enter the league, while teams are taking more individualized—and perhaps more forgiving—positions.
• NFL EVALUATORS ON JOE MIXON: Teams are figuring out what to do about the talented back with the troubled past.
2. Mixon isn't the only player omitted from Indianapolis because of off-field behavior. Baylor wide receiver Ishmael Zamora did not receive an invite to the combine. Zamora was charged with a misdemeanor and received a citation for animal abuse for beating a dog in August. He was suspended for three games last season. I find it important to note that Mixon and Zamoras incidents have one thing in common: Both their incidents were captured on video, which ignited public outrage.
3. Deshaun Watson will throw at the combine. There was some ado about the Clemson quarterback bypassing his invitation to the Senior Bowl last month, where he could have showed off in front of the quarterback-needy Browns coaching staff, as well as dozens of NFL evaluators. While most of the NFL community understood Watson's decision, they're likely pleased to hear he'll do all the passing drills in Indianapolis. (Watson confirmed this in an interview with NFL Network at the Super Bowl.) This is important, because one of the biggest question marks surrounding Watson's NFL evaluation is his accuracy. It has come into vogue of late for top quarterback prospects to forgo the throwing drills at the combine, instead waiting for their individual pro days, when they have more time to work on a set script. (Among those to take this approach: Teddy Bridgewater, Derek Carr, Blaine Gabbert, Robert Griffin III, Andrew Luck, Johnny Manziel, Matt Ryan, Matthew Stafford and Ryan Tannehill.) Last year, however, the four top quarterback prospects (Jared Goff, Christian Hackenberg, Paxton Lynch and Carson Wentz) each chose to throw at the combine. It will be interesting to see if other quarterbacks in the 2017 class are influenced by Watson's decision.
4. Last week was National Signing Day. As we celebrated programs for securing the most five-star prospects, it seems as good a time as any to remind you: Scouting service gold stars are by no means a ceiling. Consider this list of NFL players: Doug Baldwin, Le'Veon Bell, Antonio Brown, David Johnson, Alex Mack, Khalil Mack, Doug Martin, Clay Matthews, Devin McCourty, Jordy Nelson, Josh Norman, Aaron Rodgers, Josh Sitton, Aqib Talib, Bobby Wagner, J.J. Watt and Russell Wilson. What do they all have in common? They were two-star recruits or lower coming out of high school.
5. With the Falcons hiring former USC head coach Steve Sarkisian as their new offensive coordinator (I refuse to label Sarkisian as a "former Alabama OC" since his tenure literally spanned one game) the question in the college ranks now becomes: Who will Nick Saban hire as his next offensive coordinator? And with Chip Kelly's 2017 NFL options running dry… O.K., I'll just leave you here with colleague Andy Staples' column.
* * *
GET TO KNOW A PROSPECT
A quick Q&A with a prospect generating some buzz. This week, Texas A&M wide receiver Josh Reynolds. Lightly recruited out of high school, Reynolds graduated third in Aggies history with 2,788 career receiving yards, despite only playing three years. At the Senior Bowl, Cal quarterback Davis Webb cited Reynolds as his favorite wide receiver; Reynolds finished the game with six catches for 96 yards including a 39-yard TD catch from Webb. Reynolds is a smooth runner with long strides and shows a willingness to block, plus a propensity for winning contested balls.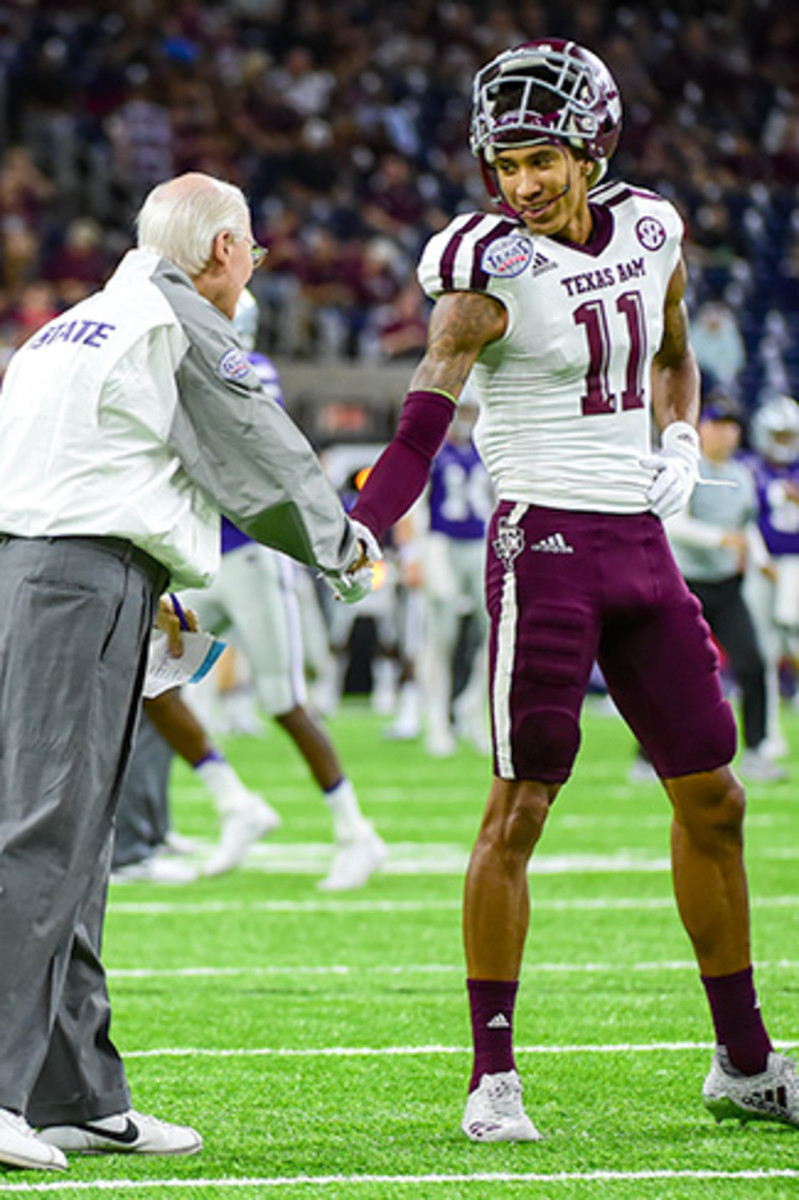 ​Give me a scouting report of yourself...
My best attributes are my soft hands, my ability to come off the ball, beating man press, and going up and getting to the ball to win jump-ball battles. I'm also a good route-runner. I can still work on all of those things, but I can always still work on my route-running, coming in and out of breaks, and also a little bit of blocking. My blocking could get a little bit of better.
Explain your path to Texas A&M…
I actually had one track offer coming out of high school, from Texas A&M. I also played basketball in high school. But I knew I wanted to play football at the next level. I had some D-II offers for football, but I figured going the JuCo route (Tyler Community College in Texas) would be best for me to see if I could get some interest from bigger schools. My year at junior college was tough. It definitely tested me. In junior college, you don't have anyone looking out for you, you're working by yourself for yourself. I had to dig deep and find out if I really wanted to play football or not.
What was the Senior Bowl experience like?
It was fun, to be around NFL coaches, figure out how their mindsets worked a little bit, to see what they expected from me. It was a little difficult learning the new plays, coming from a spread offense, trying to learn the language was a little tough—especially because it was such a short period of time to learn it. They gave us a stack of plays, then had us learn it in three days. They gave us a little website where we could learn the plays by ourselves when we went home and stuff like that, to test us, so it was a good introduction to what is expected of an NFL players. Interacting with scouts, it wasn't too bad. Most of the questions were trying to figure out what kind of person you were. They asked background questions: Where do you live? How does your family support you? Some would give a little test to see how quickly you pick up on their offense or plays.
Who is the toughest corner you've faced?
Cyrus Jones from Alabama [now of the Patriots]. We definitely went at it for two years before he went to the league.
What receiver do you model your game after?
Larry Fitzgerald. He's resilient. Being 14 years in the league, he still tends to make big plays, run off on people, and wins jump-ball battles. I see myself similar to him.
What's the biggest adversity you've faced in your life and how did you overcome it?
Definitely JuCo. Being that guy in high school, I never expected to be under recruited and have to go that route. Having to comprehend that, then having to get back to it and get to a whole new mindset like, Hey I have to work hard to earn a starting spot on the team and get noticed. The way I overcame it was by working on my craft every night, by myself. I'd go on YouTube and watch Ochocinco footwork drills then at night go to the field and run the route tree. I'd be on the field watching it, then find out the cone drills I could do, set it up, and then just did them again and again.
What was the weirdest class you took in college?
Poultry Science. It literally was a class about chickens. I never expected there to be a class only about chickens. I heard Von Miller had a chicken farm, and those things make a lot of money, and Von probably took that poultry science class when he was in college so I should probably check it out. I learned about some of the machines that actually keep the eggs growing without being in a nest.
* * *
FACTOID OF THE WEEK I
Duke began its spring football practices on Feb. 3, officially kicking off the 2017 college football season—two days before Super Bowl 51 officially concluded the 2016 NFL season.
* * *
FACTOID OF THE WEEK II
I often wonder if the most taxing aspect of recruiting is the monotony. In a radio interview last week with Bart Simmons, LSU coach Ed Orgeron was asked about in-home recruiting visits. That's when Orgeron revealed this detail: In a one-week span, he ate 19 gumbos served at potential recruits' homes. Think about that: 19 servings of gumbo in seven days.
Don't feel too bad for the Louisiana native. First, gumbo is delicious. Second, Orgeron's bandwidth for gumbo consumption seems to have few limits. He will be honored by his hometown of Larose, La., later this month for a "Coach O Day" banquet, and according to a press release, Orgeron specially requested gumbo as a menu item.
* * *
SCORCHING HOT HEADLINES OF THE WEEK
To close out this quarterback-centric column—especially rooted in the theme of desperation—let's take the temperature of how beat writers for quarterback-needy teams are assessing the shallow draft pool.
Cam Inman of the Mercury News listed 15 quarterback options for the 49ers, and didn't list a possible draft pick until No. 12.
Meanwhile the New York Daily News has printed a column that includes the headline "Suck For Sam," pondering whether the Jets should tank next season. The Sam in question is Sam Darnold, the USC quarterback not eligible until the 2018 draft. Oof.
Question or comment? Email us at talkback@themmqb.com.