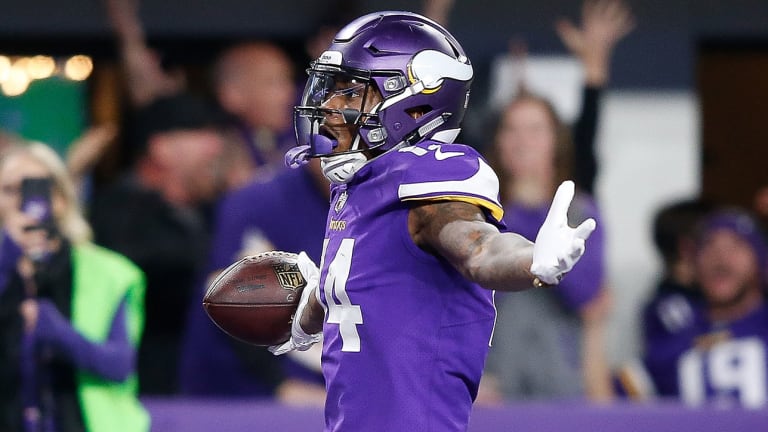 Publish date:
'That Play Right There Was God': Diggs, Dings and Dumbfounded Vikings On How They Stunned Saints
From the surreal scene in Minnesota, Case Keenum and crew wrap their minds around the wild walkoff win and what's next for them
From the surreal scene in Minnesota, Case Keenum and crew wrap their minds around the wild walkoff win and what's next for them
MINNEAPOLIS—Ding! … Ding!
Forty minutes after he ran (levitated?) off the field Sunday, Case Keenum picked up his iPhone in the Vikings' locker room at U.S. Bank Stadium, looked at the screen … Ding! … and just shook his head. Keenum repeated a line he could not stop saying. He said to no one, "I can't believe it." That ding sound, the annoying sound when a text message lands in an iPhone, just wouldn't stop, and Keenum, bemused, tossed the phone onto the wooden seat of his locker.
"Can't believe it," Keenum said. "A hundred and 73 texts."
He rose to pose for pictures with Stefon Diggs, his partner in the most stunning moment in Vikings history. Their grins were goofy. "Dude, I can't believe this!" Keenum said. There are times when people are so happy they appear to be almost in a daze, and that was Keenum, right here, right now, turning back to his locker.
Ding!
"I'm not mad about it," Keenum said. "It's a good problem to have."
Keenum just sat and thought for a few moments, and looked at me.
"How are you gonna write THIS?" he said.
Ding!
There are football games, and there are mini-series, and there are Spielberg epics. Minnesota 29, New Orleans 24 falls somewhere north of football game on this spectrum. Well north.
Plenty of good material from the Vikings taking a 17-0 halftime lead, and the Saints clawing back to go up 21-20 with three minutes left, and the Vikings going up 23-21 with 89 seconds left, and the Saints going up 24-23 with 25 seconds left. But we'll fast-forward through that, to third-and-10, 10 seconds to go, with Keenum gathering his team for one last gasp at the Minnesota 39.
In his helmet, Keenum heard the call from offensive coordinator Pat Shurmur.
"Buffalo right, 7 Heaven," Shurmur said.
And …
"Case!" Shurmur said. "Make sure you get the ball launched!"
Keenum to Diggs for a Miracle in Minnesota, Everything Coming Up Jaguars, Eagles Had the Plan for Foles
One-by-three formation, all sideline routes. "Buffalo right" is three receivers overloaded to the right ("B" signifies "bunch formation," thus "Buffalo," so the players get the "B" for bunch), close together to confuse coverage. The "7" signified the 7 Route, or corner route—where the receivers runs down the sideline and cuts out to the boundary and looks for the ball. To the left, Adam Thielen, running a 20-yard sideline-hugging route. To the right, tight end Kyle Rudolph running a six-yard out; wideout Jarius Wright running about a 20-yard out, and Stefon Diggs running about five yards deeper, also right on the sideline. The instructions were clear: Catch the ball, get out of bounds with a second or two left so kicker Kai Forbath would have prayer at a long field goal.
The huddle broke. Keenum looked at his three wideouts.
"Guys!" he said, and they looked at him quickly. "I'm gonna give somebody a chance here!"
Shurmur doesn't know how many times he's called the play this year. "But we've practiced it probably every week," he said.
It's a low-percentage deal. Most defenses, one Viking said, usually play this play near the end of a half designed to tackle the receiver in-bounds, so the clock can die before the opponent can attempt a field goal. On this play, as it developed, you saw the defenders on the right tight to the wide right stripe. If the Vikings caught the pass, New Orleans was going to do its darndest for the tackle to be in-bounds, so the clock would run out and the Saints would be the team going to Philadelphia for the NFC Championship Game after a 24-23 win. But hold on.
At the snap, four receivers bolted from the line; the back stayed to help block. Thielen got blanketed by Marshon Lattimore to the left; nothing to see there. Rudolph just an emergency place-holder to the right. All along, Keenum thought he'd throw it deep and to the right, because Diggs was going to be the deepest, and if he caught it, ideally, Forbath would be left with a 52-yarder.
"The play there is to just flood the sideline," said Shurmur.
And hope.
With seven seconds left, facing pressure up the middle from Saints defensive tackle Sheldon Rankins, Keenum let it fly. In a way, he was lucky that Rankins pressured him.
Make sure you get the ball launched!
"I remember seeing a flash of Stefon breaking towards the sideline," Keenum told me, "and I threw it right at the back of his head, trying to put it high on the back of his head, and he jumped up and I thought, 'Oh wow, he has a chance at this.' I could see his gloves up in the air. I can still see the image of his gloves going up for it. He catches it, and I'm like, 'Oh man, he caught it!'"
:05. Diggs catch at the Saints 34-yard line.
"Get out of bounds!" Keenum yelled.
"Get out of bounds!" coach Mike Zimmer, just yards away, yelled.
Get out of bounds! Shurmur thought.
:04. Safety Marcus Williams of the Saints came in for the low kill shot on Diggs.
Williams whiffed.
If Williams connected with Diggs' legs and clipped him over, Diggs would have stayed in the field of play. Game over.
"And then I see the safety fly by him!" Keenum told me.
Ding!
:04. Williams and cornerback Ken Crawley banged into each other. They fell like bowling pins.
"That was God," Adam Thielen said. "That play right there was God."
"I'm just waiting for someone to hit me," Diggs said. "That's why—did you see me?—I almost fell. I turned around to run, and I almost fell."
"I see him put his hand down, and he didn't go down," Keenum said. "I'm like, 'Oh wait. He didn't go down!' There's nobody in front of him!"
Five inches from the wide white boundary stripe, Diggs pivoted and headed upfield.
:03. At the 21-yard line, Diggs looked over his shoulder.
Nobody. :02, :01 …
:00. Diggs passed the goal line as the clock struck double zero.
Keenum: "He scored … wait, he just scored? What happened? … What is going on? Is this real life?"
"I was at a loss for words," Diggs said. "Speechless. Biggest moment of my life. My whole life."
Keenum started running down the field, looking almost exactly like Jim Valvano looking for someone to hug in Albuquerque. Finally, he found someone—left guard Mike Remmers.
"OH MY GOD!" were the only words that came out of Keenum, and he jumped into Remmers' arms.
This was a special place to be Sunday, obviously. The Vikings have been to Super Bowls before, four of them in their 57 NFL seasons. They lost all four—Super Bowls IV, VIII, IX and XI, and none was particularly pretty. Every loss was by double-digits. They have not been to a Super Bowl in 41 years, and now stand one win away from not only being in their fifth Super Bowl, but also being the first team in the 52-year history of the Super Bowl to play the game on its home field. Super Bowl LII will be Feb. 4, right here.
Beating a fledgling America's Team, Dallas, for the NFC title in 1973 might qualify as the biggest win in franchise history. I won't argue that this win is better. This win, simply, was one of the most shocking endings in NFL history: a walk-off 61-yard touchdown in the playoffs, from a undrafted quarterback cut loose by the Texans and Rams twice each, to a receiver picked 146th overall in 2014, coached by a man who was a head-coaching bridesmaid for years before getting the Vikings job in 2014. Against, of course, a walk-in Hall of Fame quarterback playing at his peak.
What (and Who) Went Down During the Divisional Round
It was such a energizing, shocking win. The game ended at 7:15 p.m. Central Time. At 10:36 p.m. CT, in the restaurant at the Radisson Red Hotel a couple of blocks from the stadium, some guy with a Randy Moss Vikings jersey stood up and yelled, "CAN I GET A SKOL?!!!!!''
("Skol" is a Danish/Norwegian/Swedish word for "cheers," according to Wikipedia. The Vikings have been using it as part of their fight song since their founding in 1961.)
"Skol!," one guy yelled back. Soon, the entire restaurant, as one, was chanting: "SKOL! SKOL! SKOL! SKOL!"
"Dilly Dilly! We're goin' to Philly!" another guy yelled next.
Good thing today's a national holiday. Doubt much work will get done in the Twin Cities. Pretty big hangover day, from the looks of the Radisson Red last night.
But the joy was cool to see. I asked Mike Zimmer what it was about football that caused so many coaches and so many teams to latch onto the no-respect angle, or the thought that no one gave them a chance. It seems so natural with this team. "I think it's even not so much football," he said. "I think it's sports. All sports. They see all your deficiencies and the guys that end up making it are the guys that keep their nose to the grindstone and keep fighting, keep trying to figure out a way. That's a little bit like our team. No one thought we were going to be any good. I know you guys didn't pick us very good going into the year. But we have a bunch of fighters in that locker room, guys that will compete. I said to Harrison Smith yesterday in practice, 'Are you afraid of these guys?' He said, 'I am afraid of everybody. That's why I play good.' That's how our team is."
As the euphoria was winding down in the Minnesota locker room, Adam Thielen walked out past the scene at the Diggs locker. For the longest time, maybe an hour, Diggs didn't remove a stitch of clothing. "I don't want to take this uniform off," he said at one point to Vikings alum Sage Rosenfels. Now, about 75 minutes after the game, Diggs had family gathered around, enjoying the moment. His godfather held the ball like it was a newborn. Thielen—small-college Minnesota guy, never lived outside the state in his life, never given a chance by any team but the Vikings—walked by, and they shared a moment, and then Thielen said, "Be ready tomorrow. We gotta work. Big week."
"We got guys, taken late or free agents," Diggs said after a while. "We got so much to prove. Adam Thielen? Come on now. Guy's got so much much to prove every day, every play. We got a group of those guys with things to prove daily. We're all the same. With us, every play matters. I believe that's why we can make plays like we made today."
Ding!
From a couple of lockers down. Keenum was doing his press conference now, but his phone kept chirping. Alone. Everybody wanted a piece of Keenum, and boy, was that different from his days at the end of an NFL roster. What did the future hold? No one knows. "He's got a Heisman Trophy winner backing him up now," Shurmur said, speaking of Sam Bradford. "Early in the year, when he stepped in for Sam, he didn't know how long it'd last, and he told me, 'Listen, I'm getting a chance to drive a really beautiful fast car. I'm gonna drive it as far and as long as I can.' And he's never approached it with anxiety, or looking at anything except what's important that day."
I'd bet the Vikings try to re-sign Keenum, a free agent, after the season, but there could be bigger offers in Denver (John Elway is an admirer), Arizona, Cleveland or who knows where else. Now's not the time for that. The NFC Championship Game awaits, Sunday in Philadelphia. Case Keenum is one win away from the Super Bowl, folks.
Back at Keenum's locker, post-press conference, I wondered if he was still driven by that chip, by the people who still think he'll implode. Sunday's start wasn't wonderful, and wasn't nearly his best in a 12-3 season as starter. But he made the biggest throw of the day—of the season, really—when it had to be made. And he put it right on the spot.
"I mean, I've done so much work at trying to block those people out," said Keenum. "I kind of have a little space in my mind that I just throw all that stuff in and maybe one day when I am not thinking about waking up to go work out or one last wind sprint, I'll think about it. But it's not my biggest motivation now."
Case Keenum, Stefon Diggs Connect on Walk-off Touchdown to Put Vikings One Win From Super Bowl
Before he left the locker room with family up from Texas, he checked his texts again. "Now it's 205," he said, and he shook his head.
Get used to it. That happens to hero quarterbacks who just made the biggest throw of their lives.
In other news …
Think of what we saw this weekend.
• We saw Tom Brady joined in the NFL's Final Four by Blake Bortles, Case Keenum and Nick Foles. Don't overrate this and think it means the decline in importance of the Franchise Quarterback. It doesn't. Just think of championship weekend as an outlier. All four defenses can win games.
• One game (Pats 35, Titans 14) was drama-less. One game (Vikes 29, Saints 24) was won on the last play of the game. One game (Eagles 15, Falcons 10) was decided when Atlanta couldn't complete a touchdown pass on any of four shots inside the Philadelphia 10 with less than two minutes left. One game (Jags 45, Steelers 42) was precisely the opposite of what any sane person thought, with 87 points and 923 offensive yards.
• Good for Ben Roethlisberger saying he'll be back in 2018, and of course he should. He diced up Jacksonville after early struggles for 469 yards, five touchdowns and 42 points.
• Good, too, for Drew Brees. Folks, let me tell you about a home-field advantage. This crowd in Minneapolis on Sunday was just brutal for the visitors. I doubt Brees was able to be heard once on 44 pass drops—you could tell how tough it was to hear because Brees had to consistently lightly slap center Max Unger's rear end to indicate the start of the snap count. The Saints struggled throughout the first half, but Brees was 17 of 22 with three touchdowns and no picks in the second half. The man turns 39 today, and he said after the game in Minnesota that he fully intends to play for the Saints in 2018. (He can opt to sign elsewhere if he chooses.) Brees should stay. He and Sean Payton added some maturity and growth to their 12-year relationship this year, and I still think they can make beautiful jazz together with the Saints next year.
The Jaguars Are Enjoying—Really Enjoying—the Last Laugh
• New Orleans safety Marcus Williams made a stupid—and tremendously costly—play when he went low to try to upend Stefon Diggs on the walkoff Diggs touchdown. He could have simply tackled him either in or out of bounds. But the second-rounder rookie from Utah had a starry rookie year, finishing 12th on the Pro Football Focussafety grades, ahead of Micah Hyde, Malcolm Jenkins and Eric Weddle. There will be better days ahead, lots of them.
• Kudos to Adam Schefter for buttoning up one more coaching vacancy—Pats defensive coordinator Matt Patricia to the Lions—while three others are in flux. The Giants, Colts and Cards still are in play. Our Albert Breer reports that it's down to Pats offensive coordinator Josh McDaniels or Houston defensive coordinator Mike Vrabel in Indianapolis. The Cards have a ways to go, it sounds like, and the Giants are cloaked in a Pat Shurmur/McDaniels/unknown trio.
• The Jaguars are one impressive team. How about forcing six Roethlisberger picks and scoring 75 points on the Steelers this season? Jacksonville is a physically tough team, not to be intimidated, and that surely comes from Tom Coughlin and Doug Marrone. I remember in training camp listening to Coughlin opine that he wasn't sure about a lot of things with such a young team, but he did know they'd be good running the ball. And Leonard Fournette has backed him up. In his two games against the formidable (or so we thought) Steelers D, Fournette had 51 carries for 290 yards and five touchdowns. I don't know how they'll game plan against New England, but my guess is they'll go all out to blitz and bother and hit Tom Brady. Wouldn't you? Tennessee didn't sack Brady, and hit him only five times, per Pro Football Focus.
• I love the Eagles' game plan in the 15-10 win over Atlanta. To me, this was the best coaching job of the weekend. Philadelphia offensive coordinator Frank Reich and coach Doug Pederson combined to make a very smart and industrious offensive plan work well enough to win—while not crushing the confidence of shaky quarterback Nick Foles. Here's the way I view Philly now: The Eagles don't have one offensive weapon who can beat you. But they have five or six who can be dangerous. On Saturday, the Eagles incorporated a lot of interesting stuff with Nelson Agholor. He is the Eagles' version of Tyreek Hill. On Saturday they motioned Agholor from behind right tackle on a left end sweep. They motioned him from the left side in front of Foles, who flipped him one of those newfangled passes teams have incorporated to try to copycat the Chiefs and Hill. Both plays worked—for 21 and 10 yards, respectively. I like how Reich incorporated and Pederson called plays to make the absence of Carson Wentz less of a crisis.
Realtor of the Week
This is either the most inspirational story about living your dream, or is so far-fetched that any thinking person would say, "This story is true, but it's such a fairy tale you can't realistically expect it ever to happen to you. Dream, but dream realistically."
Matt Nagy, fledgling real-estate agent, was sitting in the garage of a model home at the end of a cul-de-sac in a new neighborhood in Annville, Pa., in February 2011. The garage was Nagy's office, basically. He was making $100,000 a year, but he was not happy selling houses. The former Arena League quarterback and NFL coaching intern missed football. His phone rang. Nagy, who had previously interned with the Eagles and knew they'd been having some staff shakeups and was told he might hear from the team, saw the "215" area code and hoped for the best. This is how Nagy remembers the story, as he told me Friday night.
"Matt? Coach Andy Reid here," the voice said. "Hey listen, we just wrapped up the season. We got two entry-level jobs here, not a lot of money, but you get your foot in the door."
The conversation with his wife took two minutes. His wife understood that making $100,000 was good for their young family, but being happy with a starter job under Andy Reid making $45,000 was the kind of risk her husband had to take. Nagy took the job. They'd figure out life. And now he's the coach of the Chicago Bears.
"When you ask about picking a coach you can work with," Bears GM Ryan Pace told me, "you have to think he's going to be a good fit. There was just something about Matt. I went to a job fair in New Orleans and got a job [entry level] with the Saints making $500 a month. Matt's basically the same. He climbed from the bottom. He's got an appreciation for this and realizes how hard it is to get here."
Nagy thought he should have been a major-college quarterback coming out of Pennsylvania high school ball, but he got no offers, and ended up playing at Delaware. He thought he should have had a shot to make an NFL roster, but he didn't, and so he played in the Arena League. When the Arena League folded, Nagy, out of work with a wife and four kids, had to get a job in the middle of a recession. "If not given that opportunity [by Reid], I'd be coaching high school football," Nagy said. "But once I got that opportunity, I was confident in my ability. I knew if I got to a point where height, weight and speed weren't the most important factors, I would win that."
Nagy glommed onto Reid and never stopped working. He followed Reid to Kansas City in 2013 as quarterbacks coach, and got promoted to offensive coordinator when Doug Pederson went to Philadelphia in 2016. Nagy got the play-calling gig from Reid in early December with the Chiefs in a bad offensive slump. The Chiefs scored 26, 30, 29 and 27 points as they salvaged their season. Nagy gets some credit, too, for Alex Smith becoming a better downfield thrower this year, and the Tyreek Hill wrinkles the Chiefs have added.
NFL teams love Reid guys. Teams find Reid guys organized and imaginative. Maybe that's why Pederson and Nagy got coaching jobs before a far more celebrated and seemingly more prepared offensive coordinator, New England's Josh McDaniels, has landed one—despite his Belichick/Brady pedigree. There may be no other explanation than Jeff Lurie wanted a Reid type in Philadelphia, and, in Chicago, Pace interviewed McDaniels and liked him a lot but identified more with Nagy. Time will tell if Nagy over McDaniels (and others) was the right choice.
But going from sitting in the garage in a spec house in Annville, Pa., to sitting in George Halas' chair, in seven years, has got Hollywood written all over it. Now all Nagy has to do is win.
"I'll always remember something one of my Arena League coaches said," Nagy said. "I had Doug Plank as my coach in Georgia, and he told us one day, 'All those people you see driving to work every day, 95 percent of them hate their jobs. You're part of the five percent. You're lucky.'
"Ever since that day sitting in the garage in the cul-de-sac and the 215 area code shows up, I've been in that five percent. And I am now for sure."
Bruce Arians: On Bear Bryant, Love of the Long Ball, and Why the Game Should Survive
A Nagy postscript: I asked him about his play-calling in the wild-card loss to Tennessee. The Chiefs had a 21-3 lead at halftime but had only four second-half possessions, and in those four possessions the NFL rushing champ, Kareem Hunt, had only five carries. Add that to Hunt's zero carries in the second quarter, and you ask: What gives?
"I brought that up in my interview with the Bears," Nagy said. "We had four possessions and only 20 plays in the second half. That's not a lot of plays. You've gotta get first downs, either running or passing. We went back and looked at the game, and we evaluated the run-pass ratio. The part that bothers me is our possession after the [Titans'] muffed punt. (That gave Kansas City the ball at the Tennessee 28 with 4:34 left in the third quarter.) We were up 11 there, and we went three-and-out, and we lost five yards. Instead of a 41-yard field goal, maybe, we have a 49-yard field goal try [and miss]. At the end of the third, we could have been up 14, which would have changed the game. If I could go back and do one thing over, it'd be to make sure we don't call a play that's going to lose those yards."
I understand. I still think 20 plays in the second half could have been 32 clock-eating plays with an expansion of the running game, and Hunt's role, down the stretch.
Quotes of the Week
I
"We going to the Super Bowl, and we going to win that b***h. ... Duuuuuvalllllll!"
—Jaguars cornerback Jalen Ramsey, to a crowd of fans at EverBank Field in Jacksonville, upon the team's return Sunday. Duval is the Florida county that contains Jacksonville.
II
"I'll take it 2-0, or 45-42 if it comes that way. As long as we win I'm happy."
—Jaguars defensive lineman (and prophet) Calais Campbell, to NFL Media reporter Tom Pelissero SEVERAL DAYS BEFORE Jacksonville took the field against the Steelers and beat them 45-42.
III
"They were ready to go; they were mad; they were angry; they had something to prove, and they did it. Yeah, it's embarrassing. It really is, man. It just blows my mind. They beat us 30-9. We played like crap, and we want to talk about New England? I don't know what to say about that. It's just stupid. It's just not what you do. You don't need to give a team like that more bulletin-board material."
—Steelers offensive lineman David DeCastro, upset after his Pittsburgh teammates talked the talk but couldn't walk against the Jags on Sunday. 
IV
"Of all my Elite 11 prospects, I probably was hardest on him. We didn't get along well. He did not like me at all. I was hard on him because I saw greatness in him and I wanted to bring it out. At 17, he was a little uncoachable and a little entitled. … We had him as a counselor last year. I could not have been more impressed. He's done a 180. He's a different type of kid than people remember him being. He's growing up and he wants to be great. He's intellectual. He has conviction … I was with him for four days this summer. I said, 'I think you have what it takes to be special. Don't let people coach it out of you.' Half the GMs won't like him. They will feel threatened by him … Thirty-two out of 32 people will say Sam Darnold has all the right stuff. He just kind of makes everyone feel good. Josh is gonna piss off half the people. But the people that get it, the people that really like him, the people that understand what it means to be the best at the highest level, will get that he has that stuff."
—Trent Dilfer, the head coach of Elite 11, the high-school quarterback showcase and competition, founded in 1999, on "The Rich Eisen Show,'' talking about first-round quarterback prospect Josh Rosen of UCLA.
V
"I will miss the players, I will miss the coaches. The game, I think the game and me, we owe each other nothing. We're even."
—Retired Arizona coach Bruce Arians, to me, after closing a 43-year coaching career in 11 places this month.
Bills Fans' Generosity: Meet the Families Being Helped by Donations to Andy Dalton's Foundation
​
The Award Section
OFFENSIVE PLAYERS OF THE WEEK
Leonard Fournette, running back, Jacksonville. Two touchdowns in the first 10 minutes of a game in which the Jags were significant underdogs, and the scores came in the sort of diverse ways Jacksonville has come to expect from its rookie franchise back. On fourth and goal from five feet away, Fournette leaped and dove for the end zone, and broke the plane. Minutes later, from the Steelers 19, after a Ben Roethlisberger interception, Fournette sprinted around right end and muscled his way inside the pylon at the goal line. Fournette ran the Jags to a 14-0 lead. Did you hear the Steelers crowd right about then? Neither did I. By the time Jacksonvile made it 21-zip early in the second quarter, Fournette had 80 rushing yards. Fournette finished with 25 carries for 109 yards and three touchdowns.
Tom Brady, quarterback, New England. His 35-of-53, 337-yard, three-TD, no-pick game in the 35-14 rout of Tennessee on Saturday night was a clarion call to those (maybe even in his own organization) who wondered whether Brady's just-average performance in December was a harbinger of things to come. Offensive coordinator Josh McDaniels put the Titans game on Brady's 40-year-old shoulders, and Brady did not disappoint. The one play you don't see many 40-year-olds make (never mind 30- or 33-year-olds) was his crazy jump pass across his body to the left and against the grain to Danny Amendola. Where'd that come from? Interesting to note: This was Brady's 35thplayoff start, and only the third time that he played a postseason game reaching these mile markers: at least 65 percent accuracy, at least 325 yards passing, at least a 102 rating, at least a plus-three touchdown-to-interception differential with no interceptions.
Nick Foles, quarterback, Philadelphia. "You guys doubted him," said wideout Alshon Jeffrey. "We never doubted him." That's right—we did doubt him. In a very big way. And we should have have. Foles was a 47-percent passer, with a 48.2 rating, over his previous two games, and he looked shaky, with flagging confidence. But using an excellent offensive game plan against a pressure defense, Foles was 23 of 30 (76.7 percent accuracy) for 246 yards, no touchdowns but no turnovers either … and a 100.1 rating. No one would watch this game and say Foles played great. But he played the right way, and he played efficiently. With the exception of one missed throw on a potential big play to tight end Trey Burton, he didn't err in the biggest spot of his career—quarterbacking a top seed to within one game of the Super Bowl.
Stefon Diggs, wide receiver, Minnesota. For so many of the reasons listed above—making the catch of his life, and not being content to settle for a field-goal try. The 61-yard walk-off touchdown will live forever in Vikings lore—perhaps not in the Immaculate Reception way for Franco Harris and the Steelers, but if this team gets to the Super Bowl, what a milepost that play will be. Diggs (who finished with six catches for 137 yards) was already having a fine day before the catch.
DEFENSIVE PLAYERS OF THE WEEK
Myles Jack, linebacker, Jacksonville. The Jags drafted Jack high in 2016 because they thought the smallish, fast 'backer from UCLA was part of a new breed of linebackers—sideline to sideline playmakers. Midway through the first quarter at Pittsburgh, Jack showed what a wise choice it was. Running stride for stride in coverage against Pittsburgh tight end Vance McDonald, Jack broke ahead of his man and fingertip-picked Ben Roethlisberger at the sideline. A beautiful and tone-setting play.
SPECIAL TEAMS PLAYER OF THE WEEK
Thomas Morstead, punter, New Orleans. Morstead is one of the best punters in football and has been since 2010, never averaging less than 45 yards per punt in the past eight years. But it was his tackling that prevented a 74-yard Marcus Sherels punt return for touchdown in the first quarter for the Vikings. Sherels returned it 19 yards to the Viking 45, and that where Morstead, the 6'4" nine-year vet, corralled Sherels and smashed him to the ground. The Vikings still scored the game's first touchdown on the drive, but that's not Morstead's fault. He did his job well. Morstead broke two ribs on the play—and kept punting.
Jake Elliott, kicker, Philadelphia. Scored the last nine points of an It's-Anybody's-Game game, making up for doinking an early PAT off the left upright. His 53-yard field goal brought the Eagles to within 10-9 at halftime. His 37-yard field goal in the third quarter gave the Eagles a 12-10 lead. His 21-yard field goal in the fourth quarter gave the Eagles some insurance and a 15-10 lead.
COACH OF THE WEEK
Frank Reich, offensive coordinator, Philadelphia.Love the Eagles' game plan, which is captained and put together each game by Reich, with veto power from Doug Pederson—and then Pederson calls the game. Reich obviously put his time in during the off-week, and by the way things played out, the run-pass balance was just what it should have been: 51 percent runs (32 runs, 31 called pass plays), and nothing too daring with shaky quarterback Nick Foles. As I detailed higher in the column, the diversity and unpredictability with that Nelson Agholor jet-sweep was a smart way to get Eagle speed on the edge. 
Doug Marrone, head coach, Jacksonville. This is easy. The Jags on Sunday surpassed the win total of the past three Jacksonville seasons combined. You can look it up: 11-37 the previous three years before Marrone arrived, 12-6 this year. It's part Tom Coughlin, part Doug Marrone, but you've got to give Marrone his due here. His appointment last January to succeed Gus Bradley was widely derided as uninspired, but it turns out Marrone's toughness and consistency with his team were just what the Jaguars needed.
GOAT OF THE WEEK
Marcus Williams, cornerback, New Orleans. We don't need to rehash what went wrong on the final play, but I would like to point out how Williams did not duck the spotlight after the game. Through bloodshot eyes, the Saints rookie safety answered the questions and vowed to learn from the experience. "You can't let it beat you down," Williams told the media. "I'm gonna take it upon myself to do all that I can to never let that happen again. And, I mean, if it happens again, then I shouldn't be playing. But I'm gonna take it upon myself to do all that I can to make sure nothing like this happens again to me."
Stat of the Week
So now that Marcus Mariota's season is over, the Titans have to decide what they're going to do with the elements around him at quarterback. Assuming Mike Mularkey returns as head coach—which owner Amy Adams Strunk indicated last week would happen without actually saying "Mike Mularkey will coach our team in 2018"—the Titans are going to have to address the regression of Mariota. Whether injury-related or something else, this was not a good third year in pro football for Mariota. The indicators:
How can Mariota be a good 10 percent worse in year three than in year one? And a good 15 percent worse in year three than in year two?
McDaniels, Patricia, Vrabel, Shurmur All In Play as Coaching Carousel Spins
Factoids That May Interest Only Me
I
Nick Saban, a freshman at Kent State in May 1970, was eating lunch on campus the day that National Guardsmen shot and killed four students on campus during a Vietnam War protest.
II
Fifty years ago Sunday, Green Bay beat Oakland 33-14 in Super Bowl II at the Orange Bowl in Miami. It was the last game Vince Lombardi coached for the Packers.
III
Pronunciation of the last name of the new coach of the Chicago Bears, from the horse's mouth:
"Neggy," Matt Nagy told me Friday night.
I thought it'd be either short "a" or long "a." But it's neither. When Nagy played quarterback at Delaware, he was known by the short "a," even though he'd always say "Neggy."
IV
The quarterbacks who decided the college football championship a week ago, Jake Fromm of Georgia and Tua Tagovailoa of Alabama, both were playing high school football 14 months ago.
Mr. Starwood Preferred Member Travel Notes
I
Flew from New York to San Francisco the other day with my wife for grandson Freddy's first birthday. (Yes, it's been a year.) In front of us in line to board the plane: an older woman pushing a lovely black carriage with some pretty red stones festooning either side. I look around the woman to see into the carriage.
Shih Tzu.
What a country.
II
Cool event Saturday night for Ross Tucker, who played offensive line for seven seasons in the NFL and now does radio for Westwood One (among other jobs) on NFL games. He was a sideline reporter for Eagles-Falcons on Saturday, and was scheduled for Jags-Steelers early Sunday afternoon in Pittsburgh. It's about a five-hour, 15-minute drive from Philadelphia to Pittsburgh, obeying the speed limit. He had a passenger: Tony Boselli. "My idol," said Tucker, whose favorite O-lineman in high school was the Jacksonville franchise left tackle. "I get to drive five hours with my idol, alone in the car? Amazing." Turns out Boselli was in the booth in Philly, then had to be in Pittsburgh as part of the Jaguars' radio team, so driving was the best way, seeing that you don't want to risk an airport weather delay Sunday and being late or missing the game in Pittsburgh.
They piled into Tucker's GMC Yukon, left Philly at 8:18 p.m., stopped once for coffee and once for gas on the Pennsylvania Turnpike, and pulled into the Westin Convention Center in Pittsburgh around 1:30 a.m.
"Everything about it was great," Tucker said. "He told me about his decision to stay at USC his senior year—John Robinson said he'd be a low first-round pick if his came out as a junior, and he'd do everything he could to see he'd be a top-10 pick if he stayed, and he turned out to be the second overall pick. The money was a lot different in those days. We talked about everything. What a guy. When I was growing up, I wanted to be him."
On the Philadelphia-to-Harrisburg portion, Tucker pointed out his exit, and the exit for former Patriots guard Todd Rucci, and the Chad Henne/Kerry Collins exit. Then Tucker said: "Tony, for the next 150 miles, there's nothing."
Tweets of the Week
I
II
III
IV
V
New section of the column, as part of The MMQB's partnership with State Farm. Each week, I'll ask an NFL person about his most valuable possession.
Malik Jackson, defensive lineman, Jacksonville. "I would have to say these pictures of my daughter that I keep at home. She doesn't live with me, but she's with me every day with these pictures. She's 2. Her name is Nahla. I have these pictures on my living room wall, so I see them every day. I've got pictures from when she's 6 months, a year, a year-and-a-half, doing poses and then walking. The way the pictures are, it's like she's got my back and I've got her back. You can have all the stuff, all the material possessions, like my TV, my car, whatever. If my house burned tomorrow, the thing I'd save first would be those pictures."
Pod People
From "The MMQB Podcast With Peter King," available where you download podcasts. 
This week's conversations: Pro Football Hall of Fame quarterback Troy Aikman, now a FOX analyst, and new Green Bay general manager Brian Gutekunst.
• Aikman, on whether he wished he played longer than 12 seasons: "Yeah, I wish I played longer. I could have played longer. It wasn't because of concussions as so many people think. If any injury caused me to leave the game, it was my back. I was having issues throughout my last season and having to take injections to get out on the field. That was as much a problem as anything but concussions were not. I almost—I had thoughts that I was going to go sign with San Diego. Norv Turner was the offensive coordinator there at the time, so when I got released by Dallas, I expected to go sign with the Chargers [in 2001]. And I got a call from Norv the next morning and he said they just signed Doug Flutie because John Butler was the GM in San Diego and [when Butler was] in Buffalo, if you remember, they were either going to take Doug Flutie or Rob Johnson, and the Chargers took whoever they released and they took Doug Flutie and made the decision clear for me. I did give some consideration to coming out of retirement a couple years later. I'm glad I didn't. I thought 12 years was a nice number, but these quarterbacks now, they are playing 17, 18, 20 years. I think, 'Jeez, I just had a little coffee break in the NFL.' I wasn't there long at all.
"I look back on that, and then I almost came out and played for the Dolphins a couple years later when [Dave] Wannstedt was the head coach and Norv was the OC there and they thought they were a quarterback away and they wound up going 6-10 that following season. It's the old Garth Brooks song: Sometimes I thank God for unanswered prayers. And those were two situations that I am glad that I didn't get signed because it didn't work out with either of those guys the way they thought it might."
Ten Things I Think I Think
1. I think these are my quick thoughts on divisional weekend:
a. How strange it was to watch Saints and Vikings, realizing that Adrian Peterson was on both teams within the past 13 months, and seeing how invisible he's become in both places.
b. The Minnesota defensive front gets a lot of credit, and it should. But that back seven is a force of nature. Harrison Smith is everywhere, at all times.
c. One of the cool things smart offensive play-callers have taken to a new level this year—and Pat Shurmur does it exceedingly well—is very naturally make receivers pick defenders. The picks are legal because they look like accidents. But they're not.
d. Adam Thielen versus Marshon Lattimore is the kind of wideout-corner matchup that I wish would happen twice a year for the next eight years. Too bad they're in different divisions.
e. Jacksonville put up 75 points in eight quarters at Heinz Field this year. That's not something I would have thought humanly possible.
f. Either the Steelers were just plain logy, or not ready to play. I don't know. But those first 20 minutes were pretty pathetic.
g. And boy, do they miss the play-making of Ryan Shazier.
h. Whoa. Marcel Dareus manhandled the guy many consider the best guard in football, David DeCastro, on his way to a second-quarter sack of Ben Roethlisberger.
i. Great play to pick up a fumble and sprint for a touchdown to make it 28-7, Telvin Smith. Stupid play by Smith to get a taunting call and give the Steelers a shorter field and help them narrow it to 28-14 at the half.
j. Who'd have thought that the best play by a Jaguars secondary player in Pittsburgh would be a run stuff? Cornerback Jalen Ramsey made the perfect run stop on fourth-and-a-half-yard at the Steeler 20, knifing through the Pittsburgh line to envelop Le'Veon Bell for a four-yard loss late in the first quarter. It's not like that was Pittsburgh's last chance to win the game, but I'd call it the Steelers' last best chance.
k. Great CBS graphic 10 minutes into Steelers-Jaguars: rushing touchdowns at Heinz Field this year: Leonard Fournette four, Le'Veon Bell three.
l. Ronald Darby has made the Philadelphia secondary formidable.
m. Howie Roseman trading for Ronald Darby has helped make the Philadelphia secondary formidable.
n. Jon Robinson (Titans GM) drafting Corey Davis with the fifth pick—widely derided—last year looked like a heck of a move Saturday night.
o. How did Corey Davis' first touchdown of the season come in Week 19, and his 13th pro game?
p. Good for CBS's Tony Romo calling out Marcus Mariota and the coaching staff in the fourth quarter of a lost cause, saying he needs to be better and the Titans' play-calling needs to be more aggressive.
q. True point from Philadelphia safety Rodney McLeod, on the final play of the Falcons' season, a fourth-down call from the Eagles 2-yard line, down 15-10, a play that had Matt Ryan roll out and throw incomplete. McLeod: "It is surprising. I was like, 'There's no way they're going to run this play.' And as soon as I saw the tight end come over, I shouted it out. Yeah, I wouldn't expect them to cut off half the field like that."
r. Observation of the Weekend: No cornerback ever believes he's committed pass interference.
2. I think it's okay to question the Steelers' preparedness and play against the Jaguars. But I can't see a team winning 45 games over the past four years even remotely entertaining the thought of firing Mike Tomlin. The Steelers do not panic. That would be a panic move.
3. I think I'd like to hear, given a shot of sodium pentothal, if Tennessee GM Jon Robinson wants to keep Mike Mularkey for Marcus Mariota's fourth NFL season.
4. I think I wonder if all those teams that passed on Doug Marrone as a head for two years when he divorced the Bills after the 2014 season—Cleveland, Denver, Miami, the New York Jets, the New York Giants, Oakland, Tennessee, Atlanta, Chicago, San Francisco—were watching when the Jaguars drove the length of the field on the first series of Sunday's playoff game against the Steelers at Heinz Field, had the chutzpah to go for it on fourth down just inside the Steeler two-yard line, and scored on a Leonard Fournette touchdown dive. And if they were watching, what were they thinking?
5. I think I wonder why Jacksonville defensive coordinator Todd Wash has gotten zero national buzz on the head-coach-search market.
6. I think I thought of this when watching 80-year-old Dick LeBeau coach Tennessee's defense against the Patriots on Saturday night: I wonder if that was LeBeau's last game? I hope not, but just realize that this was LeBeau's 59th season as an NFL player or coach. Bill Belichick was a 7-year-old second-grader in Annapolis when LeBeau made his first interception as a cornerback for the Detroit Lions in 1959. I hope LeBeau gets to go out on his own terms, whenever that is.
7. I think I just hate the spot foul for defensive pass interference. Hate it. Some hand-checking by Saints cornerback Ken Crawley on Stefon Diggs of the Vikings results in Diggs falling—and there is no way you watch the play and think some excessive force by Crawley knocked him over—and here comes a flag for defensive pass interference, a marginal call, and it's a 34-yard markoff. Ridiculous. There are 200 such hand-fighting incidents, most not called, in every football game, and this one gave the Vikings a gigantic edge toward a touchdown. Make defensive pass interference a 15-yard call, period. Stop tilting the field with these game-changing calls.
8. I think I give up. I have no earthly idea who Blake Bortles is—the shaky, run-only, worrisome quarterback from last week, or the competent leader and thrower from Sunday in Pittsburgh. If I were New England, however, I'd be far more worried about Leonard Fournette.
9. I think one of the ways football is changing is the analytics side of it, which has been discussed endlessly in recent years. But in the past week, I was talking about the subject with one NFL coach, and three times in a 15-minute conversation he brought up how Pro Football Focus, for instance, shortens the time it takes him to quantify some aspects of scouting when he's helping prepare his team's game plan. Then I saw this 296-page monster of a quarterback guide PFFhas published on the play of passers in the 2017 season. It's very football-nerdy, but it's also valuable in judging how quarterbacks played in the season just passed. With nuggets such as:
• Detroit's Matthew Stafford had 15 interceptions dropped by defenders this year, most in the NFL.
• Houston's Deshaun Watson had the highest big-time-throw percentage in the NFL at 7.49 percent of all his attempts. PFFcalls these "passes with excellent ball location and timing, generally thrown farther down the field and into tighter windows."
• Matt Ryan of the Falcons had the league's best turnover-worthy percentage in the NFL despite 12 interceptions. He had just six turnover-worthy plays in 2017, and was the victim of bad luck to cause double that number of interceptions.
• Though he played a limited schedule, Jimmy Garoppolo of the Niners was every bit as good as you thought at first glance, particularly on difficult down-and-distance plays. The league average for third-and-six-yards-plus for quarterbacks was 26.5 percent positive plays. Garoppolo had the best percentage in the league with 53.3 percent positive grades on third-and-six-plus plays.
I'd recommend it—and I'm not even a third of the way through it yet.
10. I think these are my other thoughts of the week:
a. I coached youth softball for 17 years in New Jersey. I had my share of opinionated, strong-willed little league parents, but none that ever divided or disrupted any of my teams. You set ground rules for parents—they drop kids off and let us coach them—and if they don't live by them, you tell the parent it's not going to work out and it's best to find another team, and I'll help that happen. I get the many differences with LaVar Ball, who is one of the most intrusive look-at-me idiots in recent sports history. My advice to Luke Walton (which I'm fairly sure he is already living by): Ignore the noise. The world knows he's an idiot. The players on your team (all but one, perhaps) know he's an idiot.
b. Story of the Week, from Noah Weiland of the New York Times, on the struggles of one of the victims of the Congressional baseball practice shooting—and the amazing work done to save his life within minutes of the rampage.
c. Column of the Week, from Nicholas Kristof of The New York Times, on the immigrant United States soldier from Ghana who rushed into a burning building four times to save strangers, and died when he went in a fifth time.
d. Meet Emmanuel Mensah, from one of the s---hole countries President Trump referred to in a meeting with legislators last week.
e. I shudder, and I almost cry, when I realize we have three years left of the endless indignities this president inflicts upon our country.
Haitian NFL Players are Angered, Hurt But Not Surprised By Trump's Remarks
f. Football Story of the Week, from Ron Kantowski of the Las Vegas Review-Journal, on Jon Gruden's reticence to even say "Las Vegas" in his introductory press conference/coronation.
g. Coffeenerdness: How have I missed the La Colombe Vanilla Draft Latte, in a can? Brutally good, with a strong espresso presence and not overly sweet. So many choices now in the cold coffee aisle, but this one's really nice.
h. Beernerdness: Had a pleasant hour at Bare Bottle Brewing (San Francisco) the other night. I've never been a fan of brown ales—a little heavy for me, generally—but I decided to try The Full Mountie Brown Ale for one reason: The description of the beer on the board behind the bar said it had "organic Canadian maple syrup." Now that's a first. And I don't know how this is possible, but the beer did have a whiff of the syrup, which sounds gross but was actually delightful. I loved it. I wish Bare Bottle had one of these wide-open brew pubs in New York, because The Full Mountie would be a go-to for me.
i. You mean somebody out there is eating Tide pods? Who looks at coated laundry detergent and says, Hey, that looks tasty. Let me eat that.
j. In order, of the three movies I've seen that are the hits of awards season, give me "The Post" (sentimental pick), "Three Billboards Outside Ebbing Missouri" (Frances McDormand rules) and "Darkest Hour" (love Gary Oldman).
k. Frances McDormand in "Fargo" and "Three Billboards" … she has such an ability to make you feel her character in whatever she plays. I don't know movies, but to me, she's as powerful as Meryl Streep in her roles.
l. Cool story by ESPN Sunday on how "Renegade" by Styx became something of an anthem at Heinz Field.
m. And great job with that Ohio Bobcats hat in the piece, Mike Mitchell.
n. Congrats to my brother-in-law, Bob Whiteley, on his retirement—and on four decades of being the best dentist in Connecticut. (Okay, I'm biased.) So proud of Bob as a dentist and a brother.
o. Happy first birthday, Freddy King. You the man!
p. I didn't know Keith Jackson, but I, like so many others, found him to be a soothing, comfortable voice of college football. Plus, he gave us "Whoa, Nellie!" RIP, Keith. So many classic TV folks have passed, and it makes me appreciate how omnipresent and good they were at their jobs for so long.
The Adieu Haiku
Patriots-Jaguars.
Fascinating game because
it's such a new match.
• We have a newsletter, and you can subscribe, and it's free. Get "The Morning Huddle" delivered to your inbox first thing each weekday, by going here and checking The MMQB newsletter box. Start your day with the best of the NFL, from The MMQB.
• Question or comment? Story idea? Email us at talkback@themmqb.com.