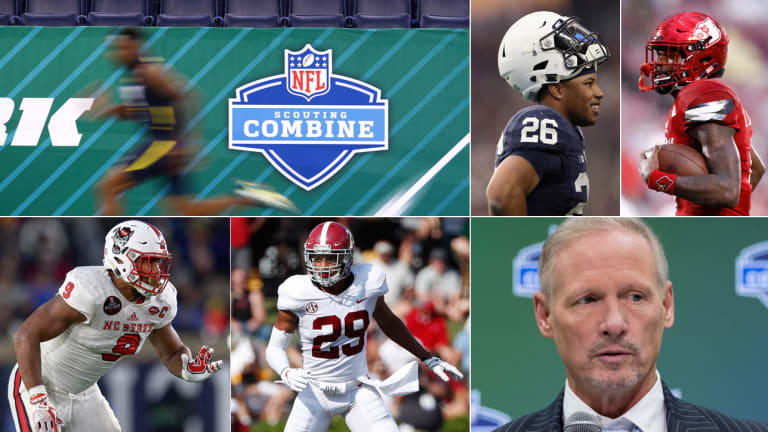 NFL Combine Crash Course: Mike Mayock on the Best Prospects, Top QBs In Indy
The preeminent draft expert previews this week's event, with thoughts on Saquon Barkley, Bradley Chubb, Quenton Nelson, Minkah Fitzpatrick and more. Plus items on the Chiefs-Rams trade, an NFL tie to the Olympics and 10 Things
It's the most wonderful time of the year.
For Mike Mayock, and for draftniks. Starting Friday at 9 a.m., NFL Network will show about 36 hours of live on-field combine coverage over four days from Indianapolis. ESPN will be on the air from Indy for big chunks of the weekend too.
I caught up with Mayock over the weekend as he took a break from tape study. He educated poor, pitiful me as I played catchup on the college names and the 2018 draft. I'm probably not the only one who has never seen a snap of Leighton Vander Esch, so step into the combine classroom. Professor Mayock is at the podium.
The quarterbacks are real, and they're spectacular. Sort of. Was it just me, or did it seem like there were four or five franchise-type quarterbacks headed for the draft last summer … and now every one of them is covered with zits? "I think it's more media hype than anything," Mayock said. "During the season, everybody is going crazy about Josh Rosen and Sam Darnold and the Heisman winner, Baker Mayfield, and Lamar Jackson, and that's before the scouts and the teams and the analysts like myself and Daniel Jeremiah and Mel Kiper, before we all start to set up shop and talk critically about these kids. The season brings things back to earth a little bit, I still think there is some excitement about this class, and I still think there are some franchise quarterbacks involved, but I also think it has been tempered somewhat by the availability of NFL free agents that typically aren't out there."
The best players in the draft will not surprise you. "I think the two best players I have seen on tape are [Penn State running back] Saquon Barkley and [Notre Dame guard] Quenton Nelson."
Phil Savage on Mock Drafts, the 2018 QB Class and the Player to Watch at the Combine
I might have some reticence about taking a running back in the top five, not to mention a guard. But not Mayock."I think when you look around the NFL today and see that there are more and more high-level interior pass rushers than there were five years ago, you know have to be strong across the offensive front. Every top-level quarterback I've ever talked to told me that what they hate the most is immediate pressure up the middle. If they can step up into a pocket, they're all happy. And that's what [Nelson] is. He is a son-of-a-bitch who is going to knock people down in the run game. I call him a people mover. He opens holes. For 330 pounds, his feet are pretty good. I think he can plug-and-play there for the next 10 or 12 years."
In the 18 drafts this century, only three guards have been picked in the top 10: Brandon Scherff (Washington, 2015, No. 5) and the seventh and 10th picks in 2013: Jonathan Cooper (Arizona) and Chance Warmack (Tennessee). Scherff's a star. Cooper and Warmack have been major disappointments.
"So recent history would say no," Mayock said, "but I would look at who this kid is, not just on tape, but who the kid is. He loves football, lives football, and because of his work ethic, toughness and natural ability, unless he has an injury, I think this kid is going to be special."
Mayock on Barkley: "My philosophy towards high-level running backs is if you believe the kid is a top-10 running back, and you are willing to commit to that, to the philosophy of carries and touches, draft him. And I think recent history tells you that is correct. Zeke Elliott, Leonard Fournette, Todd Gurley, Christian McCaffrey, all four of them have made their teams better. However, as you get down to the second, third and fourth rounds, man, there is a lot of really good backs, especially when they can catch the football. Tarik Cohen, fifth-round pick. Alvin Kamara, I gave him to Green Bay in my mock draft. I thought he was a first-round pick. I still don't understand why he wasn't. I think Sony Michel from Georgia compares favorably to him in the run game. I don't know if he catches the ball as naturally and I know he doesn't run routes as well, so combine and pro day are going to be really important for Sony Michel."
Receiver is a thin position this year, and recent classes have been terrible in the first round. Prompted by Mayock, let's look at the receivers in the first round of last three drafts:
• 2015: Amari Cooper, Kevin White, DeVante Parker, Nelson Agholor, Breshad Perriman, Phillip Dorsett.
• 2016: Corey Coleman, Will Fuller IV, Josh Doctson, LaquonTreadwell.
• 2017: Corey Davis, Mike Williams, John Ross.
Wow. Is that awful. One of 13 has played like a first-rounder. Amari Cooper. One!
"I think there is some trends emerging," Mayock said. "It's a pass-first league. Who were the best rookie wide receivers last year? JuJu Smith-Schuster and Cooper Kupp, taken at 62 and 69 [overall, respectively]. If you look back since '14, at all the first-round receivers, there is a history of injury problems—guys who can't answer the bell and most of them had that history in college that we didn't pay attention to. All three of the ones last year—Corey Davis, Mike Williams and John Ross—had durability concerns coming into last year's draft. And I'm not saying they can't become great players, because it typically takes a couple years at that position. I'm just saying, hey, beware of a history of injury at that position. Take a look at drafthistory.com and go back and look at those four or five draft classes.
"Number two: It takes a long time for these wideouts to develop. They are not used to quality press coverage, and they are not used to the complexity of NFL defenses. Nelson Agholor was supposed to be a bust, but he got moved inside in year three and finally contributed to a degree. I look at this and say what do we learn from this and apply to this year's draft class. I want to figure out Courtland Sutton, the big kid from SMU. It looks to me like the bigger guys without any injury issues have been able to contribute quickly. Go back and take a look and see if it holds out. I think [Alabama's] Calvin Ridley and [Texas A&M's] Christian Kirk are really good route runners. It will be interesting to see what they run. You can't bang the table for any one guy that is going to come out and catch 60 balls next year. What are we going to see at the combine? I'm intrigued by that."
NFL Mock Draft Vol. 2: Josh Allen a Giant? The Pre-Combine, Pre-Free Agency Projection
Edge rusher is thin too, which boosts the stock of the premier guy, Bradley Chubb of N.C. State. Good stat from Mayock: Last year, NFL teams picked 17 rushers in the first three rounds, which is about six more per draft than in recent years. "Myles Garrett, Derek Barnett and T.J. Watt all had really good years, and Tak McKinley, Charles Harris, Trey Hendrickson and Carl Lawson from Cincy … all pretty impressive. So who is going to affect the pass game day one? I think there are three of them. Bradley Chubb is not as twitchy as a Von Miller or some of those guys, but he does everything at a high level—stops the run, rushes the QB, great hustle, tough kid, great size. Marcus Davenport from Texas-San Antonio is really intriguing, and I'm eager to compare his numbers at the combine to Ziggy Ansah and Jadeveon Clowney to see how he matches up athletically to those two. And then Arden Key from LSU is another one of those. Gifted, but he has off-the-field concerns … hurt his knee, had a back issue. Who is Arden Key?" 
Get to know Leighton Vander Esch. Asked Mayock if there's a guy he's smitten with after weeks of tape study. "The Boise linebacker, Leighton Vander Esch," he answered right away. "I haven't watched much of him. I have only seen two tapes so far; that's the caveat. But I could make the argument that his tape against Oregon [in the Las Vegas Bowl] was as good an off-the-ball-linebacker tape as I've seen in five years. Key for him at the combine: Over/under 4.65 in the 40. I am anxious to see what he runs."
After Barkley and Nelson, the best player could be Alabama cornerback Minkah Fitzpatrick. "He is the only guy I could tell you that could start at all six positions in an NFL defensive backfield. Both corners, both safeties, the nickel and the dime. He's fast enough to play anywhere. Nick Saban played him at a lot of his nickel and dime linebacker stuff. So he was tough enough to tackle, he's fast enough to play corner, the NFL is a matchup league. I envision him as a chess piece for a smart coach who can move him around."
The offensive line continues to be thin, which is a big problem for coaches seeing their quarterbacks getting knocked around. Mayock's stat of the combine: Last year only 33 offensive lineman got picked in seven rounds, and that's the lowest total going back to at least 1967. "I think a lot of that is the effects of the spread offenses in college football," he said. "There is more security with offensive linemen that are coming out of pro-style offenses. What does that mean for this draft? It means the two Notre Dame kids are solid gold, Quenton Nelson and [tackle] Mike McGlinchey, it means the center from Iowa [James Daniels], it means the center from Ohio State [Billy Price] and probably the guard from Georgia [Isaiah Wynn] are all solid gold because they stuck their hand in the dirt, they had to move people in the run game and they understand a little bit of pass protection."
The Farce of Free Agency's Tampering Period
Please, please, please do not think opinions are final 60 days before the draft. That's how far away from the first round we are. Mayock: "Last year at this time, DeShone Kizer was my top-rated quarterback." Things changed. By the time the draft rolled around, Mayock didn't even have Kizer in his three-QB first round mock.
Other pre-combine media notes:
• My guests on The MMQB Podcast With Peter King this week are Mayock and ESPN's Todd McShay. The podcast drops early Wednesday morning. Strongly recommended for some fervent opinions (on Lamar Jackson, Josh Rosen and Baker Mayfield most notably).
• NFL Network will have 52 hours of live coverage from Indianapolis, starting Wednesday. The four days of coverage of on-field stuff commences at 9 a.m. ET Friday and runs through Monday. Friday workouts will be running backs, offensive linemen and kickers; quarterbacks, receivers and tight ends go Saturday; linebackers and defensive linemen work Sunday; defensive backs work Monday. 
• ESPN will do "NFL Live" from Indianapolis on Wednesday, Thursday and Friday from 1:30 to 3 p.m. and add significant coverage on "SportsCenter" each night of the combine.
How Are Players Selected for the NFL Scouting Combine? Jeff Foster Takes Us Inside the Process
This is one intriguing trade, for many reasons
News item: Kansas City agrees to make its second major trade in a month, dealing Pro Bowl cornerback Marcus Peters to the Rams. The Chiefs reportedly traded the 25-year-old along with a 2018 sixth-round pick for a '18 fourth-round pick and a '19 second-round pick from Los Angeles. 
Check down further in the column for my Stat of the Week, but you'll see why Peters' value was still high, though tarnished in Kansas City because of his anthem stance (he kneeled, much to owner Clark Hunt's chagrin), his unpopularity in the arch-conservative area because of his anthem protest, and his one-game suspension after blowing up and throwing a penalty flag in the stands at the Jets. The man averaged 9.7 big plays (interceptions, forced fumbles, recovered fumbles) a year in his three Kansas City seasons. It seems like a perfect fit for the Rams, too, at an unbelievably good price: a low third-round pick, at most this year, and they get in return a player under contract for two years and $10.5 million. Peters should thrive in a Wade Phillips defense that asks its top corner to play head-to-head against great receivers. If the Rams can coax Peters into buying into their way of doing things, this will have been a smart purchase.
Maybe the Chiefs couldn't have made this work, and maybe coach Andy Reid figured Peters was just too much of a handful. But if the Chiefs don't get a first-rounder in return for a 25-year-old cornerback who, if he can control his temper and play within the scheme, could be a Hall of Fame player, I like the deal for Los Angeles, risk and all.
I'm told there was no agreement or even "we'll see" about redoing Peters' contract, so the Rams will have to count Peters only $1.7 million against the cap this year. With the Rams' biggest need being at cornerback, and with Peters surely understanding this season will be huge in figuring the value of his next contract, the Rams are likely to get the very good Peters—and in an area where the anthem protests do not roil the locals the way they do in the Midwest.
The Niners were also in play, and the Browns, too, to a lesser degree. But here's what's interesting: The Rams, 49ers and Browns are all on the Chiefs' 2018 schedule. L.A. and Kansas City will play in Mexico City this fall. Peters might be a little fired up for that game.
Marcus Peters Now Burdened with the Question of What Went Wrong in Kansas City
The NFL in PyeongChang
If you're an Olympics nerd like me, you may have seen the clip on NBC of the 6'6", 310-pound man lifting up the 5'2", 126-pound woman hockey player after the United States' thrilling 3-2 shootout victory over Canada in the gold medal game in South Korea on Thursday.
That was Michael Schofield, the four-year NFL veteran tackle who has played for the Broncos and Chargers. He started Super Bowl 50 for Denver at right tackle, playing all 60 snaps in the game. And that was USA forward Kendall Coyne, who, after the victory and the medal ceremony, screamed up into the stands where Schofield was sitting: "MICHAEL, COME DOWN HERE!"
And so, like any good fiancé would, Schofield worked his way down to ice level, climbed over the boards and lifted Coyne into the air in celebration. And NBC caught the two lovebirds, who went to the same 4,000-student high school in suburban Chicago (Carl Sandburg) but didn't meet until they spied each other working out post-high school in a local gym.
On Sunday, Schofield was back at his home in Illinois, considering what he'd seen.
"USA-Canada is such a fierce rivalry in women's hockey," he said. "I suppose maybe when I was with the Broncos and we'd play New England would compare, especially the year we beat them in the championship game to go to the Super Bowl. That was intense. But this … this was just so different. When I played in the Super Bowl, I represented the city of Denver. The Super Bowl is obviously the biggest game we play, but it happens every year. Kendall represented the United States, her country, and just imagine—she trained every day, basically, for four years to prepare for this one game. I mean, you prepare for the Olympics, and that's more than one game. But everyone knows it's going to come down to the U.S. and Canada for the gold medal. Since 1998, we're the only two countries to win gold at the Olympics.
"So it's huge to begin with. But then, the way the game went—tying it late in the third period, going through a full overtime where any one shot could decide gold, then going to a shootout … the pressure, it was just so heavy. So stressful."
Afterward, Schofield marveled at the weight of the medal. "It's heavy," he said.
"What did Kendall say about her medal?" I wondered.
"'I can't believe it's so gold,'" she said.
Now Schofield has a couple of weeks to prepare for the rest of his NFL life. He's a free agent.
"Free agency starts March 14," he said. "More stress on the way. I've got to get in the gym."
You're forgiven for going to South Korea for the gold.
Cap Casualties: Players on the Chopping Block as 2018 NFL Free Agency Approaches
Memories of Mark Cuban
Last week, Sports Illustrated had a strong #MeToo exposé ​by L. Jon Wertheim and Jessica Luther of misconduct inside the Dallas Mavericks' front office. The story roiled the basketball world. "It's not something we tolerate," Mavs owner Mark Cuban said in response to the allegations of abuse.
I had a flashback to Cuban last week. It had to do with a fledgling professional football league in 2009, the United Football League, and the equally fledgling TV partner of the league, HDNet. I was answering questions on Twitter one night before a United Football League game, and I got this query, at 6:43 p.m. on Oct. 10, 2009, from @GolfLogsdon: "Is UFL on TV anywhere?" My response:
I'm not a TV head. I truly did not know what HDNet was. It turned out HDNet was a channel owned by Mark Cuban.
At 7:59 p.m., @mcuban Tweeted at me:
Sports Illustrated was still in business on Oct. 10, 2009. Sports Illustratedis still in business eight-and-half years later.
Quotes of the Week
I
"Everyone dreams of making $100 million dollars … That was never something that was very important to me. Signing this second deal with the team that drafted me was my goal from the beginning. It has been done, and I am excited and thrilled and proud of myself for being able to do that."
—Jacksonville quarterback Blake Bortles, after signing a three-year extension, through 2020, with the Jaguars on Saturday night.
II
"Blake has proven, with toughness and dependability, that he can be the leader this team needs going forward."
—Jaguars executive vice president Tom Coughlin, on the signing of Bortles.
III
"I love Lamar Jackson. He's gotten better and better each year. He does sit in the pocket. He can read defenses. He's very poised. He takes a lot of shots downfield. He's not running some dink-and-dunk system."
—Former New York Giants director of player evaluation Marc Ross, fired by new GM Dave Gettleman in January, on the first-round Louisville prospect, in an ESPN appearance Thursday.
IV
"You wanna compare him to Russell [Wilson], right? This guy's [one inch] taller than Russ. They've been that height their whole life, so they work with it. You're not trying to throw over him; you're trying to throw in lanes. You know what's not showing up with Mayfield? Batted balls. If his height is a concern, you're looking for balls getting tipped and batted down at the line. The height is not showing up as an issue for me."
—Darrell Bevell, Russell Wilson's offensive coordinator for the first six seasons of his Seattle career, to Robert Klemko of The MMQB, on Oklahma's first-round quarterback prospect, Baker Mayfield.
V
"Al Davis wanted these walls to be glass, so he could see that you were working. He always wore this cologne—a lot of it—and you could smell him before he got to you. 'He's coming this way!' I'm still expecting to smell it sometimes."
—Oakland coach Jon Gruden, to S.L. Price in his superb Gruden profile in Sports Illustrated.
VI
"Everybody's going to want to kick my ass, step on me. They can't wait to talk about what a dumbass I am, and how s----- I was to start with. How 'overrated' I am. I hear it all. I know it's going to happen. And I'm like: Come on!"
—Gruden, to Price.
In Oakland, Jon Gruden Is Ready to Grind
Stat of the Week
This is by no means an exhaustive list of the best cornerbacks in the last 30 years, but it's a list of eight who have been at the top of the cornerback game for their prime. How these top cornerbacks ranked in disruptive plays (interceptions, forced fumbles, fumble recoveries) in their first three full NFL seasons:
| | | | | | |
| --- | --- | --- | --- | --- | --- |
|   | Interceptions | Fumble Recoveries | Forced Fumbles | Total Disruptive Plays | Avg./Year |
| Marcus Peters, Kansas City | 19 | 5 | 5 | 29 | 9.7 |
| Richard Sherman, Seattle | 20 | 3 | 4 | 27 | 9.0 |
| Deion Sanders, Atlanta | 14 | 4 | 4 | 22 | 7.3 |
| *Charles Tillman, Chicago | 14 | 2 | 7 | 21 | 7.0 |
| Darrelle Revis, NY Jets | 14 | 3 | 1 | 18 | 6.0 |
| Charles Woodson, Oakland | 10 | 2 | 5 | 17 | 5.7 |
| Champ Bailey, Washington | 13 | 2 | 1 | 16 | 5.3 |
| Aeneas Williams, Cards | 11 | 5 | 0 | 16 | 5.3 |
*Tillman missed 8 games in 2004, his second season. So I used 2003, 2005 and 2006.       
Peters is 25. As you can see, no cornerback in this era of the NFL has created turnovers and fumbles in his first three seasons at the rate Peters has.
Factoid That May Interest Only Me
Cleveland Browns Draft Factoids of the Week, actually, now that the NFL has assigned compensatory picks and the draft order is complete:
Picks in the top 65 of the 2018 NFL draft
Cleveland 6
Houston 0
Picks in the top 130 of the 2018 NFL draft
Cleveland 8
Philadelphia 1
In the likely event the Rams include their third- or fourth-round pick in the trade to Kansas City for cornerback Marcus Peters, then:
Picks in the top 159 of the 2018 NFL draft
Cleveland 10
L.A. Rams 2
Over the 2017 and 2018 drafts, as the draft order stands this morning...
Picks in the top 65 of the 2017 and 2018 NFL drafts
Cleveland 11
Houston 2
Mr. Starwood Preferred Member Travel Note
Please join me and my friends from The MMQBand other media Friday night in Indianapolis at one of the coolest places in the country to have a beer and talk—Sun King Brewery in Indianapolis. From 7-8:30 p.m., we'll take your questions and let you buy us a beer. Tickets are $25, and all proceeds go to Midwest Food Bank. Per our organizer-in-chief, Angie Six, you can find tickets here. We'd love to see you Friday night.
Tweets of the Week
I
II
III
IV
I propose a duel at 10 paces, with the weapon of choice being a coaches' clicker, between Greg Gabriel and Ross Tucker.
Pod People
From the new season of "The MMQB Podcast With Peter King," available where you download podcasts.
This week's episode: New Indianapolis coach Frank Reich, the former Eagles offensive coordinator, and former number one overall pick David Carr, the brother of Oakland quarterback Derek Carr:
• Reich on whether the Eagles game-planned for the Super Bowl differently because of the Patriots' reputation for never being surprised by anything the opponent does: "That's a great question. You like to be able to say you dig deep no matter who the opponent is … But to be honest, I do think there was some element of who was on the other side. Maybe we did dig a little deeper because of the respect, and because of everything they do."
• Reich on tight end Zach Ertz calling for a play in the NFC title game that the Eagles ended up using and gaining big: "When we're mining plays, some of the mining is coming from the players. In the championship game against the Vikings, Ertz comes to me on the sideline and says something to me about a play that wasn't in the game plan, but we'd run it before, it just wasn't in that game plan. He says, 'Hey, I think Flutie Pump will be there.' So I tell Doug [Pederson], 'Hey, Ertz is telling me Flutie Pump is going to be wide open.' And we hit it for 40 yards. [Actually 36] He called the play! Of course, to himself for a 40-yard gain, but that was cool about the culture and the relationship with the players that we had in Philly. I give Doug a lot of credit for trusting his players. That's what his deal is—he trusts his players. Fourth-and-one when the game is on the line in the Super Bowl, he trusts his players. When you trust your players like that as a coach, you instill that confidence. Not every play is going to work, but that will be the same mentality that we will want to carry here in Indianapolis."
• David Carr on whether he watches brother Derek and says, "That should have been me": "There was a part of me that, human nature, you naturally go there. I've naturally gone there a lot. But whether it was how I was raised, my faith, and the fact that that all happened for the rest of the events to happen in our family's lives, to think that two guys from a little town, in Bakersfield, Calif., both play quarterback in the NFL. One was the number one pick, and one is an All-Pro guy, is that by chance? There's no way that's by chance. I lean on a higher power, our faith, and the fact that all of this is working for the ultimate good. And whatever that is, whether it is just getting Derek to the point where he is now, where he can be an influence on people and play good football, fantastic. I'm all about it, but I think that I did that for a little while. You play the what-if game a lot, and then I would always get to the point where I would say, 'I don't have an answer. I don't know what I would have done differently, given what I knew.' So that's where it ends for me. I had what I had, I did the best that I could, and that's what I have always done, the absolute best I can, and if it's not good enough, go do something else."
Ten Things I Think I Think
1. I think the three-year, $54-million extension signed by Blake Bortles on Saturday night in Jacksonville is smart for both sides. But understand that the contract really doesn't bind Bortles to Jacksonville for much more than the 2018 season. The Jags had the ability to bring Bortles back for his fifth season in 2018, at $19.05 million guaranteed. Instead, with the new deal, they bought two more seasons for essentially $7 million more guaranteed, plus cap-friendly salaries for 2019 and 2020. In other words: If the Jags let Bortles walk after 2018, they'd still owe him $7 million. But by doing the contract, they buy two years of quarterback security if Bortles plays well in 2018. So I like the deal for Jacksonville. Plus, as Adam Schefter reported, the deal lowers Bortles' cap charge to $10 million in 2018, important for a team that has about $30 million in cap room, which isn't much.
2. I think this is also a smart deal for Bortles. It's simple: The Jags liked him more than anyone else on the market did. No one else was going to hand him a starting job on a strong playoff contender. Instead of playing out his franchise-tag year, he gets more guaranteed money, plus some but not a lot of security … and he knows the coaches, knows the scheme, showed flashes of playing the best football of his NFL life as this season wound down, and did it with a cast on offense that was pretty beat up.
3. I think this is going to be an interesting book … In 2016, on the 15th anniversary of 9/11, ESPN's Adam Schefter did a TV story on one of the victims of the terrorism that day, Joe Maio, who worked for financial services firm Cantor Fitzgerald at the World Trade Center. "Nothing I have ever done has generated as much interest as this story," Schefter said Sunday. "Nothing. I was honored to honor Joe." Schefter never met the late Maio, but his connection with him runs very deep: Schefter married Maio's widow, Sharri. They live with their two children on Long Island, and have kept Maio's memory alive. The latest effort is a book by Schefter, co-written with Sports Illustrated'sMichael Rosenberg, that will be published by St. Martin's Press around the start of the football season. It's called, "The Man I Never Met: A Memoir."  Said Schefter: "It's designed to be a memoir about Joe, and it weaves in how I stepped into his life. I really wanted to honor Joe. The video piece generated such a strong reaction, and I felt with a six-minute TV piece, there were still so many unanswered questions and such strong material we didn't get into. Michael did a lot of work there. He researched the book so well—he found out things about Joe that I didn't know."
4. I think I won't understand it if the Cowboys keep Dez Bryant and pass up saving $8.5 million in cap space on a declining 30-year-old receiver. It's smarter, for many reasons, to cut him.
5. I think, if you ever want to know the lengths to which NFL players go to play in games (and a cool way to show how things have changed in media and training terms in the last 20 years), you should read this Jenny Vrentas story from The MMQB.
6. I think I will be surprised—not shocked, but certainly surprised—if Kirk Cousins is not the NFL's first $30-million-a-year player three weeks from now. Here's my thinking:
• Jimmy Garoppolo's deal with San Francisco averages $27.5 million a year.
• Garoppolo had started seven NFL games, and the 49ers had no competition for his services.
• Cousins is 29. Over his past three seasons as Washington's starter, he has averaged 4,392 yards passing and a 97.5 passer rating. Assuming Drew Brees re-signs with New Orleans (an assumption, but not a given), Cousins will be far and away the best quarterback on the market, with at least eight teams starved for a quarterback of the future.
• Three of the teams most desperate for a long-term starter—the Browns, Jets and Vikings—have an average of $77 million in cap room entering free-agency. If the Jets want Cousins, which is a given, do you think they'd actually draw the line somewhere, anywhere, shy of getting their man?
• One asterisk: Cousins may decide he wants to go only to a team ready to win now. Say he decides his best option is Denver. (The Broncos, according to overthecap.com, have $26.8 million in cap room.) I doubt Cousins will say he has to make as much in Denver as the highest bidder, if he has his mind set on the Broncos. To me, that type of scenario is the only way he doesn't end up at $30 million annually, or north of that.
7. I think, not that it's a terrible decision, but I'm not too crazy about the Panthers planning to franchise-tag Graham Gano. Good kicker who had a very good year last year (29 field goals, 30 attempts). In the last three years, Gano has missed nine PATs and is 5-of-11 from 50-plus yards. Now he's a $4.96 million player. Seems excessive to me.
8. I think what I appreciated about former Jets and Patriots linebacker David Harris—the second-leading tackler in Jets history—is that he was a very good player and the exact same person from the start of his career to the end. He retired the other day, letting a statement released through his agent be his only words on the subject. I am fine with players being anything they want to be, as long as they're themselves. And Harris was a private person and intensely competitive player, admired by so many coaches and teammates. Good for him to go out on his own terms, with very few syllables.
9. I think the idea of arming teachers obviously is a hot-button topic of the week. Since I have not been a teacher, I asked two of my media peers—Michael David Smith of Pro Football Talk and Bleacher Report'sMike Tanier, both of whom used to teach—what they thought of the idea.
• Smith, former high-school English teacher in Compton, Calif.: "I taught in Compton, Calif., at a school with a lot of needs: We needed more books, more school supplies, more community support. We did not need guns. Despite what some people might think about Compton, I never saw a gun or heard a gunshot in all the time I spent there, nor did I ever feel threatened by gun violence. I would have felt threatened if my colleagues had guns. Accidents happen with guns. Mistakes happen with guns. Lorenzo Prado, one of the students who survived the Parkland shooting, was mistaken for the shooter and was detained by police at gunpoint as he fled the shooting. What if an armed teacher, with less training and experience in such situations, had felt it necessary not just to detain Lorenzo but to shoot him? Mistakes like that are certain to happen if we arm teachers and tell them they need to be prepared to kill one of their own students on a moment's notice. I wouldn't have trusted myself to make a life-or-death decision like that. Whatever the cost of arming teachers would be, I'd rather put that money toward training teachers to identify troubled students and counsel them before it reaches the point where they're shooting up schools. Putting more guns in more schools is a bad idea."
• Tanier, former high-school math teacher in south Jersey: "I spent 17 years teaching in public high schools in New Jersey, through Columbine, 9/11 and a bunch of now long-forgotten crises. My wife is the Teacher of the Year in her district. I have worked with a few teachers who wish to be armed and many more who would resign if our colleagues were armed. I have worked with brilliant, dedicated educators, as well as substance abusers, overt racists, insecure guys with anger management issues and scatterbrains who left their car keys on cafeteria tables. Parents and administrators rarely identified correctly which was which. I taught with, at most, a half-dozen military or police veterans scattered across three districts, none of whom left their old careers so they could carry a sidearm through hallways overcrowded with children. The teachers who do fantasize that they can sneak around like John Wick picking off school shooters aren't ex-military. More often, they are the same ones who get into red-faced screaming matches with black kids over dress-code violations. Teachers share the building with children classified as emotionally disturbed, oppositional-defiant, socially maladjusted, bipolar and with many other conditions that cause sudden, unpredictable behavior. There are kids who see guns and want to escalate a conflict, and kids who see them and become too scared to function. And remember (because so many have forgotten): the goal is to educate and nurture the kids so they can flourish, not just to warehouse them for the workday. Arming teachers will create either: a) glorified penitentiaries; b) Arkham Asylums; or c) a whole new set of reasons for NFL players to kneel during the national anthem. I am frightened of the segment of society that sees any of these as good solutions."
10. I think these are my other thoughts of the week:
a. Story of the Week: by Florida hospital radiologist Heather Sher, in The Atlantic, about the shocking injuries from bullets she saw from the Parkland victims.
b. Wrote Sher: "I was looking at a CT scan of one of the victims of the shooting at Marjory Stoneman Douglas High School, who had been brought to the trauma center during my call shift. The organ looked like an overripe melon smashed by a sledgehammer, with extensive bleeding. How could a gunshot wound have caused this much damage? The reaction in the emergency room was the same. One of the trauma surgeons opened a young victim in the operating room, and found only shreds of the organ that had been hit by a bullet from an AR-15, a semi-automatic rifle which delivers a devastatingly lethal, high-velocity bullet to the victim. There was nothing left to repair, and utterly, devastatingly, nothing that could be done to fix the problem. The injury was fatal."
c. Column of the Week: from the New York Post, by Ralph Peters, "I'm a military man and I think we should ban assault weapons." Interesting piece.
d. I can't help but think of the thoughts that must be going through the minds of so many students in Parkland, and in so many other school districts in America, after so many adults on every level failed to keep them safe—after the FBI failed them, after the sheriff's deputy chickened out and didn't enter the school, after the governor of Florida failed them, after the state politicians in Florida failed them, after Sen. Marco Rubio failed them, after the NRA whackjobs failed them, and after the president of the United States time after time after time failed them. Here's what I'd be thinking: Okay, the adults have proven they're incompetent to handle the big stuff. We're going to have to hit the streets.
e. Hit the streets, kids. We're behind you.
f. NRA czar Wayne LaPierre has trained well his mentee, spokesperson Dana Loesch. Her words Thursday: "Many in legacy media love mass shootings. You guys [reporters] love it."
g. Blame, blame, blame, blame. Blame anything but the guns. Innocent bystanders, those guns.
h. Listen to Loesch and the NRA, and you get it drilled into you that there are six or eight causes that add up to 100 percent of the reason for the type of gun violence that resulted in the killing of 17 people at the school in Parkland, Fla., 12 days. The gun itself was responsible for 0.00 percent of the reason, the same way it was responsible for 0.00 percent of the murders at Sandy Hook Elementary School, and 0.00 percent of the murders at the country music concert in Las Vegas.
i. This cannot be the norm in the United States. We cannot allow it to be the norm. Deep breath.
j. More to come soon to The MMQB on the Jonathan Martin story. We dispatched a writer to southern California to learn more about Martin and this recent incident. Stay tuned.
k. Coffeenerdness: The inconsistency at Starbucks is somewhere between noticeable and maddening. Peets, or a local expansion of Gregory's, needs to make New York inroads. Competition would make everyone better.
l. Beernerdness: This headline on a Travel and Leisure story is quite exciting: "A new craft beer hotel will have a tap in every room … and cold beers in the shower." That's what I call nirvana.
m. I love the Olympics. So glad they come at a time when I'm ready to veg out in front of the TV for hours.
n. Praise to both Russian women's skaters. Evgenia Medvedeva, silver winner, and Alina Zagitova, the gold medalist, were brilliant, and artful to see. I thought Medvedeva, for the sheer breadth of her skills and art of her skating, was slightly better. Zagitova won, in large part because of the crazy rule that rewards skaters for attempting their jumps in the second half of the free skate—when, theoretically, they would be more tired. I get the spirit of the rule, I suppose; if you're great when you're fatigued, that is a bonus. But why would a skater who hadn't attempted anything difficult for 135 seconds be rewarded for then jumping around a lot in the last 135 seconds? It's dumb. 
o. Mirai Nagasu, the American skater who said after bombing out of the free skate that it was her audition for "Dancing With the Stars," has apologized after realizing what an idiot she sounded like on the biggest stage of her life. You trained for years and years and years to make the Olympics, skated lousy, and instead of saying, I skated lousy, and it's all on me, you're a fountain of excuses. Too much time taken for the lunar holiday, too many cold/lukewarm showers, too much steam taken out of her with the team competition … Man, so wonderful to have you take up one of three spots in the competition that skaters all over the world skate their lives for, Mirai. Have a good life.  
p. Nothing but class, Patrik Elias. Glad to see your number retired by the Devils.
q. Billy Graham, who died last week, preached for 69 years. Preached in person to 210 million people in 185 countries. Queen Elizabeth is on the verge of comparison, but it's likely no one on earth in modern history impacted so many people for such a long time—and you can argue about whether his impact was always good. But what a presence in the lives of so many, in so many countries.
r. All the best to Tom Benson as the 90-year-old Saints owner remains hospitalized with the flu.
The Adieu Haiku
Curling. Hypnotic.
From ninth in Sochi to gold.
Duluth: Pabst's on me!