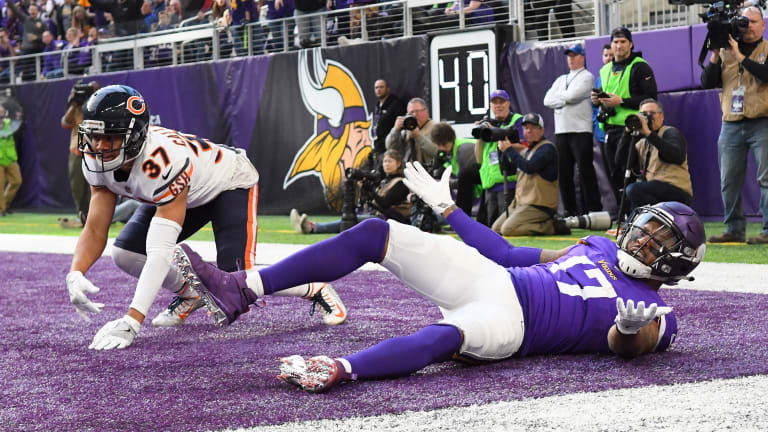 NFL Weighs Giving Defenses a Boost
Pass interference penalties could change, CBs shouldn't get their hopes up
As the competition committee convenes this week, a series of rule changes are reportedly on the table. Most notably a simplification of the catch rule seems likely, though the details of that may not be clear until owners meet next month. In the meantime, there is debate about capping the penalty for pass interference at 15 yards, rather than placing the ball at the spot of the foul. (This is already the rule in college.)
How big of an impact would that change make? Well last season there were 137 DPI calls of greater than 15 yards, and had they been capped, it would have saved defenses around the league 1,618 yards (for comparison, Antonio Brown led the NFL with 1,533 yards in 2017). More than that, defensive backs would be emboldened to play more physically down the field. Matthew Stafford, Drew Brees, and Carson Wentz all averaged more than 15 yards per attempt when throwing the ball more than 20 yards downfield with coverage nearby (defender within two yards). On aggregate, defenses under the proposed rule would be better served diving into receivers in such situations.
An increase in stops for flags and a decrease in aerial excellence is not what the league is looking for in 2018. It could also decide to enact a 15-yard option for interference that is less blatant in addition to a spot foul, but introducing another judgment call for refs to make is also not on this year's to-do list. Every year, there's a big game or two that swings on a long DPI. This year it was Jaguars-Patriots, as New England moved 68 yards across a pair of penalties. But unless the NFL can find an elegant solution, I don't think the league is willing to accept all the various trade-offs that come with making those calls a little less impactful.
Not getting this newsletter in your inbox yet?Join The MMQB's Morning Huddle.
HOT READS
NOW ON THE MMQB: Conor Orr explains the explosion of CBs at the combine and tells you what to keep an eye on in Indy ... Jonathan Jones checks in with Nick Chubb as the RB prepares for the draft in comfortable territory ... Peter King offers more info on how Marcus Peters wound up in L.A. and talks withMarty Hurney ... and more.
WHAT YOU MAY HAVE MISSED: Peter King prepared a combine crash course ... Albert Breer published a pre-combine mock draft ... and more.
PRESS COVERAGE
1. Settle in folks, we've got another round of Jerry Jones vs. Roger Goodell action headed our way. Following a report that the league planned to request millions of dollars from Jones as reimbursement for legal fees that resulted from Jones's threat of a lawsuit last season, Jones is now asking to meet with Goodell.
2. The Bills believe corner Vontae Davis can return to his Pro Bowl form, signing the 29-year-old to a one-year, $5 million deal. He was eligible to find a team before the start of free agency because Davis was released prior to the end of the 2017 season, following a falling out with the Colts coaching staff.
3. Defensive end Ziggy Ansah is staying in Detroit. The Lions placed their franchise tag on the pass rusher Tuesday. He'll be paid at least $17 million if the two sides can't agree on a longer term deal.
4. Speaking of the franchise tag, the Dolphins are reportedly hoping to trade Jarvis Landry, with the likely compensation currently sitting somewhere between a second and third-round pick.
5. Kirk Cousins tops NFL.com's list of this year's best free agents. No. 101? Jay Cutler.
6. A couple pieces of Bears news: Chicago has released linebacker Pernell McPhee and safety Quintin Demps, two disappointing defenders who were given over $20 million in combined guaranteed salary. At the same time, running back Jordan Howardsaid Tuesday, "I guarantee we get to the playoffs."​
7. Get to know Quenton Nelson (and his history with tae kwon do) during this film breakdown before the dominant Notre Dame product becomes one of the highest drafted guards in recent memory. 
8."I've never said anything about not wanting to play in Cleveland,'' Josh Rosentold Michael Silver last week. "I don't know where that came from. There's absolutely no foundation in reality in that (report).'' Not exactly enthusiasm about being a Brown, but at this point, that team will probably take not not wanting to play in Cleveland.
9. Bills backup DB Breon Borders is spending his offseason as a substitute teacher at his brother's high school.
10. With the Broncos eyeing a new QB, what's going to happen to Paxton Lynch?
Have a story you think we should include in tomorrow's Press Coverage?Let us know here.
THE KICKER
"There's an aroma around here that I've got to figure out"
Question? Comment? Story idea? Let the team know at talkback@themmqb.com