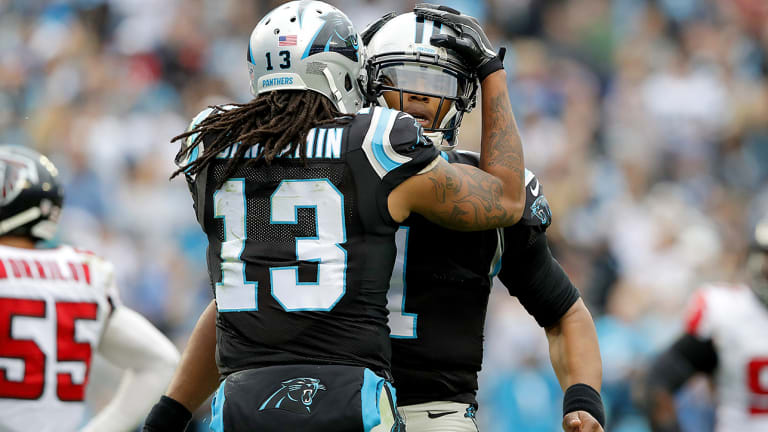 The Cam Newton-Kelvin Benjamin Beef Explained
Kelvin Benjamin and Cam Newton squared off before their first preseason game even started. Welcome to Beef Season. 
The NFL preseason kicked off in earnest Thursday, and the MMQB will have a look at all of the games later this morning, so check back for the best way to kick off your weekend.
But for now, we entertain our love of player-on-player beef. If you haven't heard, Kelvin Benjamin and Cam Newton don't like each other anymore (or never liked each other?) Benjamin told The Athletic last week that his career would have gone a whole lot better if he didn't have Newton as his quarterback (Nathan Peterman, right?). Newton, being the consummate social butterfly he is, stood near Benjamin before the Carolina/Buffalo preseason game Thursday and awkwardness ensued.
Because it's the NFL and Richard Sherman isn't involved, no one threw a punch. However, we consulted Carolina native and former Panthers beat writer Jonathan Jones for more...
Arguably the best highlight of the evening of preseason games came before the ball was snapped in Buffalo. The Cam Newton-Kelvin Benjamin meeting at New Era Field was a gathering meant to go viral.
I had some fun with the video on Twitter but allow me to expand on some of those thoughts here while taking some creative license.
(First, and most importantly, we should all thank Charlotte Observer photographer Jeff Siner for capturing the moment. If Jeff had not been the only photographer filming, this newsletter would be led by … I don't know what.)
The 90-second video begins with a hooded and ear-budded Newton walking over to Benjamin being jovial with longtime Panthers linebacker Thomas Davis. "I thought we was cool," Davis appears to say to the Bills receiver with a smile on his face. Newton uses his chest to bump Benjamin, who for a few seasons was unquestionably Newton's best friend on the Panthers. Newton (almost comically) throws his right hand in the air to extend dap but Benjamin appears to reject him.
In my mind there are two ways to interpret this action. 1) Newton was willing to come over, be the bigger man, shake hands, maybe make a joke about it, shake it off, say good game and move on. Or 2) Benjamin knew he would have to answer for shooting the first shot at Newton. Benjamin may have seen this dap request not as a friendly gesture but one more on the level of the Chris Paul fake laugh that's become a favorite meme.
*Roll tape* We see Newton looking down in his hand in (mock) bafflement. He politely requests Davis, a former Walter Payton NFL Man of the Year, to step away and have a one-on-one conversation with Benjamin. Davis obliges. Left alone, Benjamin and Newton share a conversation that, while we can't hear the words, we can hear the body language.
Newton puts his hands behind his back, a genius move for multiple reasons. First, it shows Benjamin and the viewer that he's only here to talk and not fight. It also prevents the quarterback from overly gesticulating. Benjamin attempts to walk away but Newton, well within his bounds, follows Benjamin, who seems to have a difficult time looking at Newton. Finally, around the 43-yard line, the two men stop, look at each other and re-engage in conversation.
The conversation heats up! Benjamin is shrugging his shoulders multiple times. Newton can't help himself. His hands wheel around to the front where he begins to gesture and, realizing the two of them will not find common ground on this evening in western New York, Newton offers a dismissive right arm to the air as he walks (struts? saunters, perhaps?) off the field to Nelly's 2002 classic "Air Force Ones."
Thanks, Jonathan!
Good stuff, everyone. The kind of story where everyone can learn a lesson. 
Not getting this newsletter in your inbox yet? Join The MMQB's Morning Huddle.
HOT READS
NOW ON THE MMQB: During the Charlottesville riots, one high school team shared their backyard with Unite the Right, this is their story a year later ... Sam Darnold is adjusting to life in the NFL ... The new culture in San Francisco.
WHAT YOU MAY HAVE MISSED: Greg Bishop from Terrell Owens's alternative Hall of Fame weekend ... Saquon Barkley's first NFL carry goes for almost 40 yards ... Watch Baker Mayfield's first NFL touchdown pass.
PRESS COVERAGE
1. The Bills' new offense makes a good impression vs. the Panthers
2. Breaking down Saints-Jaguars, but only when the starters were in. 
3. As it turns out, the Bengals are excited to play for Marvin Lewisafter all. 
4. Joe Flacco had a great camp, and is now feeling good about the Ravens' offense after one preseason blowout win.
5. Two Dolphins players kneeled during the national anthem Thursday to continue a discussion on social injustice and police reform. Here's how the NFL responded.
THE KICKER
For Newton and Benjamin, it seems like the only difference they saw in one another, was that they were exactly the same as they used to be. 
Question? Comment? Story idea? Let the team know at talkback@themmqb.com.