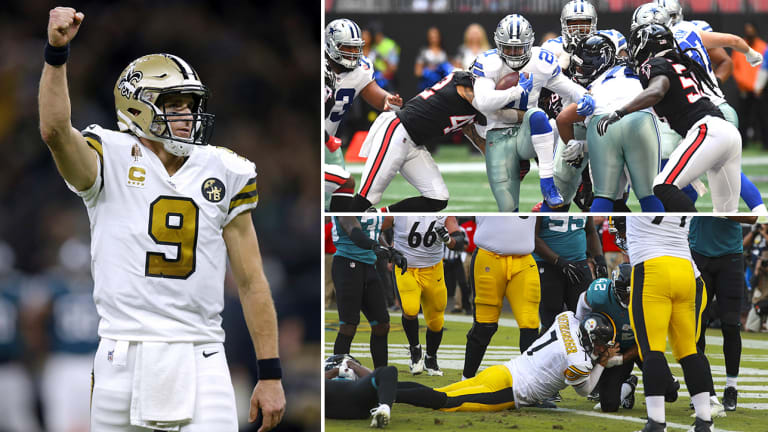 Week 11 Takeaways: Brees Having Season for the Ages, Big Ben Comes Back from the Dead, Cowboys D Can Make Them This Year's Jaguars
Plus, Alex Smith's devastating injury, choking season comes early for the Chargers, Panthers and Eagles on the brink, Colts are in total control, Ryan Fitzpatrick can't stop throwing interceptions and more from Week 11
Reacting and overreacting to everything that happened on Sunday afternoon. Get the full Sunday breakdown from Andy Benoit and Gary Gramling on The Monday Morning NFL Podcast. Subscribe to The MMQB Podcasts now and it will be in your feed first thing Monday morning
Things That Made Me Giddy
This is the Best Drew Brees Has Ever Been: Which is saying something. It's funny, had he done this a year ago he would have won his first MVP award unanimously. This year, he's in a two-horse race with Patrick Mahomes (who will need a big game Monday night to keep pace). The Eagles did everything they could to take Michael Thomas away ("holding" him to four catches for 92 yards. Brees still came up with 363 yards on 30 attempts in a blowout win over Philly.
Ben Roethlisberger Flips the Switch: Which you can do when you're this incredibly talented and surrounded by players who are also incredibly talented. Those last two TD drives covered 148 yards in less than four total minutes against one of football's best defenses, lifting the Steelers to a win in Jacksonville on what was an off-day.
Dak and Zeke Get It Done Again: Everyone's going to say they wanted to see 75 points in Atlanta, but Dallas controlled the clock on the road and won in Atlanta with their style of football (not to mention, a Cole Beasley drop and a missed extra point cost them five points). This offense is figuring it out when they have to figure it out, and that's just fine complementing a defense that can keep things close.
Jim Tomsula Rock 'em Sock 'em Robots: It's what my kids will be getting this Christmas. (Not actual toys, I'm going to jostle them awake at 5 a.m. Christmas morning and show them this GIF repeatedly).
Von Miller Saves Christmas: He read the wide-receiver screen, stepped back and make a huge pick of Philip Rivers (with an equally huge 42-yard return), keeping the Broncos in a game that felt like it was getting away. That was the biggest play in Denver's upset win in L.A.
Colt McCoy Out of the Bullpen: No one will care because Washington lost to Houston, but that was a quality performance off the bench for McCoy, who did the unthinkable—led a Washington comeback!—with two touchdown drives (though one of them was a short one set up by a turnover). The TD toss to Jordan Reed was his first since 2015.
Jalen Ramsey Took Antonio Brown's Soul… Then Gave It Back: Ramsey was utterly dominant for about 98% of the snaps in this game. In the second half, Brown got away for a 78-yard TD, and then Ramsey was victimized by a well-designed rub play on the 25-yard catch-and-run that set up the Steelers' winning score. Despite the outcome, Ramsey looked like an elite player for the first time in a while.
Matt Eberflus is the Gift That Keeps on Giving: Maybe he would have ended up in Indianapolis anyway, but the defensive coordinator Josh McDaniels brought in before McDaniels locked himself in his bathroom and curled up in the fetal position in his house in Braintree (or whatever). Eberflus has been a revelation in Indy, working wonders with a unit that was supposed to be at least a year if not years away. They were dominant in the win over Tennessee, shutting down a Titans offense that had been finding its stride of late.
Lions Are Eating Good Teams in Detroit: Ford Field has now claimed Tom Brady, Aaron Rodgers and Cam Newton, as the Lions continue to infuriate with inconsistency on both sides of the ball.
Lamar Jackson Is On the Board: Nice! The Ravens patched a game plan together for this one (it helps to be facing this Bengals defense). Now let's see if they can start building some things on top of it for Jackson, who ran for 117 of the Ravens' 265 yards on the ground but went 13-for-19 for 150 yards, an INT and took two sacks against one of the NFL's worst pass defenses. Ultimately, the Ravens got a win and got back in the playoff hunt.
Jon Gruden vs. Derek Carr, a Love-ish Story: They seemed to be at each other throats on the sideline in Arizona, which is a good sign because they care. Or a bad sign because they're not seeing eye-to-eye. Or an irrelevant sign because the Raiders are bad anyway. But a nice win for Oakland in Arizona!
Adrian Peterson's Still Got It, Still: Even with a makeshift offensive line in front of him, Peterson looked like a reasonable facsimile of his old self. The numbers weren't pretty (16 carries, 51 yards), but he earned every one on Sunday in what would have been a legitimate upset if Washington held on.
Keenan Allen Wears the Belt: Despite wearing it upside down, this is a very good celebration—original, cool-looking, bonus points for involving the fans (even more bonus points for finding Chargers fans in Los Angeles). Someone get this tape to Michael Thomas before he breaks out the Macarena.
Regrets
Oh, Those Jaguars Penalties: They came in different varieties, from the sloppy to the stupid to the unlucky. But for a team that doesn't have the offense to pull away from opponents, 11 penalties and 111 penalty yards are nearly impossible to overcome against a quality opponent. That's how the Jaguars lost to Pittsburgh.
Mariota Down, Which Means Gabbert Time II: The sequel is not very good. Mariota, on a brutal day for his offense and his team, came up flexing his right hand and didn't return in what quickly became a blowout loss in Indy.
Dean Pees: The Titans' first-year defensive coordinator has been among the best assistant coaches in football this season. Sunday was obviously a bad day for his defense, and a scary situation for Pees.
Olivier Vernon Penalized on 1,000 Consecutive Plays: Well, three at the end of the first half—a roughing the passer and then back-to-back neutral-zone infractions. In Vernon's defense, he might have just been setting up Ryan Fitzpatrick for another red-zone interception (which is what happened three plays later).
Jermaine Gresham Has More Dumb Penalties Than Everyone in NFL History Combined: On Sunday, with the Cardinals set up to bleed the clock (third-and-8 upcoming, ball at the Oakland 42, 2:23 left, Oakland out of timeouts), Gresham picked up an unnecessary roughness penalty picking a player up off a teammate. It not only pushed Arizona back 15 yards, but also stopped the clock, giving the Raiders another 40 seconds to work with when they got the ball back. (Oakland, of course, kicked a 35-yard field goal as time expired to win in Arizona.)
Shaky Ben on the Road: He ended up salvaging this one, but going all the way back to 2013, Roethlisberger had a 104.3 passer rating and 111 touchdowns in 43 games at Heinz Field, the Steelers averaging 30.1 points in those games. On the road during that span, he has an 87.2 rating, 60 TDs in 47 games and the Steelers are averaging 22.4 points in those games.
A Bad Week to Say the Steelers Won't Miss Le'Veon Bell: James Conner has been wonderful this season, but he remains a downgrade in the passing game and had two crushing drops that nearly cost them a game in Jacksonville. (Conner, of course, cost the Steelers with a victory with a fumble in the season-opener at Cleveland.)
Time to Get Some Competition for Ka'imi Fairbairn: He had two misses in Washington, the second one on a potentially game-sealing 45-yarder that will rank amongst the worst looking misses you'll ever see from a professional placekicker. The Texans are playing a ton of close games, and Fairbairn is now 7-for-12 from beyond 40 on the year.
[audible sigh] Blake Bortles: Jacksonville needed to create some more separation on Sunday, but they didn't trust Bortles or their offensive line to do it. Ultimately they ran it 43 times in this game, while Bortles went 10-for-18 for 104 yards and was under constant pressure, taking six sacks along the way in the come-from-ahead loss to the Steelers.
FitzMargic: I dunno, FitzTragic sounds too melodramatic. His performances the past two weeks were just absurd, with two more turnovers and a failed QB sneak on fourth-and-inches giving the ball back to the Giants when Tampa was in scoring range. So, Jameis Winston in again, and a Bucs road loss to the Giants, a second straight loss in which they had 500-plus yards of offense.
Moments We'll Tell Our Grandkids About
T.Y. Deep: There we go! That's Hilton's first catch of 50-plus this season.
Matthew Stafford to Kenny Golladay: Breathtaking. This is going to be one of football's best connections over the next five years (though no one will notice because it's the Lions).
Justin Reid Is a Very Fast Runner:
Julio Jones Understands the Strike Zone:
Lamar Jackson Needs Some Work: And that's O.K. But he's putting linemen in concussion protocol out here.
Landon Collins: Pretty upset about concussion protocol for a dude who returned to the field.
Cameron Johnston Brings the Pain Like Only a Punter Can:
That Alex Smith Injury: Which you don't want to see (video is available here), but his leg was trapped under him and is, well, quite broken. It's Colt McCoy the rest of the way for Washington.
What We'll Be Talking About This Week
Why Can't the Cowboys Be This Year's Jaguars?: A year ago, Jacksonville came within a Tom Brady comeback of the Super Bowl thanks to a dominant defense and B+ running game making up for a shaky quarterback. The Cowboys defense isn't on the same level of last year's Jags, but they're trending in that direction. And they have an A- running game and a quarterback who doesn't make mistakes and has a knack for delivering timely plays (in other words, Dak Prescott is much better than Blake Bortles has ever been). It's probably time to move Dallas into the "darkhorse" category among NFC Super Bowl contenders.
Choking Season Arrives a Little Early for Chargers?: Blowing a 12-point win to the Broncos, at home (or, in the Chargers' case, "home") over the final 20 minutes is incredible, in the bad way. Philip Rivers threw two brutal interceptions in this game, and the defense—one of the most talented in football—allowed two 70-plus yard drives to Case Keenum in the fourth quarter, and ended up committing 14 penalties for 120 yards. The Chargers currently sit two games up on the 5-5 teams in the AFC Wild-Card race (Indy, Tennessee, Baltimore, Cincinnati and Miami), but after hosting Arizona next week they finish with road games in Pittsburgh, Kansas City and Denver, with soccer-stadium dates against the Bengals and Ravens. This isn't going to end badly again, is it?
Panthers On the Brink: Last Thursday night in Pittsburgh was a fluke, but there isn't much margin for error in the NFC, especially with the division close to out of reach. They fell in Detroit when their kicker lost his way (the same kicker that saved them with a 63-yarder against the Giants, mind you), as Graham Gano missed a PAT, a 34-yard field goal and couldn't be trusted for a game-tying PAT try. The Panthers have to go out and get wins vs. Seattle, at Tampa and at Cleveland the next three weeks, with two matchups with the Saints (plus a home date with Atlanta) in the final three weeks.
The Eagles' Super Bowl Defense Season Needed More Offseason Book Tours: I kid! They have been decimated by injuries in the secondary, to the point where they really aren't in a position to compete. They lost their one indispensible lineman (center Jason Kelce) on Sunday. However, this offense was an abomination in New Orleans, which is only a slight upgrade from what they've been all season.
Condoleezza Rice Is Getting Hired as Cleveland's New Head Coach, After Which She'll Be Traded to Jacksonville for Jalen Ramsey: Or so is my understanding of this morning'srumor mill.
• Question or comment? Email us at talkback@themmqb.com.