Sunday's False Positives Gave the NFL's Gameday COVID-19 Policies a Trial Run
Ten teams and the league office got a chance to learn about how they'd handle positive tests en masse during the season. Plus, Albert's camp trip gives him insight into Sam Darnold's development, Joe Judge's laps policy, Earl Thomas's release and Jason Wright's big job ahead.
The sun was barely up over Ohio when Browns senior vice president of player health and development Joe Sheehan got word that a rash of positive tests were coming back from Saturday morning's daily screening. Players. Coaches. Staffers. As the team's appointed infection control officer, Sheehan stunned and sent straight into action to call all those who came up on the list.
Next? With Cleveland's players due in for 8:30 a.m. meetings, decisions had to be made. And by 6:30 a.m. ET, a big one came down—the team was closing its facility for the day, and started working on a deep cleaning and a plan for everyone to work from home.
"You just sort of have to whip out your plan," is how one staffer described it.
Soon enough, the league called. The Browns' "outbreak" was hardly isolated. In fact, teams that were sending their samples to the same facility as Cleveland—a lab in New Jersey—were experiencing the same avalanche of positive tests.
The numbers weren't quite as bad in Buffalo but were high enough to take the Bills off their course for the day. For many, the morning started with a mass message from the team telling them everything on the schedule was being pushed back an hour, which bought time for those who tested positive (there were between 15 and 20 organization-wide, fewer than a handful of whom were players) tested again on-site.
They all took both a point-of-care test (which is the rapid test), and a PCR test. All tested as negative on the rapid test. The catch: Per the NFL's protocol, a negative on the PCR test, which wouldn't come back until after the workday was complete, was required for those 15-20 team employees to return to the facility. So those 15–20 would have to stay home.
Ultimately, that meant when the Bills decided to open back up for business—after considering cutting back to a walkthrough or going all virtual for the day—those 15–20 people weren't there.
And what makes this really interesting is that one of those on the list was QB Josh Allen.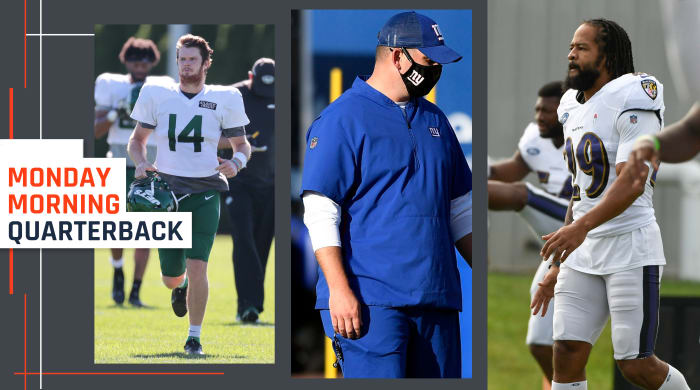 ***
I'm wrapping up stop six of my seven-city camp swing, so we've got plenty of fun football stuff coming for you today. Including …
• How Sam Darnold learned to play quarterback this offseason.
• The method to Joe Judge's madness.
• How the Ravens' culture should help carry them through this year.
• Washington's new team president.
But we're starting with what began as a sleepy Sunday, then quickly became a pretty wild test case for one of the challenges the NFL is facing in its Season of COVID-19.
***
You read that right: If Sunday's events took place exactly three weeks later, under the NFL's current protocols, you'd be looking at Matt Barkley as the Bills' opening day starter at quarterback.
Allen took a COVID-19 test on Saturday morning in Orchard Park, and the test came back positive before his alarm went off Sunday morning. From there, the NFL mandated that he take a point-of-care test and a PCR test (which, again, can take up to 24 hours to come back) right away. But passing the rapid test isn't enough to confirm a false positive, per the protocols. The PCR test needs to come back negative, too.
Had the Bills played a game Sunday, there's no way it would've come back in time for Allen to suit up.
That's one good thing that came out of Sunday. Ten teams went through a scare (which eventually turned into a mere annoyance), and they all got a realistic fire drill, based on a pretty plausible scenario. Another plus would be that the league got to see what the fallout would be in a situation like this—which, I'd bet, will get Park Ave. to adjust its rules.
The bad? Well, there was the scare itself, and the disruption at a time when teams don't really need a disruption. The Browns got in five hours after they'd expected to on Sunday, at around 1:45 p.m., and canceled their planned padded practice, putting a 60-minute walkthrough in its place. Also, they made Sunday night's meetings virtual so the facility could undergo the aforementioned deep cleaning—just in case.
By now, you probably know what happened here. The Browns and Bills, as well the Eagles, Patriots, Jets, Giants, Lions, Bears, Packers, Steelers and Vikings, all had false positives on Sunday morning. Getting the false positives actually hasn't been all that uncommon across the NFL over the last few weeks. Those happen. What was unusual this time was the volume and consistency, and then, upon closer inspection, the common location.
All 11 of those teams were assigned a laboratory in New Jersey (one of a handful of sites across the country the NFL is using) for their daily tests, which are run by BioReference Laboratories. The total number of positive tests was 77—with roughly two-thirds of those coming from players—and all 77 of those people came up negative in the follow-up rapid tests on Sunday.
Also, as I'm writing this, all 77 of the samples that came up positive over the weekend were being rerun, and all that had been returned came up negative. Which is, yes, pretty wild, and raised a very real concern among teams.
What if this happens in three weeks?
The truth is, there's no single answer right now. It's possible the rapid tests will become more reliable. They're a few percentage points shy of the PCR tests (which are over 99% accurate) in that department, and if they catch up, that solves the issue of lag time that kept those 77 people away from the workplace on Sunday.
Absent that, the NFL and union have discussed Friday testing ahead of Saturday's travel day, which would give players a chance to retest and get cleared for Sunday (the obvious problem there, of course, is the possibility the a player contracts the virus on Friday night or Saturday). There's also the question of whether, on a Sunday morning, the NFL could have the labs on call to rerun potential false-positive samples—which, of course, would hinge on the lab turning them around fast enough to get a guy on the field for kickoff.
All of this is on the table as the NFL and NFLPA leave the conversation on how to deal with COVID-19 open—and plan to leave it open all year. Things will change. New advances should help along the way. New challenges are coming too.
And it's all a reminder that this is going to be a really different year.
On Sunday, it cost the Browns a padded practice in a year when teams aren't getting many of those. But the truth is, if it helps the league avoid something worse down the line, then Cleveland and the other 10 teams going through what they did Sunday will have been worth it.
***
DARNOLD'S DEVELOPMENT
FLORHAM PARK, N.J.— You don't often hear how "raw" Sam Darnold is as a quarterback. But the truth, is back in 2018, before he was drafted, that's how a lot of scouts saw him.
Darnold wasn't classically trained or privately coached as a grade-schooler, like so many Southern California quarterbacks are. In fact, until his junior year in high school, he was a linebacker. And until he got to USC, he was a multisport athlete, starring on the basketball court as well as the football field.
So there's always been room for Darnold to grow and, in a roundabout way, the COVID-19 quarantine finally gave him the chance to explore all of that.
We wrote back in the spring about the QB quarantine that he, Buffalo's Josh Allen and Washington's Kyle Allen were hunkered down in, with throwing coach Jordan Palmer. Those four, plus Josh Allen and Kyle Allen's girlfriends, and Darnold's ex-USC teammate Matt Lopes, were together in Orange County when the lockdown began, and made the most of it, working out in a trainer's garage and running QB drills on the beach or in any open park they could find.
At that point, Darnold really had no idea what was ahead. But as it became clear that what he initially expected to be a two- or three-week delay would turn his offseason upside down altogether, he suddenly had an opportunity that he'd never really had before. Without his Jets teammates around him, he had the chance to focus an extended period of time on his own individual growth as a quarterback.
"Yeah, I've never had this much time to be able to work on that," Darnold told me after practice Wednesday. "And, again, that was to my first point. When I was working out in the garage, we didn't know how long it was going to be. When it first broke out it was, 'OK, is it gonna be two or three weeks?' Not, like, 'Is it gonna be a year or two years?' It was really taking it one step at a time, and just saying, 'All right, this is what I need to work on, let's work on it. And all of the sudden we had more and more time.
"It's like, 'OK, well, we don't need to move on, I still feel like I can improve in these areas.' And so we kept repping and repping and repping those same drills."
Now, remember, this is a guy who was conference Freshman of the Year in 2016, first-team All-Pac 12 and Rose Bowl champion in 2017, the third pick in 2018, and off to a pretty promising start in his first two years as a pro—before he got to do this. So it stands to reason that with a shot at refining his ability to actually play quarterback, another big leap could be coming.
To that end, as we talked, Darnold wound up explaining two specific areas that he, Palmer, and his trainer drilled down on over the last few months.
The first was to improve his hip mobility and his T-spine mobility. The former should work to make Darnold faster, more agile and more able to change direction. And your ability to move your hips helps with your throwing motion. The latter is important for all athletes in avoiding neck injuries and, for quarterbacks in particular, shoulder injuries.
The second thing was way more specific—Darnold wanted to become more consistent closing off when throwing to his right. And here's where we'll go into dorky quarterback details. Right-handed quarterbacks' lead shoulders are naturally closed off when they throw left. But when they go to their right, the tendency can be to just throw, rather than squaring that shoulder to the target. Long story short, that was a problem for Darnold.
"We do this throw with Jordan where we get set to throw, we have a seven-step play-action and we're getting set to throw an in-cut to the left, and then all of the sudden we have to flip back and throw a comeback to the right," Darnold said. "I was always good throwing to my left because I'm already closed off. Last year, I would flip to my right, and I wouldn't really move my feet a ton, I'd just flip my shoulders and huck it over there, using all arm.
"This offseason, I really made a point of emphasis, 'If I go to throw an in-cut, and I have a seven-step drop and I'm throwing that in-cut to my left, thinking, OK, if I have to get to that comeback on the right, it's really getting my whole body over there, and get my legs and my shoulders, everything pointed at my target, and really make sure I get everything into my throw. Because that could be the difference between a completion or an interception."
And then, Darnold used a throw from Wednesday's practice as an example, one that didn't look like much to the naked eye, but one where this slight adjustment could turn a routine checkdown into a big play. Turns out, that throw is one, now, he's making routinely.
"That's shown up these last couple days," he said. "I'd make a read to my left, it wouldn't be there, and then all of the sudden, I gotta get back to my back on the right. And I'm getting my entire body closed off and the ball's a lot more accurate, where Le'Veon [Bell] can get up the field and make someone miss—he has that much more time to get the ball and think about what he's gonna do once the ball's in his hands.
"He doesn't have to go that extra inch to reach behind him and all of the sudden the defender's already on him and he's already tackled. I'm throwing a better ball and he's able to make someone miss because he doesn't have to worry about catching it on his back hip."
So that's just one example of what Darnold's hoping will make a difference in the fall. The practice I saw was a relatively light one, and it's not like you can draw sweeping conclusions from these sessions anyway.
But that Darnold feels like mechanically he's coming together as a quarterback, and that he can feel that in how—between the increased hip and T-spine mobility, and that technical work—he's far more consistently getting his whole body into this throws, is undeniably great news for the Jets. Add to it that he's in his second year in Adam Gase's system (and he spent a good amount of time studying Peyton Manning tape this offseason to build on Year 1 in the offense), and it's not that difficult to see a bounce coming.
At the very least, all this work Darnold's never had the time to do before has the 23-year-old just so subtly peeking ahead, excited at what might be when the live bullets start flying.
"No doubt, no doubt," he said. "I feel like our whole team has been doing a good job taking it one day at a time. But even for me, it's like, every day I look forward to going to practice because I feel myself getting more and more comfortable with the offense, and I can feel those little fundamentals creeping in every now and then. I'm being more consistent with how I throw the football. It is exciting.
"And that's what makes it more and more exciting to go to practice every day, to be honest."
And exciting to think of where his game might go a few weeks from now, too.
***
JUDGE EXPLAINS THE LAPS
EAST RUTHERFORD, N.J.— I did bring the whole lap-running thing up to Joe Judge on Wednesday, after his Giants went through their third padded practice of the summer, and after he took hits on the daytime talk show circuit and social media. And while we were there, the new New York coach wanted to clear something up—he never made his coaches run.
"Look, from what I've heard, it's been overblown completely," Judge said, laughing. "I'd say the biggest thing, everyone's making a comment about the coaches—I've never told any coach to run. And when I was an assistant, I was never told to run either. But when my guys ran, I just wasn't gonna let them run and then not run. I always felt like if you did, they'd know you were in it with them. It gave you a better connection with them.
"It's simple. There are consequences on the field. Really, for these guys, running a lap, it's not strenuous at all, it's a reminder. You have to understand that, Hey, when I screw something up, when I'm not focused or locked in, there's a consequence."
These are Judge's Giants now, and tucked away in there is this fact—there has been buy-in.
Whether it's a coach running a lap, or the way the whole operation looked on the day I was there, it's pretty clear by how efficient the practices are, and clean the one I saw was (for the record, I didn't see anyone run a lap), that, for now, the team is moving in lockstep. And that was obvious in how fast the two-hour Wednesday workout moved, and how all the moving parts came together.
Controlled chaos is the best way I can describe it. Coaches yelling at the top of their lungs. Constant movement. Very little standing around. Even at the end of practice—during the "opportunity period" when third-stringers get a shot at offense vs. defense—the prime-timers were on a separate field, Daniel Jones, Saquon Barkley, Sterling Shepard and Golden Tate among them, with a strength coach running ladders (a football equivalent of suicides).