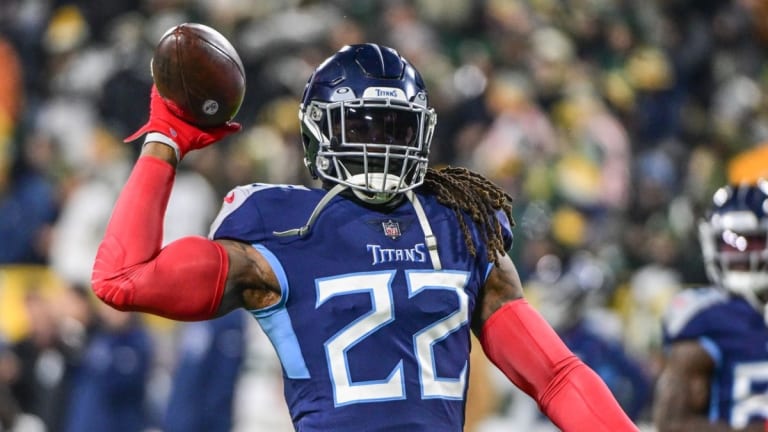 Henry First to 1,000 Yards in 2022
The Tennessee Titans running back needed 77 yards against the Green Bay Packers on Thursday to reach the traditional ground game milestone.
Derrick Henry became the first NFL running back to reach 1,000 rushing yards this season.
Playing in the first game of Week 11 – Thursday at Green Bay – the Tennessee Titans running back reached the milestone with a 6-yard run on his 25th carry of the contest. That happened with 9:13 to play in the fourth quarter,
Henry finished the night with 87 yards and one touchdown on 28 attempts. His long gain was just nine yards, but he added 45 yards on two receptions. He also threw a 3-yard touchdown pass to tight end Austin Hooper in the Titans' 27-17 victory at Lambeau Field.
"We wanted to come in, be physical, establish the run," quarterback Ryan Tannehill said. "They did a good job. They didn't give up the big run. They made us kind of earn it and keep just plugging away. ... But we stayed with it."
This marks the fourth time in five years that Henry has rushed for at least 1,000 yards. A second-round pick by the Titans in 2016, he is now tied with Dallas Cowboys running back Ezekiel Elliott for the most 1,000-yard seasons since he entered the league.
Four others currently have hit that mark three times over the last six-plus seasons. Henry, however, did not get to 1,000 yards for the first time until 2018, his third year in the league. Since then, he has set the standard for all ball carriers with two NFL rushing titles (2019, 20) and one Offenisve Player of the Year award (2020).
Henry's 2,027 rushing yards in 2020 are the most by any player over that span, and fifth-most in NFL history.
| Player, Team(s) | 1,000-yd. Seasons | Best season |
| --- | --- | --- |
| Derrick Henry, Tennessee | 4 | 2,027 (2020) |
| Ezekiel Elliott | 4 | 1,631 (2016) |
| Dalvin Cook, Minnesota | 3 | 1,557 (2020) |
| Nick Chubb, Cleveland | 3 | 1,494 (2019) |
| Joe Mixon, Cincinnati | 3 | 1,205 (2021) |
| Mark Ingram, NO/Balt. | 3 | 1,124 (2017) |
Henry entered the contest second in the league with 923 rushing yards on the season. He trailed Saquon Barkley of the New York Giants by eight yards. He passed Barkley on his second carry, a 9-yard gain on first down.
Barkley and Cleveland's Nick Chubb also are within reach of 1,000 yards this week. Las Vegas' Josh Jacobs potentially could do it as well, although it would take a major effort (179 yards).
Green Bay's defense started the night ranked 26th in the NFL against the run. Opponents averaged 140.6 yards per game through the first 10 weeks, and half of them averaged better than five yards per carry.
Henry was named the AFC Offensive Player of the Month for October when he ran for 563 yards and five touchdowns in four games (all Tennessee victories. He is the only player with a 200-yard rushing game this season (219 on Oct. 30 at Houston), and he tied his career-high with a streak of five straight 100-yard games. He failed to make it six in a row when the Denver Broncos limited him to 53 yards on 19 carries on Sunday.
"I'm always motivated," Henry said following the game. "Every single day I'm constantly thinking, constantly critiquing myself. It never stops.
"I just want to be the best I can be to help this team and do what I can to help this team win and be the best player I can be."