2013 Atlantic Division preview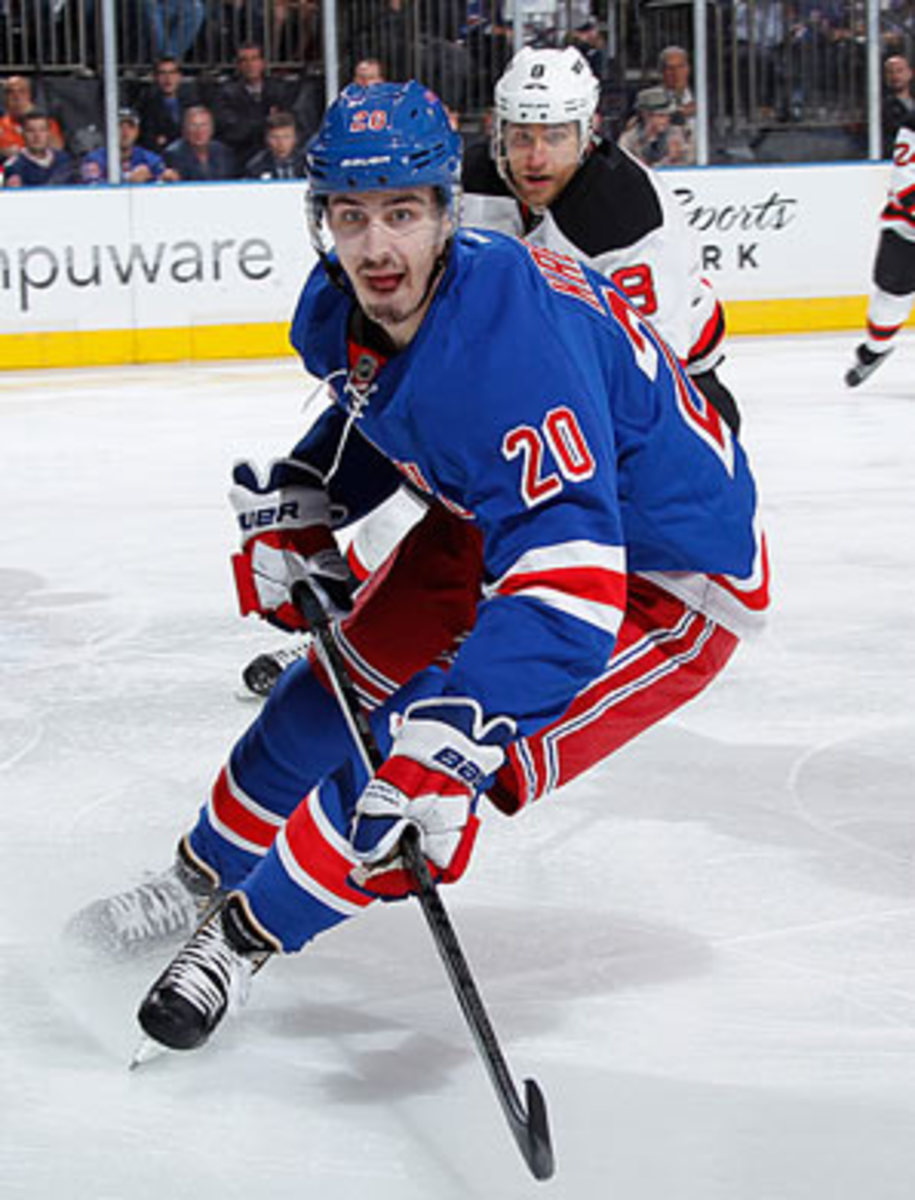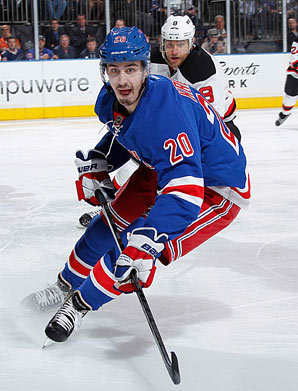 Pittsburgh Penguins
Power Rankings | Milestones | Central | Northwest | Pacific | Southeast | NortheastHACKEL: Short season will challenge NHL coaches | MUIR: Wild year on way
Coach: Dan Bylsma 2011-12 record: 51-25-6, 4th in East. lost to Flyers in first round Vital signs (stat ranking): goals-for (1st), goals-against (17th), power play (5th), penalty kill (3rd), PIM (18th) Notable adds: C Brandon Sutter, G Tomas Vokoun, D Brian Dumoulin, LW Tanner Glass, D Dylan Reese Notable losses: C Jordan Staal, C Steve Sullivan, G Brent Johnson, RW Arron Asham, D Zbynek Michalek, C Richard Park Team roster
Outlook: The Penguins led the NHL in goals scored (282) snd shots taken per game (33.9) last season, and they'll get big production from Sidney Crosby, Evgeni Malkin and the rapidly improving James Neal, but the team's offensive ability obscures the fact that it can be defensively stingy. The Pens had the NHL's third-best penalty kill ranking at 87.8 percent and allowed the fourth-fewest shots per game. That made life easy on some nights for goalie Marc-Andre Fleury. But when he was peppered more consistently by the Flyers in the opening round of the playoffs, he allowed some soft goals. So don't underestimate the off-season acquisition of veteran Tomas Vokoun, who will share the goaltending load. He can assume the No. 1 role if needed, or simply be a strong security blanket for Fleury. In 680 NHL games, Vokoun, a Capital last season, has posted a .917 save percentage, mostly for some poor teams in Nashville and Florida. In his limited playoff action, that number jumps to .922. GM Ray Shero also made a bold off-season move by trading Jordan Staal to Carolina for rugged center Brandon Sutter and a pair of blueline prospects. If the Pens stay healthy and keep their defense relatively stout, they may well win another Stanley Cup.\n
Key player: Sidney Crosby. When healthy, he's the game's finest, its chief ambassador and greatest drawing card -- the most creative and dangerous man on the ice. With all due respect to Evgeni Malkin, Crosby at his best has no peer. Due to his concussion issues, he's played in just 63 games over the past two seasons. During that time, he still amassed 40 goals and a whopping 103 points with a plus-35 rating. No doubt he's raring to get back to top form and avenge the Pens' ugly first-round playoff loss to Philadelphia, but coach Dan Bylsma will need to avoid the temptation to overplay him during the condensed regular season. It could be that months away from contact will benefit Crosby by reducing the cumulative jarring on his body and head. With their captain healthy, the Penguins' Cup prospects are healthy, too.
New York Rangers
Coach: John Tortorella 2011-12 record: 51-24-7, 1st in East, lost to Devils in conference finals Vital signs: goals-for (11th), goals-against (3rd), power play (23rd), penalty kill (5th), PIM (5th) Notable adds: C Rick Nash, LW Taylor Pyatt, C Jeff Halpern, RW Arron Asham Notable losses: C Artem Anisimov, C Brandon Dubinsky, LW Brandon Prust, LW Ruslan Fedotenko Team roster
Outlook: League leaders in hits and major penalties, and a top-five team in blocked shots, the Rangers don't need much of an uptick in gumption. And given their strength in goal with Vezina Trophy winner Henrik Lundqvist and depth on defense -- none of their 11 backliners last season was over age 30 -- they can survive tight 1-0, 2-1 and 3-2 games. The addition of Rick Nash and a healthy season from Marian Gaborik (surgically repaired shoulder) should give them more breathing room and help improve their power play. At times last season, they were a mess with the man advantage, finishing 23rd in the league with a 15.7 percentage despite a marked improvement late in the season. Down the stretch, they rose six places in the PP rankings, making teams pay for taking frequent penalties out of frustration. Sustaining that momentum would be huge. The Rangers don't lack motivation, either. Their six-game loss to the rival Devils in the conference finals stung.\n
Key player: Rick Nash. The free-agent plums notwithstanding, New York may have picked up the prize catch of the off-season by landing the All-Star winger in a trade with Columbus. The rugged seven-time 30-goal scorer arrives with 83 career power-play tallies and an astute nose for the net. He won Olympic gold playing for Canada at the 2010 Olympics, but during nine seasons with the Blue Jackets, he got into all of one playoff series, a four-game sweep at the hands of the Red Wings in 2009. So Nash is a bit of an unknown puzzle piece on the big Broadway stage with its bright media spotlight, demanding fans and great expectations. But if he and sniper Marian Gaborik click on the same line or power-play unit, perhaps with veteran center Brad Richards, they could turn New York into a team with the firepower to match its fire and keep the Rangers among the season's prime contenders to hoist the Cup.
Philadelphia Flyers
Coach: Peter Laviolette 2011-12 record: 47-26-9, 5th in East, lost to Devils in second round. Vital signs: goals-for (2nd), goals-against (20th), power play (6th), penalty kill (17th), PIM (1) Notable adds: D Like Schenn, LW Ruslan Fedotenko, D Bruno Gervais, G Brian Boucher Notable losses: LW James van Riemsdyk, G Sergei Bobrovsky, D Matt Carle, RW Jaromir Jagr, D Pavel KubinaTeam roster
Outlook: After a summer of free agent or trade prizes slipping through their hands, the Flyers have to be concerned about the continued good health of Claude Giroux, the star forward who missed time with a concussion last year and then suffered a neck injury while playing in the German Elite League during the lockout. As a precaution, he went to see Sidney Crosby's doctor who specializes in brain injuries. Giroux has been better than a point-per-game man over the last two years (169 in 159 games). If he's back at full strength, the Flyers will be formidable. Forwards Scott Hartnell and Wayne Simmonds combined for 65 goals last season, and veteran forward Danny Briere often raises his game at playoff time. By swapping forward James van Riemsdyk for defenseman Luke Schenn during the off-season, GM Paul Holmgren boosted the team's back end, which misses Chris Pronger, the 38-year-old stalwart defenseman who has been sidelined, likely for good, by a severe concussion. After knocking off the favored Penguins in the playoffs last spring, the Flyers know they are capable of overcoming obstacles.
Key player: Ilya Bryzgalov. He may be the game's most interesting character. This past summer, he actually trained as a Russian cosmonaut, space suit and all, during a visit to the Yuri Gagarin Space Center. "The problem with monkeys," he famously opined, "is that they can't be trusted in space. They push the wrong buttons." Of course, GM Holmgren hasn't been amused by Bryzgalov's erratic play, and there is simply no telling which of the goaltender's buttons need pushing or if he can be trusted at crucial times. He was supposed to be the answer to the Flyers' goaltending merry-go-round that has recently included Sergei Bobrovsky, Michael Leighton, Ray Emery and Brian Boucher, but the veteran netminder flamed out in the playoffs after surviving the Penguins in the first round. His performances in recent postseasons -- goals-against averages of 3.44, 4.36 and 3.46 with Phoenix and Philly -- have fueled suspicion that he melts down in the heat when the spotlight shines brightest. Two weeks ago, Bryxgalov left his Russian team, CSKA Moscow, because of an undisclosed upper body injury. Still, the Flyers have said they plan to go with him and that there's no truth to their rumored interest in Roberto Luongo. This situation could be fascinating.
New Jersey Devils
Coach: Pete DeBoer 2011-12 record: 48-28-6, 6th in East, lost to Kings in Stanley Cup Final Vital signs: goals-for (15th), goals-against (9th), power play (14th), penalty kill (1st), PIM (12th) Notable adds: RW Bobby Butler, RW Krys Barch, C Harri PesonenNotable losses: C Zach Parise, LW Alex Ponikarovsky, C Petr Sykora, LW Eric Boulton, D Matt TaorminaTeam roster
Outlook: Few teams have managed to regenerate success in the NHL as consistently as the Devils during the past two decades. This year, after a trip to the Stanley Cup Final, they face two challenges. First, their legendary goalie Martin Brodeur will turn 41 in May, the time the Devils will hope to make yet another surprisingly deep playoff run. Counting regular seasons and playoffs, he's faced more than 35,000 shots during his illustrious career while setting career regular-season marks for games played (1,191), wins (656) and shutouts (119). But how much longer can he keep going? The shortened season may actually help a player with Brodeur's mileage, but if the Devils are to keep playing this spring, they will need him to be sharp. The other challenge is countering the massive loss of captain Zach Parise to Minnesota. New Jersey made no real additions to help replace him, so sniper Ilya Kovalchuk must repeat or top the form that produced 37 goals and 83 points, both team highs, last season. Veteran forwards Patrik Elias (78 points) and David Clarkson (30 goals) will also be counted on. With a league-best 16-6 record in shootout last year, the Devils grabbed the No. 6 seed in the conference and they should be good for a third straight fourth-place finish in the tough Atlantic, but a long playoff run against more touted teams will require maximizing resources.
Key player: Adam Henrique. A rookie surprise last season (51 points in 75 games), the winger has shown the calm and grace under fire of a veteran. Henrique, 22, scored two of New Jersey's most important goals during the team's run to the Stanley Cup Final: the winner in double overtime of Game 7 in the first round against the Panthers and the decisive Game 6 OT winner in the Eastern finals against the Rangers. The tallies made him only the second rookie to score a playoff series-clincher in OT and the only one to turn the trick twice. Henrique worked at staying sharp during the lockout by playing for New Jersey's AHL affiliate in Albany, but sustained ligament damage to his left thumb and needed surgery at the end of November. With the loss of Zach Parise, who played a mentoring role for Henrique last season, the sophomore's health and continued development is crucial as he will be called upon to make even bigger contributions.
New York Islanders
Coach: Jack Capuano 2011-12 record: 34-37-11, 14th in East, did not make playoffs. Vital signs: goals-for (28th), goals-against (27th), power play (8th), penalty kill (23rd), PIM (27th) Notable adds: C Brad Boyes, D Matt Carkner, D Radek Martinek, LW Eric Boulton Notable losses: RW PA Parenteau, G Al Montoya, D Mark Eaton, D Milan Jurcina Team roster
Outlook: It was easy to see why they missed the playoffs (just a point out of the conference cellar and in the NHL's bottom five) for the fifth straight year. The injury avalanche struck again, they scored just 203 goals while giving up 255, saved their worst hockey for third periods (-29), and were the only team in the East with a losing record at home (17-18-6). So where do you go for optimism? For starters, there is a huge upside to their young crop of forwards. Start with John Tavares, the 22-year-old who posted 31 goals, 50 assists and eight game-winners for a team that won only 34 games. Matt Moulson, 29, is the real deal, having scored at least 30 goals for three straight seasons. Kyle Okposo, 24, continued to improve his production (24 goals, 45 points), but speedy Michael Grabner, 25, must bounce back after netting just 20 goals last season. (He scored 34 the year before.) The Isles are also still waiting for Josh Bailey, 23, to deliver on his potential during a full season and there's nowhere for Nino Niederreiter, 20, to go but up after posting all of one point in 55 games in 2011-12. Someone will have to make up for the loss of PA Parenteau, whose 49 assists were one shy of Tavares' club lead, so the Isles have taken a low-risk, (hopefully) high-reward, one-year gamble on Brad Boyes, a veteran forward whose output plummeted steadily after his 43-goal season for St. Louis in 2007-08. Matt Martin led the club in penalty minutes (121) and the league in hits (374), and winger Eric Boulton and defenseman Matt Carkner have been brought in to add some snarl. With a suspect defense (Lubomir Visnovsky, 36, will help, when he arrives from KHL after his awkward trade from Anaheim), the Isles need all the firepower and grit they can muster.
Key player: Evgeni Nabokov. A perennially streaky team, the Isles' hope of snatching the eighth seed in the East rests on avoiding slumps, staying healthy, and stealing points with enough consistency to make it to the finish line of the short track regular season before their wheels come off. Nabokov, the 37-year-old veteran netminder must be a steadying presence on this young team, as well as insurance while Rick DiPietro tries to make yet another comeback from injury.
Atlantic's biggest surprise (for better or worse)
Chris Kreider, Rangers: Joining New York after his collegiate swan song with Boston College just in time for the postseason last year, he made an immediate impact with his speed and offensive skills (NHL record five goals and seven points by a player who had yet to skate in a regular-season game). Coach John Tortorella talked about getting Kreider into a full training camp to round out the rest of his game. That didn't happen because of the lockout, and Kreider may find himself back in the AHL to start the season. But if he gets another shot and can get comfortable with the system he was only introduced to in April, he could make a run at the Calder Trophy.
Atlantic breakout player
Sean Couturier, Flyers. Acquired as a draft pick in the Jeff Carter deal with Columbus, the 19-year old looked like a polished veteran during Philly's opening-round playoff victory over Pittsburgh, showing the greatest improvement in his defensive game. Matched often against Penguins star Evgeni Malkin, Couturier limited him to one even-strength point while frequently frustrating him. Couturier led the Quebec Major Junior Hockey League in scoring three years ago, so he can fill the net, too. Look for his minutes and production to go up this season.
Atlantic's undersung hero
James Neal, Penguins. In his first full season with the Pens after being acquired from Dallas, the talented power forward quietly netted 40 goals while registering 41 assists. Sure, he often shares the ice with some great players who surely help boost his game, but Neal has a heavy shot and is a load to knock off the puck. On nights when Crosby and Malkin aren't at their best, other teams had best be wary of the Penguins' quiet sniper.
Hottest seat in the division
Mark Streit, Islanders. The captain is in the final season of the five-year deal he signed with the club in 2008. After missing the entire 2010-11 season because of shoulder surgery, the defenseman made some good offensive contributions (7-40-47) last year, but his horrendous minus-27 rating was fourth-worst in the NHL. Looking older and slower than before the injury, Streit, 35, is playing for the back end of his hockey career under circumstances that are less than ideal. The Isles, who are desperate for improvement, sorely need his leadership and production.
Cool fact
The Atlantic is the only one of the six divisions in which every team has won at least one Stanley Cup. The Rangers and Islanders have won four, the Penguins and Devils three, and the Flyers two. Since their last Cup title in 1975, the Flyers have played in more final series, six, than any team in the division, but they've lost each one.